How to Start WHOOP Free Trial The Risk-Free Way

 is a wearable technology that helps us keep track of our sleep, strain, and recovery. This tracking is made through a band, mostly worn on the wrist, similar to a watch. The band is connected to a mobile app that records and outputs your progress.
Fitness is an essential part of healthy living. In an age where people spend most of their time in their offices, we need something to constantly remind us and keep track of our exercises and other fitness activities.
To successfully use the WHOOP band and app, you need to subscribe to the Whoop services. You can start your WHOOP experience through a free trial granted to each new WHOOP user. The free trial automatically upgrades to a paid subscription.
 DoNotPay helps you avoid the automatic billing on WHOOP free trial services through the Free Trial Card. Additionally, if you have an active subscription, DoNotPay can help you cancel the subscription and request a refund from Whoop or any other online service. Sign up today and get instant services.
Does WHOOP Offer a Free Trial?
 offers one free month of WHOOP app subscription. The free trial lasts for 30 days and allows the users to access all the WHOOP app services such as:
| | |
| --- | --- |
| All-new health monitor | Provides you with feedback on your overall health and changes recorded |
| Sleep better | The app monitors your sleep patterns, stages, quality, debt, and more and provides you with bed and wake time depending on your activities |
| Smarter training | Measures all the efforts and strain you put into training throughout the day, and rates how healthy they are |
| Faster recovery | Gauges your recovery score every morning and computes your readiness to perform that day |
| Coaching | Offers personalized feedback and practical feedback based on your data collected over time. |
Will the WHOOP Subscription Free Trial Automatically Renew Into a Paid Subscription?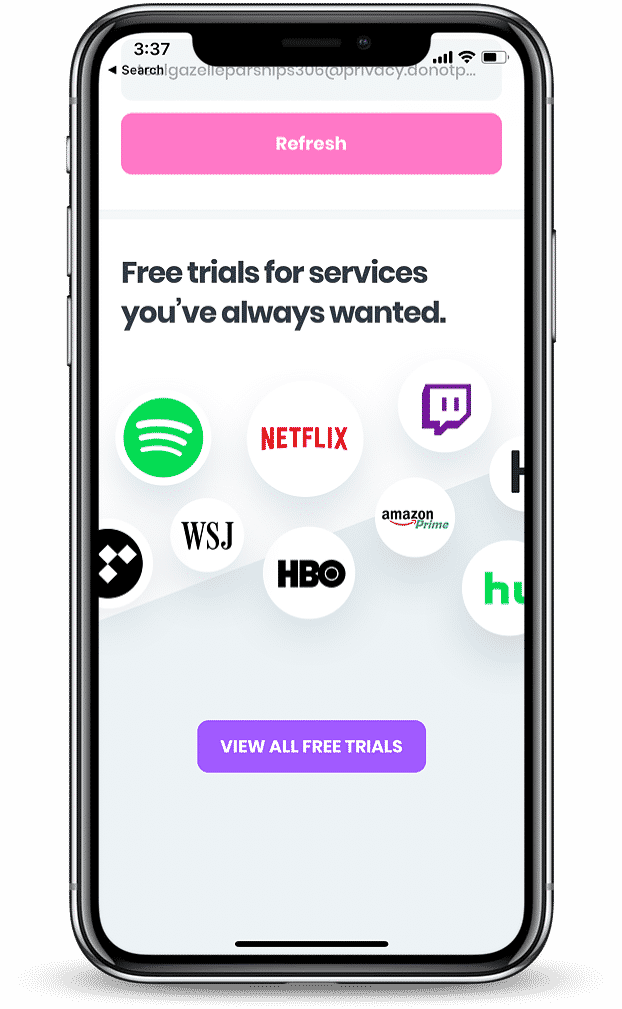 The WHOOP free trial subscription automatically upgrades to a paid subscription without notifying you.
One of the requirements when signing up for the free trial is your credit card or alternative banking details. Upon expiry of the free trial, you'll be billed for the subsequent month on your linked banking details.
Your bank will send you a notification to indicate that you have been billed for a certain amount of money. The monthly subscription fee for the WHOOP app is $30. You can only subscribe to a minimum 6 months commitment; hence your first bill will be a minimum of $180.
If you do not wish to pay for the WHOOP products, you should cancel your subscription at least 2 days before the trial period ends to prevent automatic billing.
What Steps Should I Take to Register for a WHOOP Free Trial?
To access the WHOOP  free trial, you need to meet the following conditions:
New WHOOP user
Upgrade from WHOOP 3.0 to WHOOP 4.0
How to Get WHOOP Free Trial as a New User
Once you purchase your WHOOP band and install the WHOOP mobile app, you are entitled to a free trial lasting for 30 days. Simply create an account on the WHOOP app, and your free trial will automatically begin.
How to Get a WHOOP Free Trial When You Upgrade from Whoop 3.0 to Whoop 4.0 
Purchase a WHOOP 4.0 and gift your loved one your WHOOP 3.0 band. The receiver of your gift should meet the following in order to earn a free trial:
First-time WHOOP User
Create a WHOOP account and captivate the WHOOP 3.0 band through the app
The recipient will automatically receive 2 months of free access to all WHOOP services. If the recipient upgrades to a paid subscription, you automatically earn 30 days of free access to WHOOP services.
Run a Free Trial With DoNotPay's Virtual Credit Card
There is always a catch to all free trials; they automatically upgrade to paid subscriptions. The upgrade comes with no notification, hence if you forgot to unsubscribe on time, you cannot prevent the billing.
DoNotPay has an excellent tool that helps you avoid these unplanned bills. Through the DoNotPay Free Trial card, you are able to sign up for free trials without linking your banking details. 
Upgrade attempts from the company will be automatically rejected, and your account will automatically be disabled. An added advantage of using DoNotPay's dummy credit card is that your banking details are safe from information abuse and theft.
NOTE: The virtual credit card services only work for services whose free trials do not require personal authorization like face scans and fingerprints.
What Else Can DoNotPay Do for You?

DoNotPay offers an easy, safe, safe and convenient way to solve all your legal, bureaucratic, and administrative issues. You can now comfortably , cancel subscriptions, among other services, risk-free.
Should you encounter any problem and would like to contact Whoop customer service, DoNotPay can help you jump the phone queue and get in touch with a customer service representative with ease.
Under the keen eyes of our robotic lawyer, we ensure that all your processes are straightforward and error-free. Sign up today to enjoy the following services and more: