Get White Pages Pro Free Trials Without a Credit Card

Are you trying to find an old friend from high school or get all the information on your daughter's new boyfriend? Is someone calling you all the time from a number that you don't recognize? White Pages Pro can help you with these things and more. When you need more information about a person or a phone number, White Pages can help you hunt it down with reliable results. 
Before you sign up for the , you want to make sure that you aren't going to be charged a small fortune when it ends. You might have tried other trial subscriptions in the past and forgotten to cancel before the deadline, leaving you on the hook for a monthly fee. You need a way to try White Pages Pro and not run the risk of getting charged beyond the free trial period. DoNotPay has a way to help you with this.
Does White Pages Pro Offer a Free Trial?
While White Pages Pro doesn't offer a free trial, you can get a trial for a dollar. However, there's a trick to getting this discounted trial. You'll need to provide the website with a credit card number to pay the dollar, and if you don't remember to cancel the trial, you'll be charged the full subscription price.
How Can I Get a White Pages Pro Free Trial?
There is a trick required to get the discounted . However, if you follow these steps, it should appear, and you can take advantage of it:
From the White Pages webpage, click on the "Sign Up" button.
You'll be taken to the subscription page to choose a plan.
Wait! It can take up to a minute, but the offer pops up for five days of service for a dollar.
Click on "Try for a Dollar" button.
Enter your credit card information and email information.
Click the "Submit" button.
Does the White Pages Pro Free Trial Automatically Renew Into a Paid Subscription?
After the five-day trial for a dollar, the website automatically charges your credit card $19.95. This is more expensive than the other service plans they offer, and you'll automatically be billed. You can change your subscription plan if you like. Most websites offer this type of deal to get your credit card information and hope that you forget to cancel.
Avoid Automatic Subscription Renewal With DoNotPay Virtual Credit Card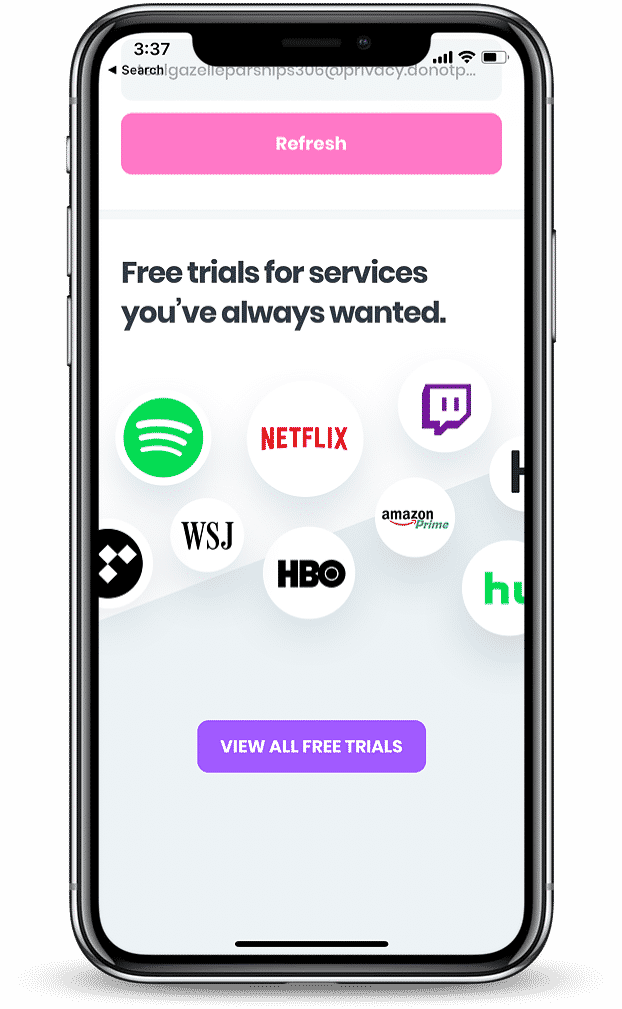 One of the downsides to free trials is that so many people forget to cancel them. Thankfully, there is a solution. You can easily avoid any charges on your credit card by generating a virtual credit card to provide to the company you want a free trial from. The DoNotPay app can help you with a free virtual credit card in a few easy steps. There are many benefits for using a virtual credit card for free trials, and these include:
Even if you forget to cancel your automatic subscription renewal, you can't be charged.
The company never gets to see your actual credit card information.
Your subscription will be canceled for you.
Since White Pages charges a dollar, the virtual credit card does not work on this trial, but for any real free trials, it's the perfect solution to avoid any surprise charges.
How Much Does White Pages Pro Cost After the Trial?
Immediately after your trial ends, White Pages Pro charges you $19.99, which is more expensive than the plans they offer. Here's a look at the plans that they have available:
| | |
| --- | --- |
| White Pages Product | Price |
| Single Background Check | $9.99 |
| Premium White Pages Unlimited | $4.99 per month |
| White Pages Unlimited | $3.99 per month |
What Will White Pages Pro's Charges Look Like on My Statement?
Before signing up for any service, you want to know what the charges will look like on your credit card statement, so you can recognize them, and the White Pages charges appear under the same name as the service. If you cancel the service, and they charge you anyway, you need to ask for a refund or a chargeback on your credit card.
What Are the Most Popular Alternatives to White Pages Pro?
While you might need some services offered by White Pages Pro, they aren't the only company offering these types of services. You can find several similar services online, such as:
Intelius
TruePeopleSearch
TruthFinder
BeenVerified
ZabaSearch
LinkedIn
PeekYou
PeopleFinders
And many others!
What Else Can DoNotPay Solve?

DoNotPay has a lot to offer, including an easy way to protect your privacy by removing your name from White Pages. DoNotPay can also help you solve more daily problems and inconveniences:
 for a discounted trial for White Pages Pro today and use a virtual credit card created by DoNotPay.