How to Get Your Volusia County Birth Certificates Effortlessly
You probably don't remember when you first got your birth certificate, because it probably happened right after you were born. Since then, you may have misplaced it. Therefore, if you need to obtain a copy of your , you need to know the process.
It may seem simple, but as with many processes, you can get bogged down in the details. When that happens, DoNotPay can help.
Your birth certificate is the first important official document you will receive in your life. It establishes your identity and proves where and when you were born. Establishing your identity has become increasingly important. For example, effective May 3rd, 2023, U.S. citizens and residents are required to have a REAL ID-compliant driving license or ID card for certain purposes, including boarding commercial planes. To obtain a REAL ID, you may need proof of identity, such as a certified copy of your birth certificate.
Why Might You Need a Copy of Your Birth Certificate?
A birth certificate is used to obtain other government-issued identification documents, such as a driver's license, social security card, or passport. You might also need it for other purposes, such as:
Applying for government benefits
and Joining a branch of the military.
To apply for a marriage license.
To prove U.S. citizenship when traveling on a closed-loop Bahamas or Caribbean cruise that originated in the United States when you do not have a passport.
To prove your Florida state citizenship status.
What Is the Difference Between an Authorized and Informational Copy of Your Birth Certificate?
If you need a copy of your birth certificate, an ordinary photocopy of it has no legal validity. Depending on the purpose, you will need an authorized copy or an informational copy. Here are the differences:
An Authorized, or Certified Copy of a Birth Certificate
An authorized, or certified copy will have the registrar's seal, signature, and the date the certificate was filed with the registrar's office. This copy is a legal document and can be used to establish an identity for other legal documents, such as a passport.
An Informational Copy of a Birth Certificate
If the copy contains a stamp indicating that it is informational, not a valid document to establish identity, then it is known as an informational copy. It is typically used for informational purposes or genealogical research.
Who Can Obtain a Birth Certificate Copy in Volusia County?
Only you and certain other people are permitted to request a certified copy of your birth certificate, although others may be able to request an informational copy of another person's birth certificate. You can request an authorized copy of your only if you meet one of the following criteria:
The certificate holder.
A parent or legal guardian of the certificate holder.
Other family members, including a spouse, child, grandparent, grandchild, sibling, or domestic partner of the certificate holder.
A representative of law enforcement or other governmental agency in the course of conducting business.
An attorney, licensed adoption agency, or other party is entitled to receive the record as a
result of a court order.
An attorney representing the certificate holder or their estate.
An individual or entity with the legal authority to act on behalf of the certificate holder or the certificate holder's estate.
What Is the Fee for Getting a Birth Certificate Copy in Volusia County?
Birth certificate fees for all Florida counties are $15 for the first copy and $8 for additional copies for the same person. The Florida Department of Health in Volusia County does not accept credit cards or online orders through their website. However, they partner with an independent company, VitalChek Network Inc. VitalChek charges an additional fee for using their service.
Volusia County Birth Certificate Processing Timeframe
To make sure your birth certificate application is processed as quickly as possible, it is essential to complete the application fully and accurately. Submit it along with a valid copy of an official photo ID such as your driver's license, military ID, work ID, or passport.
Processing times vary between offices, but typically you will receive your certificate within 5 to 10 business days. Processing by mail may take about 2 weeks. If you provided a self-addressed express delivery envelope, you will receive your birth certificate more quickly.
What Documents are Required to Get a Copy of a Volusia County Birth Certificate?
If the person applying is yourself, a parent, guardian, or legal representative, the applicant must complete the application form and provide valid photo identification, such as a passport, driver's license, military I.D., or state identification card. If the applicant is not one of the above-listed persons, an Affidavit to Release a Birth Certificate must be submitted along with the application form. In some circumstances, such as moving to a foreign country, you may require a birth certificate apostille. This is issued by the Secretary of State. It is attached to the original document to verify the authenticity and will then be accepted in other countries that are also members of the Hague Apostille Convention.
How to Get a Copy of Your Volusia County Birth Certificate on Your Own
Whether you mail your request or go in person, there are certain items you must bring with you or you will not get your birth certificate. You must have
A completed birth certificate request form.
Payment for applicable fees.
A valid form of identification (such as a driver's license, federal or state identification card, employment ID, or military ID).
Applications can be mailed to:
The Volusia County Vital Records office
P.O. Box 9190
Volusia, Florida 32120
If you choose to apply in person, it is a good idea to call ahead to the Volusia County Vital Records Health Department at (386) 274-0614 to verify that you can obtain your birth certificate there. Some vital record locations only offer certain records, such as birth and death certificates, or records within a limited range of dates. Be aware that offices may offer different processing times, fees, and wait times. It is best to have your documents prepared and arrive early. Also, make sure the form of identification you present is not expired.
Finally, you can order online through VitalChek, a third-party vendor. Fees may be different from fees charged by the Florida Department of Health.
Solve the Volusia County Birth Certificate Problem Instantly With the Help of DoNotPay
You can obtain a copy of your simply and efficiently using DoNotPay. If you want to order/get a birth certificate copy in Volusia County, but don't know where to start, DoNotPay has you covered in 8 easy steps:
1. Go to the Birth Certificates product on DoNotPay.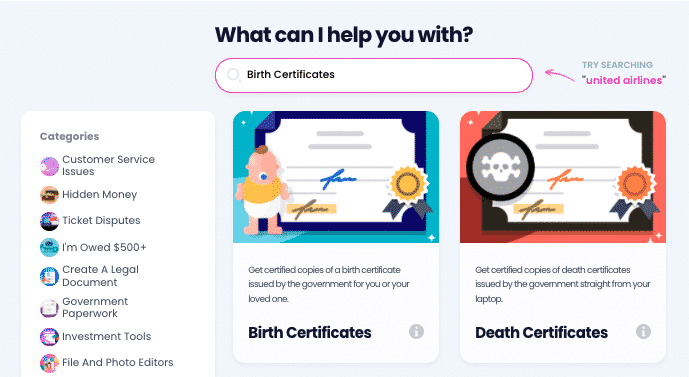 2. Select who the certificate is for (you or a loved one). If you are requesting a copy of someone else's certificate, enter their personal details, and upload evidence that proves your relationship.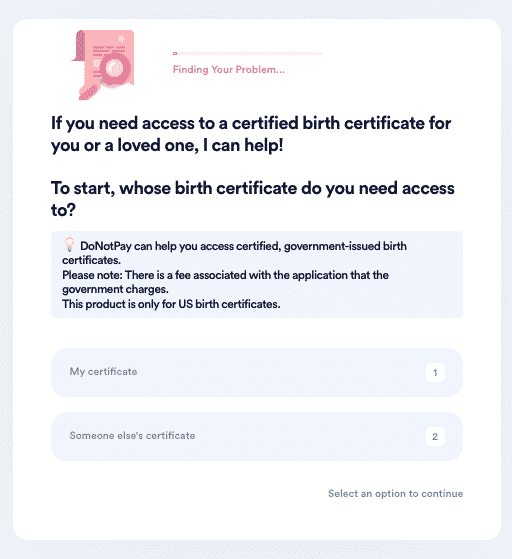 3. Enter the location you or your loved one was born in, so we can complete the form specific to your state.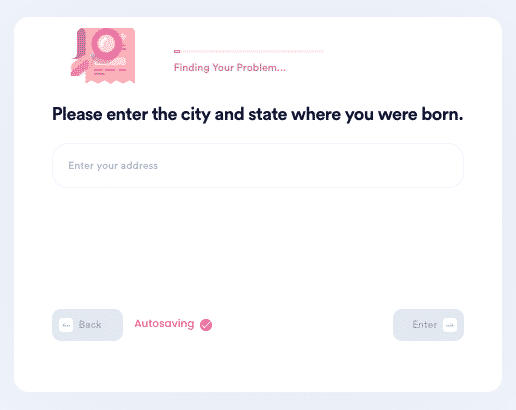 4. Enter the name(s) of the parent(s) as displayed on the certificate.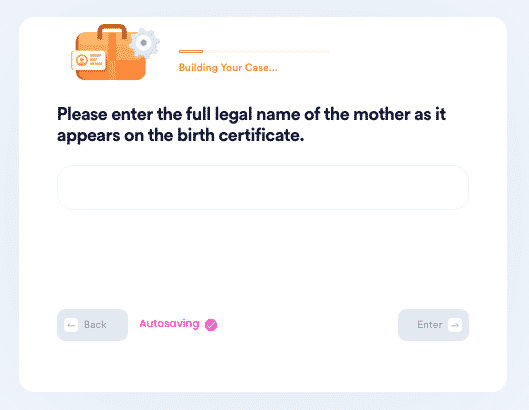 5*. Indicate what you will be using this certificate for, and choose whether you need an authorized or certified copy.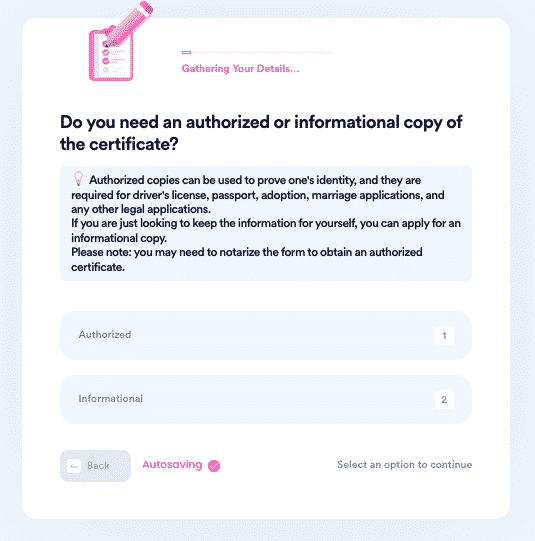 6. Enter your contact information and shipping address. Upload copies of your government-issued identification, such as a driver's license.
7. Choose whether you would like to electronically sign this form or not. Once we generate the form, verify that all of the information is correct.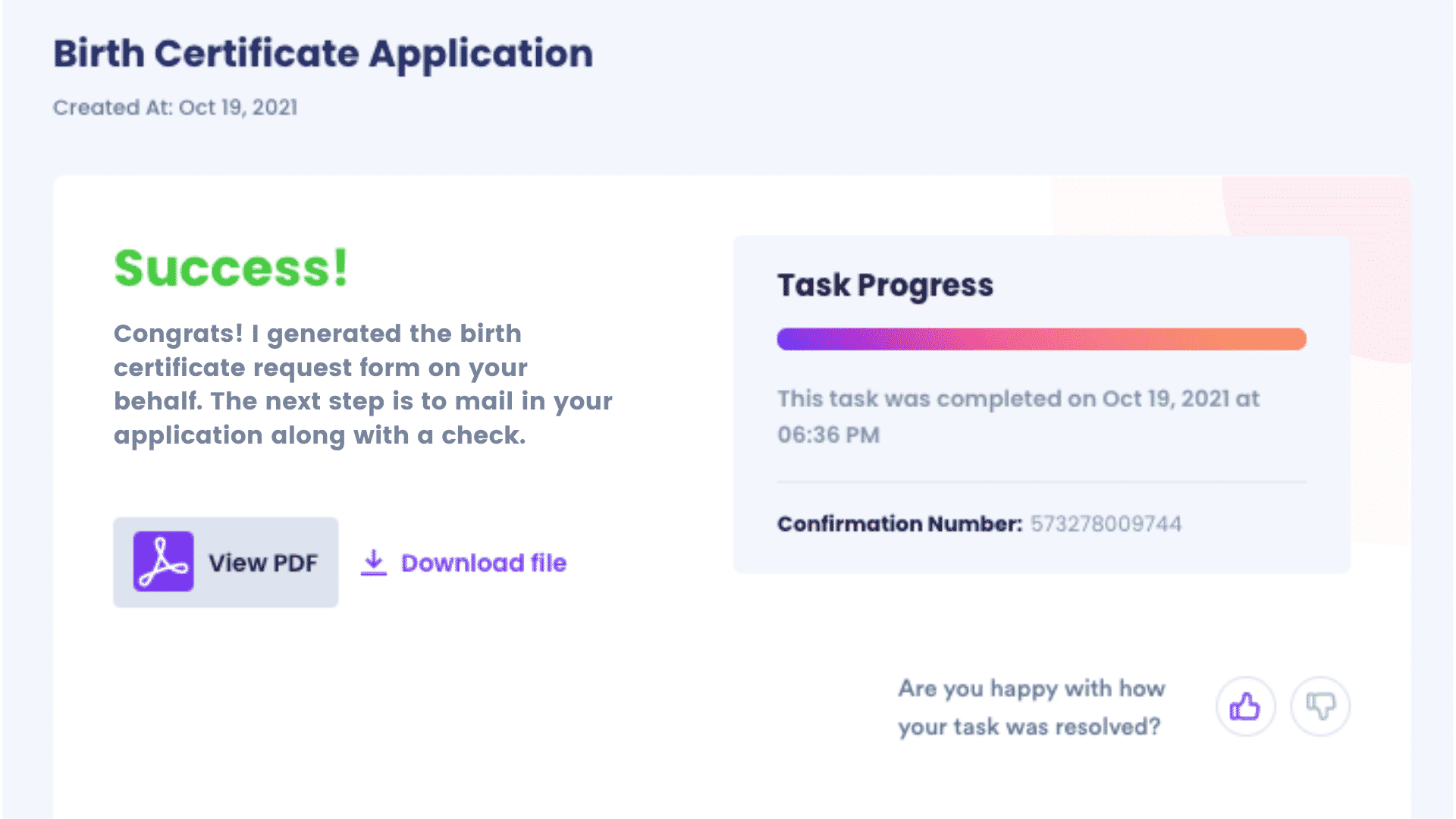 8. If you need the document to be notarized, schedule a notarization appointment using our Notary product. Otherwise, proceed to our Mail Checks product and let DoNotPay mail-in your request form with a check on your behalf.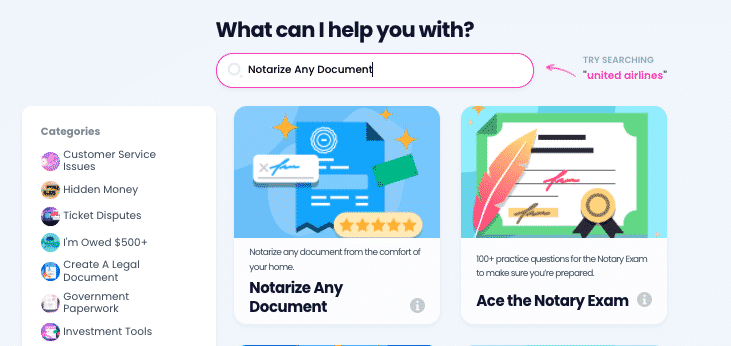 Why You Should Use DoNotPay to Solve Your Problem
Life gets busy. Documents, even important ones, get lost. Maybe you didn't find out you needed your birth certificate until the last minute. Your time is valuable and often a seemingly small problem turns out to be complicated and tedious. You don't need the added time and aggravation of tracking down your birth certificate on your own.
DoNotPay handles the application process online and offers convenient virtual notary and check mailing services. Check out all the ways DoNotPay can help you.
Birth certificate for passport