Can I Get a Birth Certificate for Someone Else?
The United States does not maintain vital statistics at the federal level. Each state controls that information. Every state determines how birth certificates are issued and who may request copies. Most states allow individuals to request anyone's birth certificate for information purposes; however, the requesting process varies by state.
If you're wondering if you can , you're in the right place. This article will explain everything you need to know about ordering birth certificates for someone else, or for yourself.
Are There Different Types of Birth Certificates?
According to the American Bar Association, the United States has 14,000 different birth certificate documents in circulation. Some states have souvenir or heirloom certificates, specialized certificates as well as informational and authorized documents. All states should provide informational and authorized documents.
Authorized. These certificates are considered legal documents to be used to verify one's identity.
Informational. These documents are not legal documents and are usually marked as Not Valid to Establish Identity.
Souvenir or heirloom certificates include certificates that have imprints of the infant's hands or feet. Others are designed for framing. Some states, such as Texas, offer specialized birth certificates.
Who Can Request a Birth Certificate for Someone Else?
Only authorized qualified individuals can request an authorized birth certificate. In most jurisdictions, authorized qualified individuals are defined as the certificate's registrant, parents or guardians, and legally authorized representatives. Authorized certificates are needed to:
Prove citizenship

Apply for a passport

Get a driver's license
Everyone should have an authorized copy of their birth certificate as it is the primary document used to establish identity. An authorized certificate should carry a government seal for the state. The seal may be raised, embossed, or impressed. The certificate should also carry the signature of the registering agent.
How to Apply for a Birth Certificate
Anyone can apply for a birth certificate for informational or other non-authorized uses. If you want a copy of , you will need to complete an application and pay a fee. Since each jurisdiction has its own application process and fee structure, you will need to contact the state, county, or local government for details. Some jurisdictions allow online ordering; however, most offices only allow in-person or by-mail applications. The standard wait time is usually two weeks.
If you want an authorized copy, you must prove you are an authorized qualified individual. This verification usually requires a notarized copy of the application or a court-issued document granting you access. Fees may be higher than those for non-authorized copies; however, the wait time is the same, depending on the jurisdiction.
Let DoNotPay Help You Request Someone Else's Birth Certificate
Suppose you are tracing your ancestry and need information on someone's official place of birth or help to locate a birth certificate. The process quickly becomes time-consuming if requests must go to multiple jurisdictions. Instead of spending hours making requests, why not let DoNotPay make the requests for you?
Just use the following steps and DoNotPay will do the work for you.
1. Go to the Birth Certificates product on DoNotPay.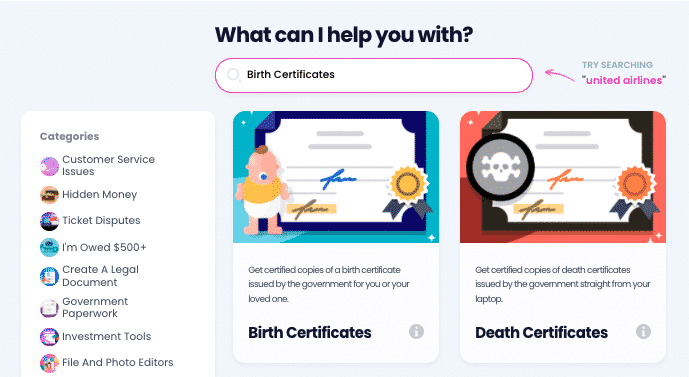 2. Select who the certificate is for (you or a loved one). If you are requesting a copy of someone else's certificate, enter their personal details, and upload evidence that proves your relationship.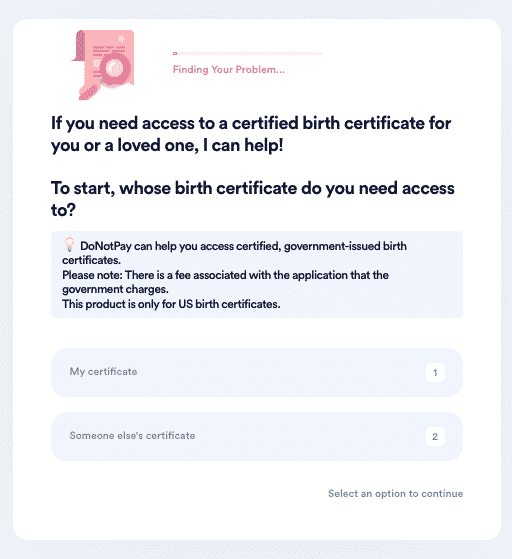 3. Enter the location you or your loved one was born in, so we can complete the form specific to your state.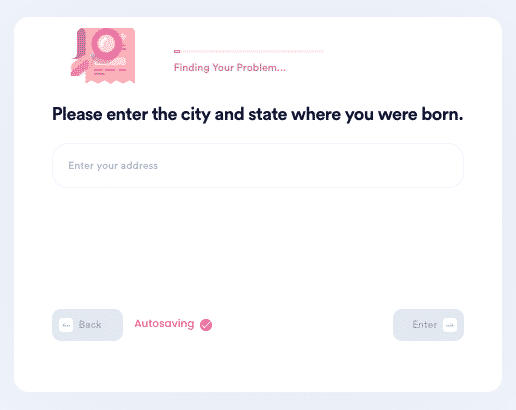 4. Enter the name(s) of the parent(s) as displayed on the certificate.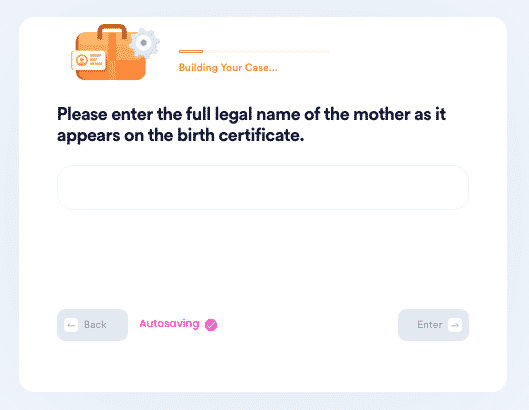 5. Indicate what you will be using this certificate for, and choose whether you need an authorized or certified copy.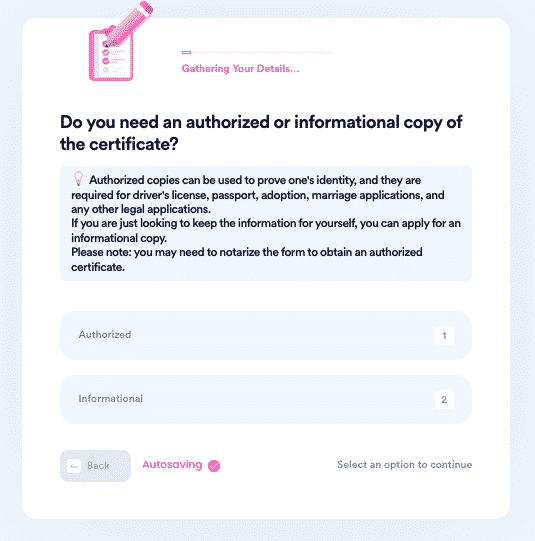 6. Enter your contact information and shipping address. Upload copies of your government-issued identification, such as a driver's license.
7. Choose whether you would like to electronically sign this form or not. Once we generate the form, verify that all of the information is correct.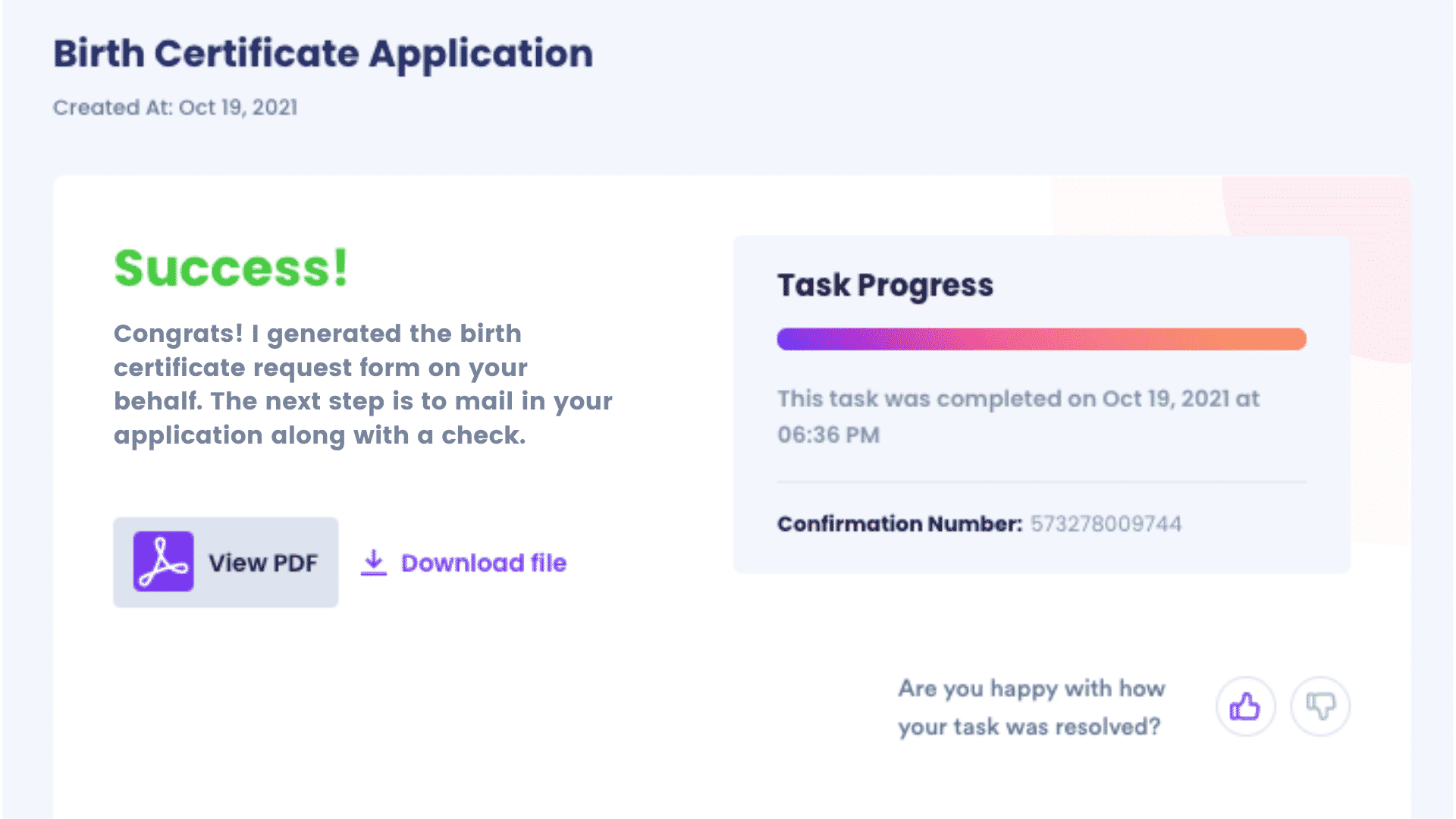 8. If you need the document to be notarized, schedule a notarization appointment using our Notary product. Otherwise, proceed to our Mail Checks product and let DoNotPay mail-in your request form with a check on your behalf.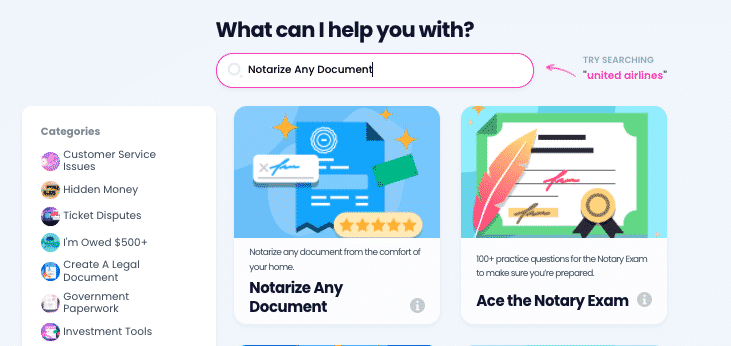 DoNotPay Offers More Birth Certificate Services
DoNotPay's online service can do more than . The service can help with:
With so much to learn about requesting and receiving birth certificates, you can save time and lower stress with DoNotPay.
DoNotPay delivers an online experience that is:
Reliable. Using the latest technology DoNotPay works until the task is done. No sick days or vacations. Just 24/7/365 hours of service.
Convenient. The service can be used from anywhere at any time. Whether you are sitting at home or waiting in traffic, you can access the service as long as an internet connection is available.
Successful. DoNotPay does not stop until the task is complete. The service is working on your behalf while you are enjoying a stress-free existence.
Why not start using the DoNotPay service today? It's a fast and convenient way to take a little stress out of your life.
Join DoNotPay now to save time and money!