How to Start VidAngel Free Trial With a Virtual Credit Card

Did you know that instead of immediately paying for using VidAngel, you could appeal for  VidAngel provides you with streaming services that allow you to skip scenes in movies and TV shows that you deem unacceptable. These include scenes with nudity, violence, vulgar language, and so forth.
You may want to access these services as a new user of VidAngel but find the charges inconvenient, impeding you from using them. Considering that you are a new user, you may struggle with fully utilizing the services VidAngel offers and require time to master them. We recommend that you ask for a VidAngel free trial period so that you can have a taste of their services and decide if it is worth your money.
Requesting a  on your own may be a challenging and tiring process. However, you need not worry, as DoNotPay provides you with the ultimate guide through the entire process. If you need help with using a virtual credit card to get free trials, DoNotPay will also help you out.
DoNotPay creates these cards forfree, so you do not have to worry about incurring any charges. DoNotPay is a faster, more convenient, automated, less frustrating way for you to try free VidAngel trials and not get charged.
Does VidAngel Offer a Free Trial?
Yes.  period before you buy, which lasts for 30 days, after which you will be required to pay a mandatory fee to access their services. You can access all of VidAngel's services during the free trial period.
How Can I Get a VidAngel Free Trial?
Visit the official website for VidAngel.
Click on the sign-up option.
Search for the free trial option
Fill out a form with your personal information to enable you to create an account.
Verify your email details
Submit the information to VidAngel and wait for your response of approval
Does the VidAngel Free Trial Automatically Renew Into a Paid Subscription?
Yes, upon completing the free trial period, VidAngel informs you that you are now using their services through a paid subscription. From then on, the subscription continues to renew itself automatically every month.
Avoid Automatic Renewal With DoNotPay Virtual Credit Card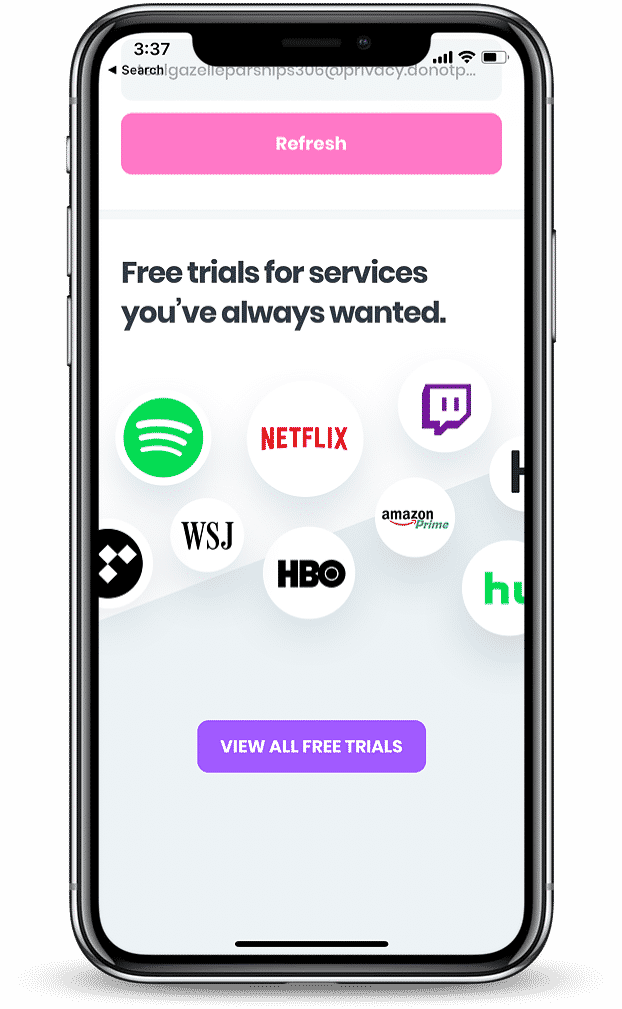 Virtual credit cards (VCCs) are credit card numbers that users can utilize for online shopping. They save you the cost of paying for services you do not require if you forget to cancel your subscription after the free trial period.
DoNotPay helps you create a random number and credit card info that you can use to subscribe to any service. Once the free trial is over, VidAngel can't charge you because there's no money on that card, so you get unsubscribed automatically.
How Does the Free Virtual Card Work?
Search for a free trial card on DoNotPay and enter VidAngel as the company you want a free trial for.
We'll automatically generate a virtual credit card that you can use for that merchant. Copy the card details shown on your screen.
Use the card to sign up for your free trial and enjoy yourself!
Never worry about canceling a free trial again. DoNotPay will handle it.
How Much Does VidAngel Cost After the Trial?
After , VidAngel charges a subscription fee of $9.99 a month. To view VidAngel's pricing options, just input your email to see our plan details.
What Will VidAngel Charges Look Like in My Statement?
The VidAngel subscription bill will appear on your bank statement once you decide to keep the service after the trial.
How to Cancel VidAngel Subscription
You can cancel your VidAngel either through:
Your account settings on the website, or
by Email
How to Cancel Through Your Account Settings
Visit the official VidAngel website.
Sign in to your account.
Search for your profile
Lookup for the Settings/Subscription option.
Scroll down and click on Cancel Subscription
Provide your reason for canceling and press Yes, Continue
How to Cancel via Email
Create a cancellation request email
Include the required account details to confirm your identity
Send it to support@vidangel.com.
DoNotPay can help you handle the cancellation process for your VidAngel subscription. For more information, visit our DoNotPay pages.
What Are the Most Popular Alternatives to VidAngel?
At times you may be unimpressed by VidAngel's services and become interested in getting alternatives that offer similar services. There are several alternatives to VidAngel's services that are popular among other users. They include:
| | |
| --- | --- |
| Clear play | Paid |
| VideoSkip | Free, Open Source |
| Sensible Cinema | Free, Open Source |
If you struggle with making payments for VidAngel's services, you could opt for the free and open-source alternatives.
What Else Can DoNotPay Do?
DoNotPay can help you with almost anything! Including:
Why Use DoNotPay to Get Free Trials and Don't Get Charged 
DoNotPay is fast. The time spent on applying for free trials independently is reduced, and you can instead enjoy watching your favorite TV shows and movies.
DoNotPay is easy. It helps you avoid filling out many long forms. You only have to wait for the feedback as DoNotPay ensures that your interests are well taken care of.
DoNotPay is successful. We have been tried, tested, and verified.
Try it today and see for yourself.