How to Sign Up for a Udemy Free Trial Without Giving Your Credit Card Info

Udemy is a massive online open course provider aimed at professional adults and students. They have over 130,000 courses to help users advance their careers or learn new skills.
Since some of the courses are quite expensive, a is a great way to try their platform out without paying for it. Udemy does ask that you provide your credit card information before signing up for their free trial. However, you don't have to give away your credit card information anymore if you want to sign up for any company's free trial. Instead, use DoNotPay's virtual credit cards to protect yourself from unwanted charges in case you forget to cancel before the free trial is over.
Does Udemy Offer a Free Trial?
Udemy offers a free trial that lasts for seven days. After the trial ends, it will automatically convert to the applicable monthly service fee.
How Can I Sign Up for a Free Trial to Try Udemy?
Here are the steps you need to take to sign up for a :
Go to the Udemy home page.
Click the "Sign up" box in the upper right corner of the page. Then you will be on the Subscription page.
You'll need to fill out your name, email address, and fill in a password you want to use on the subscription page. Then click the "Sign up" button.
Next, you'll see a list of courses. Click on the list of the subscriptions you would like to choose. If the subscription you want offers a free trial, complete the checkout process, including providing your credit card information.
After subscribing, you can access your free trial.
Only new subscribers are eligible to sign up for a free trial.
Does the Udemy Free Trial Automatically Renew Into a Paid Subscription?
After your Udemy free trial ends, it will automatically revert to the monthly subscription fee plus applicable transaction taxes. Therefore, you must cancel your free trial before the seven days are up to prevent your credit card from being charged.
Udemy does not provide refunds to individuals who forget to cancel their free trials on time, but DoNotPay may be able to help you get a Udemy refund in certain circumstances.
Avoid Automatic Subscription Renewal With a DoNotPay Virtual Credit Card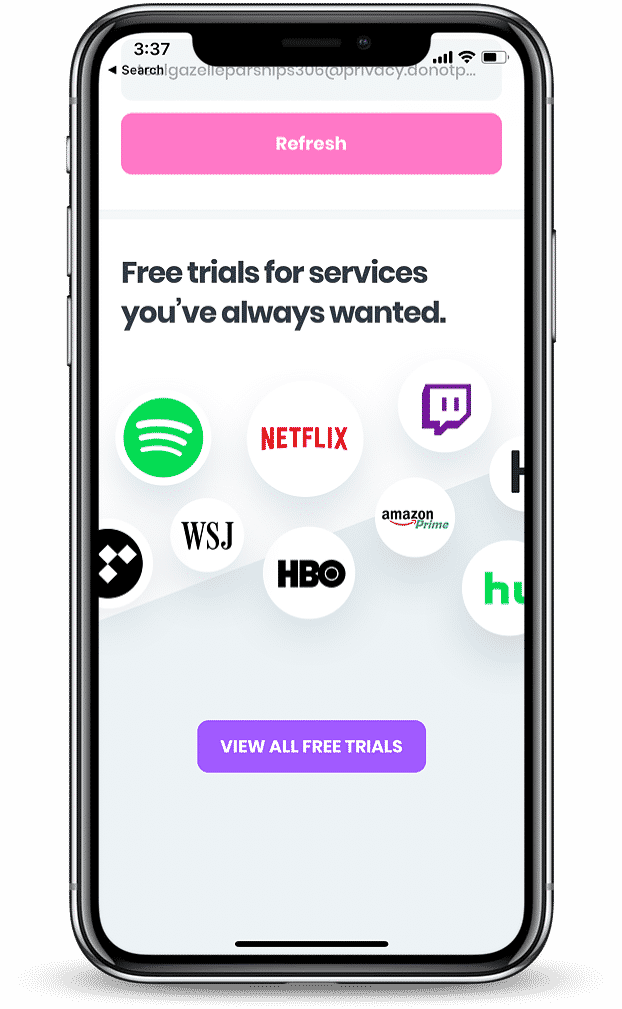 These companies know that most people forget to cancel their free trials on time. Some people don't realize they're paying for something they don't want until they get their credit card statement. These companies know that offering a free trial is an excellent way to get people to sign up for their offer.
If you want to cancel Udemy's free trial, you must do so before the seven days are up. However, you can also avoid the hassle by using DoNotPay's virtual credit card.
Instead, you can use DoNotPay's virtual credit cards to sign up for free trials. In addition, these virtual credit cards can bypass authentication, so you never have to worry about getting charged because the cards don't process any charges. This way, you can protect your credit card information while also being assured that you won't be charged with unwanted payments.
You will not pay anything if you forget to cancel the free trial. Our virtual credit cards won't let the payments go through, so you won't have to stress over remembering when to cancel your free trial. Sign up for the trials you want, enjoy them, and never worry about canceling before it ends again.
Other Things to Know About Virtual Credit Cards
Each card is one-time use.
The cards are not meant for real purchases.
They are just used for free trials.
Virtual credit cards are a good way to protect your real credit card information.
How to Get the DoNotPay Free Trial Credit Card
Go to DoNotPay's Free Trial Credit Card tool.
DoNotPay will generate a virtual credit card number for you.
Go to Udemy's website and copy your new randomly generated credit card number into the credit card number field.
Sign up for the free trial without risk.
How Much Does Udemy Cost After the Free Trial?
The prices for taking courses vary depending on what classes you take. Fees range from $9.99 to $199.99. When you click on the course info before signing up for the free trial, you'll see how much the course costs before submitting your information.
What Are the Most Popular Online Learning Alternatives to Udemy?
Here are some other popular companies that offer online courses, along with their benefits and costs:
Alternative to Udemy
Price and More Information
Skillshare
Skillshare offers a limited free tier. Premium memberships cost $8 per month or $29.88 per year. Team accounts cost $139.00 per person a year with a minimum of 2 people.

The free version provides a small selection of video classes and their related content, such as PDF workbooks and community discussions.

Udacity
Udacity teaches technology courses through what they call nano degrees. Nanodegrees cost $399.00 per month. For access to the program for two months, you pay $588.00, $1017.00 for three months, $1356.00 for four months, $1695.00 for five months, $2034.00 for six months.
Coursera
You must be logged on to Coursera to see the pricing information. Courses are available either on a subscription basis or for individual purchases. Subscriptions cost between $39.00 to $79.00 per month. Most offer a 7-day free trial.
LinkedIn Learning
Individual courses cost between $20.00 to $50.00. You can also sign up for a monthly subscription at $29.99 per month or an annual plan for $239.88.
Get More Help From DoNotPay

DoNotPay can help with more than virtual credit cards and free trials. DoNotPay also provides the following services:
For more information on everything that DoNotPay can do, contact us today.