How to Sign Up For a Uber Eats Free Trial With a Virtual Credit Card

Free trial offers for any service can be a great thing. The premise behind them is simple: try it, if you don't like it, cancel it. However, there is a downside to them, even if it is a simple service like the .
How do you know that you won't face hidden fees, less service quality, and other possible problems because you agreed to a free trial? Not just those associated with Uber Eats but other services as well?
If you are concerned about the downside of free trial offers, DoNotPay can help you get through them while preserving your finances and your privacy.
Is There a Way to Access an Uber Eats Free Trial?
Uber Eats Pass, or Uber One, does offer a free trial for its service. With the free trial, you have access to all membership benefits including:
Priority Service
5% Off Rides, Deliveries, and Order Pickup
No Delivery Fee for Deliveries, Groceries, and More
Premium Member Support and Invite Only Experiences
You may also be able to use promo codes for Uber Eats services.
How to Get an Uber Eats Pass Free Trial
To take advantage of the free trial for Uber Eats, you simply need to:
Create an Account: This can be done using your mobile number and your email address.
Provide Your Information: This includes your name, address, and card information.
Will the Uber Eats Pass Trial Automatically Switch to a Paid Plan?
You will never be charged during the first 30 days of Uber Eats delivery services. At the end of that 30 days, your credit card will be automatically charged. But DoNotPay has a solution for that.
DoNotPay Can Help You Avoid Auto-Renewal with a Virtual Credit Card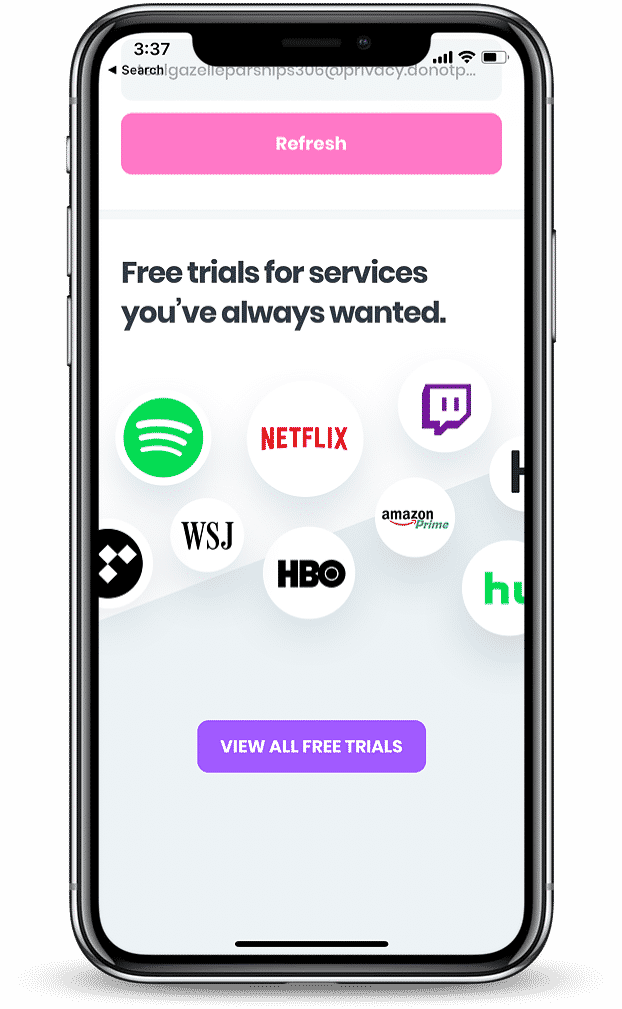 Uber Eats is a service that many people enjoy. The idea behind their free trial is to give everyone the ability to try it out for one month without cost if you live in an area where the service is available. This sounds great. However, what do you do if you find you really don't use it and/or the benefits of it aren't what you expect?
Often, we may sign up for a service, not use it, and forget that we even have to cancel within those first 30 days. Then we are hit with a fee for something we really don't want to use.
If you are trying out Uber Eats Pass for the first time and aren't sure that you want to be billed for continued service in a month, DoNotPay offers a simple solution. We can provide you with a free virtual credit card that you can use when completing the free trial sign-up. Here is how it works.
Log into DoNotPay and find the Virtual Credit Card
Request for Us Generate Your Virtual Credit Card Number.
Complete the Signup Process for Uber Eats Using the Virtual Credit Card Number Provided by DoNotPay.
Try Uber Eats Pass for the Free Trial Period.
At the end of your  period there is no risk that your credit card or bank account will be charged. The card number will no longer exist to be charged because moments after generating your virtual credit card, the number is erased.
If you choose to keep the services of Uber Eats, after the trial period, you will simply need to log into your Uber Eats account and update your card number. This second card number will be one that is linked to an active credit card or bank account.
It is that easy! DoNotPay protects your privacy, your bank information, and your finances.
How Much Is Uber Eats Pass Per Month?
Uber One and Uber Eats Pass memberships will be charged to your bank or credit card based on the payment option you choose. There are two options available including:
Monthly Memberships: $9.99
Yearly Memberships: $99.99
If you input your credit card information, you will not be able to get a refund. Uber Eats refunds missing food, incorrect orders, and similar problems. The only real way to stop further charges is to:
Not Use the Delivery Service
Cancel Your Subscription At Least 24 Hours Prior to the Next Billing Cycle.
Popular Uber Eats Alternatives to Consider
Uber Eats is a cool service, but it's not available everywhere. If Uber Eats is not available in your area, or you have been unsatisfied with their services in the past, you do have other options. The most popular alternatives to Uber Eats are:
Alternative:
Price:
Details:
DoorDash - DashPass
$9.99 Per Month
Free Trial Period- 3 Months for New Members

$0 Delivery Fee on DashPass Orders Over $12.00 or $25.00 for Grocery Deliveries
5% Credit Back on Pickup Orders
Priority Customer Support
DashPass-Only Promotions
Services Through Caviar and DoorDash
No Contract

GrubHub+
$9.99 Per Month
Free Trial 14 Days

Unlimited Free Delivery Over $12.00
Donation's Match
Member Exclusive Perks

Postmates
$9.99 Per Month
Free Trial Period 30 Days

Works With DoorDash
No Delivery Fees for Restaurant Orders Over $15.00 or Grocery Deliveries Over $30.00
5% Off
Member Only Perks
Cancel Anytime
What Else Can DoNotPay Do to Help You?

Although an  is great for many people, not everyone agrees. If you don't want to take a chance on finding out you are disappointed in the service, the DoNotPay virtual credit card can help.
There's so much you can accomplish with DoNotPay. We can help you tackle many of life's most annoying situations, easily, quickly, and most importantly, securely. Some of DoNotPay's most popular services include:
Whether you are looking for a free virtual credit card or one of our many other services, DoNotPay is always available to help. To get started on simplifying whatever your issues may be, simply visit DoNotPay online 24/7.