How to Make Uber Eats Complaints the Easy Way
Uber Eats makes getting food from your favorite local restaurant easy and convenient. With a click of a button, you can place orders for select dishes or full-menu options from restaurants. But with the increasing customer base come lots of .
If you're one of many disgruntled customers, you might be looking at different ways to file Uber Eats complaints and have your issues resolved fast. Lucky for you, there are several ways to file your complaints. You could contact Uber Eats customer service, file a complaint with the BBB or FTC, and bring a claim to the small claims court if all fails.
While you can resolve your issue through these other methods, the small claims court is the most effective yet challenging. You have to fill out forms, write a demand letter, and navigate the legal landscape. DoNotPay can make it easier for you.
We will help with the paperwork and even issue a script that you can use to argue your case in the small claims court.
How to Contact Uber Eats to Make a Complaint
If you need to report an issue to Uber Eats, you can contact them directly by phone, email, or social media pages. You may also find a solution to your problem in their Help Center. The table below offers their contact information. Then keep reading to learn more about each option.
| | |
| --- | --- |
| Company | Uber Eats |
| Email | eats@uber.com |
| Phone number | 800-253-6882 |
| In person visit | (locations vary) |
| Twitter | @UberEats |
Help center
You may have the same complaints as other Uber Eats customers. This happens because of a technical fault or improper knowledge. Uber Eats has a Help page with FAQs to resolve such issues. Pick a topic related to your problem and see if any FAQ solves it. You can also submit a question at help.uber.com/ubereats.
Email
Email is suitable for private communication that's not urgent. If your complaint meets this criterion, you can email Uber Eats at eats@uber.com. For safety reasons, do not share any sensitive information like credit card numbers or passwords.
Phone
If you need quick answers but still maintain your privacy, a call would be a great way to contact Uber Eats. Call Uber Eats at 800-253-6882.
Visit the local office
Uber Eats has offices in each location it has operations in. You can visit your local office and talk directly with the people in charge. They may resolve your complaint or escalate your issue to the concerned authorities.
Social Media
If you don't mind making your complaint public, you could pose your question on Uber Eats' Facebook or Twitter pages. In most cases, they will respond quickly because of the public image.
How to File a Complaint against Uber Eats Customer Support
Still no help? Don't fret. You can escalate the issue to third parties like BBB, FTC, or your state attorney general or consumer agency. Uber Eats is known for sneaky pricing and a lack of response to customer complaints.
The Better Business Bureau (BBB)
BBB might not have any legal authority, but it handles complaints filed by customers against Uber Eats. File your complaint through the BBB website or submit a written complaint letter to your BBB (find yours in this directory). Be sure to include your name and contact details when submitting your letter. Uber, the parent company, handles every BBB-related consumer complaint.
The Federal Trade Commission (FTC)
The FTC promotes consumer protection. You can file an Uber Eats complaint with FTC by calling 1-877-FTC-HELP (1-877-382-4357) or online through their Complaint Assistant to have them intervene on the issue on your behalf.
State Attorney General or State Consumer Agency
You can also bring your Uber Eats complaints to your local government or consumer organization. Check out USA.GOV list of consumer protection offices across all states. But it's important to call first to confirm whether the offices handle your type of complaints and provide complaint forms.
Take UberEats to Small Claims Court if your issue is Not Resolved
If Uber Eats and the third-party organizations still don't offer the help you need, you may have to move the case to a small claims court. But before you even consider this option, you need to:
Ensure your case qualifies for small claims court. This boils down to the amount of money you're suing for and the type of relief. Small claims court doesn't award more than $10,000 for most states. It also only grants monetary awards.
Send Uber your demand letter. You'll need to notify Uber first and give them a chance to solve the issue involuntarily. A demand letter explains your issue and contains your name, address, account, and phone number. You can then mail the letter to Uber.
Fill out your court forms: Next, you'll need to fill out forms according to your state's specifications. Check with your state court website to confirm the number of forms before proceeding.
File the complaint with your court: Once you're done with the paperwork, you should file them with the court. Many courts will need you to deliver the forms to the court clerk in person during specific days and hours. Others will allow you to fax, online, or mail the forms. The clerk will then issue a stamped copy of the paperwork and court date.
Serve your forms to Uber. Deliver a copy of your filed paperwork to Uber. Familiarize yourself with your state's small claims service process to avoid your claim being dropped.
Show up for your hearing. Go to the courthouse at the right time with copies of paperwork and evidence to support your claim. Examples of evidence include:
A copy of the demand letter
Any agreement between you and Uber Eats
Any document that proves the letter of demand was handed to Uber
Uber's contact details
Sue Uber Eats with DoNotPay
A lot goes into bringing a case to the small claims court. You have to write a demand letter and deliver it to Uber. You must also find the right forms, fill them out, and deliver them in the specified number (triplicate, quadruplicate, etc.) to court. It can be a struggle, especially since the process varies from place to place. Add that to the legalities that go in, and you understand why many people give up altogether.
But you don't have to struggle alone. DoNotPay can take care of the hard work for you. We will write a demand letter and send it to Uber Eats, so you don't have to. We will also generate the court filing forms, saving you the trouble of finding them yourself. And the best part is we will provide an expert-written script that you can use in court to help argue your case, maximizing your chances of getting the compensation you deserve.
Here's how to start a small claims lawsuit against Uber Eats with DoNotPay:
1. Log-in to DoNotPay and select the Sue Now product.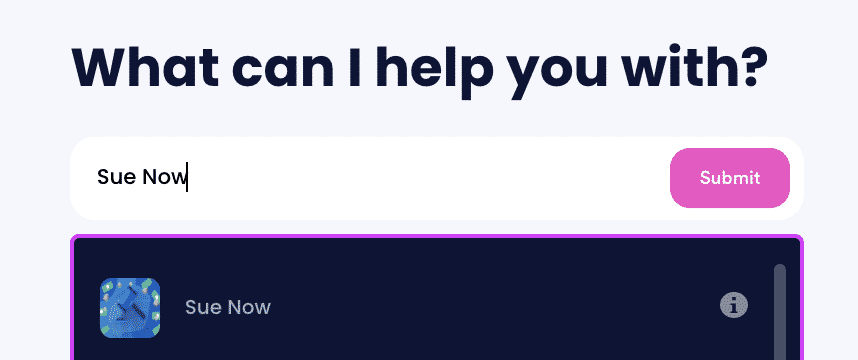 2. Tell us how much you are owed by the company, if applicable.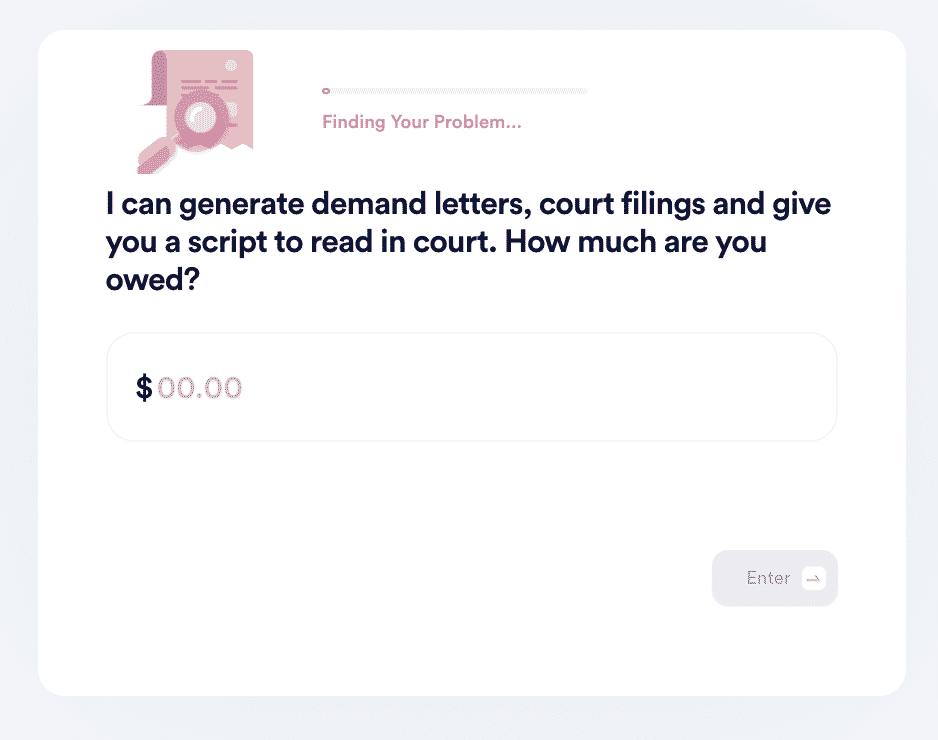 3. Select the reason for your lawsuit.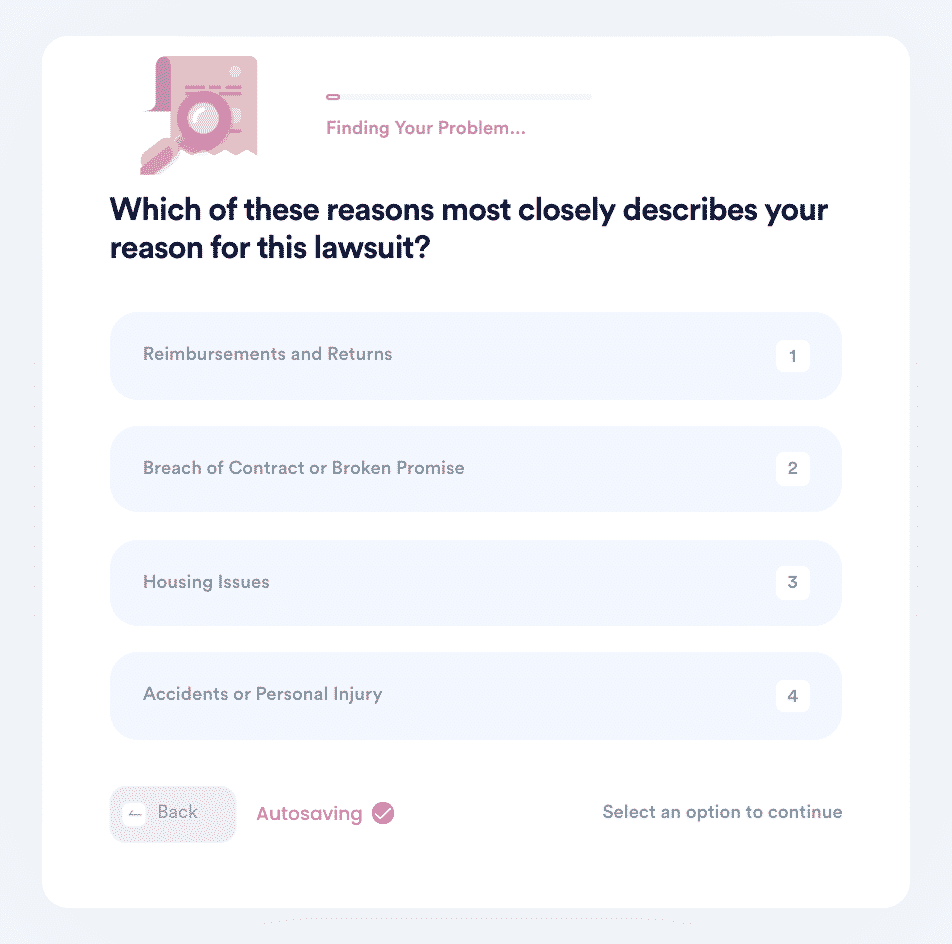 4. Provide details about why you're filing the lawsuit including photographic proof and other important information.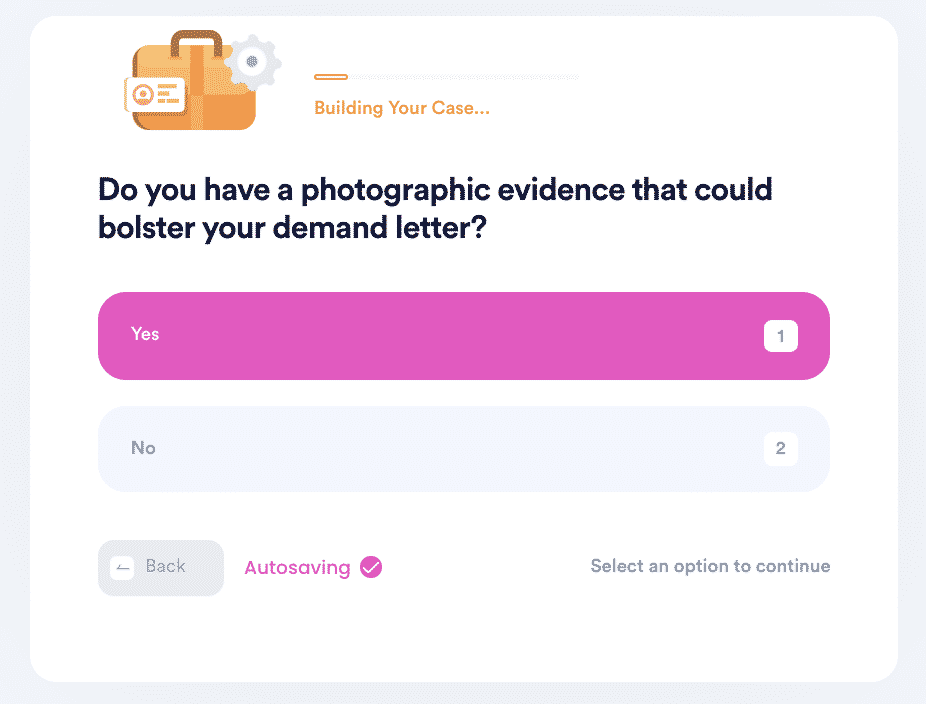 And that's it. DoNotPay will do the rest of the work for you. We will write and deliver the demand letter to Uber Eats. We'll also generate the court filing forms for you, and issue a script that you can use to present a strong case. And remember, it works for other companies, too. Even giants like Walmart.
What Else Can DoNotPay Do?
DoNotPay is the world's first robot lawyer. It's designed to helps people like you resolve , as well as other companies like:
Your Uber Eats complaint is probably not the only problem you're dealing with as a consumer. The good news is that DoNotPay can help with a range of other issues. Don't struggle alone. Browse through our site to see how we can help. Here are some examples of things we can do.
Sign up today to get started.