Start You Twilio Free Trial With a Virtual Credit Card

Twilio is a San Francisco-based firm that utilizes web service APIs to build communication tools that can be used to:
Send and receive text messages
Make and receive phone calls
Perform other communication operations
Like any other company that provides a service, Twilio offers new clients a free trial period during which they can evaluate the company's offerings before purchasing. After your free trial, you may opt to upgrade to the premium version and eventually cancel your subscription after you finish using it.
However, in most services, subscribers report that their subscriptions continue to be renewed automatically even after canceling. Fortunately, when you sign up using DoNotPay, you can rest assured that 
How to Sign Up for Twilio Free Trial
There isn't much to it when you . Additionally, you are not required to enter your credit card information. Follow the steps below to get started:
You must verify that your phone number is valid. This is a required security measure before using a Twilio-free account.
Log into your console once you finish signing up. This is where you can retrieve your Twilio information, obtain a phone number, monitor your usage, among other things.
Twilio will provide you with a small balance to use to test their services. You will not be charged for the phone numbers or using Twilio until you subscribe to the premium version.
Additionally, the small preloaded balance is only valid for a limited time. These restrictions and any remaining free trial amount are removed when you upgrade your account.
Limitations of Twilio Trial Account
Certain limitations that apply to the free Twilio account are:
Only have one active sub account at a time.
Only one Elastic SIP Trunk.
Limited to a single phone number.
Those who contact your free trial phone number will hear a brief trial message.
Trial accounts can't send text messages to other Twilio accounts.
If your phone number is not used for more than 30 days, it may be deactivated because Twilio has a limited quantity of phone numbers. If you choose to upgrade your account, your trial number will be retained and billed at the current voice or SMS rates each month.
How to Subscribe to Twilio After a Free Trial
You'll need to upgrade your trial account to a paid version if your Twilio requirements change or if you need to perform something that your trial account does not permit. Complete the billing page with your payment information, such as your credit card number or Paypal account, to upgrade. This enables Twilio to bill you automatically.
On the downside, Twilio does not inform customers when their subscription is renewed automatically. Additionally, the canceling process is cumbersome, and sometimes, they may renew your subscription even after cancellation.
Many customers are unhappy because they are typically unaware of these charges until they analyze their transactions and credit card records months after the charges have been billed continuously. This can quickly amount to hundreds of dollars being charged on a credit card without you realizing it. For this reason, we came up with a virtual credit card.
Check Twilio's pricing on each of their products and how much they could potentially charge you without you knowing:
How Does the Virtual Credit Card From DoNotPay Work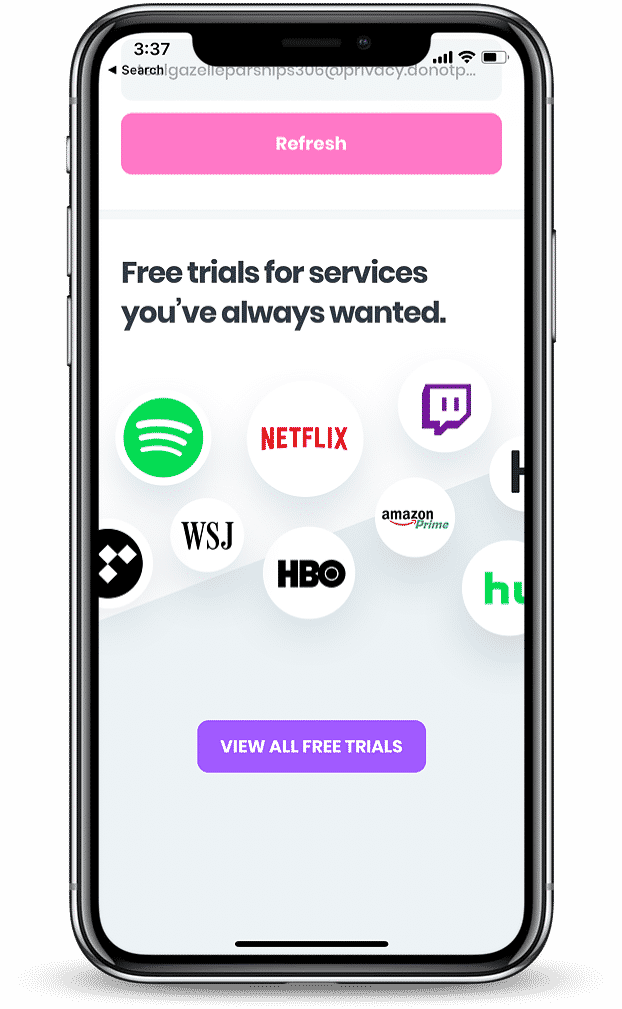 Virtual credit cards operate in a manner comparable to standard chip credit cards. Each time you use a standard chip credit card, the business receives a single-use token. This card prevents the company from automatically billing your card since they are limited to a single-use token valid for the single purchase you made.
Virtual credit cards work in the same way. This prevents Twilio from billing you automatically if you do not authorize the transaction again.
When utilizing the DoNotPay free virtual credit card, you are free to use any name or address. Similarly, you can use the virtual credit card number indicated on the DoNotPay app and the expiration date provided.
Why Use DoNotPay Virtual Credit Card
DoNotPay's virtual credit card:
Safeguards your account
Saves you money
Provides you with peace of mind.
Allows you to have complete control over your Twilio account
The beauty of DoNotPay's virtual credit cards is that they have the same credit card information as real credit cards. This enables you to use Twilio's services without fearing being charged for a yearly subscription if you forget to cancel your subscription after you stop needing their services.
What Else Can DoNotPay Do?

Apart from preventing you from being auto-billed, DoNotPay can help you:
Our other products can help you solve other legal and social issues, including:
If you want to keep your bank account information private and safe when you buy things online, think about getting a virtual credit card from one of the main banks or financial service providers in the United States. Nonetheless, contact us today to get your DoNotPay virtual credit card.