How to Get a TurboTax Free Trial With a Virtual Credit Card

This tax season has been met with the news that TurboTax will no longer participate in the government's IRS Free File Program. However, a quick visit to the TurboTax website reveals a remaining free option. Filing taxes is hard, and you don't want to spend money on unexpected fees after a , which is why you need a virtual credit card from .
DoNotPay offers assistance with an incredible amount of services, but its free virtual credit card offers the valuable service of financial security. You never have to enter your personal credit card information for a free trial again, and this means no surprises after the trial is over when the surprise subscription occurs.
If you need help fighting TurboTax fees, DoNotPay has got you covered. Free means free, but many companies choose profit over people, and those slippery free trials can "magically" transform into expensive subscriptions. It's not always profit motives that hurt your wallet. Sometimes, companies simply make a mistake. You don't want that mistake to happen with your credit card info. That is why DoNotPay offers virtual credit cards.
Does TurboTax Offer a Free Trial
TurboTax doesn't offer anything that it refers to as , but it does offer free services. Sometimes, you don't know if it's going to be free until you start entering your information. The only free services offered by TurboTax are for simple tax forms or those that only require the 1040 form.
There are 3 types of 1040 forms:
1040
1040a
1040EZ
If your taxes are simple enough to qualify for only a 1040 tax return, then you're in luck! You won't have to pay if you file with TurboTax. Things that require additional forms include:
Itemized deductions
Income from unemployment
Business income
Rental income
Alimony
TurboTax will offer advice and the necessary tax forms, but there will be charges when you go to file. These charges are generally competitive, but they aren't pleasant if you were expecting a free file.
How Can I Get a TurboTax Free Trial
As there is no official "free trial," the best way to get your free tax return is to follow these steps:
Visit the TurboTax website.
Get started with the setup by entering your email address.
Continue through the process, as TurboTax bots ask relevant questions to fill out your tax return.
Use optional TurboTax services, such as an expert review.
e-File your tax return or print it and send it in the mail.
Check your status until it is successfully processed by the IRS.
TurboTax claims that only a small portion of its customers can use their free services without having to pay for extra forms or opting for additional services. However, it is still possible for many adults to file taxes for free through TurboTax. 
How Does the TurboTax Free Trial Automatically Renew into a Paid Subscription
Although TurboTax does not have a free trial in the traditional sense, it does offer the option to set up auto-renewal. This can put people in a predicament if they sign up for auto-renewal and forget about the charges coming next tax season.
There are many advantages to auto-renewal, including that you can pull the information from last year's tax returns instead of starting from scratch. This saves time and might be worth it to some. If it isn't, the charge is an unwelcome surprise.
Avoid Automatic Renewal With DoNotPay Virtual Credit Card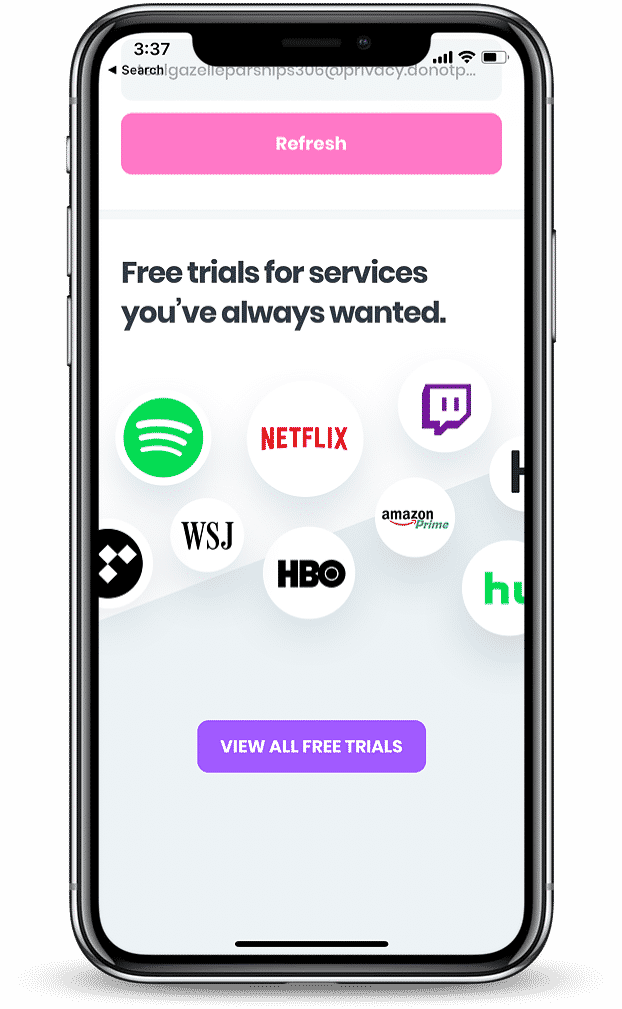 If you paid with a virtual credit card from DoNotPay, there will not be any surprise when TurboTax tries to renew its services. That is because the card will no longer be valid, and your bank account will be safe.
How Much Does TurboTax Subscription Cost After Free Trial
The cost of TurboTax differs based on the household, and it can change yearly if household circumstances change. Generally, the DIY forms and application cost between $59 and $119, but that is only a rough estimate. 
What Are the Most Popular Alternatives to TurboTax
If you choose not to use TurboTax, there are many options. They include:
Tax preparation company (i.e. H&R Block)
Private accountant
Sending forms via mail
Most people now do some form of eFiling through an online platform, tax preparer, or accountant. Filing by mail is not recommended, as it can get lost and is not trackable.
Any time an online platform asks for a credit card number, a person should consider a virtual credit card.
What Else Can DoNotPay Do
DoNotPay offers many services besides virtual credit cards, but for tax preparation through places like TurboTax, this service is essential. Once you find out how much DoNotPay can help you with taxes, you'll want to find out more.
You can open DoNotPay can help you with almost anything! Including:
Sign up for today and increase your financial security!