Get the Best Deal as You Transfer Delta Miles to American Airlines
Transferring your Delta miles to American Airlines can be a real pain. They're your miles, and you should be able to use them as you see fit. DoNotPay can help . We can exchange between just about any miles program, like transferring American Airlines miles to United.
Alternatively, you can follow our do-it-yourself guide below. Just be aware that there are more options than just exchanging Delta miles to AA, like selling Delta SkyMiles for cash. Keep reading to learn more.
Earning and Redeeming Delta Miles
The official name for the Delta miles program is Delta SkyMiles. Delta is a major North American airline, with hubs in Atlanta, Boston, Cincinnati, Detroit, Los Angeles, Minneapolis, Salt Lake City, and Seattle.
Delta has branded credit cards that all offer Delta SkyMiles. Their earning rates vary, but generally, the payout is five to eleven miles per $1 spent. Delta also has partnerships with Airbnb, Lyft, various hotels, and online retailers. Depending on your specific card, shopping with these vendors can award bonus miles. Miles can also be used to upgrade seat class.
Delta will offer other ways to redeem your miles, but typically these aren't good deals. Delta is part of the SkyTeam airline alliance. It is easy to book flights with Delta SkyMiles on other carriers in SkyTeam. There are about a dozen airlines in SkyTeam, including Air France, Alitalia, Korean Air, and China Southern. Unfortunately, American Airlines is not in the SkyTeam alliance. This makes difficult.
Below is a table highlighting point values of various airlines, including Delta and American Airlines:
| | | | |
| --- | --- | --- | --- |
| Airline Reward Program | Miles | Standard Mileage Value (in Dollars) | Priority/Business/First Class Mileage Value (in Dollars) |
| American Airlines AAdvantage Miles | 1 | $0.012 | $0.025 |
| Southwest Rapid Rewards | 1 | $0.014 | $0.015 |
| United MileagePlus | 1 | $0.010 | $0.024 |
| Delta Skymiles | 1 | $0.013 | $0.014 |
| Jetblue TrueBlue | 1 | $0.015 | N/A |
| Alaska Airlines | 1 | $0.010 | $0.028 |
| Virgin Atlantic | 1 | $0.011 | $0.021 |
How to Transfer Delta Miles to American Airlines
Delta SkyMiles doesn't let you transfer miles to American Airlines. However, there are third-party vendors where you can trade and exchange your miles from Delta to American Airlines.
You can do much more with your Delta miles than transferring to American miles. You can:
| | |
| --- | --- |
| Sell for Cash | Vendors will happily buy miles from you. This is a much better option than redeeming Delta SkyMiles for their non-flight product offers. |
| Transfer for Other Points or Miles | You can also exchange Delta SkyMiles for points with other credit card loyalty programs or other airline miles. |
How to Exchange Delta Miles on Your Own
Follow these steps to manage your Delta miles on your own:
There are a plethora of third-party vendors to choose from.
We avoid recommending a specific vendor. Different vendors are better for different situations.
It is crucial that you remain compliant with all the rules and regulations that come with Delta SkyMiles. Violating their terms and services can get you kicked out of their loyalty program.
Need Help Selling or Transferring Your Delta Miles?
Consider these complications if you want to handle your Delta miles by yourself:
There are a lot of different points and miles markets. Finding the best deal can be a hassle.
Delta is very restrictive in what you can use your miles on.
DoNotPay can help you find the best exchanges and open up a whole new world of mileage redemption.
How to Sell or Exchange Your Delta Miles With DoNotPay
Whether you want to trade or sell your Delta SkyMiles, DoNotPay can get you the best deal quickly. Here's how to get started:
1. Search "points" or "rewards" on DoNotPay, and select the rewards program you're a part of / the type of points you have.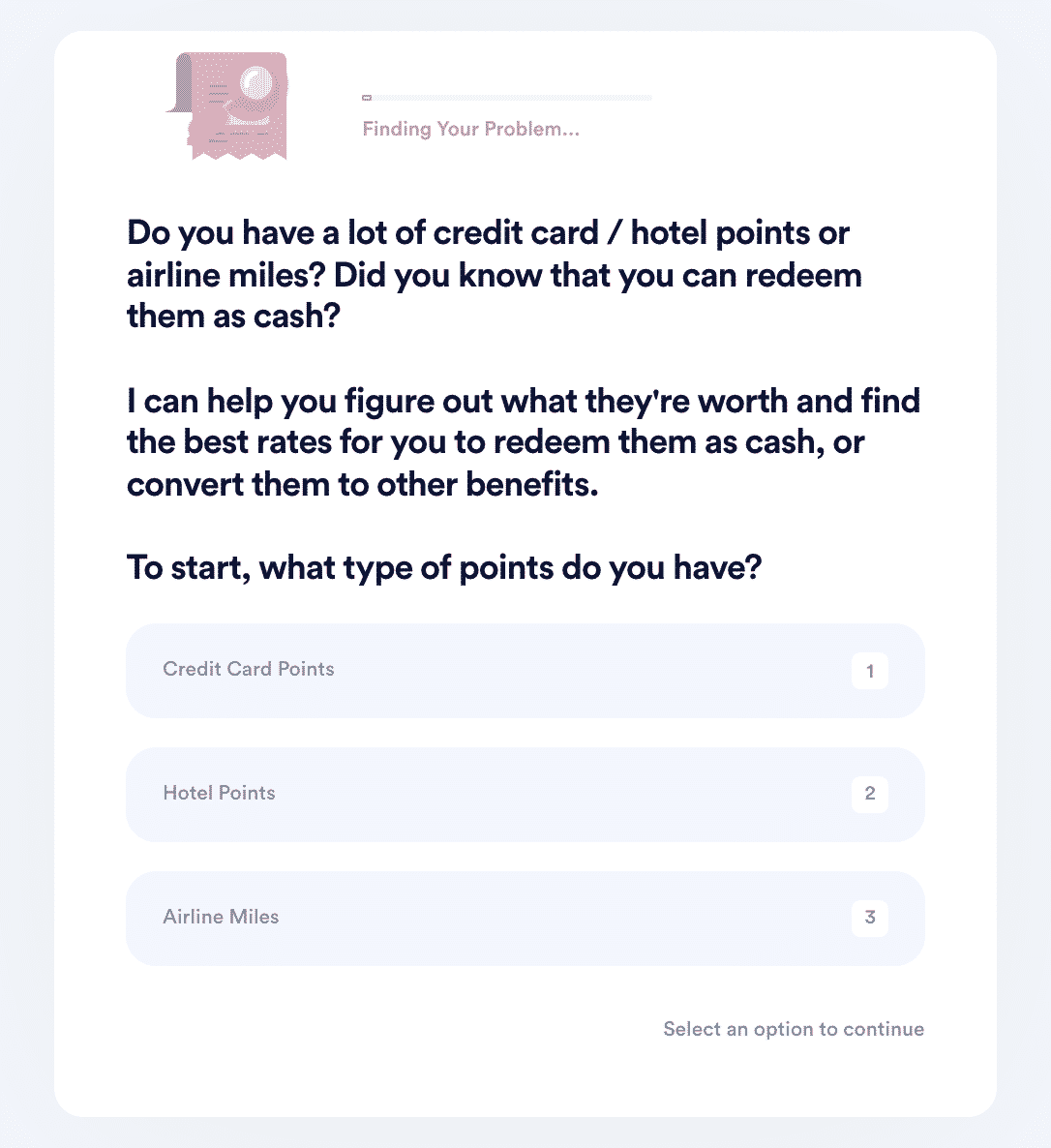 2. Choose whether you want to check your points balance, transfer your points, or sell them for cash.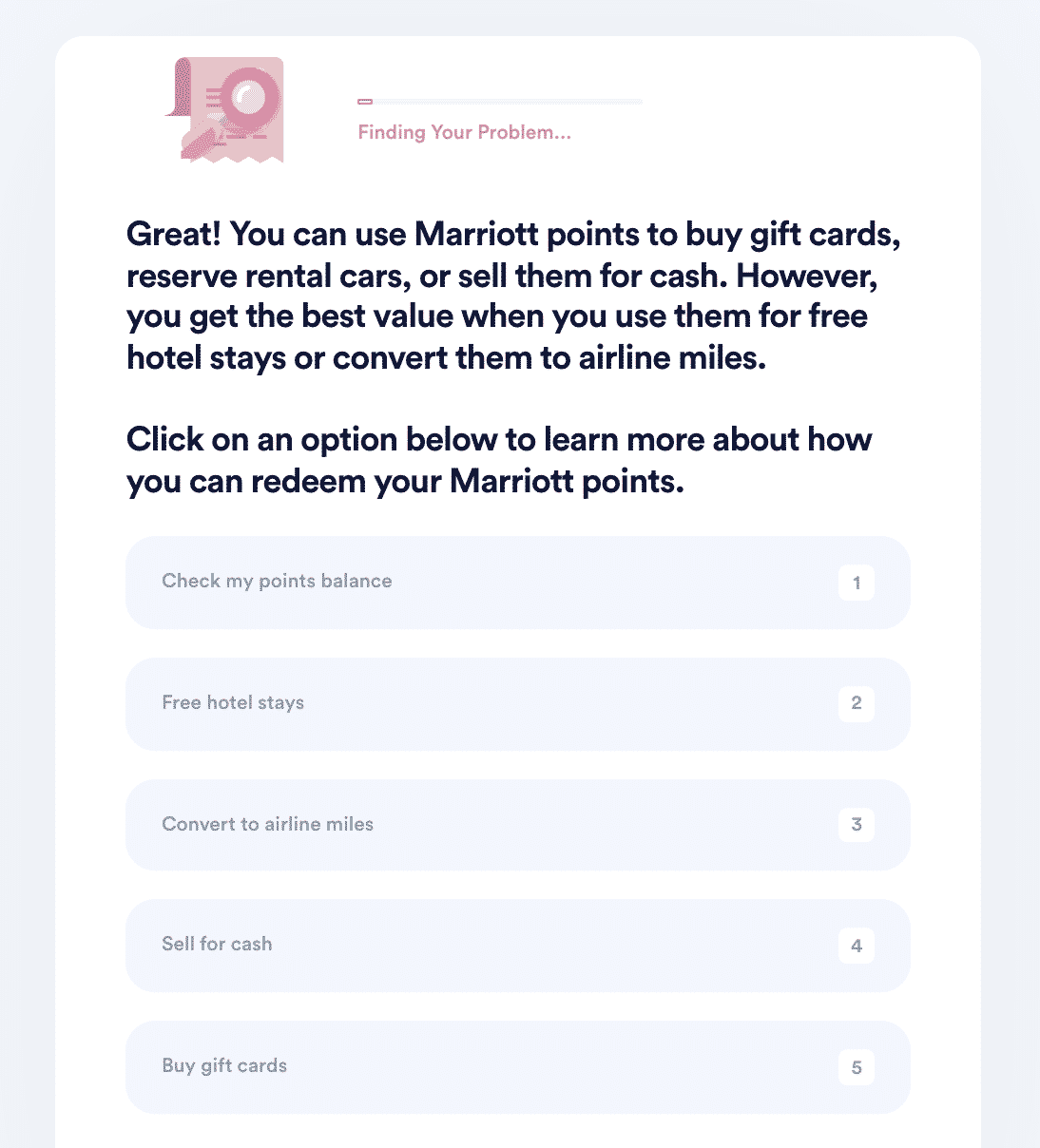 3. If you selected one of the first two options, DoNotPay can check your points balance or transfer your points for you. Otherwise, we can help you find the best deal through third-party vendors.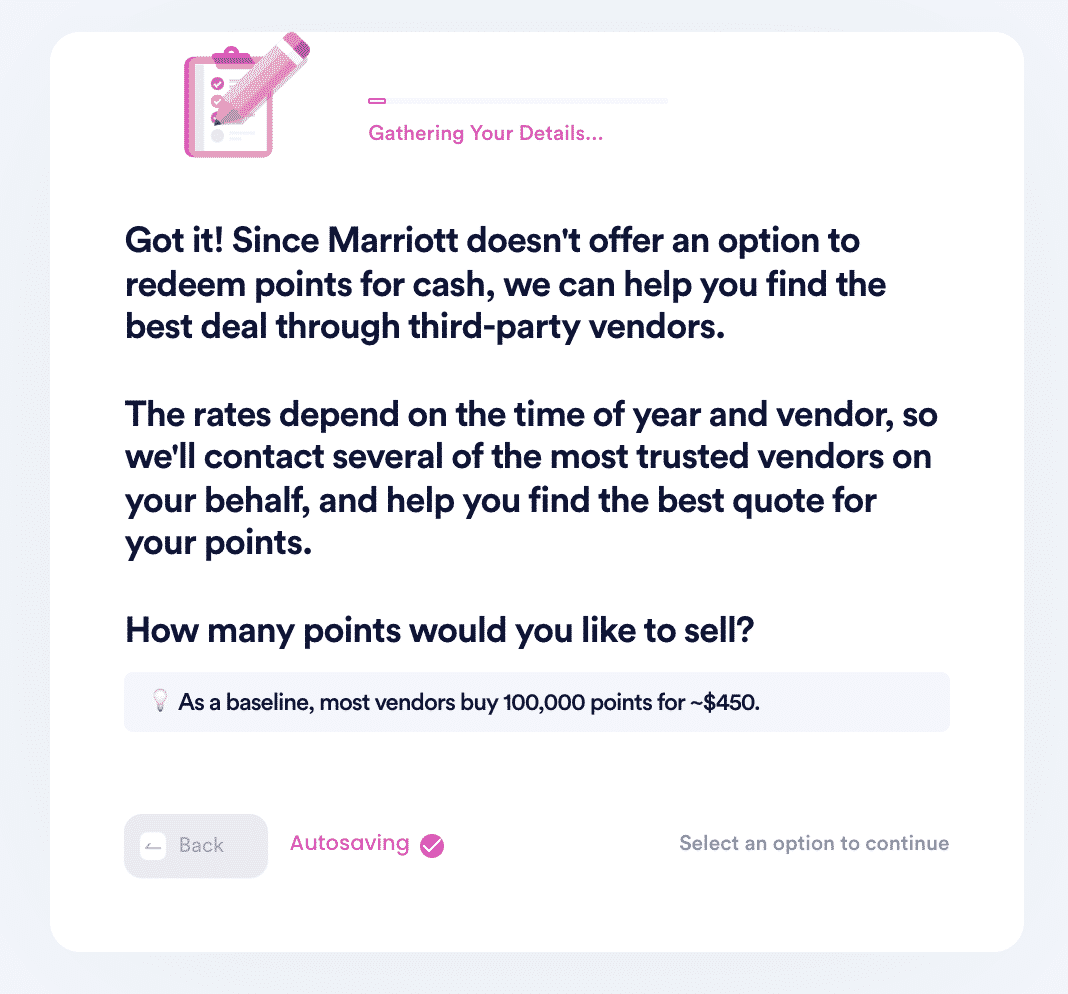 For example, if you are a Delta SkyMiles member, you can transfer your points to the Hilton Honors Rewards Program. If you want to sell your miles, we can help you find the best deal through third-party vendors. Our marketplace allows you to mix and match points and miles in countless ways. Lastly, you can store multiple credit cards on DoNotPay, making point and mileage management easier than ever before.
Why Use DoNotPay to Get the Most Out of Your Delta Miles
DoNotPay makes it stress-free to transfer your Delta miles to different organizations. The key benefits of doing DoNotPay are that it's:
Easy. Delta is very restrictive in how customers can use their miles. We make it easy to transfer Delta miles to just about any other rewards program. Or, you can sell your Delta points for cash.
Fast. No need to open dozens of tabs and make several spreadsheets just to redeem your Delta miles. They're your miles. We make it easy to redeem them as you see fit.
Successful. We know all the ins and outs of Delta's terms of service. Our marketplace can help you get the most out of your SkyMiles without risk. That's why Time called DoNotPay "the hero the world needs."
What Else Can DoNotPay Do?
Some of our additional points transferring and selling services include:
Additional Services From DoNotPay
We do more than travel points and miles. Turn to us for solving day-to-day issues like:
Advanced healthcare directive
Contact DoNotPay today to get started.