Transfer British Airways Miles Effortlessly with DoNotPay
You may have seen the excessive taxes and fuel surcharges that come with a British Airways ticket while looking for foreign flights. These additional costs might cost you hundreds or thousands of dollars, not to mention the money you already spent on the ticket!
Fortunately, you can to book reward flights without having to pay these exorbitant fees. When you fly with British Airways' airline partners, you'll save money on taxes and fuel fees. DoNotPay can help.
British Airways Credit Card and Airline Partners
At British Airways, the customer rewards points one can earn are called Avios.
How Avios Works:
The British Airways Visa Card allows you to earn Avios automatically.
All flight purchases through BA, Iberia, Aer Lingus, and Level will earn you triple Avios.

You can earn double Avios on hotel rooms when traveling, and standard Avios on everything else, like meals.

You may also transfer points from:

Chase Ultimate Rewards
Capital One Miles
Amex Membership Rewards
or Marriott Bonvoy
After earning Avios in any of these methods, you can choose whether to transfer them to partner programs or keep them for .
Pro tip: The best value is typically found when transferring aviation or redeeming it for flights offered by partner airlines. The Oneworld alliance's participating airlines and additional transfer partners work with British Airways.
Because British Airways belongs to the Oneworld airline alliance, you may earn Avios by flying with one of its partner airlines.
Here are how British Airways Avios compare to other partner points;
| | |
| --- | --- |
| Hotel/Airline | Point Value (Cents) |
| Air Canada Aeroplan | 1.9 |
| Air France / KL Flying Blue | 1.4 |
| Alaska Airlines Mileage Plan | 1.1 |
| American Airlines AAdvantage | 1.2 |
| ANA Mileage Club | 2 |
| Best Western Rewards | 0.7 |
| British Airways Avios | 0.8 |
| Delta Airlines SkyMiles | 1.3 |
| Emirates Skywards | 1 |
| Frontier Miles | 0.7 |
| Hawaiian Airlines HawaiianMiles | 1 |
| Hilton Honors | 0.5 |
| Hyatt | 1.9 |
| IHG Rewards | 0.8 |
| Marriott Bonvoy | 0.7 |
| Radisson Rewards | 0.6 |
| Southwest Airlines Rapid Rewards | 1.4 |
| Spirit Airlines Free Spirit | 1.1 |
| United Airlines MileagePlus | 1 |
| Virgin Atlantic Flying Club | 1.1 |
| Wyndham Rewards | 0.9 |
How to Earn Avios with Partners
Avios may be earned in various ways, including alliance and partner airline trips. The amount you can earn is determined by the airline you're traveling with and the length of your trip. Also, the cabin you book, the kind of ticket you purchase, and your current Executive Club tier level. Here are three tips to get you started:
British Airways has a calculator to help you figure out how many Aviva and tier points you can earn, you can find it online.
But the calculator is only for direct flights.
Make care to calculate each flight individually before adding them for round-trip travel.
How Spending Avios Works
Traditional airline award charts are priced by geographic region, which means the price of miles remains constant regardless of distance or travel connections within that zone. It will offer you the usual 25,000-mile domestic round-trip reward ticket that many people are accustomed to.
British Airways has a distance and segment-based reward system, and it's important to grasp it if you want to have the best out of your flight awards.
For each phase of a trip, each Avios award redemption is charged per distance, and the costs mount up quickly. For example, a nonstop flight from New York (JFK) to Chicago (ORD) costs 7500 Avios.
How to Redeem with Partner Airlines
You may use your Avios to book flights with the following Oneworld Alliance member airlines:
American Airlines
Finnair
Japan
And Iberia Airlines.
To book, go to the British Airways website's book a rewards flight area and log in. Available flights are shown under Book using Avios. Choose the one that works best for you. Flights operated by partner carriers are identified. British Airways will assist you in finalizing your reward flight ticket.
Rewards programs are complicated, but DoNotPay can help. Whether you need to transfer rewards points from one organization to the next, or give them to a friend or family member, make DoNotPay your first resource. It works with all kinds of airlines, hotels and credit card companies.
Solve the Transfer of British Airways Miles with the Help of DoNotPay
Use DoNotPay to quickly with these steps.
Here's how to get started:
1. Search for "points," or "rewards" on DoNotPay, and select the rewards program you're a part of / the type of points you have.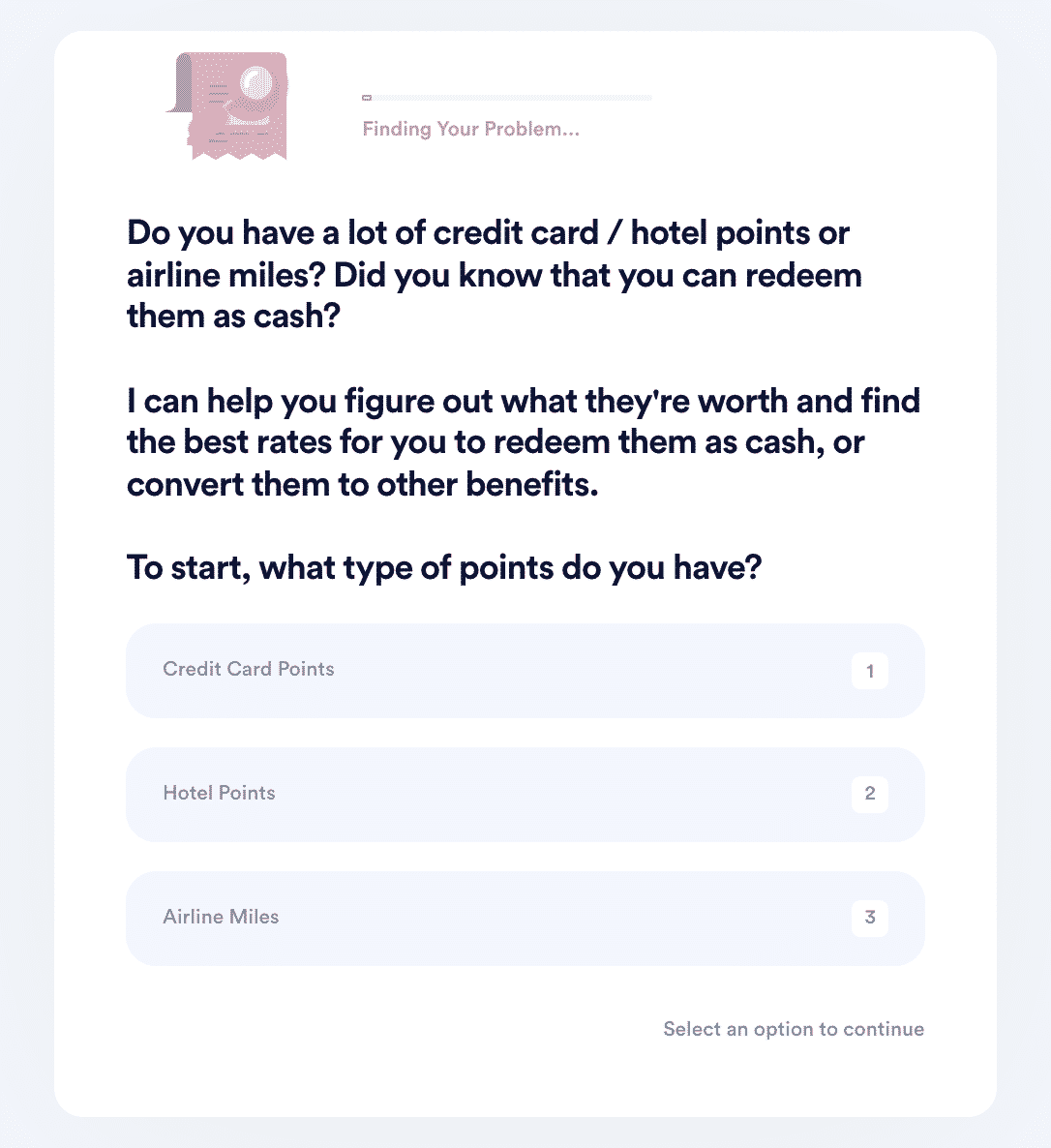 2. Choose whether you want to check your points balance, transfer your points, or sell them for cash.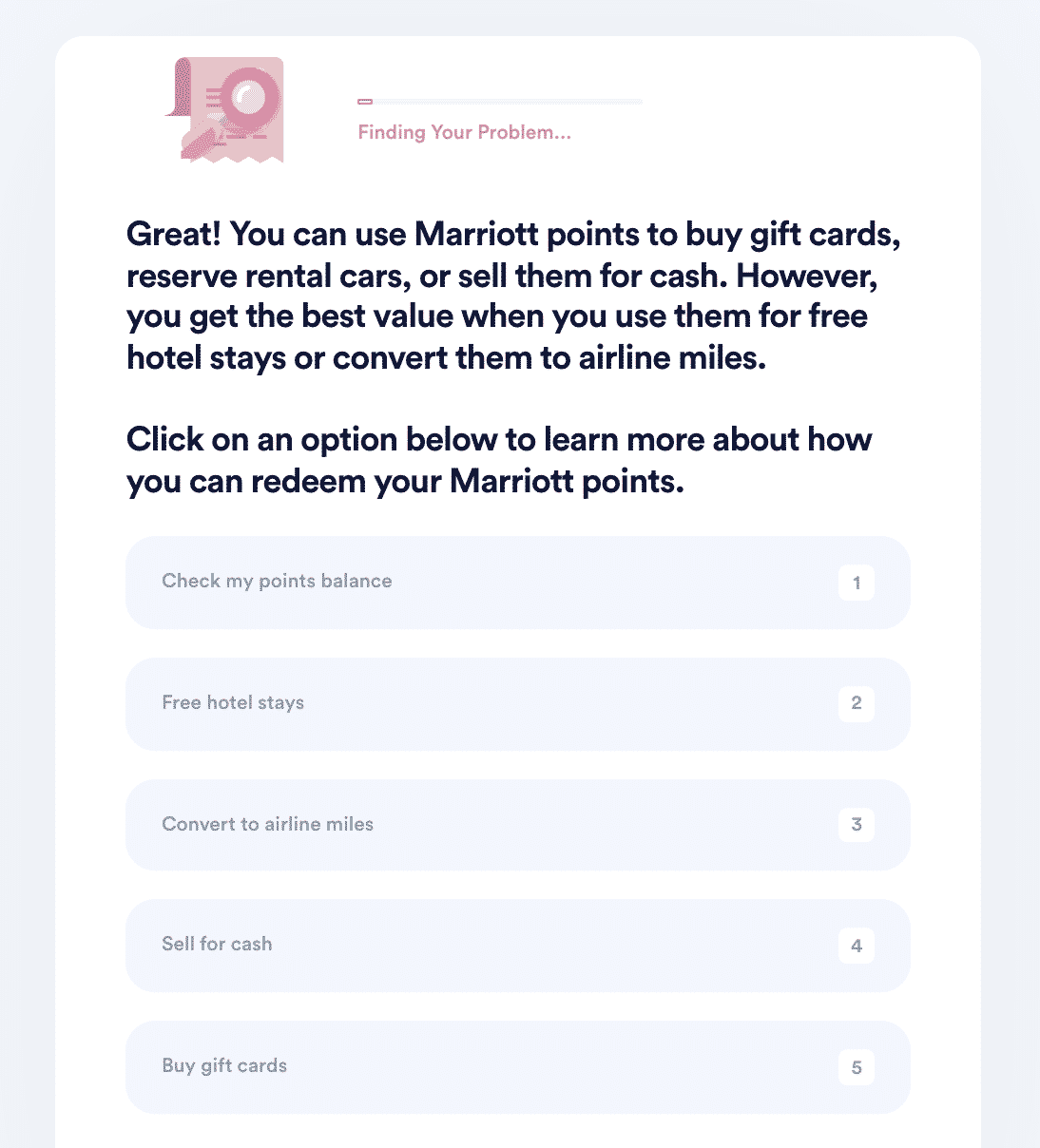 3. When you pick one of the first two options, DoNotPay can check your points balance or transfer your points to you. Otherwise, we can help you find the best deal through third-party vendors.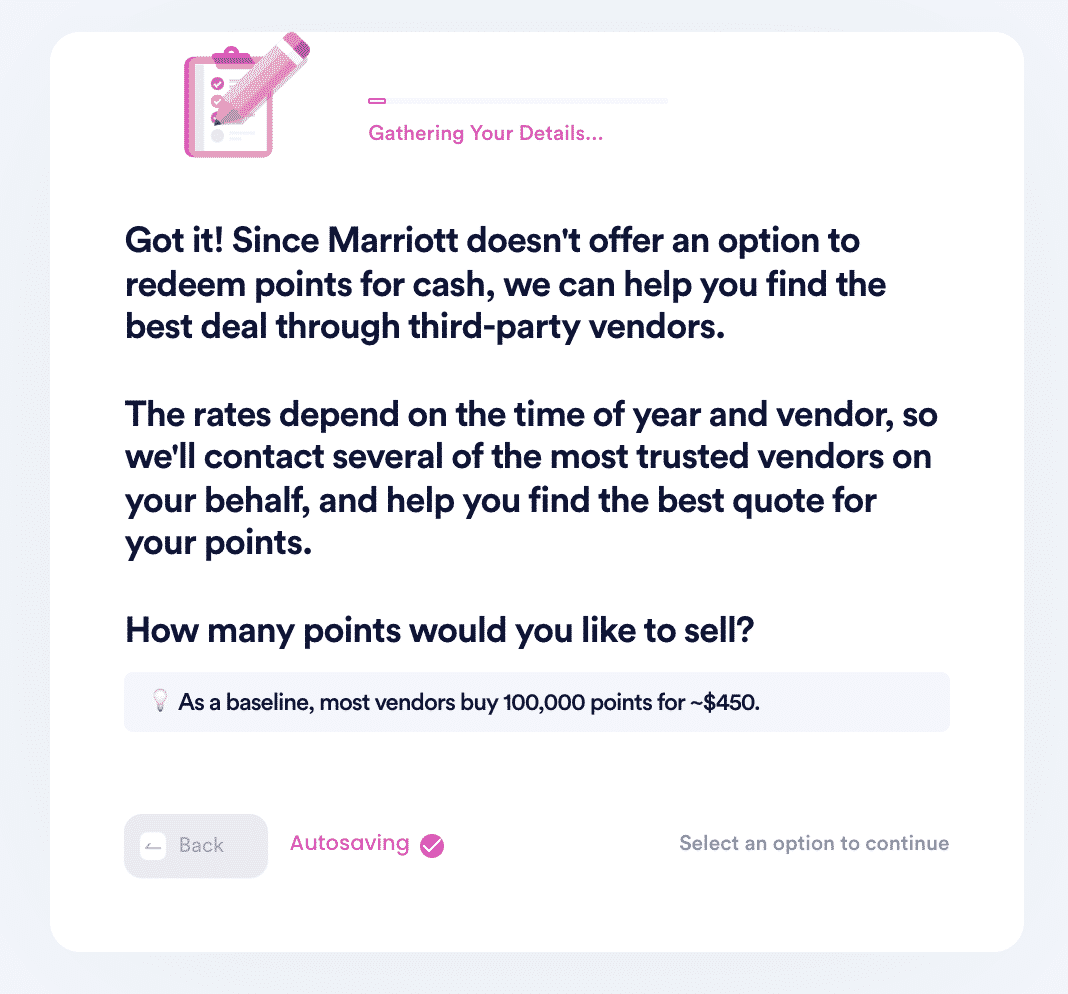 Remember, it works for any club. For example, if you are a Marriott Rewards member, you can transfer your points to airline miles or find discounted hotel rates to redeem the best value. Or, we can help you find the best deal through third-party vendors if you want to sell your points. Lastly, we can also help you check your latest points balance automatically.
Why Use DoNotPay in British Airways Points Transfer
Use DoNotPay to transfer any rewards club points because it is:
Fast— You won't have to wait hours to log in and transfer your points.
Easy— You won't have to waste time filling out long forms or memorizing the steps to transfer your points.
Successful— You may rest sure that DoNotPay will make the best possible case on your part.
It will save so much time! You'll never need to wait on hold for hours or hope that a customer service agent is having a good day. DoNotPay has you covered. And it works for every hotel, airline or credit card.
Use it to transfer or sell:
What Else Can DoNotPay Do?
Transferring reward points is just one of many things DoNotPay can help you with. Here are some other services that you might love:
Are you tired of the cumbersome and time-consuming methods of ? Contact DoNotPay for a quick and pleasant process.