How to Transfer JetBlue Points
JetBlue is a leading low-cost American airline and the 7th largest airline in North America based on the passengers it carries. JetBlue launched a points transfer program for its members to transfer JetBlue points across the airline.
By launching this member-to-member points transfer program, this means that users can pay a fee to transfer JetBlue points from one account to another.
Generally, purchasing and transferring miles doesn't always make sense, because it can be cheaper to purchase regular tickets. However, it may make sense in certain situations. Know that JetBlue has a fixed value loyalty program, meaning you only receive a certain agreed value for each point.
JetBlue's points transfer program allows users to transfer points from one JetBlue account to another. You can initiate this transfer process yourself by reaching out to JetBlue customer reps. Alternatively, you can sign up with DoNotPay to help you transfer JetBlue points quickly and easily. This article explains the JetBlue points and how to transfer them across accounts, by yourself or via DoNotPay.
How JetBlue Points Work
There are several ways to earn and use your accrued JetBlue points.
Join TrueBlue to be eligible for earning these points.
As a non-member, it is almost impossible to earn JetBlue points.
You can also earn JetBlue points by booking your flights via the JetBlue website and app.
The more you frequently fly with JetBlue, the more points you earn, and the more opportunities you'll have to redeem them.
JetBlue also provides a pooling feature that helps you bring up to seven friends and family members and increase your rate for earning points.
You can use your JetBlue points to book amazing one-way and roundtrip award flights to your dream destinations across the world—with no blackout dates. In addition, you can use TrueBlue points to pay for your vacation packages. Moreover, you can combine cash and TrueBlue points, from as little as 500 JetBlue points, to get good deals on plane tickets.
About Transferring JetBlue Points
| | |
| --- | --- |
| How many points can you transfer? | With JetBlue's transfer program, you can either give or receive transfers in increments of 1,000 JetBlue points as well as up to 30,000 points at a go. |
| Who can receive points? | As a TrueBlue member, you can share your points within your family, which may include up to five children and two adults. |
Each family should present a household head controlling the family account and the transfer of points.
Each family member should contribute at least 10% of the points earned.
You may transfer JetBlue points to non-family members, but you may have to pay a fee of 1.25 cents for every point you transfer.
How to Transfer JetBlue Points on Your Own
Whether you want to transfer JetBlue points to your family members or non-family, you should free up time to go through with the process. This is going to take a while.
Transferring airline points typically involves lengthy phone calls and waiting periods where the company has to verify your authenticity and allow you to transfer points. If you plan on calling the airline to transfer the points, you can use DoNotPay to help you jump the long phone queue.
However, even after talking to the customer reps, your chances of transferring your JetBlue points are close to zero.
How to Transfer JetBlue Points with the Help of DoNotPay
DoNotPay can help you transfer JetBlue points in three short and clear steps.
1. Search for "points," or "rewards" on DoNotPay, and select the rewards program you're a part of / the type of points you have.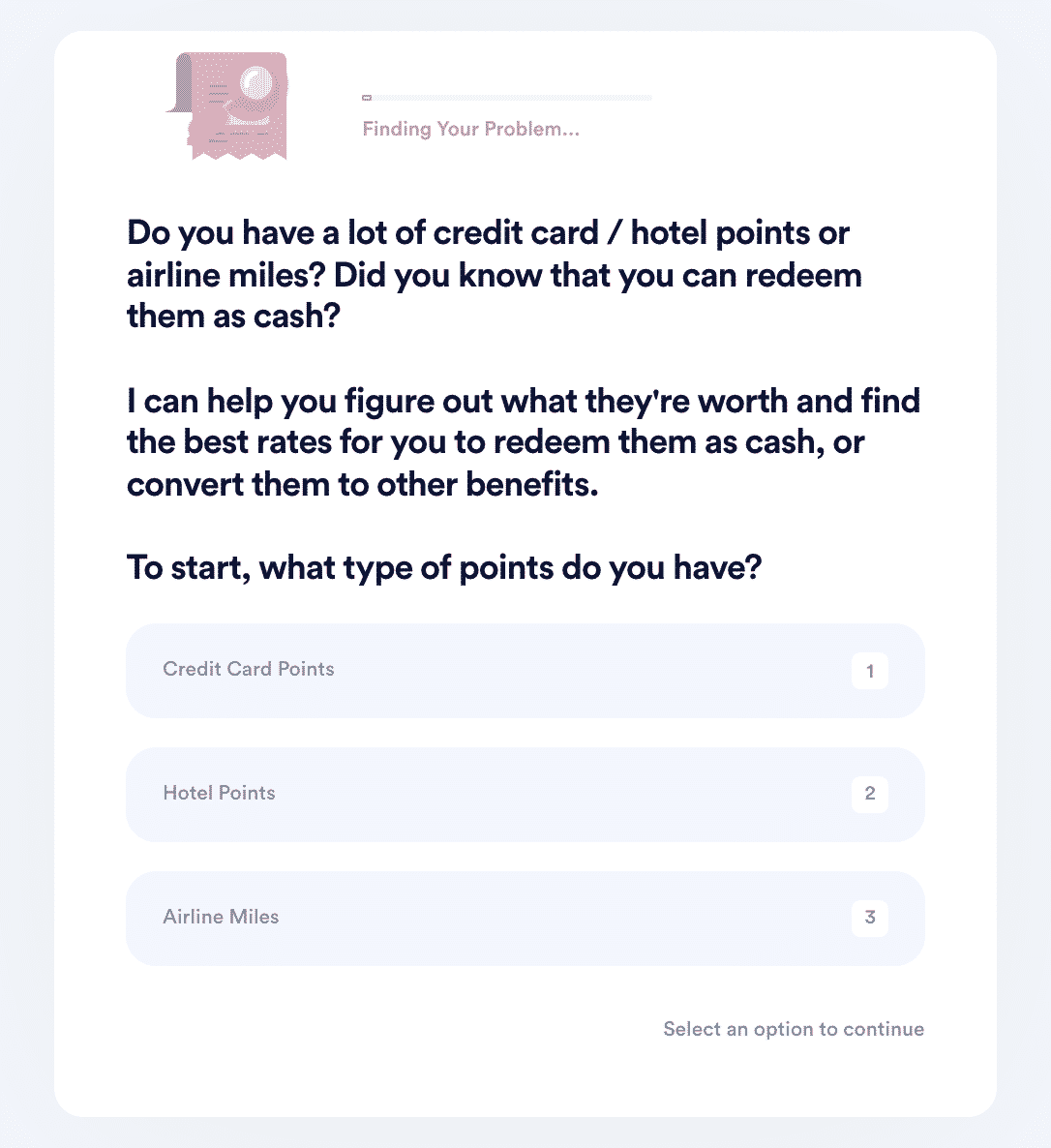 2. Choose whether you want to check your points balance, transfer your points, or sell them for cash.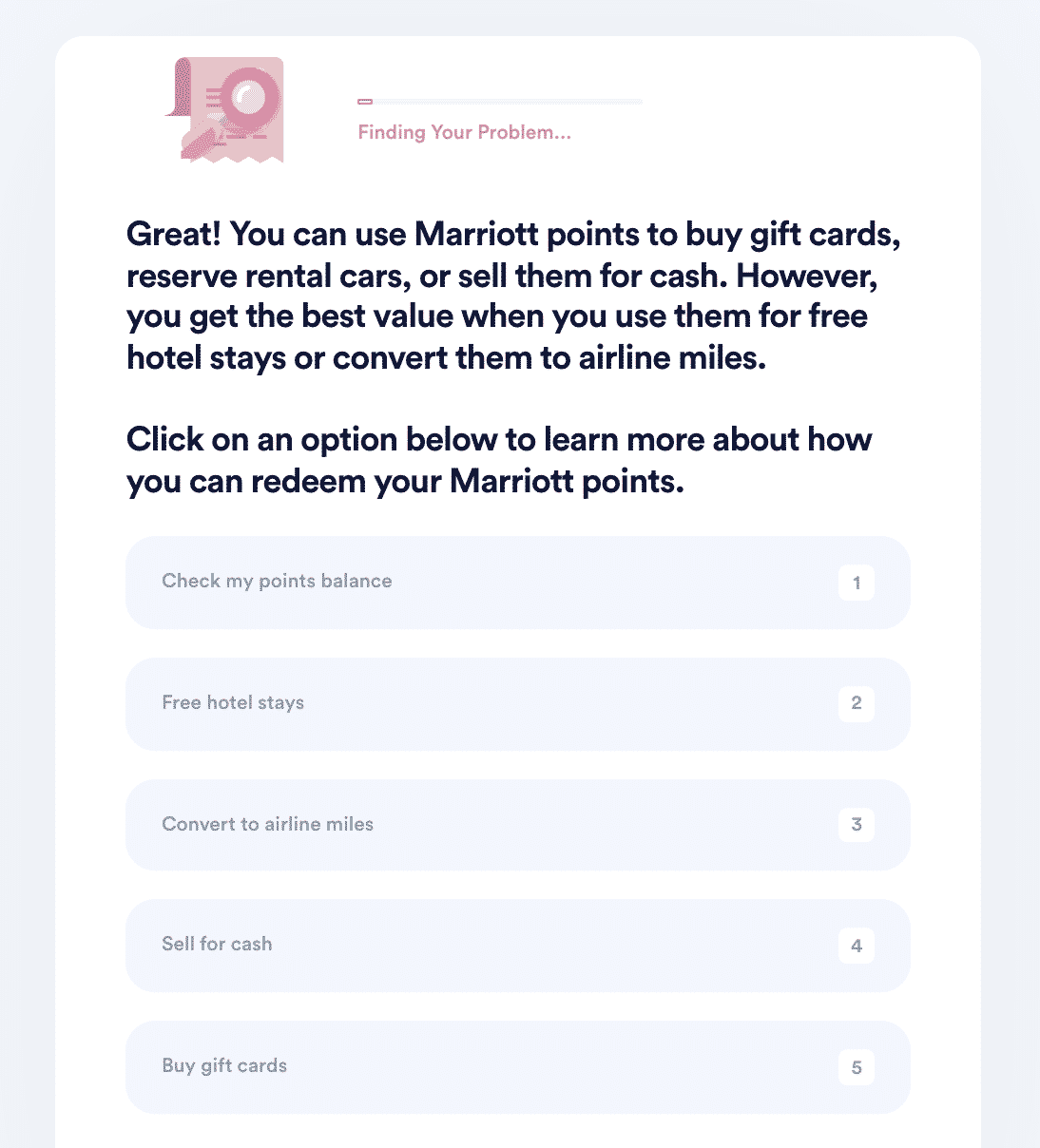 3. When you pick one of the first two options, DoNotPay can check your points balance or transfer your points to you. Otherwise, we can help you find the best deal through third-party vendors.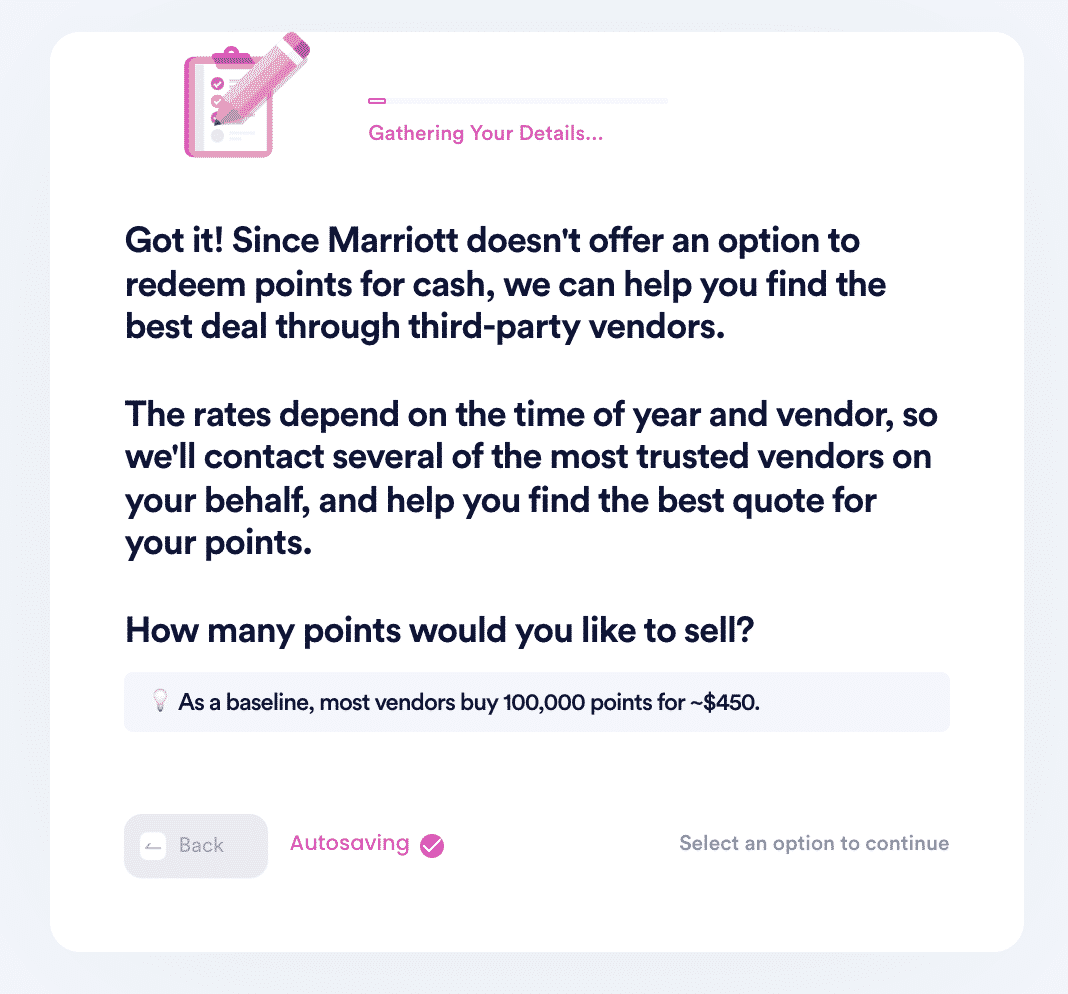 As a TrueBlue rewards program member, DoNotPay can also assist you in finding discounted hotel rates for redeeming. DoNotPay can also help you check your current JetBlue points balance automatically.
Why Use DoNotPay to Transfer JetBlue Points?
DoNotPay's points transferring process is:
Easy: DoNotPay simply requires users to sign up, then submit the necessary details that it uses to help you transfer your points
Fast:  DoNotPay has no downtime and prolonged waiting periods for feedback and results
Higher rate of Success: More importantly, DoNotPay uses the best resources to increase your chances of a successful JetBlue points transfer.
It's always faster and easier than dealing with a customer service rep at JetBlue.
DoNot Works Across All Companies
But that's not all you can do with the app. It works for other airlines, like Southwest and Delta. Besides helping you transfer JetBlue points, you can rely on DoNotPay to help you:
What Else Can DoNotPay Do?
DoNotPay is a universal service provider with experience of dealing with multiple companies and corporations. Aside from helping you transfer JetBlue points to a family member and non-members, DoNotPay can also help you with:
Start the process now with DoNotPay.