Easily Challenge Unfair NYC Toll Tickets Without a Lawyer
New York introduced the electronic cashless toll system in 2020 to replace manual toll plazas, but no significant change seems to have occurred. About 59,000 drivers still express their concern over toll misreads and overcharges even with the new E-ZPass toll system.
If you're wrongly accused of a toll violation and receive an , you can dispute the toll ticket with the Thruway Authority. Even so, it may not be as easy as you think, and that's why we've come up with this DoNotPay post. It explains the process of contesting a toll ticket in NYC, plus steps to take if you don't get a favorable judgment.
How Do Tolls Work in NYC?

The New York E-ZPass is a public cashless toll collection system that allows in-state or out-of-state drivers to access the entire Thruway. With an E-ZPass account, you get a tag or transponder on your vehicle's windshield to trigger automatic payments whenever you drive under a Thruway toll booth. For the to occur, the tag must be in the correct position on your vehicle, and the E-ZPass account should have enough cash.
How Much Are Tolls in NYC
New York has toll charges on all toll roads, tunnels, and bridges across the state. The cost of a toll usually depends on many factors, including vehicle type, time of travel, the direction of travel, and vehicle occupancy.
The table below gives an accurate summary of toll charges in NY:
| | | |
| --- | --- | --- |
| New York Bridge/Tunnel | E-ZPass Toll Rate | Cash Toll Rate |
| The Bronx–Whitestone Bridge | $6.55 | Not allowed |
| Throgs Neck Bridge | $6.55 | Not allowed |
| Hugh L Carey (Brooklyn–Battery Tunnel) | $6.55 | Not allowed |
| Queens Midtown Tunnel | $6.55 | Not allowed |
| Verrazano-Narrows Bridge | $6.55 | Not allowed |
| Henry Hudson Bridge | $3.00 | Not allowed |
| Cross Bay Veterans Memorial Bridge | $2.45 | Not allowed |
| Marine Parkway-Gil Hodges Memorial Bridge | $2.45 | Not allowed |
| Atlantic Beach Toll Bridge | Not allowed | $2.00 |
| Ogdensburg-Prescott Bridge | Not allowed | $3.25 |
| Lewiston-Queenston Bridge | $4.00 | $4.00 |
| Whirlpool Rapids Bridge | $4.00 | $4.00 |
| Rainbow Bridge | $4.00 | $4.00 |
| Peace Bridge | $3.75 | $3.75 |
| Thousand Islands Bridge | $3.00 | $3.00 |
| Whiteface Mountain Vet. Memorial Highway | Not allowed | $20.00 |
| Kingston-Rhine cliff Bridge | $1.35 | $1.75 |
| Mid-Hudson | $1.35 | $1.75 |
| Newburgh-Beacon Bridge | $1.35 | $1.75 |
| Rip Van Winkle Bridge | $1.35 | $1.75 |
| Bayonne Bridge | $11.75 Off-peak/ $13.75 peak | Not allowed |
How to Pay Tolls in NYC
You can pay for New York toll fees in several ways, but it all boils down to whether you have an E-ZPass or not. With an E-ZPass, you have more options with better discount rates. These include:
Automatic Replenishment
This involves linking your MasterCard – debit or credit to your E-ZPass account for automatic deductions whenever you come across a toll facility. It's suitable for frequent travelers.
Pay per Trip
Pay per trip lets you link your E-ZPass account to a bank account to only pay for the tolls accessed. It is better than charging your credit card to maintain a minimum E-ZPass balance for automatic replenishment.
Per With Cash
No bank accounts or credit card accounts are needed here. You only need to purchase an E-ZPass transponder from the customer service center and use a reload card to refill your account balance on the spot.
On the other hand, without an E-ZPass, you're limited to:
If you don't have an E-ZPass tag and miss a toll charge, you will receive a toll ticket through mail within 30 days after your trip. Tolls by mail charges are usually 30% higher than the standard toll rates, and you can pay them via phone, check debit, or credit card.
Set up a short-term E-ZPass account for leased or rented cars using your credit card or license plate number.
What Happens if You Don't Pay a Toll in NYC?
If you don't have an E-ZPass, you'll receive regular toll ticket bills via mail within 30-40 days after initially traveling. If you ignore the bill, you'll get another toll bill with an added $5 fee. If the bill is still unpaid after 90 days, you're officially considered a toll violator, and the Metropolitan Transport Authority can suspend your driving license and take further legal action against you.
Take, for example, this American who accumulated a toll bill of over $58,000, despite receiving over 400 notifications to pay. His license was suspended and his car was impounded for the foreseeable future.
Can I Dispute My Toll Violation in NYC?
Yes, you can dispute a toll charge in NY within 180 days of being charged. You only need to download the dispute form online and provide credible reasons why they should absolve the charge.
Send the form back to the New York State Thruway Authority (NYSTA) for investigations on your claim to begin, and after that, they will get back to you on the matter. Make sure you provide enough contact information and include your license plate number.
Is Contesting a Toll Ticket in NYC Worth the Hassle?
Contesting a , especially if you didn't commit the violation or it was an error on NYSTA's part, is essential to clearing your name. Even if you didn't commit the violation, ignoring a toll ticket will only land you in deeper trouble with the road authorities. Your driving license might eventually be suspended and your vehicle impounded until you pay the toll ticket plus an extra penalty fee.
That said, settling a simple dispute over an illegal toll ticket in New York can save you a lot of trouble rather than ignoring the notifications. But remember, just because you send a toll charge dispute doesn't mean you'll get restitution. The NYSTA gets thousands of toll ticket contest applications, but only a few sail through. Luckily though, DoNotPay can help improve your chances of beating a NY toll ticket.
Contest Tickets in New York in Less Than 120 Seconds
NewsWeek recently praised DoNotPay's robot lawyer for overturning over $4million worth of parking tickets, and you can be next in line.
Here's how you can get started:
Log in to DoNotPay and find the Toll Booth Ticket product.

Upload a photo of your toll violation.

Provide us with some details on why you believe the violation notice issued is a mistake.

Select whether or not you want the letter mailed to the traffic ticket issuer on your behalf!
That's it! You'll receive an appeal letter that contains state vehicle codes to boost your case.
And you're done! Wait for a notification that you won. DoNotPay can help you contest ERAC toll charges, Hertz toll charges, and Bay Bridge toll fees, as well.
What Else Can DoNotPay Do?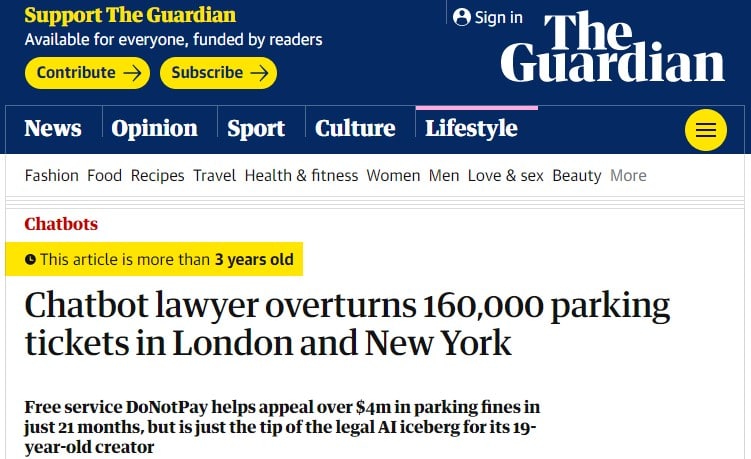 If you think contesting toll tickets in NYC is the only thing DoNotPay can do, guess again. Other ways DoNotPay can also help you include:
Have you illegally received a toll ticket and want to launch a ? Let DoNotPay help you beat the ticket or increase your chances of doing so. Visit the DoNotPay product website to learn more about this product.