Don't Pay Unfair Toll Fees In NYC—Here's How to Appeal Them
When it comes to driving, you generally go where the route takes you. Often, that simply means going through the toll booths.
If you are unfamiliar with the area, or need the quickest, most direct route, trying to find an alternate route just to avoid a couple of toll booths is not worth the effort. Other times, the road or bridge with the tolls may be the only possible way to reach your destination.
However, what happens if you somehow go through the toll without paying or otherwise end up with tickets or additional fees attached to the regular toll fee? It can be frustrating, to say the least. If you need help disputing a ticket for a toll fee in NYC, DoNotPay can help. 
What is the Cost of Toll Fees in NYC? 

The current toll rates (2022) for the Port Authority NY/NJ apply to the following bridges and tunnels:
Lincoln Tunnel
Holland Tunnel
George Washington Bridge
Bayonne Bridge
Goethals Bridge
Outerbridge Crossing
The cash rate is always the same. However, you will receive a discount if you have an E-ZPass. Your E-ZPass will also get you lower rates if you travel during off-peak or weekend hours.
| | | | |
| --- | --- | --- | --- |
| | Vehicles with 2 Axles and Single Rear Wheels | Vehicles with 2 Axles and Dual Rear Wheels | Motorcycles |
| Cash Toll or Tolls by Mail | $16 | $44 | $16 |
| E-ZPass Peak Hours* | $13.75 |  $38.00 | $12.75 |
| E-ZPass Off-Peak Hours | $11.75 | $36.00 | $10.75 |
| E-ZPass Trucks Weekday/Overnight Hours** | n/a | $33 | n/a |
*Peak Hours are as follows:
Weekdays: 6:00 AM - 10:00 AM, 4:00 PM - 8:00 PM
Saturday and Sunday: 11:00 AM - 9:00 PM
**Overnight Hours for Trucks are as follows:
Sundays through Thursdays, 10:00 PM until 6:00 AM the next morning
Tolls are collected when entering New York, but they are not collected when entering New Jersey. This is not an exhaustive list, but covers common vehicle types. If your vehicle has more axles or combinations of axles (for instance, if you are towing a trailer or another vehicle), you can expect your fees to rise.
What Happens If You Don't Pay Your Toll Fees?
The registered owner of a vehicle will receive a Notice of Toll Violation if the vehicle travels through:
a staffed toll lane and fail to pay the toll
an E-ZPass Only lane without a valid E-ZPass tag
Sometimes an E-ZPass will fail to register when you go through an E-ZPass lane, and you may receive a Notice of Toll Violation. In this case, you will have to call the correct agency that owns your E-ZPass account to correct this problem.
Otherwise, for the first offense, drivers will only be required to pay the toll that is due. The administrative fee is waived if the payment is made within fifteen (15) days of receiving the Notice of Toll Violation. Following violations will be subject to a $50 administrative fee in addition to the toll fee for each offense. 
Contest a Toll Ticket In NYC the Quick and Easy Way
DoNotPay has been recognized by Business Insider and other major publications for successfully challenging and overturning hundreds of thousands of tickets, and yours could be next! We know it can be a little time-consuming to fight accidental or wrongful toll violations, which is why we are here to help.
Here's how to get started:
Log-in to DoNotPay and find the Toll Booth Ticket product.

 

Upload a photo of your toll violation.

 

Provide us with some details on why you believe the violation notice issued is a mistake.

 

Select whether or not you want the letter mailed to the traffic ticket issuer on your behalf! 
That's it! You'll receive an appeal letter that contains state vehicle codes to boost your case.

 
It's really that simple! Look out for your traffic ticket issuer's response to discover whether you won!
Are you ready to dispute a toll fee in NYC? Want to contest ERAC, Hertz, or Bay Bridge toll charges? DoNotPay has you covered!
How Else Can DoNotPay Help Today?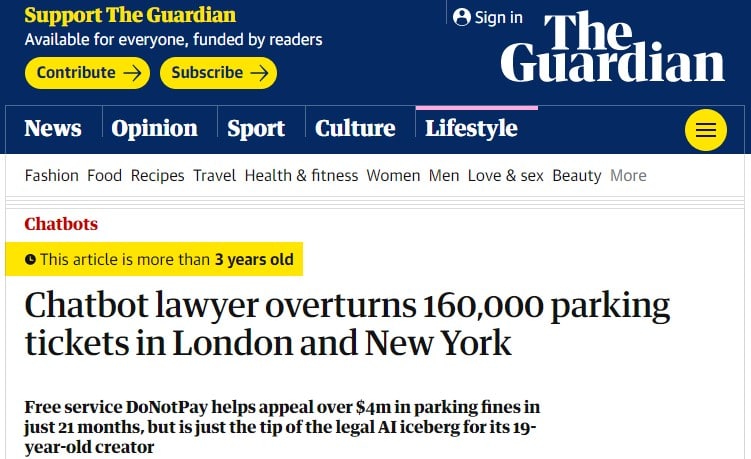 In addition to disputing toll tickets, DoNotPay can help you with a variety of other issues and concerns, including:
Whatever your concern, DoNotPay is here to save you money, time, and stress!