Ticket Faster Scam: How to Protect Yourself When Your Out To See a Show
A is the last thing that eager concert-goers want to deal with after more than a year of restrictions on various concerts due to issues stemming from the pandemic. Concerts are among some of the most popular events for people to attend. They love to see their favorite artists perform live in concert so they can cheer them on and see the people whose music they love standing right before them. It is a terrific thing when fans can connect with the performers that they love on a deeper level like this. Therefore, we must all do what we can to combat ticket scams and get the actual tickets that we need for the shows that we would like to attend. DoNotPay stands up for people who have been scammed and helps fight back.
How to Tell if Tickets Are Fake
You do NOT want to wait until the day of the show when you are at the . In a sold-out show, you would lose any opportunity to see the performer at all. Even if the show is not sold out, you might find yourself in a predicament in the sense that you could have to purchase tickets all over again for a show that you already bought tickets for in the first place. This is less than ideal since most people don't carry that kind of cash around with them to purchase new tickets. A few things that you can do ahead of time to tell if your tickets are fake include:
| | |
| --- | --- |
| Call the Management to Check for the Ticket's Validity | Call the box office to verify the confirmation number on the ticket. |
| Check Website's Proven Legitimacy | Only purchase from websites you can trust, and try to purchase directly from the website if at all possible. |
| Unnaturally High Discount | Consider the price you are paying for the tickets. If it seems too good to be true, that might be the case. |
Being taken advantage of by a scammer is a terrible feeling. Not only are you out your money and the tickets, but your ego takes a hit as well. No one likes it when they are taken advantage of, and a ticket scam is one of the harshest ways to take advantage of someone as it cheats them out of the opportunity to see some form of entertainment that they had been hoping to see. It also cheats the performer out of revenue they should have had as well. Thus, you need to use DoNotPay to prevent this from happening to you.
Avoid Becoming a Victim Using These Solutions
Here's how you can use DoNotPay to resolve your ticket scam issues:
Here's how you can use DoNotPay to resolve your ticket scam issues in 3 easy steps:
1. Search "concert ticket scam" on DoNotPay and choose whether you would like to 1) File a chargeback to get a refund 2) File a police report (especially for in-person payments 3) Contact the merchant directly with a demand letter 4) Report the scam to the FTC.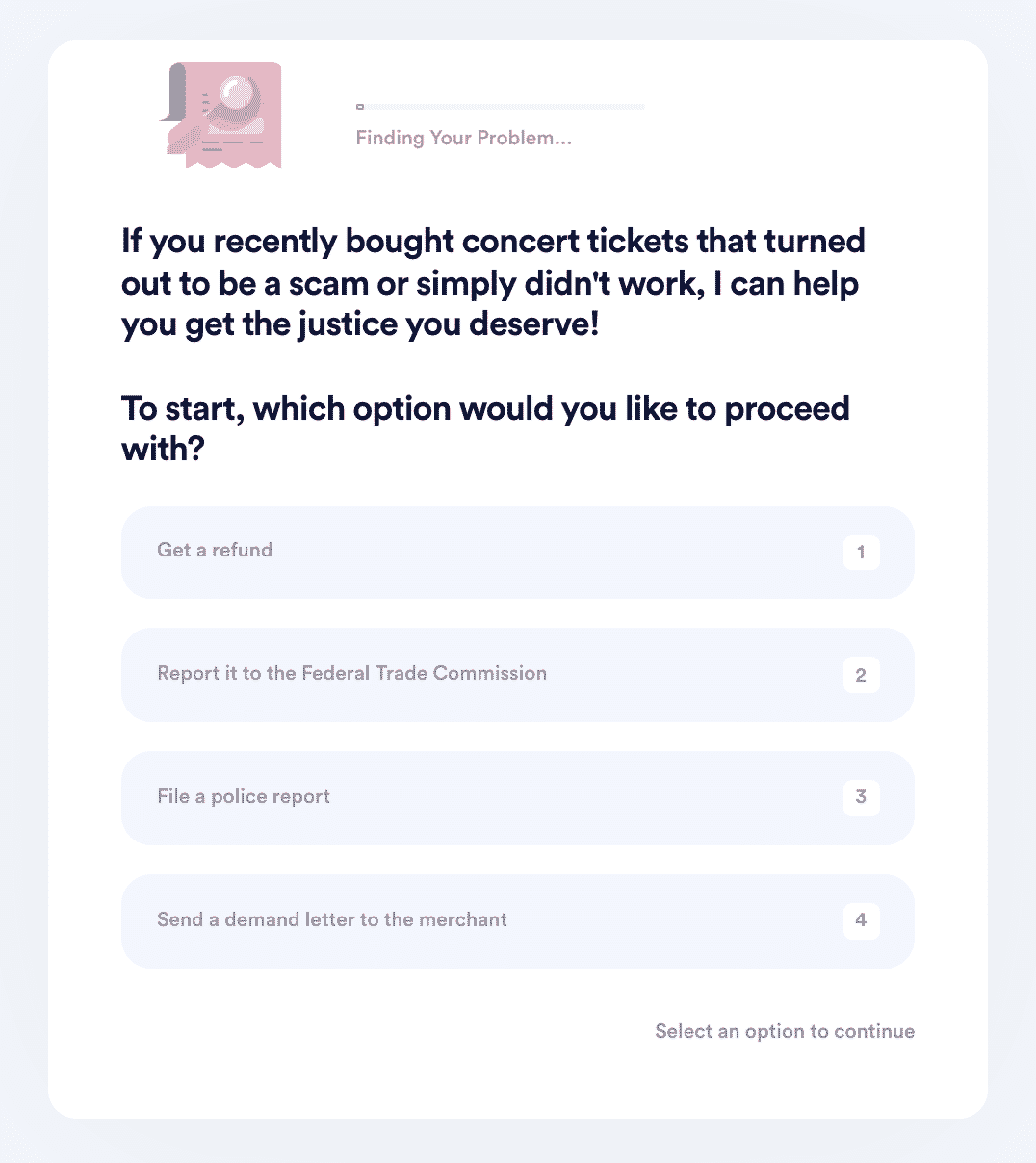 2. Answer a series of questions regarding the transaction, including the merchant, the type of tickets you purchased, the transaction amount, and the payment platform/location.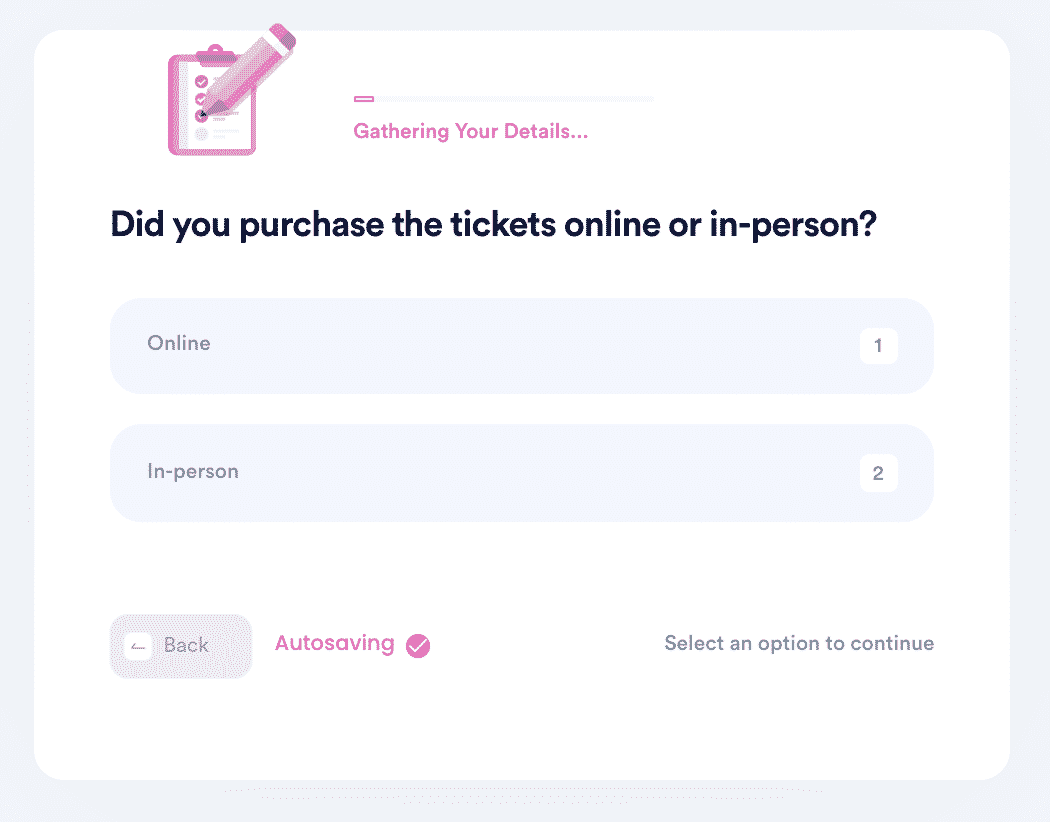 3. Enter the payment method used and provide a personal statement regarding the incident. Upload any evidence you have and provide your e-signature.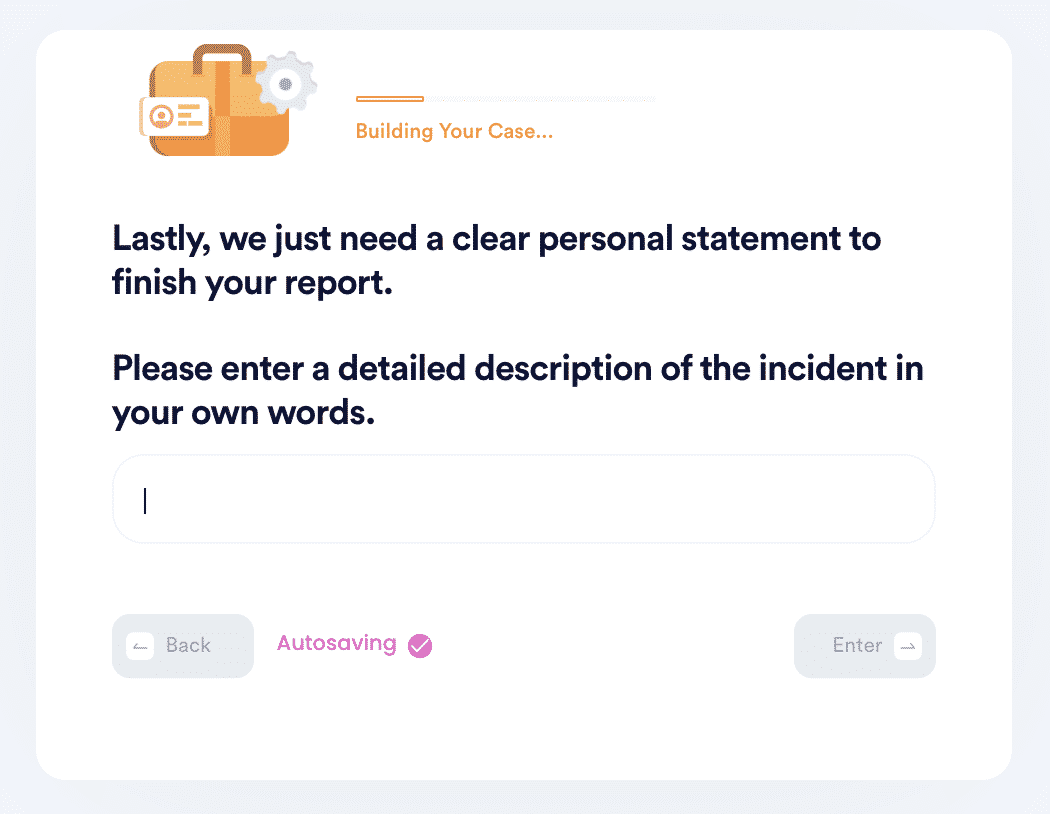 And that's it! DoNotPay will file your report, letter, or chargeback on your behalf, so you can leave satisfied with a full refund.
There are other scams that DoNotPay covers, these are:
What Else Is DoNotPay Known For?
DoNotPay has always prided itself on creating common-sense solutions for its customers to achieve the time-saving measures that they want in regards to completing paperwork required for the simple processes of life. It could be something like getting a refund to a customer of a ticket scam, or it could be filing paperwork to complete an official police report. Anything that requires documentation is something that DoNotPay is looking at carefully to make sure they have covered all the bases to provide something to their users.
A few examples of other projects that DoNotPay has helped out with include:
Parking ticket paperwork
Finding the right lawyer
Refunds on credit card fees
Refunds of stock trading fees
Filing a complaint against a company
They always have several projects in the air at the same time, and they love to get customer feedback about what they could be doing better. It is their firm belief that the only way they get better as a company is if they receive information from their users about how they are doing and where they can improve.
DoNotPay Works With All Ticket Selling Websites
No matter which ticket provider you opted to go with this time, DoNotPay can help you reclaim the money that was stolen from you in this fraud. They work across all ticket-selling platforms, and they will get with those platforms directly to ensure they are listening to you, their customer, as far as getting your refund for what was taken from you. They can:
Fill out the official forms you need for a refund
Get you in touch with customer service
Help you prove that your ticket was a scam and was purchased on that website
You don't have the time or patience to deal with the intricate steps that these websites make you go through in order to get your money. Skip all of that and move on to getting your refund when you use DoNotPay to help out today!