Start a Tiblio Free Trial Without Giving Your Credit Card Info

Tiblio is an all-inclusive platform designed to help you discover the best trading opportunities and make more informed decisions in your trades. The platform gives you access to top-notch investing tools, stock market data, a trading journal, and the fastest screeners in the market. Whether you're a newbie or an experienced trader, you'll have all the information and tools you need.
Besides stock market trading, Tiblio free trial also helps with crypto trading. Recently, the developers added a pre-market gapper tool, which helps you to identify stocks with sharp decreases or increases in value compared to their position at the preceding day's market closing. When you monitor the stock market before trading commences, it's easy to make intelligent decisions that maximize your trading outcomes.
Does Tiblio Offer a Free Trial?
Tiblio doesn't offer a free trial per se. However, when you sign up, you can try out their trial for seven days for a paltry $1.
During the one-week trial period, you get access to pro-level investment tools, real-time alerts, and market tools. You'll also receive their eBook and trade options research reports and log your trades to build your performance board.
How Can I Get a Tiblio Free Trial?
Here are the steps to take if you want to activate your Tiblio free trial:
Visit the Tiblio website and navigate to the "Start Trial" icon
Enter your username, email, and password, then click "Sign up using our secure server"
Activate your account by entering the verification code sent to your email
Enter your payment details and billing address, then click "Pay and start trial"
Does Tiblio Free Trial Automatically Renew Into a Paid Subscription?
Yes, when the 7-day trial period ends, Tiblio will upgrade your account automatically.
To avoid getting charged, you can cancel the subscription any time before the free trial period ends. Since you pay $1 to access the free trial, you'll still have access to Tiblio until the trial period ends. If you forget to cancel the service and get upgraded to a monthly or annual subscription, or you're not satisfied with their service, you can request a refund. Tiblio offers a money-back guarantee and refunds to its customers.
If you choose the monthly plan, you can only get refunded if you lodge a request within two days of purchase. If you have an annual subscription, you must request a refund within seven days of getting charged. Although refund requests get evaluated on a case-by-case basis using DoNotPay to ask for a Tiblio refund after the free trial increases the chances of getting your money back.
Avoid Automatic Renewal With DoNotPay Virtual Credit Card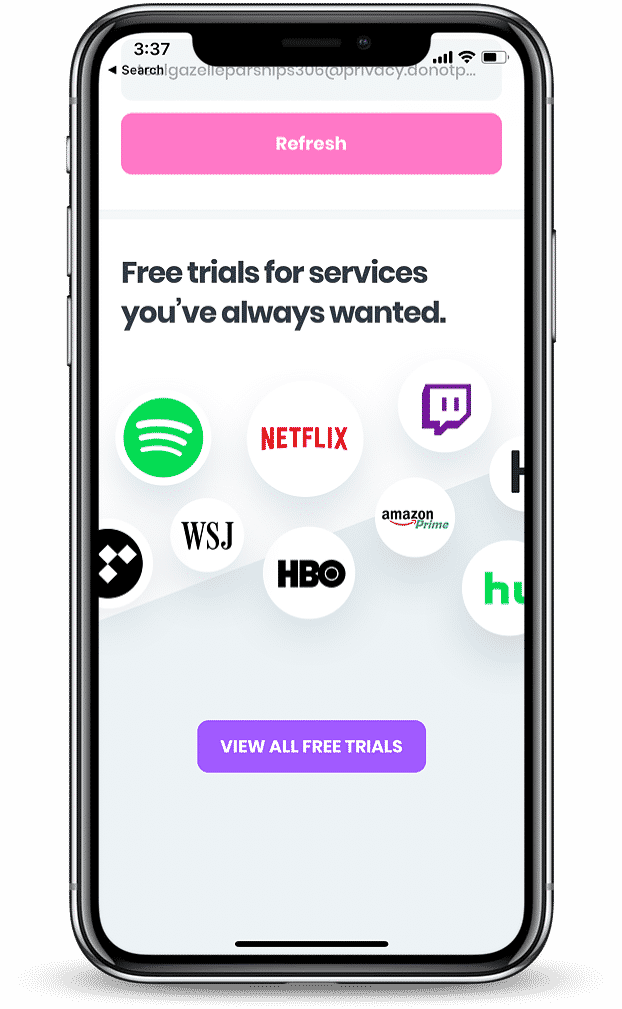 If the trial subscription ends and Tiblio upgrades it into a paid one, you may pay for something you don't need. People forget to cancel their free trials and end up receiving mysterious charges. Don't let it happen to you when you create a Tiblio free trial. DoNotPay provides you with a free virtual credit card that ensures you don't get charged when the free trial ends.
You may be wondering how the DoNotPay free virtual credit card works. Well, here's what it does for you:
It generates a random payment card number
Ensures that your billing information gets approved without hitches
Automatically cancels your Tiblio subscription when the free trial ends
Prevent automatic renewals if Tiblio tries to charge you
So, don't risk losing your hard-earned cash by providing your credit card details to Tiblio. Sign up for your DoNotPay virtual credit card today to enjoy the Tiblio free trial stress-free.
How Much Does Tiblio Cost After the Trial?
When you sign up for a Tiblio free trial, you need to choose between two subscription plans:
A monthly plan, which costs $34.95
An annual plan, which costs $349.50 and gives you two months' free access
What Will Tiblio's Charges Look Like on My Statement?
When Tiblio starts to bill you, the charges will appear on your statement in either of the following ways:
| | | | |
| --- | --- | --- | --- |
| Website | Plan | Phone Number | Location |
|  POS PUR TIBLIO.COM | 1MO PLAN | 7075598362 | NY US |
| CHKCARDTIBLIO.COM | 1MO PLAN | 7075598362 | NY US |
| CHECKCARD TIBLIO.COM | 1MO PLAN | 7075598362 | NY US |
| POS Debit TIBLIO.COM | 1MO PLAN | 7075598362 | NY US |
| POS REFUND TIBLIO.COM | 1MO PLAN | 7075598362 | NY US |
| POS PURCHASE TIBLIO.COM | 1MO PLAN | 7075598362 | NY US |
| PRE-AUTH TIBLIO.COM | 1MO PLAN | 7075598362 | NY US |
| CHKCARD TIBLIO.COM | 1MO PLAN | 7075598362 | NY US |
| Visa Check Card TIBLIO.COM | 1MO PLAN | 7075598362 | NY US MC |
| POS PURCH TIBLIO.COM | 1MO PLAN |  7075598362 |  NY US |
| Misc. Debit TIBLIO.COM | 1MO PLAN | 7075598362 | NY US |
| PENDING TIBLIO.COM | 1MO PLAN | 7075598362 | NY US |
What Are the Most Popular Alternatives to Tiblio?
You may want to check these services if you don't like Tiblio:
Options Intelligence
Options Café
Mindful Trader
Market Chameleon
What Else Can DoNotPay Do?

DoNotPay can help you solve everyday issues, including:
Do you want to know how else DoNotPay can help you solve your problem? Sign up today.