Get Spokeo Free Trial Easily With A Virtual Credit Card

Spokeo is a service that allows you to find contact information and important details for people. Whether you're trying to locate an old acquaintance, want to look up that strange number that just called you, or just want to do a bit of research on yourself and what information is out there, you can use Spokeo's search. You can get started with a to limit the costs.
Once that trial is up, you may not want to get charged for continuing using it. Let DoNotPay stop the Spokeo services from going on your account balance. Our virtual credit card can help.
Does Spokeo Provide a Trial Period?
Yes, does provide a free trial period. However, it is not an easy sign-up option available anywhere on the site. You have to perform a search first. Once you do, you will receive the option to unlock the profile and view the free trial option. Although it's listed as "7 Day Spokeo Membership Trial", a price of 95 cents pops up as well for the report.
Signing Up for a Spokeo Free Trial
When you've performed a search and are attempting to unlock the results, you can sign up for your "free trial." Note that you'll need to add your card or PayPal account and pay for the 95 cent report first. Then, it unlocks a 7-day free trial option so you can perform more searches. To sign up:
Select whether you're paying by credit card, debit card, or via PayPal.
Enter your email that will be used to log in.
If paying by PayPal, select the box indicating your agreement for using the services and get directed to the PayPal app for payment.
If paying by debit or credit card, enter your card details and then check the box indicating your agreement for using the services.
Signing up will allow you to receive more report details than what is visible to the public.
Trial Renewal Process
The 7-day trial automatically renews. This means if you do not take the time to cancel the service before the trial period ends, you will automatically be charged. The full monthly amount will be taken from whichever payment method you used at the time of sign-up, either your PayPal account or card.
Trial Renewal Price
If you sign up for a monthly subscription on your own, you only have to pay the discounted price of $19.95 per month. Use the free trial first and let it automatically renew, and you'll be charged $24.95 instead. There is also a 3-month subscription that costs:
$19.95 per month originally
$14.95 per month at the discounted price
$44.85 charged now, and again every 3 months
It may be worth it to skip the trial period and go straight for the 3-month option instead. It saves you the most money in the long-run if you plan on continuing using the service.
DoNotPay's Virtual Credit Card Helps You Skip Spokeo Charges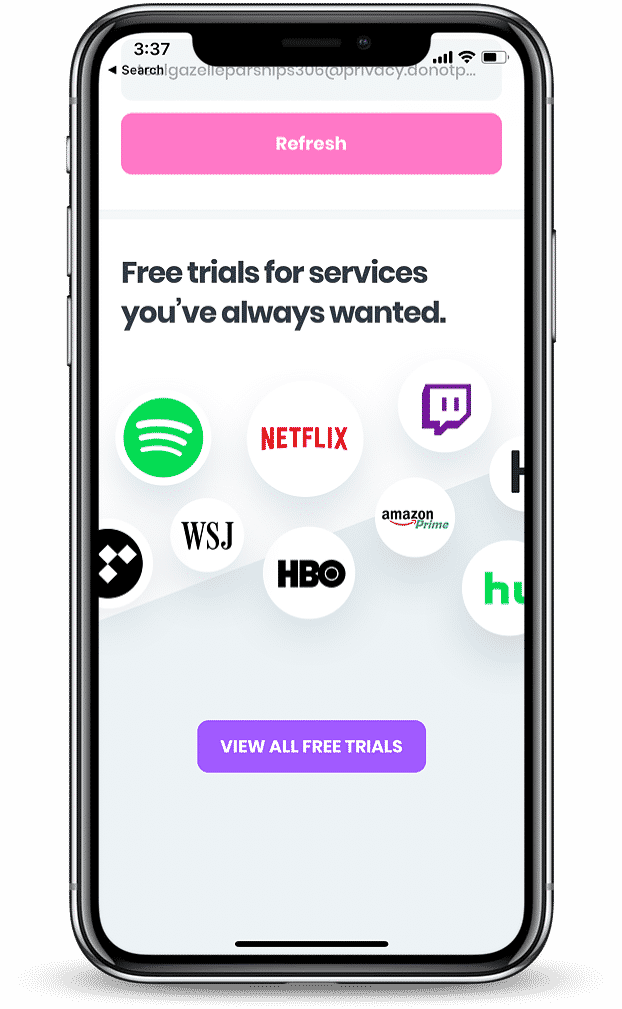 You can use a free virtual credit card to sign up for your trial or subscription. Because there's no money on this card, it will not be able to automatically renew. This is a good idea if you are one to forget to cancel renewals before they happen.
DoNotPay's virtual credit cards work in a few easy steps. Tell us what you need it for, in this case, Spokeo, and we'll generate a card number that works for you to sign up. You can also get a virtual email address to use so you don't have to include your own.
You may wish to cancel your Spokeo search altogether. DoNotPay can assist with this as well.
Spokeo Statement Charges
After Spokeo gets charged to your account, it should appear on your statement. It may not simply say "Spokeo". Instead, it will appear as one of the following options:
-SPK*SPOKEO -SPOKEO *8006994264 -SPK*SPOKEO SEARCH
Alternative Solutions to Spokeo
Spokeo is not the only service of its kind. You can give another option a try if you're hoping for a better price or want additional advantages.
| | | | |
| --- | --- | --- | --- |
| Service | Cost | Benefits | Free Trial Yes/No |
| Truthfinder | $28.05 per month | Lengthy report generation time due to variety of information available | No |
| People Looker | $23.99 per month plus tax | Customizable monitoring | Yes, except it costs $1 for regular service and $5 if you want a PDF download |
Additional Note
It is important to note that none of these services are allowed to be used for decisions pertaining to:
Employment
Insurance
Tenant Screening
Consumer Credit
You must only use these services for basic background checks and information look-up. Do not use it to discriminate against anyone, work-wise, home-wise, or otherwise.How Else Can DoNotPay Help With the Spokeo Service?
Getting a or canceling your search are just two of the ways DoNotPay can help with this service. We'll also:
How Else Can DoNotPay Help Me?
DoNotPay strives to provide countless services in an effort to assist every customer. No matter what dilemma you're facing, we'll help you manage it promptly:
And much more!