Get Soundcloud Likes Free Trial In 3 Steps

Soundcloud was founded in 2007, and its one of the leading online music Platforms that offer an excellent way for you to understand and measure how your target audience receives your music or audio. Through the platform, you can review your music likes, reposts, comments, downloads and learn which of your tracks are performing best and in which cities they are popular. You can also see the websites and apps where your music is mostly played.
for a new subscriber, and you must provide your credit card information to access it. Since you have provided your card information, you risk automatic renewal at the end of the 30-days free trial unless you cancel the subscription before the trial period ends.
Luckily, DoNotPay has developed a virtual credit card that offers a new and convenient way of saving your money and time. Read on to learn more about how our virtual credit cards help you avoid unwanted charges after a subscription.
Soundcloud Free Trial Explained
SoundCloud's new customers are eligible for a to get a taste of what the platform offers. You should understand that the free trial offer is limited to only one person.
You can access many platform features; however, certain features are only available to SoundCloud Go and Go+ subscribers.
You can also check their Pro Plans here:
Pro Plans
Costs
Features
SoundCloud

Basic

Free

Share your sound
Upload up to 3 hours of your work
Get lossless HD storage
Access basic insights

SoundCloud

Pro Unlimited

$12/Month

Grow your audience
Unlock unlimited upload time**
Get paid fairly for your plays
Access advanced audience insights
Replace your track without losing its stats
Pin your favorite tracks

Repost

by SoundCloud

$2.50/Month

Distribute tracks to all major music services
Extend your reach with promotional tools
Get premium services to help you get paid
Split payments with your collaborators
Step by Step Procedure to Get Soundcloud Free Trial
Follow these steps to get your SoundCloud free trial:
Visit SoundCloud official websites.
Go to the right-hand side corner and click "create an account."
Fill in the details in the fields provided, including your name, email, password.
Enter your credit card information: it can either be a visa or a master card.
You are eligible to start your 30-days free trial.
Does Soundcloud Free Trial Automatically Renew Once the Free Trial Is Complete?
Yes, renewal to a paid subscription is automatic once your free trial is over. The only way you can avoid auto-renewal is by canceling your free subscription before the due date.
Please note that you can cancel your subscription any time before it expires. Follow these steps to cancel the automatic card payment:
Sign in to your account and go to the subscription status
Follow the prompts provided to cancel your plan
You will be redirected to a page for you to cancel your subscription
Click "cancel"; you will get an email notification for your subscription.
How to Cancel Your Soundcloud Subscription Using Donotpay
If you encounter challenges canceling your SoundCloud subscription, you can use DoNotPay. Terminating your subscription with our platform is efficient, and it involves the following steps:
Visit DoNotPay's official website
Log in to your account
Navigate to Find Hidden Money
Enter SoundCloud as the subscription you want to cancel
Avoid Automatic Renewal With Donotpay Virtual Credit Card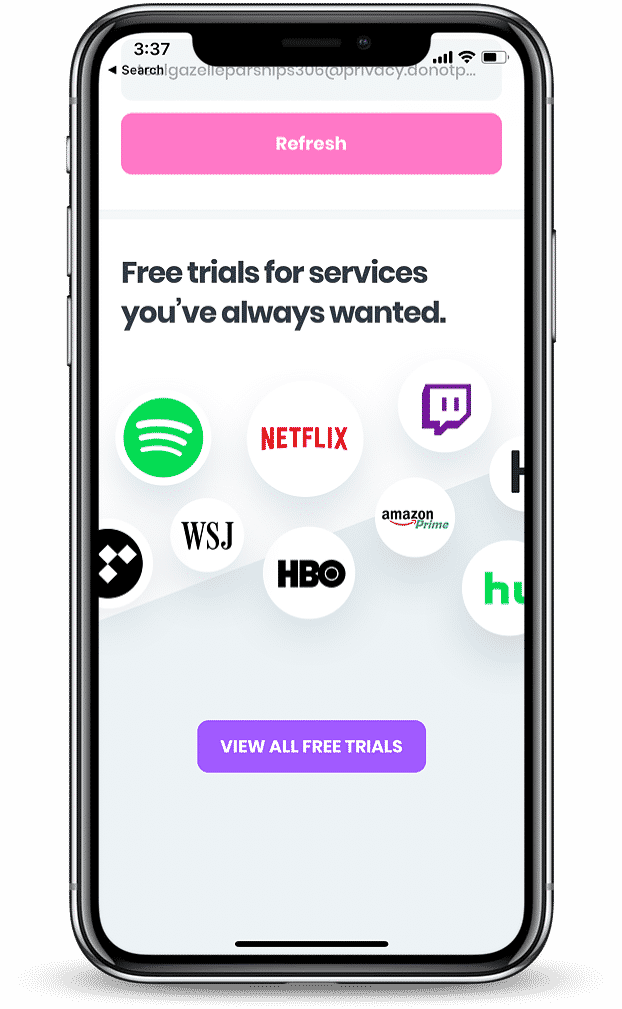 When you subscribe to the SoundCloud free trial with your credit card information, you risk an automatic subscription renewal if you forget to cancel your subscription. Fortunately, with DoNotPay Virtual Credit Card, you are sure that you won't incur unplanned expenses due to automatic subscription renewal since there will be no cash on the card.
Below Is How DoNotPay Virtual Credit Card Works
You are provided with a unique and randomly generated credit card number which you will use to subscribe to the SoundCloud free trial service. The virtual credit card is similar to your original card, only that it has fake credit card information, including a credit card number and expiration date. After your 30 days free trial is over, SoundCloud will automatically try to renew your subscription to a paid one. Unfortunately, they won't do so since you used a virtual credit card with no money. After realizing this, SoundCloud will automatically unsubscribe you from their service.
DoNotPay virtual credit card enables you to access free SoundCloud trials without revealing your accurate banking information. This VCC protects you from paying for a service you had not planned to use.
Using DoNotPay VCC ensures that SoundCloud has no access to your actual bank account information. Free trials are an opportunity to test the service before committing yourself to a monthly subscription.
Solve Other Issues With DoNotPay Virtual Credit Card

DoNotPay virtual credit card is not limited to one single solution: you can unlock many online free services using this product. DoNotPay can help you with almost anything! Including:
today to access our virtual credit card and avoid unwanted SoundCloud payments.