Get a Copy of Your Snohomish County Birth Certificate in 5 Minutes
When you need a it might be the final piece that you need to apply for a passport or to get your little one into school for the first time. You don't want to waste time or go through a lot of hassle to get the copy you need.
However, you might struggle to find out more information about the process of ordering a Snohomish County birth certificate. The DoNotPay app can help you apply for one in a few minutes with some basic information.
Who Can Get a Birth Certificate Copy in Snohomish County?
Birth certificates aren't usually considered public records, so Snohomish County limits the people who can receive a copy. Here are the people who can get get a copy:
| | |
| --- | --- |
| Your birth certificate | Spouse |
| Parents | Siblings |
| Grandparents | Children |
| Legal guardian | Someone with a court order |
How Much Does it Cost to Get a Birth Certificate Copy in Snohomish County?
In Snohomish County, the cost of a birth certificate is $25. While you can get more than one copy of the birth certificate when you apply, you'll pay the same price for each copy.
What Documents Do You Need to Get a Copy of a Birth Certificate in Snohomish County?
Since birth certificates are restricted records in Snohomish County, you'll need to provide proof of your relationship before receiving a copy. The approved methods of proof include:
State ID
Passport
Driver's license
Military ID
Solve the Challenges of Getting a Snohomish County Birth Certificate Instantly With the Help of DoNotPay
It isn't nearly as easy to get a as you thought it was going to be. When you request a birth certificate, it's because you've lost the original, and you need a copy for an important reason, which makes it more of a hassle when you can't easily get one. While you can continue trying to get a birth certificate on your own, DoNotPay is ready to make it easy now.
If you want to order/get a but don't know where to start, DoNotPay has you covered in 8 easy steps:
1. Go to the Birth Certificates product on DoNotPay.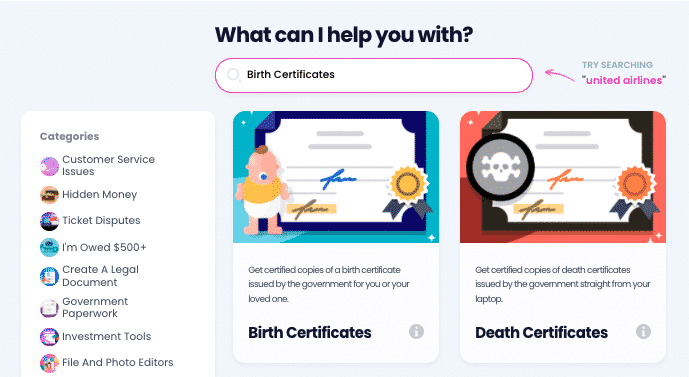 2. Select who the certificate is for (you or a loved one). If you are requesting a copy of someone else's certificate, enter their personal details, and upload evidence that proves your relationship.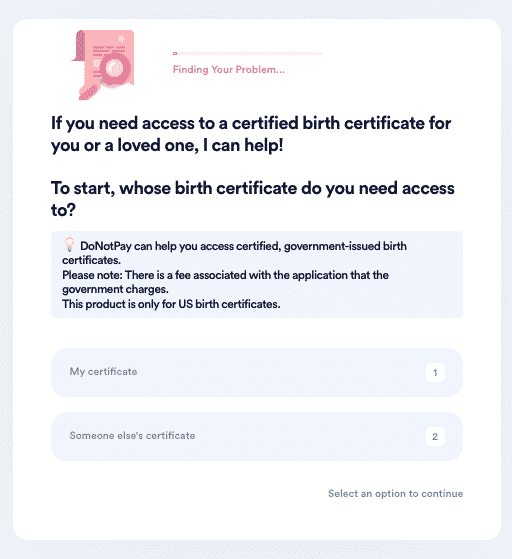 3. Enter the location you or your loved one was born in, so we can complete the form specific to your state.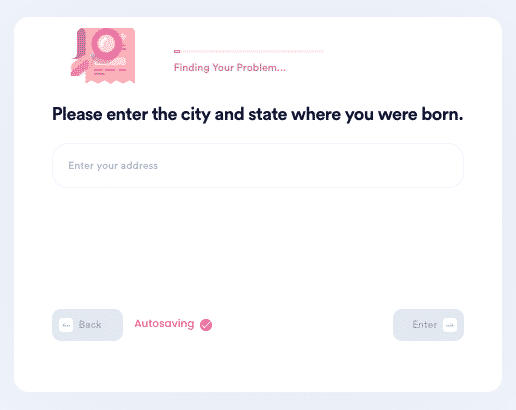 4. Enter the name(s) of the parent(s) as displayed on the certificate.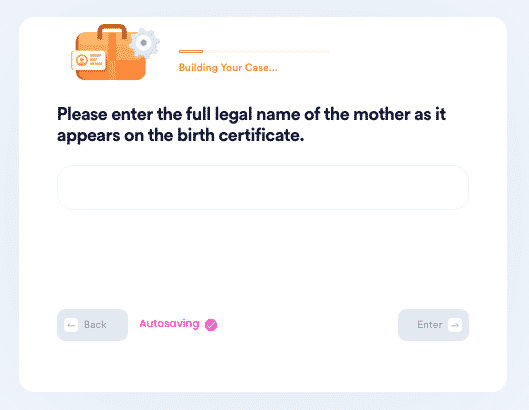 5. Indicate what you will be using this certificate for, and choose whether you need an authorized or certified copy.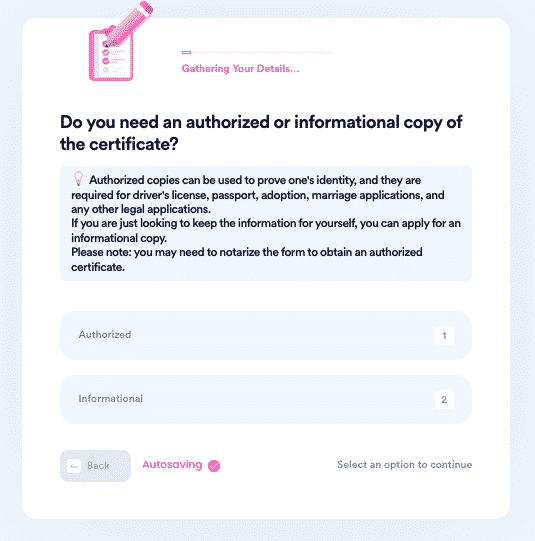 6. Enter your contact information and shipping address. Upload copies of your government-issued identification, such as a driver's license.
7. Choose whether you would like to electronically sign this form or not. Once we generate the form, verify that all of the information is correct.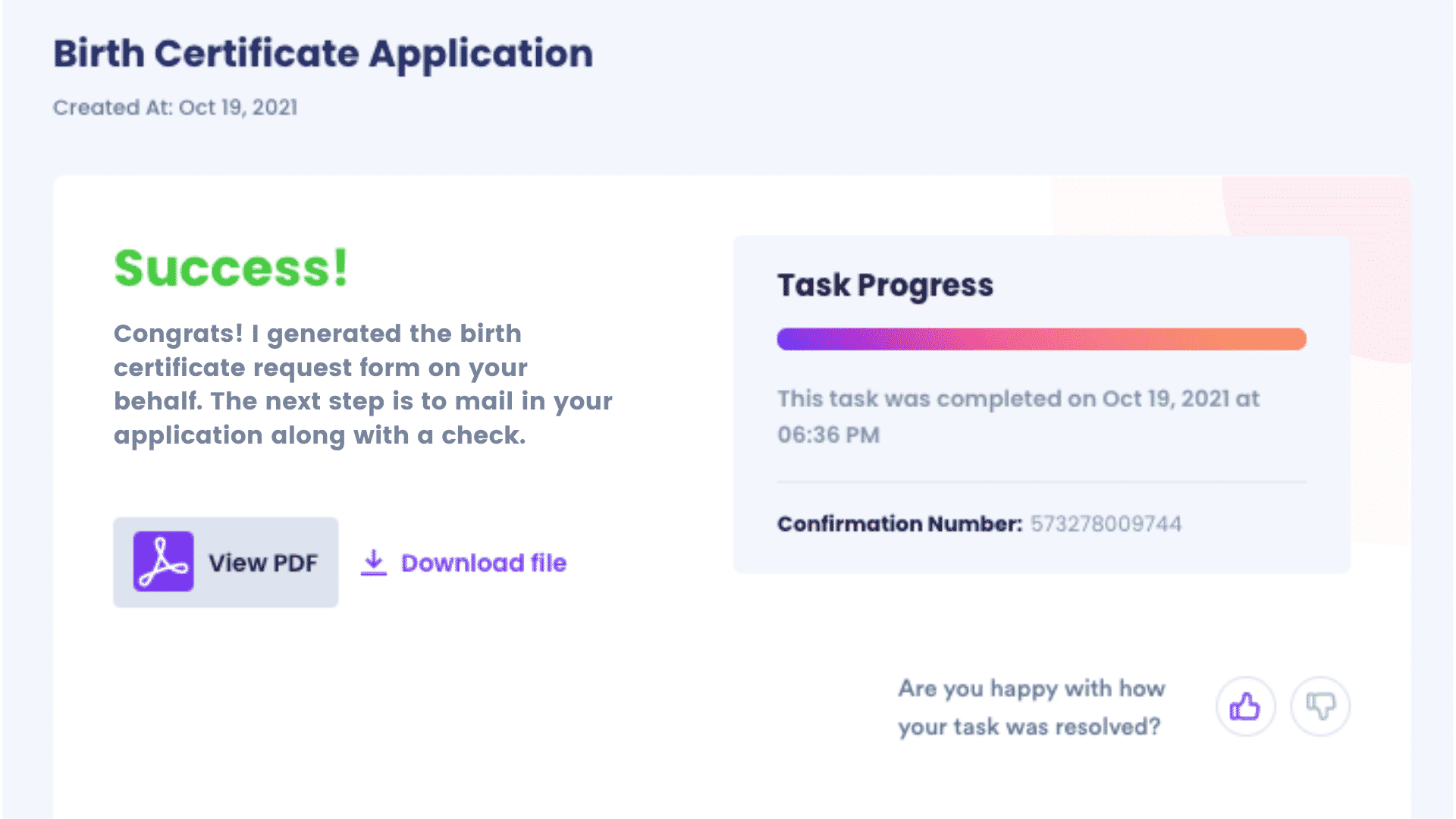 8. If you need the document to be notarized, schedule a notarization appointment using our Notary product. Otherwise, proceed to our Mail Checks product and let DoNotPay mail-in your request form with a check on your behalf.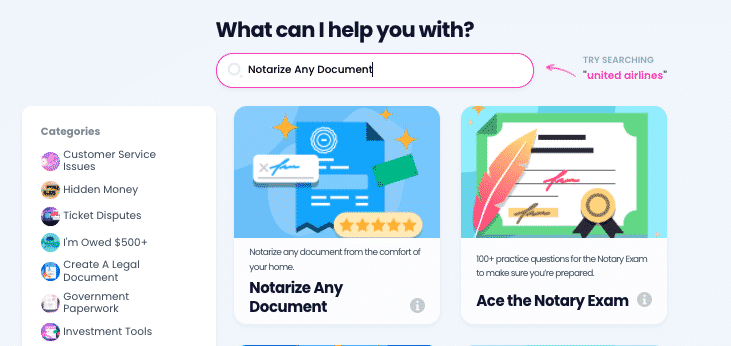 Why You Should Use DoNotPay to Solve the Challenges of Getting a Snohomish County Birth Certificate
You know that you need a , but you aren't sure if DoNotPay is the right for your needs. Check out these three reasons to use the DoNotPay app:
It's successful at getting people a copy of the birth certificate they need!
It's easy to use the app.
It's fast when you don't have any more time to wait to get your copy of a birth certificate!
DoNotPay Can Help You Get a Birth Certificate From Most Locations and Offers More Information
While you're waiting to receive your copy of a Snohomish County birth certificate, you might have more questions about birth certificates or need one from another county. DoNotPay is your trusted source on many topics concerning birth certificates, such as:
Get a birth certificate for a passport
And that's not all.
What Else Can DoNotPay Do?
The DoNotPay app can provide you with help for many common tasks. These include:
Choose DoNotPay to get a copy of a Snohomish County birth certificate today.