Get Sales Navigator Free Trial Securely With This Virtual Credit Card

LinkedIn's top product, Sales Navigator, is an astute sales platform. It permits virtual selling by allowing sales experts to build and nurture customer relationships. Like other subscription-based companies, there's a Sales Navigator free trial for anyone who wants to sign up.
If you feel like trying a , continue reading to learn more. You can sign up for a free trial using a virtual credit card by DoNotPay. Then, when the trial ends, you can keep Sales Navigator going with a real credit card, if you so choose.
Does Sales Navigator Offer a Free Trial?
Yes, it offers a free 30-day trial to enable users to determine if it will benefit their business. But, it is only available for:
Members who are not on any LinkedIn paid subscription plan
Members who haven't taken any LinkedIn free trials for the past 365 days.
How Can I Get a Sales Navigator Free Trial?
Everyone knows how tempting free trials could be. Whether it is a streaming platform like Hulu or a subscription service like BarkBox, companies understand that offering free trials can make people sign up.
To start your Sales Navigator free trial, follow the following steps:
Visit the Sales Navigator page to set up an account
Click on the start your free trial button
Enter your credit card details
Sign up for the 30-day free trial
Will the Sales Navigator Free Trial Automatically Renew Into a Paid Subscription?
No, your free trial will not renew automatically without notice. If you signed up for the , you would get a reminder via email about the end of the trial. Also, you will be sent the upcoming charge on your credit card seven days before auto-renewal.
To avoid charges after your free trial:
Track the date of your auto-renewal on your Sales Navigator setting page
If you registered on LinkedIn.com, go to its manage your account page
Cancel the trial at most a day before auto-renewal
You could get a refund if you forgot to cancel the paid subscription on time.
Avoid Automatic Renewal With DoNotPay Virtual Credit Card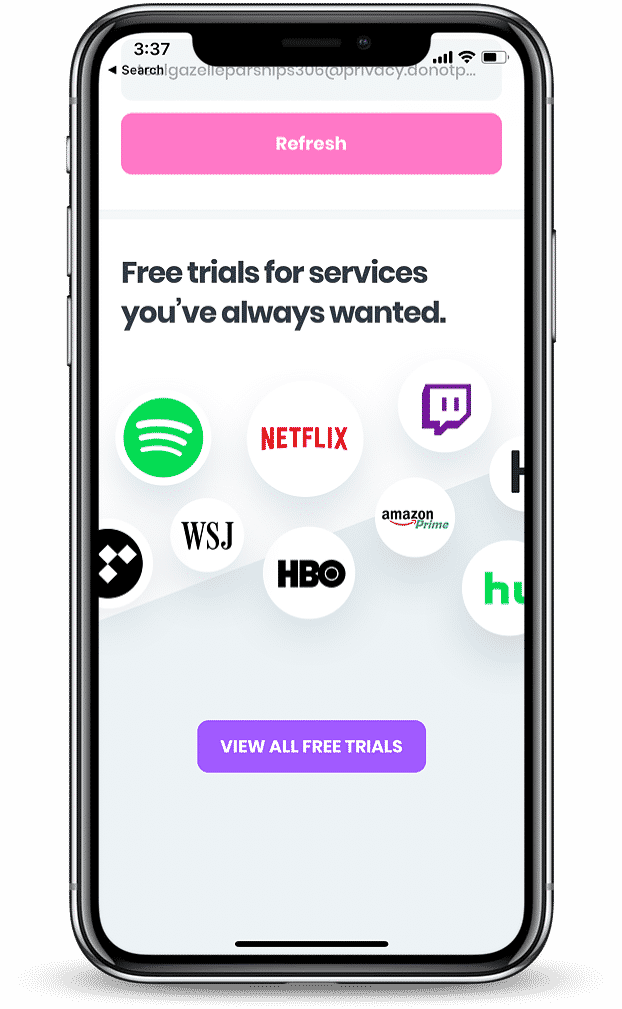 Most companies promise that they won't charge your card during the free trial. But, immediately the trial is over, your card is fair game. Indeed, many people forget to cancel their free trials on time and end up paying for a service they don't need. That's because these companies automatically charge your card severally before you even realize you're now a paying subscriber.
That is where DoNotPay comes into play with its free virtual credit card. They are virtual credit cards explicitly designed to sign up for several online trials. DoNotPay creates an arbitrary number and credit info number that you can use to subscribe to any service.
Our virtual credit card generator enables you to create a credit card quickly. That way, you can use it once and bid farewell to those hidden charges.
There's no existing link between the free virtual credit card and your bank account. Thus, your sign-up process becomes 100% risk-free.
How Does It Work?
Search free trial card on DoNotPay and enter the company you want a free trial for.
We'll automatically generate a virtual credit card that you can use for that merchant. Copy the card details shown on your screen.
Use the card to sign up for your free trial and sit back to relax and enjoy!
Will I Get Charged if I Forget to Cancel the Free Trial?
No! Even if you forget to cancel the free trial, there's no need to panic. Our virtual credit cards won't allow the payments to go through. As such, you don't have to stress yourself over remembering when to cancel your free trial. Sign up for the trials you want, enjoy them, and never worry about any cancellation before it ends again.
Things to Note About DoNotPay Free Trial Cards
You can only use the card once as it gets deactivated immediately after use
You can't make actual purchases using the cards
The card's main point is to help you avoid unwantedly getting charged. Therefore, you can't use it to make actual purchases either.
How Much Does the Sales Navigator Service Cost After the Trial?
Depending on the service plan you opt for, you will be charged a monthly fee after a trial. But, the Sales Navigator also offers annual billing cycles to enable you to save.
Check the table below for the costs:
Subscription Plan
Costs 
Benefits 
Core

$79.99/Month
$959.88 Annually

Advanced lead and company search
Alerts on your saved leads
Create custom lists

Advanced

$125/Month
$1,500 Annually

Share content and track engagement
Warm introductions from teammates

Advanced Plus

Integrate CRM contacts
CRM updates with data validation
Advanced enterprise integrations
What Will Sales Navigator Charges Look Like on My Statement?
To ensure that the Sales Navigator is not charging you, use one of these codes to check your statement:
PAYPAL INST XFER LINKEDIN WEB ID: PAYPALSI77
LINKEDIN HELP.LINKEDIN.COM
Perkins LinkedIn SETTLEMENT PPD ID: 1810971623
LINKEDIN.COM CA
LINKEDIN.COM LINKEDIIRELAND IR
LINKEDIN CORPORA DIRECT DEP PPD ID: 9111111102
LINKEDIN.COM 650-687-3777 CA
Payment to LinkedIn Ireland
Refund from LinkedIn Corporation
LINKEDIN-431*2412533, LNKD.IN/BILL IRELAND
LINKEDIN 8556535653 CA
LINKEDIN, 35314369001 GB, REFUND
Debit Purchase - Visa Linkedin.com 650-687-3777ca
LINKEDIN, 35314369001 GB
PAYPAL *LINKEDIN 4029357733 CA
LINKEDIN.COM
LINKEDIN.COM 650-687-3555 CA
LINKEDIN.COM MOUNTAIN VIEW CA
PAYPAL *LINKEDIN 402-932-7633 CA
LINKEDIN MOUNTAIN VIEW CA
LINKEDIN LINKEDIN.COM IRL
Payment To LinkedIn Corporation
ACH Electronic Debit - PAYPAL INST XFER LINKEDIN
LINKEDIN.COM CA
LINKEDIN.COM
LINKEDIN CORPORATIONMOUNTAIN VIEW CA
LINKEDIN 855-6535653 CA 95043 US
PAYPAL *LINKEDIN
LINKEDIN DUBLIN
LINKEDIN - Purchase
LINKEDIN.COM 630-657-3777 CA 94043 US
What Else Can DoNotPay Do?

Do you need help with getting rid of spam mail forever or disputing traffic tickets, let us know, and we will lend a helping hand. Getting revenge on robocalls or fighting speeding tickets is hassle-free with our app. Besides, we can assist you in getting refunds and chargebacks from companies or dealing with bills you cannot pay.
DoNotPay can help you with almost anything, including
Dealing with issues with credit cards
Canceling subscriptions or memberships
Jumping the phone queue when getting in touch with customer service reps
Suing people and companies in small claims court
Scheduling a DMV appointment fast and easy
Getting compensation for delayed or canceled flight
Contesting parking tickets
Protecting yourself from stalking and harassment
Signing up for free trials risk-free
Getting rid of spam text messages
Contact DoNotPay and benefit from Sales Navigator free trials without charges on your credit card.