How to Get Rotogrinders Free Trial The Risk-Free Way

Rotogrinders is a web-based, daily fantasy sports authority and community created by Cal Spears, Riley Bryant, and Cameron MacMillan in 2010. Rotogrinders has some of the highest-ranking DFS players and attracts millions of monthly page views. 
The site offers daily shows, news, tips, forums, and tools for creating daily fantasy lineups. Rotogrinders has elevated its services by launching the RG Network, a player rankings system. The project is a product of Rotogrinders' collaboration with PocketFives, Fantasy Insiders, and SharpSide, other platforms the same company owns.
Rotogrinders offers its users a free trial that allows the users to experience the real services before purchasing a subscription. The free trial automatically renews into a paid subscription after the trial period is over. DoNotPay allows you to ,  risk-free. Sign up on our website and utilize our virtual credit card services.
Do Rotogrinders Offer Free Trials?
Yes, Rotogrinders offers a free trial to all its premium monthly subscriptions. The test lasts for seven days after subscription. The free trial allows you to access all premium subscriptions offered without paying.
You must cancel your free trial before the seven-day period is over, to avoid getting charged for the premium content. If you cancel midway through your trial period, you get to enjoy the services till the last day of the period, but not any further than that.
After canceling the free trial, you need to resubscribe to access the premium services. You will be billed monthly for consecutive premium services through your credit card. The following are the services you get when on an RG free trial:
Court report live blog
Crunch time
Lineup HQ
Premium chat
Playoff expert survey
Playoff expert insights
Playoff primer
Daily matchup charts
Projected ownership
Consensus value rankings
How Can I Get a Rotogrinders Free Trial?
To get an RG free trial, navigate to the Rotogrinders official website and select the service you are interested in. your page will redirect to a subscription page where you have a chance to choose a free trial or directly subscribe for the service.
Select the free trial, sign up,  and add your credit card information as prompted. Your application will be reviewed and accepted(if valid) within minutes.
You can also enjoy days of free premium services through the RG badge-wearing promotion.  You will receive FREE premium access for one month if you participate in the promotion and finish among the top ten of a Guaranteed Prize Pool (GPP) contest. The conditions for this contest are:
Finish in the top 10 of a GPP (Guaranteed Prize Pool) contest with at least 5,000 entries while wearing the RG badge
You will receive all applicable premium services for thirty days, except for NASCAR products
You may win only once per month
If you take off the RG badge from your profile, your premium access is revoked
Terms and conditions apply in the contest
Here are the steps to participating in the prize pool contest:
Fill in the Google form available on the  Rotogrinders website
Download the RG Badge from their website and upload it to your DraftKings and/or FanDuel account. You can download the badge by right-clicking on it and saving it on your device
Finish in the top 10 of a GPP contest on either DraftKings or FanDuel with at least 5,000 entries. You should not tie with more than three players and win at least two games
Receive one free month of Premium access for the sport you placed in.
Core4 and Combo monthly subscribers get an extra 30 days of subscription, while NASCAR subscribers are not eligible for participation in the contest.
Does the Rotogrinders Free Trial Automatically Renew Into a Paid Subscription?
Upon the expiry of the free trial period, the free trial is automatically renewed into a paid subscription. To avoid this automatic renewal, you need to cancel your subscription at least two days before the free trial period is over.
Late cancellation of the free trial will be ignored, and the services will be charged to your linked credit card monthly. If you cancel on time, you get to enjoy the benefits until the trial period is done and not a day longer.
Avoid Rotogrinders Automatic Renewal With DoNotPay Virtual Credit Card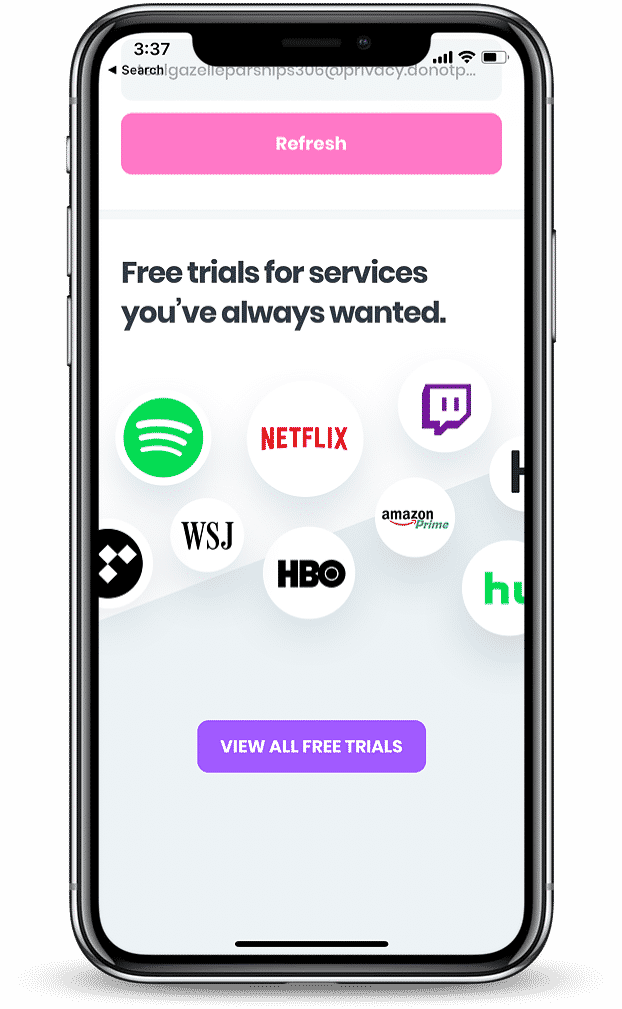 Rotogrinders, like many subscription-based service companies, requires you to input your credit card details when subscribing for the free trial. Failure to cancel your free trial will lead to automatic billing of the services on your credit card. You should cancel your free trials on time to avoid this automatic billing.
You might get carried away and forget to cancel your free trial subscription on time. Leading to you paying for services you had no intention of buying. Let DoNotPay help you through our fantastic tool, the Free Trial Card, to avoid these unplanned bills.
The Free Trial Card prevents you from incurring unintended bills. Our virtual credit card generator comes up with a unique number combination, your new credit card number, which you use in place of your original card number. The new credit card is not linked to your bank or credit card and has no money.
After the free trial period is over, auto-renewal will be automatically rejected; thus, you will incur no bill. If you wish to continue to paid services, you will have to use your legitimate credit card and pay for the services.
How Much Does Rotogrinder Cost After the Free Trial
You can choose one sport and subscribe to the NBA Package or you can choose the Combo Package and get full access to Premium for all supported sports.
| | | |
| --- | --- | --- |
| | NBA Package | Combo Package |
| Five Days | $24.99 | $39.99 |
| Monthly | $49.99 | $119.99 |
| Seasonal | $339.99 | $1,250.99 |
What Else Can DoNotPay Do?
Besides offering virtual credit card services and, DoNotPay offers many other services. We offer incomparable administrative and bureaucratic solutions to all your problems in a fast, easy and reliable manner. Subscribe to our website today and enjoy the following services and more: