How to Get a Roku Free Trial With a Virtual Credit Card

In 2008, in collaboration with Netflix, Roku came on the market. Due to the inundation of services, Roku sought to simplify the streaming experience. The original design was a set-box that connected TVs to streaming services, and now Roku also comes pre-installed on many smart TVs. Although Roku is free, consumers can get  for various streaming services. 
Your Roku account offers many free trials, from Paramount to DailyBurn. Free trials are an exciting way to see if a streaming service is right for you or simply binge a new series. Unfortunately, people often forget to cancel their free trials resulting in unwanted credit card charges. Luckily, DoNotPay is here to help you access free trials without the hassle.
Does Roku Offer a Free Trial?
Roku is a free service so a  is not necessary. There is a Roku Channel, but that, too, is free. However, Roku runs special deals for other streaming services through their platform. These services and discounts may vary. To access entertainment promotions, you need to follow a few steps.
Log in to your Roku account.
Click on Shop Products.
Click on Special Offers.
A list of offers is listed; click the add channel button next to the offer you wish to try.
Some services are payable via Roku Pay, while others must be paid through the service directly.
How Much Will Roku's Free Subscriptions Cost After the Trial Period?                                                                                                                                                                  
Since Roku's free trials are through third-party streaming services, the price varies after the trial periods. Some services, such as Netflix, also have different tiers with differing costs. Some common examples of service costs are as follows:
| | |
| --- | --- |
| Service | Cost |
| Daily Burn | $14.95 a month with an upgradeable option for $19.99 a month |
| Prime Video | $8.99 a month |
| Paramount Plus | $4.99 a month with commercials or $9.99 a month ad-free. There are also discounts for annual plans. |
How to Manage Subscriptions on Roku
If you choose to subscribe to streaming services using Roku Pay, you can cancel them on your profile. If you sign up for a promotional free trial connected to your Roku Pay, you must cancel it before the trial ends. To do so, you must follow the following steps.
Press the home button on your Roku remote.
Highlight the channel you wish to cancel using the directional pad in the center of your Roku remote
Press the star on your remote. This will open the options menu.
Select the option that says "manage subscription." Here you will see the renewal date and the opportunity to cancel.
To cancel a subscription, or end a free trial, simply select "Cancel Subscription". A message will appear to confirm continued access, content, and services.
Roku will ask if you are sure you would like to end your subscription. Confirm that you would like to cancel.
Roku will confirm the cancellation and give you the subscription's end date.
If there are any further issues with cancellations or managing your Roku subscriptions, you can contact Roku's customer service for further assistance.
How to Get Free Trials Risk-Free Using DoNotPay's Virtual Credit Cards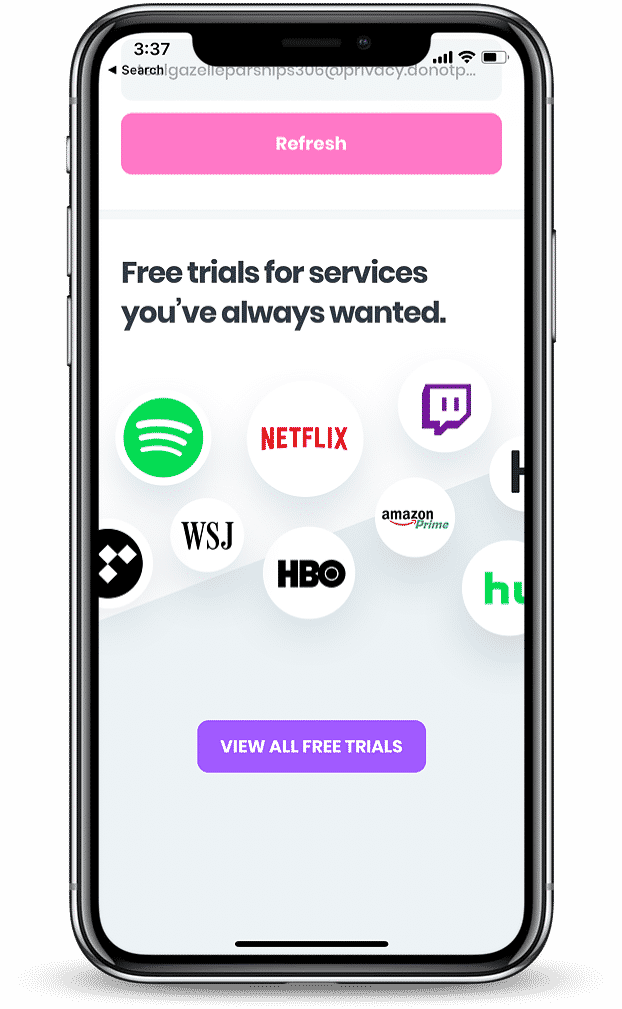 Getting the opportunity to access  is a fun perk that comes with a Roku device. Unfortunately, many people forget to cancel their free trials. Each free trial has different time limits. Some trials are for two months, while others only last for two weeks. Each subscription payment adds up to a big unwanted expense.
DoNotPay has the perfect solution to your problem.
DoNotPay has virtual credit cards that you can use for free trials. Virtual credit cards won't affect your personal finances, so you will never be charged even if you forget about the subscription. 
How Does a Virtual Card Work?
Generating and using a virtual card with DoNotPay is simple! You will be on your way to a free trial in three easy steps.
Go to DoNotPay's free trial card section.
Generate the free card for your specified merchant
Copy the information and paste it into the credit card field for your desired free trial.
That's it! It's simple and risk-free.
Benefits of Using a Virtual Card
Using a virtual credit card takes all the headaches and stress from free trials. You can sit back and enjoy your streaming services until the trial period ends. The benefits do not end there.
Virtual cards will inevitably save you money as you avoid unwanted credit card purchases.
DoNotPay can assign a temporary email address that will forward emails to your personal email. This will help you prevent email spam and allow you to enjoy more free trials.
Your real name can be kept private, and all of your information will stay secure.
What Else Can DoNotPay Help With?
DoNotPay isn't only here to help with free trials and virtual credit cards. We are here to help you solve many everyday chores and dilemmas as simply as possible. DoNotPay helps save you time and aggravation, so you can concentrate on the things that really matter. Some of the services DoNotPay assists with include: