Get Rocket Lawyer Free Trial Without Giving Your Credit Card Info

As many feel compelled to take legal matters into their own hands, more and more I.T. legal-drafting and assistance services are popping up. With a , people can explore one such tool so that they can learn how to better advocate for themselves – a necessity. As people everywhere take historic measures to control their primary legal interests more than ever before. Without the right tools, however, people seeking to protect themselves from heavily financed and coordinated legal attacks can use all the help they can get.
Does Rocket Lawyer Have a Free Trial Offer?
Rocket Lawyer's founder, Charley Moore, Esq., has explained, "We believe everyone deserves affordable and simple access to services." To move people in that direction, the company offers a 7-day premium membership trial for free and with its full range of features, including:
Unlimited legal documents and electronic signatures
Rocket Lawyer's Document Defense® dispute protection service
Access to lawyers for questions and answers – including a free 30-minute phone call
Discounts, including 40% off other services and free incorporation services
Signing up is easy, but as we will see, there is one slight catch that .
How Do I Start Rocket Lawyer's Free Trial?
It's extremely easy!  page, and fill out their brief form, including, you guessed it, your credit card info. On second look, you'll see at the top of the form:
"Today's total: $0."
The implications are pretty obvious; but to be clear, know that providing your billing info will make you a full member and subscriber to Rocket Lawyer (section 1 of their General Terms of Service say as much) – and bind you to member and subscriber payment obligations.
Pro tip: What not too many know is that there is also a somewhat secret $1/month service – the "Loyalty Plan". It allows members, with limitations, to create "personal documents." You won't see this option, however, until you attempt to cancel an already active account.
Does Rocket Lawyer's Free Trial Automatically Renew Into a Paid Subscription?
They are as clear as you can expect a company to be about this, in this commercial day and age: "Premium Monthly - 7 Day Free Trial, Cancel anytime, $39.99/month after that"
On third look, the page even looks like a bill or the quintessential digital retail checkout page we are all used to seeing. There is no mistaking the fact that Rocket Lawyer will automatically charge free trial users at the end of the trial.
Having endured a lifetime of reasons to mistrust these arrangements, consumers are understandably hesitant to engage with anything of this nature. It's always tempting to believe that one can simply get in, cancel on time, and get out with no charges being accrued. In any case, Rocket Lawyer's clarity on the matter is refreshing, considering how many legal e-commerce sites are anything but clear about subscription auto-renewal policies.
Cancelation Policy
To cancel a Rocket Lawyer subscription, Rocket Lawyer explains that cancellation can be made at any time. That sounds good, but the super-vigilant will want to know, specifically, if canceling at any time is sufficient to end the subscription right after the free trial and stop Rocket Lawyer from charging their credit card.
Their FAQ, thankfully, is equally specific. The heading "I don't want to be charged when the trial ends," explains that "If you want to cancel your free trial, you may do so at any time." We recommend contacting them well within the last business day (before 6 pm PST, Monday—Friday) before your trial ends – and all the best if you do so both over the phone and in writing, so you have live, real-time confirmation as well as a written record of when you put in your cancellation request (after all, you're trying to pump those legal muscles up – it's best to keep your administrative-process habits sharp).
The Refund Policy
Their refund policy isn't so clear, but it does demonstrate a much higher-than-normal willingness (as far as legal e-commerce companies go) to be on the most positive terms with customers. Section 2 of their Terms of Service encourages users to get in touch with them as soon as they feel a refund is warranted. Though it leaves out any firm policies specifically relevant to a free trial, it reveals a more user-friendly attitude in general.
The same section invites users to email them or call (at [877] 881-0947) their customer service department for any refund issues. Rocket Lawyer goes as far as to save your work after your cancellation for you to recover when you log back into the site.
Rocket Lawyer is easier than most online legal-services companies to deal with, and they demonstrate a higher than average desire to make a positive impact on the legal realities of the fourth branch of government (read: you and me). That's why DoNotPay is proud to make it all the easier for people to obtain. In the most headache-free manner, a , so they can decide without commercial pressure if the benefits of the service are right for them.
Avoid Rocket Lawyer's Auto-Renewal With DoNotPay Virtual Credit Card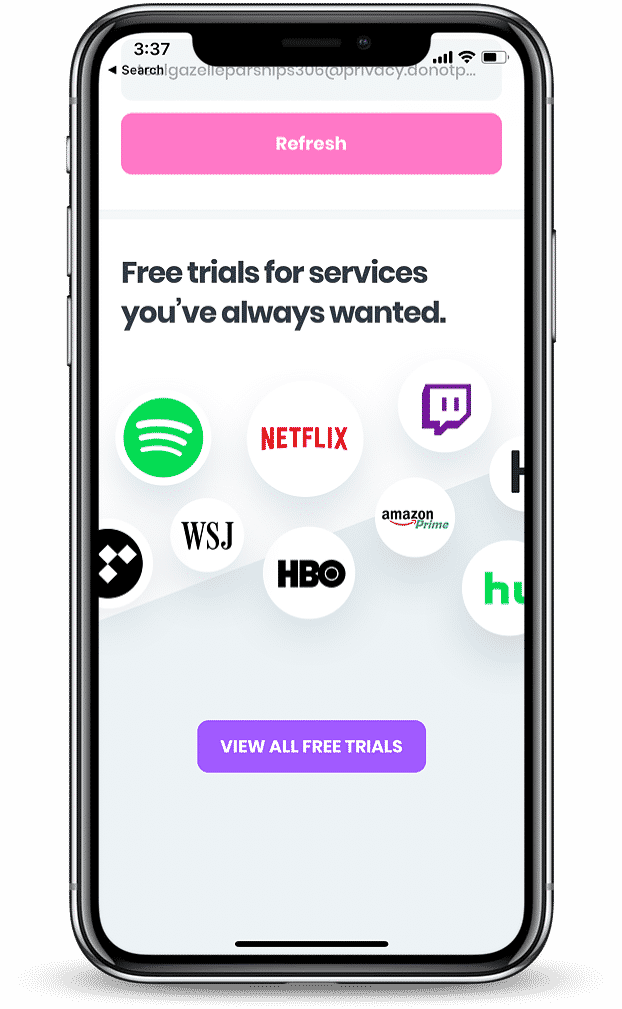 With even the best companies, mistakes can happen on either end that results in customers being perpetually billed for a service they simply forgot about or even thought they had already canceled. For those in such a predicament, DoNotPay has streamlined the Rocket Lawyer cancellation process – and for almost any company – to help you recoup your loss and save you time.
If you'd like to avoid any such mistakes from happening in the first place, though, you can take advantage of the DoNotPay Virtual Credit Card service. Here's the simple two-step process:
The Virtual Credit Card generates a random number that billing systems initially recognize as valid, with which you can subscribe to any service.
After the free trial expires, the service will (A) attempt to charge the card, (B) realize there are no funds on it, and (C) simply unsubscribe you from their services – just as you would have preferred from the start.
For more information, read our in-depth article about DoNotPay's Virtual Credit Card. Imagine how it could save you time and hassle juggling endless cancellation dates just to do what you thought was free. But, in essence, winds up costing you mental bandwidth and time.
After the Free Trial, How Much Is a Rocket Lawyer Subscription?
With legal-insider paranoia over legal self-advocacy at a fever pitch, many wish there were something just like an attorney but who wasn't bound to other interests. The need to be that very figure for oneself is being fulfilled by companies. In helping streamline legal processes, draft professional legal documents, and enable the common man and woman to easily research and demystify the laws, codes, regulations, and rules as they fundamentally apply to them individually.
Rocket Lawyer has already helped 10-million users do just that for the highly affordable (compared to the cost of the average legal attack) price of just $40 per month. That's not for some stripped-down, entry-level service; that's their premium membership, with all the benefits explained above.
Of course, for even less, you can enlist the help of the world's first robot lawyer – us – to not only streamline a huge number of small-claims level legal matters but a whole lot more. Skip to the bottom to see more of our full suite of streamlined legal, billing, and other services!
What Are Some Popular Alternatives to Rocket Lawyer?
One of the most positive outcomes of current events is the fact that countless people just like you are taking an interest in how legal (and other) systems are created by our public servants. It can be re-utilized for the benefit of the people, as it was originally intended. People are feeling pressure to play legal "catch up" with the private international interests that have unjustly enriched themselves with a unique interpretation of how an "adversarial system" was meant to function.
However frustrated, much of the population – regardless of demographic or creed – is catching up, and quickly. If you'd like to streamline your legal (as well as financial) issues, skip to the bottom and see just some of the great products and services that DoNotPay, the world's first robot lawyer, has forged through our experience getting corporate and government actors to waive fees and back down.
If you are as dogged as us, and want to learn how to cut your teeth by lowering the legal waters around you, here is a shortlist of free resources for researching the law. For starters, legal researchers owe it to themselves to use source materials as often as possible. For starters, you can explore these:
Official, archived records, and verified source materials have always been, and still are, the only surefire way of ensuring no digital omissions or oversights make their way into one's legal documents.
Of course, for practicality's sake, digital records are going to have to be contended with; in which case; nothing short of the most reliable data (and the resources necessary to verify it) will do. Whether you need help drafting legal documents or conducting rigorous legal research, there are greater options than ever before in human history.
There are many other digital services that DoNotPay can streamline access to (while protecting your credit card).
             Service
Price/Month
             Features
        Trial
Practical Law (Thomson Reuters)
$73–$305
+ Administrative/services

- Oriented less towards research

 

1 week

Fastcase
$65-$95+
+ Case docket searches

+ Tribal courts included

- Limited sources

 

1 week

 

Casetext
$90-$225
+ Case-alert notifications

+ Smooth tool integration

- Secondary & public records limited

- $90 plan limits # of searches

        2 weeks
LexisNexis+
$85-$250+
+ Very comprehensive

- Certain omissions

- Highly expensive

- Not meant for solo researchers

        1 week
ROSS Intelligence
$69-$89
+ Early New England case law included

+ Unpublished case law included

+ Specialty courts & tribunals included

- Oriented less towards drafting

       2 weeks
National Law Library
$25-86, or

($3-5 a search)

+ Very affordable

- Quite basic

- Only past 50 years of case law

         No
There are also extensive and reputable free sites that help with supplementing and cross-referencing the information contained in any legal document drafting service:
CRL.edu (Center for Research Libraries)
For guidance on what to do with all this labyrinthine information – once you have a robust legal document to use – there are many independent but reputable courses, schools, and groups (small, big, and somewhere in between) whose research can often be more exhaustive than the highly connected legal industry juggernauts. Owners' motives often seem questionable. Sidestepping the topic of legal research and drafting completely. Some may be better off putting the law books and drafting tools down instead focus on simplifying the collection of damages. For personal and private injuries, they can get back to the things they love.
Whatever resources you choose to draft your legal documents, be confident that you can verify and effectively use the material you rely on. In any paperwork contest that, however unfortunate, can easily cause real injury and damage to real people. DoNotPay was founded to prevent more damage from an out-of-control commercial-legal system, and we are just getting started.
What Other Services Does DoNotPay Offer?

Out of respect for justice, due process, and rule of law, DoNotPay has created many streamlined products for putting your legal-commercial dealings strictly in their place, such as:
We are here to help you stem the tide of for-profit legal system abuse, and simplify life-sapping 2D-world bureaucracy in general. For a mere $36 a month, you can immediately begin reaping these benefits and show others how easy it is – with the world's first robot lawyer!