Sign Up For Rent the Runway Free Trials With a Virtual Credit Card

Rent the Runway is a fashion subscription service that lets you try out luxury fashion items, without the commitment or price tag of actually purchasing them. It's a great option for people looking to add more fashionable, high-end pieces to their wardrobe—at least temporarily.
Just like renting instead of buying, a free trial lets you try out service with less commitment. In this guide, learn about  options, pricing plans, and a risk-free way to try services out for free using DoNotPay.
Does Rent the Runway Offer a Free Trial?
Rent the Runway does not offer a traditional free trial because even the "trial month" is not actually free. However, if you want to try Rent the Runway out, there is one discounted month when you first sign up.  costs $69 for one month for the "4 items per month" plan, and then the price returns to its normal price of $89 per month.
The "8 items per month" and "16 items per month" plans also offer a discount for the first two months that you use the subscription, but again, there is no 100% version of Rent the Runway.
During the discounted trial month, you will get:
One shipment of four clothing items that month
Access to the "basic closet" only, which includes items with up to a $350 value
Free shipping and returns
Cleaning and rental coverage included in the price
How Does Rent the Runway Work?
Since there are many fashion services similar to it, you may be wondering how Rent the Runway works. Here's the quick version for your first 4-piece rental:
Browse the Rent the Runway (RTR) closet, and pick out any four pieces you want to rent.
Rent the Runway will ship these four items to you. You can then wear them for as long as you want. Unlike other fashion subscription boxes, RTR has no return dates, but you just can't get more items until you return or choose to buy your current items.
When you're ready, tell RTR if you are planning to return the items or buy them with RTR's discount. If you return them, you will ship them back for free. Now, you can pick more items to rent.
How Can I Get a Rent the Runway Free Trial?
Again, there is no true "free trial" for Rent the Runway, but it is easy to sign up and get your first month on sale. To sign up for a discounted one or two months of Rent the Runway, you can:
Go to Rent the Runway's website and navigate to the "Plans" page.
Choose which plan you want to try. If you choose 4 items per month, you will get one month at a discounted price. If you select 8 or 12 items per month, you will get two months at a discounted price.
Click "Try now" for the plan you want to try.
Enter your email and create a password.
Click "Unlock my offer." Keep in mind, there may not be an offer if you have tried Rent the Runway before.
Fill out the rest of your profile, including your credit card information.
Does Your Rent the Runway Subscription Automatically Renew?
Yes, your Rent the Runway subscription will automatically renew if you forget to cancel it or pause your subscription in time. Since RTR will have your credit card information, it's easy for them to charge once your discounted subscription ends, so you will have to stay on top of things to make sure you cancel or pause it on time.
If you have been using this fashion service but want to cancel your Rent the Runway subscription, DoNotPay can help with that as well.
How to Avoid Automatic Subscription Renewal With a DoNotPay Virtual Credit Card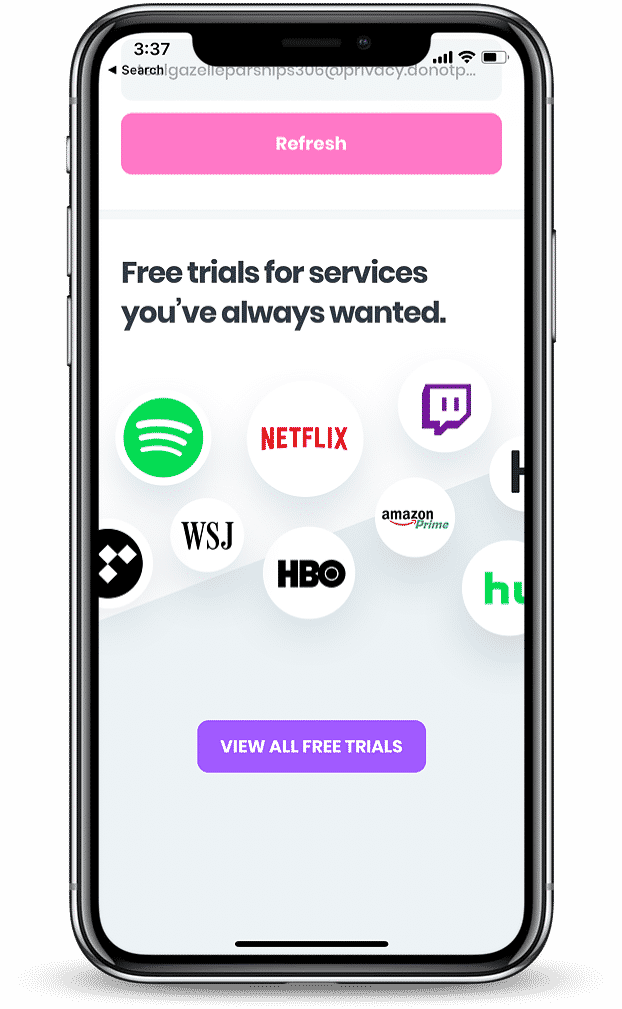 As most of us know all too well, it's very easy to forget to cancel your subscription before the free trial expires. Suddenly, you've been charged for four months of Rent the Runway, even though you forgot you ordered a discounted subscription months ago.
DoNotPay offers a free virtual credit card to solve this exact problem. With a virtual credit card, you can sign up for free trials with the guarantee that you won't be charged if you forget to cancel on time. Here's how it works:
DoNotPay will give you a free, temporary credit card number.
You will use that number to make your free trial "purchase."
If you forget to cancel, the company will try to charge you, but the card will reject the charge.
Your real credit card information will stay safe in the process.
Since Rent the Runway does not offer a free trial, the virtual credit card can't be used for the real purchase, but if RTR ever does offer a free trial, or if you want to try another fashion subscription service that does offer a free trial, it's helpful to know that virtual credit cards can solve your automatic subscription renewal problems.
How Much Does Rent the Runway Cost After the Trial?
After your discounted Rent the Runway month, that same 4 item plan will cost $89/month to rent the items, not including the price of buying items you want to keep. There are also two other pricing plans for people who are interested in receiving more items or having access to the higher-end, luxury fashion pieces. Here are the three plans after your first one or two trial months are up:
| | | | |
| --- | --- | --- | --- |
| Items per month | Cost | Number of shipments out of 4 items per month | Benefits |
| 4 | $89/month | 1 | Access to the basic closet only (items with up to a $350 retail value) |
| 8 | $135/month | 2 | Access to the full closet (items with up to a $3500 retail value) |
| 12 | $199/month | 4 | Access to the full closet (items with up to a $3500 retail value) |
What Are the Most Popular Alternatives to Rent the Runway?
It seems like a new fashion subscription box company pops up each day. Each fashion rental or subscription box service has a slightly different unique selling point, but many of them let you wear new clothes without ever purchasing them. Here are a few of Rent the Runway's direct and indirect competitors:
Brand
Rent or Buy
Subscription Price
Main Luxury Clothing
Nuuly
Rent, with the option to buy
$88/month
No
LUXE CATCH
Buy, with the option to buy at a discounted price

$50/month for the "Bargain" box
$250/month for the "Posh" box

"Bargain" and "Posh" subscription box options are available
Stitch Fix
Buy, but you get to try on the clothes first
$20 styling fee for each box
No
Find More Helpful Solutions From DoNotPay

If you like the idea of not being charged for things you shouldn't have to pay for, then check out what other successful and handy solutions DoNotPay offers:
 for DoNotPay to discover quick and easy solutions for your day-to-day problems.