Start a Redbox Free Trial Without a Credit Card

Redbox is a video rental company that provides customers access to Blu-ray, DVD, 4K UHD, and Blu-ray copies of the latest movies. Redbox has made it possible for consumers to access these movies at small rental fees with the availability of its kiosks.
The kiosks work like vending machines for movies where you pick a movie you want, purchase it for a small rental fee, watch the film, then return it after checking it out. Before subscribing to the rental service, you can first try out the  to evaluate whether or not the service will work for you.
This guide will show you how you can sign up for Redbox free trials without risking your credit information after the trial expires.
Does Redbox Offer a Free Trial?
Like other streaming services such as Netflix,  to new users to see if it's a good fit for their needs. When you sign up for a free trial, you access the same benefits as paid subscribers. Redbox offers three pricing models, each with different features, to cater to different user needs.
Redbox Instant
This is the lowest tier of the Redbox service and has three tiers:
$6
$8 per month
$9 per month
The $6 tier gets you access to streaming movies from a relatively limited content library, while the $8 plan gives you unlimited streaming and four kiosk rentals a month. This tier is your best bet if you are a frequent Redbox renter. If you want to rent Blu-ray discs, you can sign up for the $9 tier, which gets you four credits for Blu-ray rentals.
Redbox On Demand
Contrary to other subscriptions, Redbox On Demand doesn't require a subscription. You just need to rent or buy without subscribing to a monthly payment. You can stream older titles for $2 and new releases starting at $4 for a 48-hour viewing window with this service.
Redbox Plus
This is the highest subscription, starting at $9.99 per year, and allows you access to 12 free one-night rentals. Redbox Plus offers two plans; a 12-movie plan and a 24-movie plan. The 12-movie plan costs $9.99 per year, while the 24-hour plan costs $19.99 per year.
Each plan allows you to keep your rentals until midnight without incurring extra costs. While the 12-hour plan limits you to a single rental per month, the 24-movie plan has no time-based restriction, so you can choose when you want to rent. Both plans support Blu-ray, DVD, and 4K UHD movies.
How Can I Get a Redbox Free Trial?
Redbox makes it easy when registering for a free trial. Note, however, you need to provide your credit card details when registering for the Redbox free trial. The free trial month is an excellent deal to try out the Redbox Instant package. Follow these easy steps to get a Redbox trial:
Access the official Redbox website and create a Redbox Instant account. If you already have an account, sign in using your existing credentials.
On the registration page, fill in your email address and password, input your first and last name, and also the Zip code that you want to be associated with your account.
Read the Redbox terms and conditions and check the box to agree to the terms.
Click on "Create Account" on the bottom right corner.
Enter your credit card information and click continue.
Once your account is created, you will receive a one free month trial from Redbox Instant.
Does the Redbox Free Trial Automatically Renew Into a Paid Subscription
Yes, every free trial automatically becomes a paid subscription once it expires. You can opt-out of the feature by canceling your subscription as soon as you register for the service. You may also cancel your Redbox subscription 24 hours before the next billing cycle.
If you forget to cancel your Redbox subscription, you will be automatically enrolled in the monthly billing cycle after the free trial expires and will receive no refunds. However, you can get a full Redbox refund for the purchase or rental of defective discs if a replacement is not available.
Skip Automatic Subscription Renewals With DoNotPay Virtual Credit Card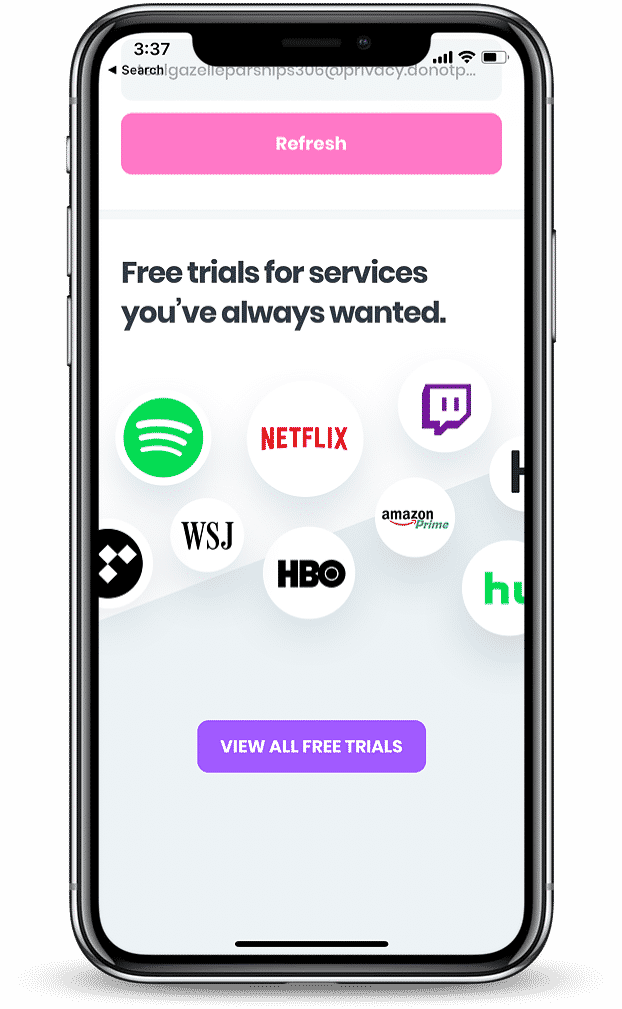 Automatic renewals can lead you to financial derailment. Once you forget to cancel your free trial, Redbox will automatically charge your credit card for the next billing cycle, increasing the number of "money eaters" in your budget.
To save yourself from the burden of automatic renewal, you can use DoNotPay's virtual credit card to register for free trials. It works like a regular credit card, only that it's not connected to your bank account or any other funding source, meaning it can't be charged.
Here is how our free trial credit card protects your wallet:
DoNotPay generates a random credit card number and credit card info that you can use to subscribe to any service.
After the free trial expires, the service won't charge you because there's no money on that card, so you get unsubscribed automatically.
How Much Does Redbox Cost After the Trial?
Redbox offers three different subscription plans to fit different customers' needs. Each plan provides access to different movie types and rentals per month and costs differently.
| | |
| --- | --- |
| SUBSCRIPTION | COST |
| Redbox On Demand | $2 (older titles), $4 (new releases) for every rental |
| Redbox Instant | Tier 1 ($6), Tier 2 ($8), Tier 3 ($9) per monthly basis |
| Redbox Plus | 12-movie plan ($9.99) 24-movie plan ($19.99) per year |
What Else Can DoNotPay Do to Solve Problems for You?

DoNotPay has become a trusted name when it comes to protecting your wallet from unforeseen expenses and frauds. More and more Americans are signing up for DoNotPay to help them tackle everyday problems. Apart from helping you get free trials, access DoNotPay and see how we can help you solve the following:
If you would love to see how DoNotPay's virtual credit card works to protect your credit card info,  for DoNotPay on your web browser and score free trials without worrying about automatic renewals.