How to Get Recoverit Free Trial Without Giving Your Credit Information
Wondershare Recoverit is a highly sophisticated data recovery software for Windows and Mac users. With a 96% recovery rate, it recovers all types of files such as email, video files, audio files, documents, and graphics, just to mention a few. The software can also be used to retrieve data from all types of data loss, including accidental deletion, corruption by an external device, an emptied recycle bin, a virus attack, a system crash, and so on. 
To try this service out, you may be interested in a . Read along to find out how DoNotPay can help you avoid charges when you accidentally subscribe to Recoverit's paid version.
Does Recoverit Offer a Free Trial?
Yes, users can download the data recovery tool free of charge. You can find the free version as Wondershare Recoverit free trial that is downloadable from the official website.
However, there are some limitations to this free trial. For example, with the trial version, you can only recover 100MB of data. This is a good deal if you do not have a lot of data to recover. If you have to recover more data, however, you will have to subscribe to the paid version. The other con of the free trial is that it has fewer features than the paid version.
How Can I Get Recoverit Free Trial?
To download a :
Log in to the official Wondershare website
You will be prompted to enter your email
You will receive an email guiding you on how to download the Wondershare recovery tool
Does the Recoverit Free Trial Automatically Renew Into a Paid Subscription?
No. Recoverit allows users to only recover 100MB of data.  Unfortunately, this is only as far as the free-riders can go with the free version. To recover more files, you will be prompted to buy the program. If you wish to get a Wondershare refund of payments made, Wondershare has a 7-day free return guarantee. Go to Wondershare's "RETURNS & EXCHANGES" center to submit your complaint.
How Much Does Recoverit Cost After the Trial?
Compared to other sites, the Recoverit payment plan is simple. Users have three payment plans to choose from: Essential, Standard, and Premium. Each plan has different pricing and features. You can choose to pay a monthly or an annual subscription or pay a one-time fee for a lifetime. Here are the three payment plans:
1. Essential
This plan has Recoverit's best features. It allows you to recover thousands of files in different formats. You will pay $59.95 for a monthly subscription, $69.95 for an annual subscription, and a one-time lifetime payment of $119.95.
2. Standard
This plan has every feature you would get in an essential plan, plus the bootable toolkit that allows you to either create a USB flash drive or a bootable disk. Using this tool, you can recover data from a failed machine that has failed to boot up. If you choose this option, you will pay $69.95 per month, $79.95 annually, and a one-time lifetime fee of $139.95.
3. Premium
This is Recoverit's best plan. Here, you will get all the features in the previous plans, in addition to other upgraded recovery features. Some of these advanced features include
Corrupted video repair
Advanced video recovery
Merging and scanning of video fragments.
In addition, while you can only install the software on one PC using the previous plans, premium allows you to install the software on more than one PC. The monthly price for this plan is $79.95. You will pay $89.95 for an annual plan, and a one-time fee of $159.95 for a lifetime plan. This plan is a good deal if you want to split the cost with someone else.
Common Alternatives and Competitors to Recoverit
| | |
| --- | --- |
| Alternatives/Competitors | Description |
| EaseUS Data Recovery | This software helps you with file recovery, just like Wondershare Recoverit. |
| Disk Drill | This software uses advanced recovery software to delete files on all your connected devices. |
| MiniTool Power Data Recovery | This software has five modules, which include, but are not limited to, "Undelete Recovery" and "Lost Partition Recovery". |
Avoid Automatic Recoverit Renewal With a DoNotPay Virtual Credit Card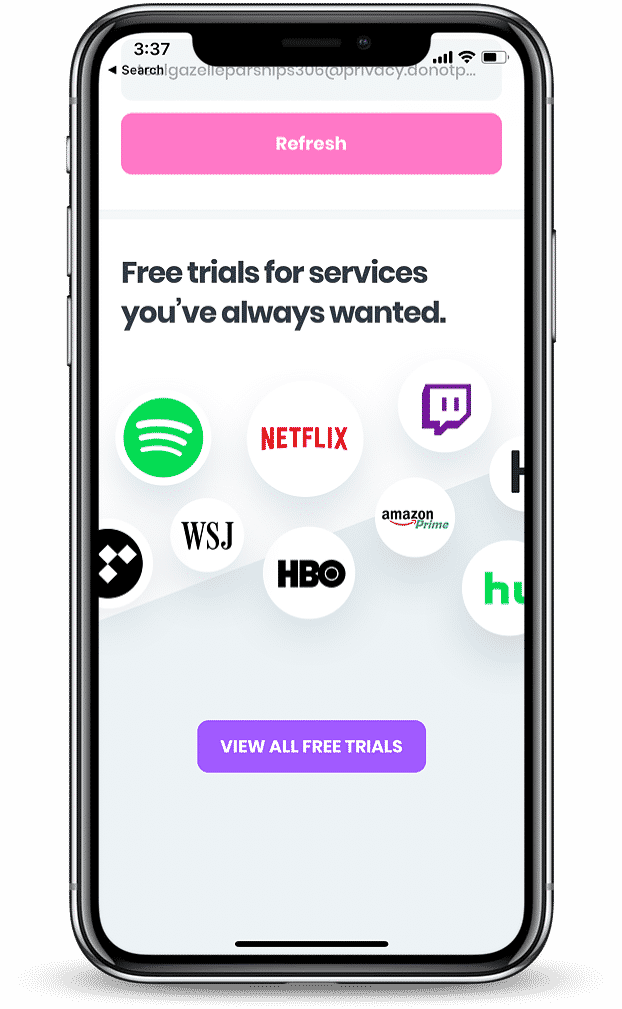 Don't give away your credit card information. You can enjoy real free trials and protect yourself from unwanted charges by using DoNotPay's virtual credit cards. Here is how DoNotPay's free Virtual Credit Card works and why it's so amazing:
To Use DoNotPay's Virtual Credit Card Feature by Following 3 Easy Steps:
Search free trial card on DoNotPay, and enter the company you want a free trial for.
Receive a generated virtual credit card that you can use for that merchant.
Copy the card details shown on your screen into Recoverit.
Use the card to sign up for your free trial.
Enjoy your free trial without any risk of getting charged.
Note that the card will be deactivated and not usable once it's been used once.
Why DoNotPay's Virtual Credit Card Works So Well
DoNotPay generates a random number and credit card info that you can use to subscribe to any service
Once the free trial expires, the service can't charge you because there's no money on that card, so you get unsubscribed automatically
What Else Does DoNotPay Offer?

DoNotPay can help you with almost anything, such as:
Sign up with  today and let us help you solve your issues easily and fast.