Get a Pure Free Trial Securely With a Virtual Credit Card

Pure is an adult dating and hookup app launched in 2013 to help anonymous people meet each other for casual relationships. In 2021, the app was marketed as a "shameless dating app" where people can connect with others and share thrilling experiences without judgment.
You have to download the app or visit the website and sign up to enjoy the services. The download is free, but you have to pay for subscriptions. As a new member, you can sign up for the free trial and enjoy unlimited features free of charge. However, you have to set the Pure free trial to automatically cancel when it ends, or you else will be billed after the free trial period.
DoNotPay has a free virtual card to help you access the free trial without giving out your credit card information. In addition, you can cancel your subscription afterward without paying any extra fees or claim refunds for services not utilized.
Does Pure Offer a Free Trial?
Yes,  for men, while women can use it free of charge. The free trial lasts for three days.
The free trial has access to the same benefits offered in the subscription plan. The benefits include:
Women can use it for free
You can only share limited personal information
Use only minimal personal information
The profiles self-destruct after one hour
You can use the same details for registering a new profile
Even though they share the same benefits, pricing differs depending on how you signed up for the account. So, If you use the mobile app, the charges will be a bit higher than using the website.
The subscription charges for both the mobile app and the website are as follows:
| | | |
| --- | --- | --- |
| Subscription Period | Mobile App Subscription | Web Subscriptions |
| 7-day subscription | $10.99 | $9.99 |
| 30-day subscription | $21.99 | $19.99 |
| 90-day subscription | $43.99 | - |
| Six months subscription | - | $39.99 |
| Annual subscription | $54.99 | - |
How Can I Get a Pure Free Trial?
Follow these steps to start the pure free trial:
Ensure you have either Google, Apple, or Huawei Identification Document (ID) since they provide trustworthy protection over your data
Visit the Pure official website or download the mobile app
Create an account using your email address and a username of your choice
You will receive a verification message through your phone number or email
After confirmation, go to the subscription and choose a payment method
On the payment method page, select start the free trial
Does the Pure Free Trial Automatically Renew Into a Paid Subscription?
Yes, your Pure account will automatically renew to a paid subscription if you fail to cancel the free trial. Since there are no contracts binding you to the app, you are allowed to cancel the free trial anytime you want.
If you cancel before the three days are over, you will still be allowed to continue using the services until the end of that period. Also, you can resubscribe again to enjoy premium services for which you will be paying every month.
You are not eligible for refunds after canceling a subscription.
How to Cancel Pure Free Trial on Your Own
Your Pure free trial will continue billing after the free trial is over. If you don't plan to continue with the app, you need to set the subscription to cancel before the trial is over. 
Remember that you can only cancel the trial or subscription through the App Store or Google Play Store.
To cancel the free trial, here are the steps:
Log in to your account on either Google Play Store or the App Store.
Go to subscriptions.
Select the type of subscription you are on, then select "Cancel my free trial."
Remember that deleting the app doesn't cancel the free trial. You need to do it on the app.
Avoid Automatic Renewal With DoNotPay Virtual Credit Card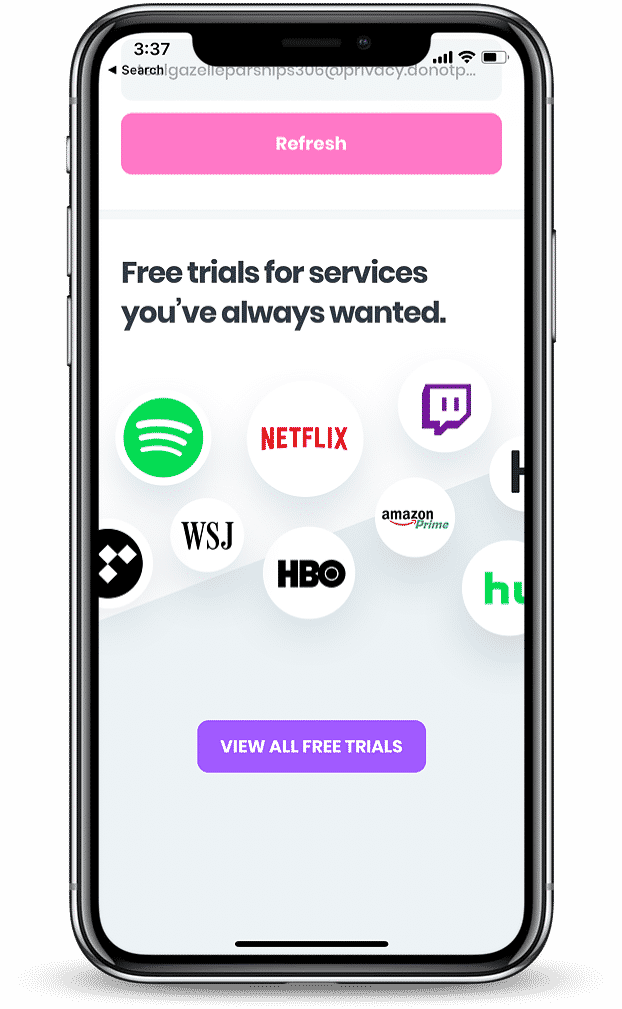 DoNotPay can help you cancel the Pure free trial and avoid the automatic renewal of your subscription using a virtual credit card. The virtual credit card by DoNotPay is simply a unique credit card number that is randomly generated to sign up for free trials and purchase things online.
Virtual cards are connected to your real credit cards to make transactions without revealing your card details. Think of them as a one-time credit card that gives you peace of mind by letting you sign up to different online services without incurring ridiculous charges on your card.
You can input any name and card number and set an expiration date as provided by DoNotPay.  When you purchase a product or service online, the DoNotPay algorithm gets notified and checks whether the code request is a free trial. If it is not, the virtual card will automatically reject the transaction.
DoNotPay will also generate a random email address which will then send the forwarded messages to your real email address without revealing your personal information.
What Else Can DoNotPay Do for You?
DoNotPay is the first robotic lawyer that helps you deal with bureaucratic annoyance or overcomplicated processes when seeking essential services from corporations.
Besides helping cancel , DoNotPay can help you with other services. Sign up today and enjoy the following services: