How to Get a Pure Barre Free Trial Without Giving Your Credit Card Information

Pure Barre is a fitness studio brand focusing on barre workouts, a style of exercise and stretching that originated with ballet dancers. Pure Barre focuses on providing beginner to advanced lessons in endurance, flexibility, and strength using the barre workout techniques. To participate in a Pure Barre class, you'll need to first find your nearest Pure Barre studio. While there is an online element to Pure Barre, the classes are in person.
Not sure Pure Barre is the right personal fitness choice for you? You can try a  class to determine the brand is a good fit for your lifestyle.
Does Pure Barre Offer a Free Trial?
Yes, Pure Barre makes it possible to sign up for a free session. Because Pure Barre is a studio-based fitness class, the free trial isn't like a typical online free trial. You don't need to make an account or set up a subscription, but you will need to sign up for the class.
 are beginner classes that anyone can try out. They are available at participating Pure Barre studios throughout the year in order to help onboard new members.
Here are two main points to remember:
There is a free introductory class.
There's no obligation to sign up for paid classes after that.
How Can I Get a Pure Barre Free Trial?
Want to try out Pure Barre classes for free? You can sign up for a free introductory class without committing to future classes by signing up online or inside your local Pure Barre studio location.
To sign up online, head over to the PureBarre website. You will see a red rectangular "free barre class" button in the upper righthand corner. Follow this link to the free class signup page. Select the studio nearest you and enter your basic information to let them know who is signing up.
From there, the platform will help you book the next available free beginner's class at your nearby studio.
Navigate to PureBarre.com
Click the "free barre class" button
Enter your information
Select and book a class
Arrive at the PureBarre studio dressed and ready to exercise
What Do I Need to Wear to A Pure Barre Class?
Tank top or t-shirt
Flexible pants
yoga pants
Leggings
Sweatpants
Capris
Grip socks
Do the Pure Barre Free Trial Automatically Renew Into a Paid Subscription?
No. You do not have to sign up for a subscription in order to enjoy a free Pure Barre beginner's class. Pure Barre focuses mainly on members who want to show up for each scheduled class so you don't have to worry about an auto-renewing subscription after booking your free class.
If you wish to cancel your membership DoNotPay can also help you with it.
Avoid Automatic Renewal With DoNotPay Virtual Credit Card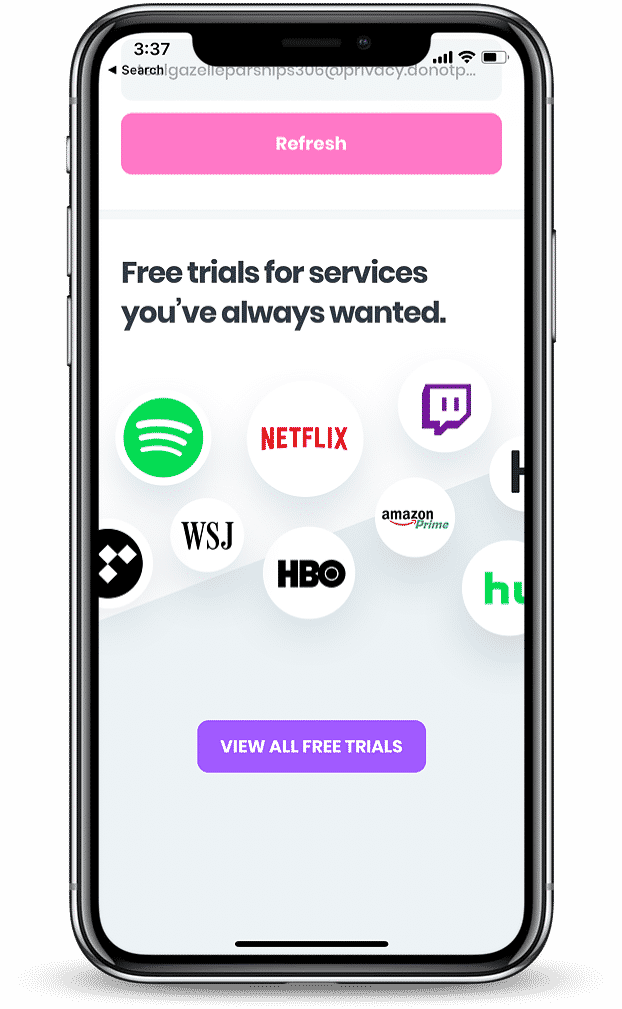 The PureBarre free trial is simple and straight-forward, but not all free trials are. DoNotPay has tackled a lot of underhanded subscription types designed to turn a "free" week or month into the full price of a year's subscription. You can see this free trial model used with commercial gyms as often as software subscriptions. It's really just lucky that Pure Barre doesn't use the same tactic and instead offers a free open class.
If you do find yourself facing a not-so-free trial, DoNotPay has come up with the perfect solution: a virtual credit card. When you have to log a credit card for something free, a virtual credit card protects your finances from auto-renewing charges. It takes the place of your credit card but doesn't authorize any payments when charged. This means that free trials can end gracefully without a subscription or hassle.
How Virtual Credit Cards Work
DoNotPay generates a random payment card number
You sign up for a free trial
You enter the virtual card number instead of your payment card
The virtual card refuses payment for a subscription when the free trial is over
You enjoy free trials without being charged
You can get all the free virtual credit cards you need from DoNotPay to finally explore free trials that are actually free.
How Much Does Pure Barre Cost After the Trial?
Pure Barre is a franchise, so class prices vary based on your location. However, typical class prices are between $20 and $30 per class with discounts available for signing up for more classes at once. The good news is that you will not be charged and there is no obligation to book after your
| | |
| --- | --- |
| 1 Month From First Use (new client special) | $195.00 |
| First Class | $10.00 |
| 3 Months Unlimited (No Contract) | $475.00 |
| 6 Months Unlimited (No Contract) | $850.00 |
| Baby on Board - 3 Months Unlimited (No Contract) | $375.00 |
| Brides: Commit to Fit | $375.00 |
| Intensive Class - Without Current Package | $25.00 |
| Mommy Bounce Back - 3 Months Unlimited | $375.00 |
| New Client Special | $99.00 |
| One Year Unlimited | $1,500.00 |
| Pure Barre 5 Classes | $95.00 |
| Pure Barre 10 Classes | $180.00 |
| Pure Barre 15 Classes | $255.00 |
| Pure Barre 20 Classes | $320.00 |
| Pure Barre 40 Classes | $580.00 |
| Pure Barre Passport - 1 Week Unlimited | $55.00 |
| Pure Barre Passport - 3 Class Pack | $45.00 |
| Pure Barre Single Class | $20.00 |
What Else Can DoNotPay Do?
Can DoNotPay do anything else for you? Absolutely! Our services were designed to make every possible aspect of life a little easier and more affordable. Explore the dozens of available services, tools, and resources we offer. Here are just a few that you might find useful right now.