How to Use
Priceline's Refund Policy
to Your Advantage
Priceline is an online travel agency that helps its users find accommodation and transport deals at discount prices. Founded in 1997, the company operates under Booking Holdings, a U.S. corporation that also owns Kayak and Booking.com.
The service is extremely popular with penny-wise travelers—some of Priceline's Express Deals® allow customers to purchase airline tickets or hotel bookings for up to 60% off. 
What You Need to Know About
Priceline Refunds
Priceline is primarily a facilitator between hotels, airline companies, rent-a-car providers, and customers. This means that if you want to demand your money back, you should check the service provider's refund policy. 
Priceline can take care of the cancellation and refund on your behalf, but if the airline or hotel doesn't currently allow cancellations, Priceline will not be able to override their policy. Every purchased ticket comes with specific conditions—to check out what they are, visit the Check Your Request page.
For your peace of mind, you can always purchase Priceline's Travel Insurance in partnership with Allianz Global Assistance. This will buy you Trip Insurance Protection and Trip Interruption Protection. If you are canceling your trip, you'll first need to contact Priceline to let them know about your change of plans.
Key Aspects of
Priceline's Refund Policy
Priceline's Terms & Conditions can be tricky to navigate, so we've distilled some key points related to their:
Airline Tickets Refund Policy

Hotel Refund Policy

Car Rental Refund Policy
Priceline Airline Tickets Refund Policy 
Whether or not you'll be able to get your money back will depend on the airline's refund policy. To be on the top of your game when you contact the airline, learn more about refunding plane tickets with DoNotPay.
You should also know that:
Any air travel itinerary changes may include a change fee charged by the airline. Likewise, any changes to your itinerary made by Priceline will be subjected to a Priceline processing fee

All

Flight Express Deals® Flights

reservations are non-cancelable, non-refundable, non-changeable, and non-transferable. Once you purchase a reservation, you will be charged for it, regardless of whether you use it or not. You will also not be able to exchange the reservation for travel credit
Priceline Hotel Refund Policy
Hotel cancellation policies vary. Check your chosen hotel's cancellation policy before you book your accommodation on Priceline.
Bear in mind that:
Certain reservations are entirely non-refundable and non-changeable. Some hotels will charge a penalty in the event of a cancellation, while others will pay you back the full amount. 

Unless otherwise specified, all

Express Deals® Hotel Service

reservations are non-cancelable, non-refundable, non-changeable, and non-transferable. Receiving a voucher or credit in lieu of a refund is also not possible
Priceline Car Rental Refund Policy
Priceline.com rental car reservations are non-changeable, non-endorsable, non-transferable, and non-refundable.
How DoNotPay Can Obtain Your Priceline Refund 

Forget about chasing Priceline over the phone or filling out confusing online forms. DoNotPay can help you get your money back from Priceline with minimum effort. Our app handles the annoying and time-consuming process instead of you, saving you valuable time, money, and energy.
All you need to do is the following:
Access DoNotPay from your

web browser

 

Select the option

Chargeback Instantly

Answer the questions from our chatbot (about your personal details, your bank, and the merchant in question)

Verify your signature 

Submit your request
To kickstart the refund request, DoNotPay will get in touch with your bank as soon as possible. Our app will also enclose all applicable VISA and Mastercard codes to back up your request. 
How to Get a Priceline Ticket Refund by Yourself
If you would like to get your money back from Priceline, you can do so in the quickest manner through DoNotPay. That said, you can also request refunds for your hotel or airline bookings on the travel agency's website. Alternatively, you can also reach out to Priceline's customer service team.
| | |
| --- | --- |
| Can You Request a Refund Via | Yes / No |
| DoNotPay | Yes |
| Email | No |
| Phone | Yes |
| Letter | No |
| Website | Yes |
| In-Person | No |
Request a Priceline Hotel Refund Online
If you wish to cancel a hotel booking and request a refund, log in to My Trips or search the reservation you want to cancel on Find My Trips. 
If you're eligible for a refund, Priceline will get in touch with you after processing your request.
Request a Priceline Airline Ticket Refund Online
When you fill out the Flights Cancelation request form, you are authorizing Priceline to cancel your reservation and concur with the policy that applies to the itinerary in question. 
If you're entitled to a refund according to the airline's policy, Priceline will secure the return of your money.
Request any Priceline Refund on the Phone
Get in touch with the company's customer support team by calling 1-800-774-2354 and ask to get your money back. Have your Priceline Request Number and the phone number you provided with your request handy.
Now is also the perfect time to learn some Priceline customer service hacks.
How Long Will It Take to Receive a Priceline Refund?
In most cases, Priceline takes around two to three days to process refund requests. It could also take longer—it depends on the case. The refund will be credited back to your original form of payment unless you demand otherwise.
Note that it could take up to a month for the money to show up in your bank account.
Potential Problems With Priceline Refunds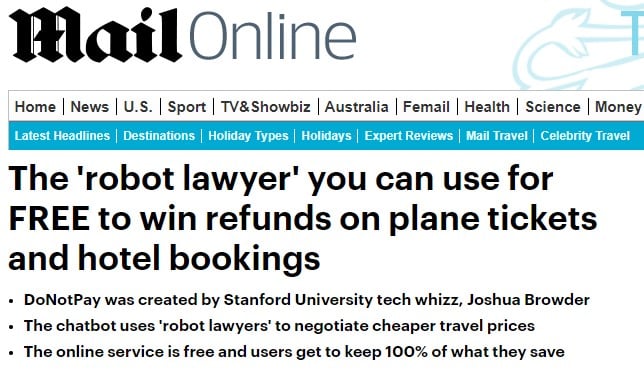 Just a heads-up—a couple of things might go wrong with your Priceline refund request:
You could be ineligible for a refund if you made the reservation at a discount or a special deal

Your refund could be lower than the original paid amount. This typically happens when you have to pay certain non-refundable taxes, such as car insurance or airport taxes
Make sure to check the Terms & Conditions of your Priceline agreement to find out your rights as a consumer. 
If the company breached their agreement with you, consider starting a lawsuit in small claims court with the help of DoNotPay. Our app will streamline the court process for you and provide you with the necessary legal documentation you need to sue Priceline. No lawyers required—our AI-powered app is called the world's first robot lawyer for good reason.
How To Check the Status of Your Refund Request
Look for a check status option on Priceline's website to find out recent updates about your request. 
Alternatively, you can contact customer support, and they will let you know what the status of your refund is. 
DoNotPay Keeps Your Info Safe From Scammers!
There are many drawbacks to sharing your private information online, especially when you are not sure whether the website that asks you to do so is a reliable one. To bypass all the risks and play it safe, you can use DoNotPay's virtual credit card generator. Our product helps you protect your identity and bank account from cyber criminals.
The next time suspicious websites ask you to provide your banking information, fire up DoNotPay's generator and feed them the bogus credit card number. Our virtual credit cards are made up of randomly selected numbers, tied to a dedicated temporary email address, and linked to a fake name! They also contain no funds, so you won't have to pay for any service unless you choose to.
The best part is that companies will have no way of telling our card from a legit one, so you're sure to pass their check-ups and avoid being charged for unwanted subscriptions!
In What Other Ways Can DoNotPay Make Your Life Easier?

Think of DoNotPay as your virtual assistant that tackles all kinds of administrative issues and bureaucratic conundrums for you. 
Organizing travel can be stressful and costly, particularly during a pandemic or other circumstances that are out of our control. Instead of bearing the stressful load on your own, you can rely on DoNotPay for help. For example, if you need assistance dealing with Booking.com's customer service, deciphering Justfly's refund policy, or getting an Expedia refund, we've got your back.
Our app excels at helping you with tasks like:
Disputing traffic tickets

Appealing speeding tickets
You can access DoNotPay from your web browser.