How to Get Osmosis Free Trials Easily With a Virtual Credit Card

Osmosis is a medical education platform that offers quality content and animated videos on important clinical content, medical subjects, and more. Despite its immense cost, the platform provides an excellent user experience, and you can customize your learning to any learning plan.
Most people opt for the  to leverage this super-comprehensive learning resource with numerous excellent features. But the problem arises when they forget to cancel the subscription and end up with unnecessary credit care billing.
Fortunately, DoNotPay is a reliable platform designed to help you handle this. You'll not only enjoy a wide variety of trial versions but also get to do this risk-free.
Does Osmosis Offer a Free Trial?
Yes. Osmosis offers a  that lets you enjoy the platform's prime capabilities upon signing up. If you like the service, don't hesitate to sign up. If you're lucky, you might come across videos on any topic on the site. The trial version also lets you access the following:
Over 1,800 videos, including in-depth coverage of organic systems, foundational sciences, and clinical trials
Over 16,000 preclinical flashboards
High-yield physiology and pathology notes
Osmosis Android and iOS app
How Can I Get an Osmosis Free Trial?
You can sign up for Osmosis free trial via your email account, Google, or Facebook. The simple process involves the following steps:
Enter the relevant details in the fields, then click submit
You'll receive a verification link via email. Click on this link to get started.
State your field of study and mention your institution
Customize your experience by choosing either "professional" or "student." If you're a self-learner, you'll click on "Other."
If you're a medical student, you'll be asked about your current level of study.
Once you're done with the registration, you'll begin gaining knowledge by "osmosing."
With these few steps, you'll be ready to begin your free trial. But be sure to unsubscribe within the required timelines.
Does the Osmosis Free Trial Automatically Renew into a Paid Subscription?
Yes, Osmosis free trial renews automatically into a paid subscription if you don't remember to cancel it anytime within the timeline limits. Since you'll have submitted your credit card information, the cost will be billed to your account.
The platform has a 100 percent money-back refund for annual subscriptions. But this applies to those made within seven days of purchase. Any prime membership subscription, whether intentional or unwillingly, is final. You can request Osmosis refunds via email, and you must submit your account details.
You'll have paid for a service you no longer need. Fortunately, there's a way to avoid these unplanned costs with ease.
Avoid Automatic Renewal with DoNotPay Virtual Credit Card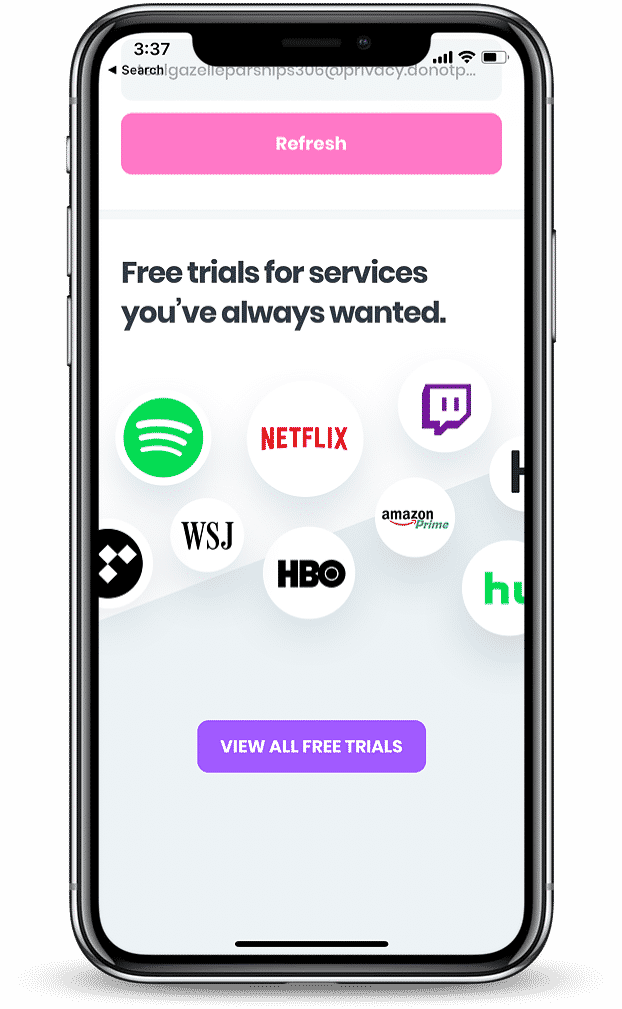 It's easy to forget to cancel a service that you only intended to utilize in its trial version. Though understandable, this mistake could cost you immensely. Fortunately, DoNotPay comes through for you as the most reliable solution to help you leverage vast online trial versions.
The site uses a credit card generator to develop virtual credit cards that you can leverage to enjoy exclusive access to your preferred online trial version. Furthermore, the technology creates card numbers randomly, which you'll use to sign up to your preferred trial version, including Osmosis.
DoNotPay's Free Trial Card doesn't link to your bank account or use your personal details. When registering for exclusive access to vast online trial versions, you'll use these details.
The virtual card has no funds. So when the trial version concludes, your subscription will be automatically canceled.
How Much Does Osmosis Cost After the Trial?
After the trial version, the amount you'll pay will depend on your subscription. Generally, a subscription model will determine how much you'll pay, and the plans are classified into the following:
| | |
| --- | --- |
| Access | Fee |
| Six months |  $270 |
| One year |  $334 |
| Two years |  $478 |
Notably, Prime membership grants you access to flashcards, question quizzes, and whole notes.
What Are the Most Popular Alternatives to Osmosis?
The following sites can provide you the learning material you'd get with Osmosis:
 What Else Can DoNotPay Do?
Beating free trial deadlines is just one thing you can achieve with DoNotPay. Besides that, you can leverage the platform to complete almost everything, including:
 on DoNotPay to enjoy these and other related services.