How to Request Osceola County Birth Certificates Fast
Requesting any sort of official government paperwork can be a lengthy process. Even if you have all the required information on hand, you could spend hours on the phone trying to figure out how best to order the documents you need or struggling with navigating a tricky website. You have come to the right place if you need some assistance getting your hands on copies of .
DoNotPay is one easy way to get birth certificate copies. With DoNotPay, you can skip the red tape and get right to your objective – ordering your . Read on to learn just how simple it is to use DoNotPay.
Who Can Request an Osceola County Birth Certificate?
Residents of Osceola County who want to get copies of their birth certificates must go through the Florida Health Department. Anyone born in the state of Florida who is 18 years of age and older can request copies of their Osceola County birth certificate. There are a few documents that you will need to order a birth certificate successfully. Here are the documents that you will need:
A valid form of photo ID.
A completed Birth Certificate application.
Payment can be made in cash, money order, credit or debit card, or certified check. Each certified copy of an Osceola County birth certificate costs $20, according to the Florida Health Department of Osceola County.
You will also need to include a self-addressed, postage-paid envelope with your request, if you are ordering your birth certificate by mail.
Prior to ordering your birth certificate, make sure that you have all the above information to expedite the process.
Getting an Osceola County Birth Certificate on Your Own
It is possible to order an on your own. There are different ways to go about it:
Here's how to go about each method:
1. Order by mail
If you wish to order your , you can gather all the documents outlined above and mail them to 1875 Fortune Road, Kissimmee, FL 34744. The birth certificate application form can be downloaded directly from the Florida Health Department of Osceola County's website.
2. Order a birth certificate in person
There are several locations that you can visit to request copies of your birth certificate, all of which can be found on the Health Department's website. Make sure that you verify the hours before going to the office location of your choice, and that you have all the required documents with you when you head to the office. The representative at the office can walk you through the rest of the process.
3. Use VitalChek
To order copies of your Osceola County birth certificate online, you can use VitalChek. This third-party website has partnered with the Florida Department of Health to offer this service. Simply follow the prompts and enter all the required information to submit your order for a birth certificate. Again, there is an additional fee to use VitalChek.
How Much Does it Cost to Get a Birth Certificate Copy in Osceola County?
Requesting for a copy of your birth certificate using other unauthorized sites ranges from $63 to $96. These costs do not include shipping the records, nor any added Expedite Fees (if applicable) from the government agency issuing the certificate.
Requesting through Vital Check costs between $14 and $30. This includes the processing fee and the Agency certificate fee. The cost of shipping is not yet included.
Expedite Ordering Your Osceola County Birth Certificates With DoNotPay
If you want some help expediting the birth certificate process, DoNotPay can help. DoNotPay is the fast, easy, and successful way to get birth certificates from the comfort of your home. Here's how to get a copy of a birth certificate in Osceola County using DoNotPay:
1.Go to the Birth Certificates product on DoNotPay.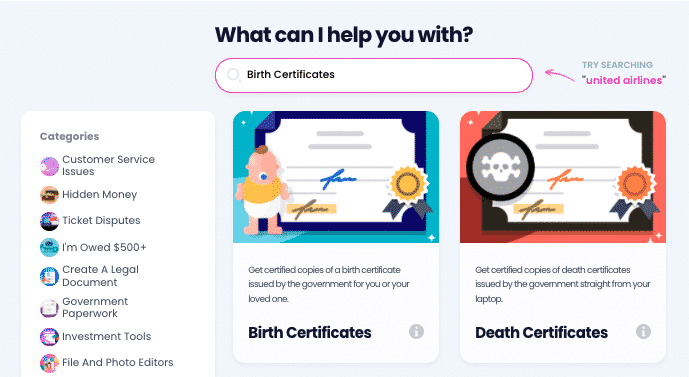 2. Select who the certificate is for (you or a loved one). If you are requesting a copy of someone else's certificate, enter their personal details, and upload evidence that proves your relationship.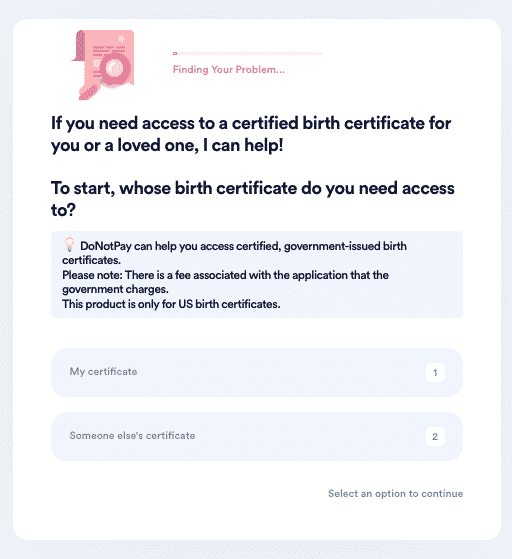 3. Enter the location you or your loved one was born in, so we can complete the form specific to your state.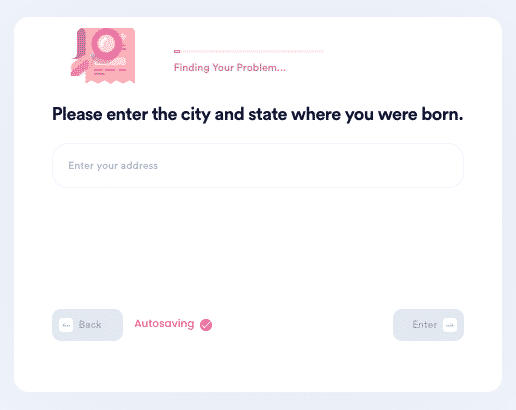 4. Enter the name(s) of the parent(s) as displayed on the certificate.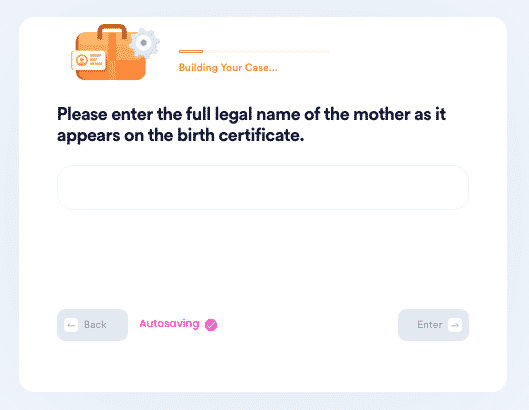 5*. Indicate what you will be using this certificate for, and choose whether you need an authorized or certified copy.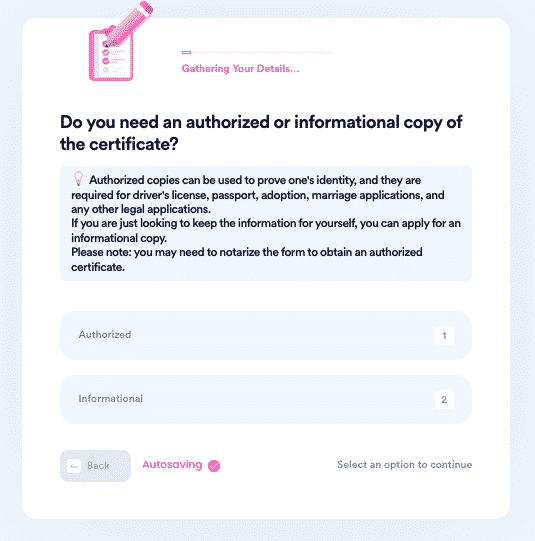 6. Enter your contact information and shipping address. Upload copies of your government-issued identification, such as a driver's license.
7. Choose whether you would like to electronically sign this form or not. Once we generate the form, verify that all of the information is correct.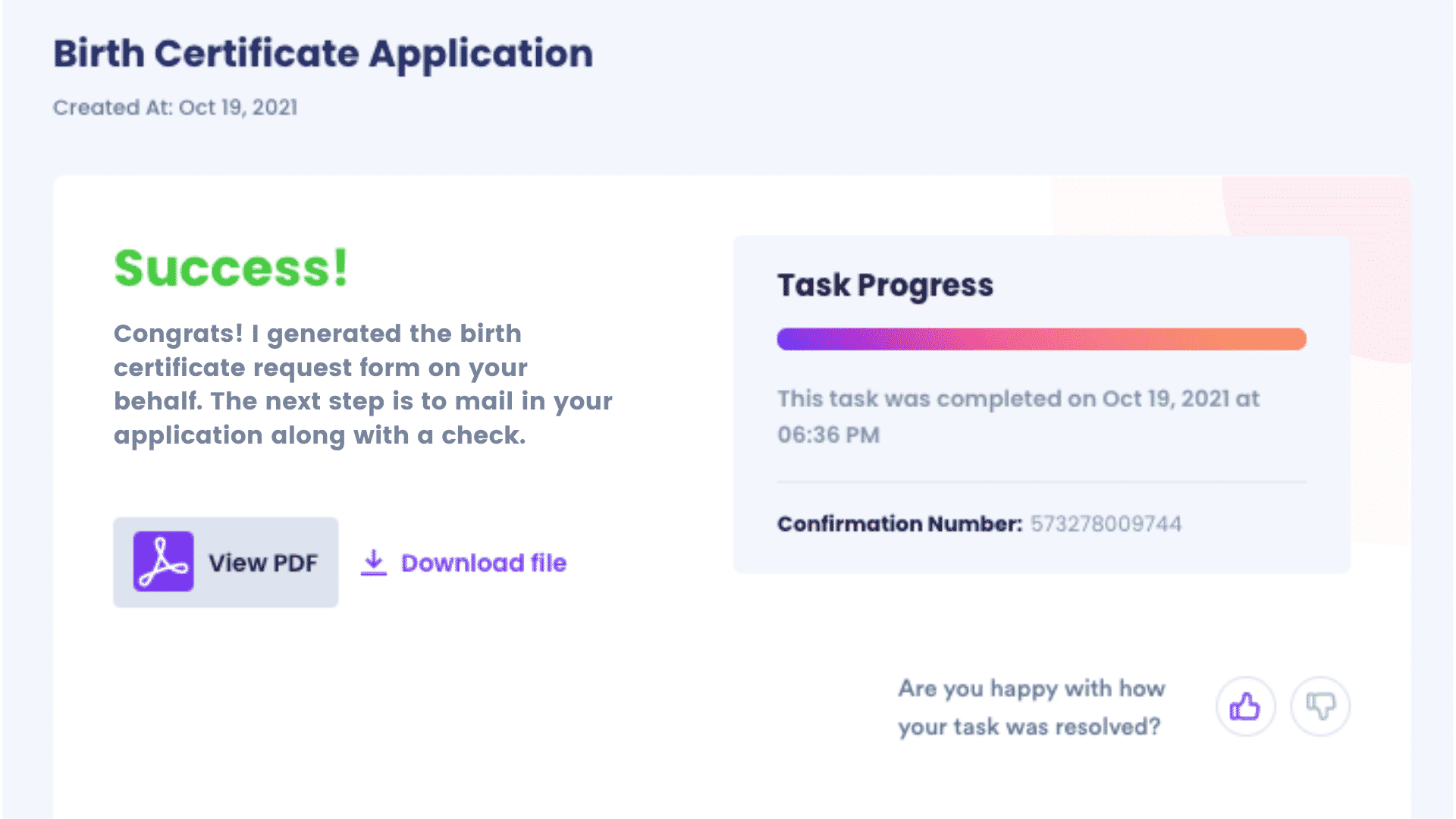 8. If you need the document to be notarized, schedule a notarization appointment using our Notary product. Otherwise, proceed to our Mail Checks product and let DoNotPay mail-in your request form with a check on your behalf.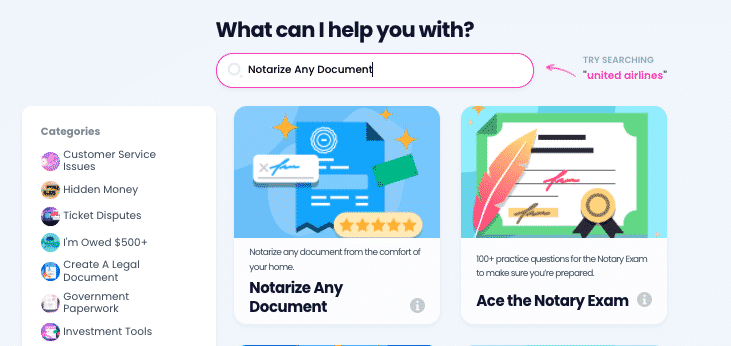 It's so easy, try it today!
How Else Can DoNotPay Help You?
Birth certificates are one of the ultimate forms of identification, and DoNotPay can answer any question you have about the ordering process. Check out more articles in the table below.