How To File Michigan State Police FOIA Requests
If you wish to request police reports or other public records from the Michigan State Police under the FOIA, we know what to do. To get your hands on the information you seek, you should familiarize yourself with the Michigan Freedom of Information Act (FOIA). Understanding the FOIA requesting process with the Michigan State Police is also crucial for a successful FOIA request.
Our FOIA guide will answer all your questions and reveal a hack for filing your MSP FOIA request or any other with zero effort.
Is There a Michigan State Police FOIA Request Form?
Yes, there is. The MSP offers a ready MSP FOIA request form you can download and fill in. If you don't want to use a FOIA request form, you don't have to.
You should make sure to include the following details if you want to write a FOIA request letter by yourself:
Full name of the requester

Phone number

Email address

Mailing address
In case you want to file a request for a copy of traffic crash report or a Michigan criminal history, there are a few more pieces of info you have to provide:
Traffic Crash Reports
Criminal History

Option one:

Date of the crash

One driver's license number

Date of birth of a driver involved in the crash

Option two:

Crash number

Date of the crash

One driver's date of birth

Subject's full name

Gender

Date of birth
How Can I Submit an MSP FOIA Request on My Own?
The MSP offers several ways of filing your FOIA requests. Besides the general filing methods presented in the table below, there are special portals for the traffic crash reports or criminal history records requests:
If you want to submit your FOIA requests for those two types of records and any other, you can choose any of the following methods:
| | |
| --- | --- |
| Can I Submit a FOIA Request Via | Yes/No |
| DoNotPay | Yes |
| Phone | No |
| Online | Yes |
| Email | Yes |
| Fax | Yes |
| Mail | Yes |
| In Person | Yes |
File Your MSP FOIA Request Online
You can submit FOIA requests through the MSP records request portal. To do so, follow these instructions:
Create

your account

Click on

Request Access

Select

Michigan State Police (MSP)

from the drop-down menu

Agree to the terms and conditions

Verify your phone number and email address

Tap on

New Request

in the top right corner

Enter your personal and contact details as the requester

Select the type of records you want

Follow the prompts to provide additional info about the records

Submit your request
File Your MSP FOIA Request via Email
To submit your FOIA request letter via email, you should send it to MSPRecords@Michigan.gov. Even if you file your request via email or fax, you can expect the MSP's response to arrive in the mail.
File Your MSP FOIA Request via Fax
You can fax your MSP FOIA request to 517-241-1935.
File Your MSP FOIA Request via Mail
If you want to submit your FOIA request by mail, you should send your letter to:
Michigan State Police, Records Resource Section
P.O. Box 30634
Lansing, Michigan 48909
File Your MSP FOIA Request in Person
In case you prefer to submit your FOIA request in person, you need to visit the Records Resource Section. It is located in the Michigan State Police Headquarters building at 7150 Harris Drive, Dimondale, Michigan 48821.
Filing MSP FOIA Requests Is Easier With DoNotPay
If you want to submit your MSP FOIA request online, DoNotPay is the best way to go. Our app is user-friendly and can fast-track the FOIA process by:
Asking you for your personal and contact info

Collecting the relevant info about the records you're looking for

Composing a FOIA request letter instead of you

Submitting your FOIA request with the MSP on your behalf
All you need to do is follow our instructions, click a few times, and we'll take care of your Michigan State Police FOIA request in no time. Once you open our app in your , do the following:
Choose our

FOIA

feature

Type in the

Michigan State Police

Indicate whether you need a fee waiver or

expedited processing
As soon as you submit your details, we'll get down to business and hit the MSP with the best FOIA request.
In case the MSP denies your request, we can also help you file an appeal.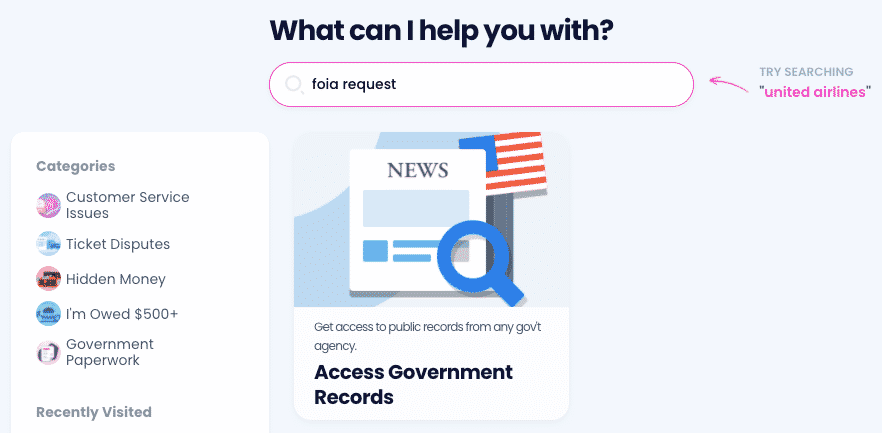 Do I Need To Pay a FOIA Fee to the MSP?
The Michigan State Police doesn't have set FOIA fees. They vary depending on the record type and the labor costs of document retrieval and review. You will receive a fee estimate only after you file your FOIA request.
What Happens After I File a Michigan State Police FOIA Request?
When the MSP receives your request, it has five business days to respond to the request. The MSP may respond to your request by accepting or denying it or by asking for an extension to gather the records you requested. If you need to pay a fee or a good faith deposit, the MSP will notify you in the response so that you pay before receiving the records.
While you're waiting for a response, you can check your FOIA status. If you filed your request through the portal, you should check the status in your account. You can also contact the MSP and ask about your request via:
Do You Have More FOIA Questions? DoNotPay Can Help!
Going about FOIA requests can be confusing, and you may be left with many questions and concerns.
's learning center is a source of tips and answers that will assist you in understanding the meaning of the FOIA and everything about it, including: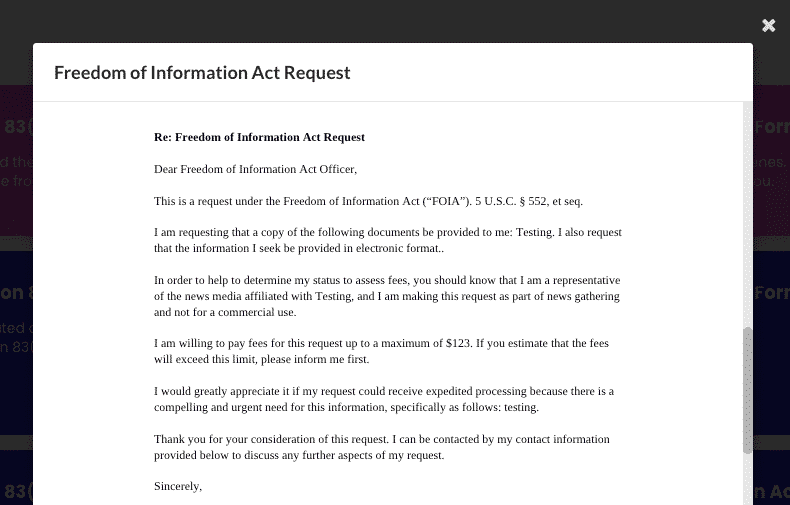 Admin Issues Giving You a Headache? Resolve Them With DoNotPay!
Scheduling a DMV appointment, applying for clinical trials, requesting refunds from companies, and getting in touch with your loved ones in prison are all difficult and time-consuming tasks. You have to take many steps before you can get any of these over with, and that's why our robot lawyer app is here to help.
No matter if you need assistance with appealing parking tickets, signing up for free trials, canceling various subscription services, or maybe preparing for government tests, DoNotPay will provide you with easy solutions.
Having Financial Struggles? Rely on the World's First Robot Lawyer
Many Americans struggle to make their ends meet at the end of each month. With that in mind, we've created plenty of features that will save you both time and money in the most efficient way.
Using our AI-driven app, you can get help with bills, get refunds from airlines, find unclaimed money in any state, or earn off annoying robocalls or stalkers and harassers. If you want to fight for your right, DoNotPay will also assist you in suing any person or company in small claims court.
No matter the admin task at hand, our robot lawyer will provide swift and effective assistance.