What if There is No Name on My Birth Certificate?
Birth certificates are one of the most important documents in our lives. They are proof of our identity, serve to help us request other documents used for identification, such as driver's license and voter registration, and help us to apply for jobs, enroll in school, and much more.
Our birth certificate is the ultimate form of identification and can prove that we are who we say we are, as well as our citizenship and our age.
There are, however, some circumstances where someone has a . This can occur for several reasons, and can cause major problems in your life. Not to worry though, DoNotPay can help.
DoNotPay can help you to change the name on your birth certificate so that it accurately reflects your name. Read on to learn more.
What Happens When There is No Name on Your Birth Certificate?
Most of the time, when a baby is born, the parents give the baby a name while they are in the hospital. The hospital then will record the birth and all the pertinent information surrounding the birth of the new baby. The records the hospital keeps will become the foundation for the birth certificate.
Legally, parents have a year to name their baby. At that point, the parents are legally bound to update the birth certificate with the name they have chosen for their baby. Oftentimes when the name is found to be missing from the birth certificate it can mean that parents forgot, the paperwork got lost, or life simply got in the way.
Regardless, can cause complications in your life. DoNotPay will be able to help you navigate the process of having your name placed on your birth certificate.
So, How Do You Update the Name on Your Birth Certificate?
Having the correct name on your birth certificate is an important aspect of your identifying documents. The correct name will allow you to use your birth certificate for identification and obtaining other important documents such as your driver's license. You may need to legally change your name in order to correct your original birth certificate.
Some states will allow you to submit a form of Birth Certificate Correction to correct your .
This is a time-consuming process and the proper supporting documents are needed.
The supporting document requirement is different from state to state.
Contact the state or county where you were born to see which documents they require.
You'll probably need your original certified birth certificate, hospital records, and any other documents that relate to your identification.
You May Need Affidavits Completed by Your Parents, or Yourself
In order to legally change your name for the birth certificate, you may have your parents or guardians sign an affidavit to help expedite the process with the court.
If that is not possible you will have to complete a self-affidavit to get your name changed. To have that occur you will need to take the following steps:
You can contact the county of your birth and ask for the Vital Records department.
If you are under 21, a parent or guardian should fill out the birth certificate replacement form for you.
Contact the District Court in your county of residence to obtain the right forms including an affidavit.
You may sign it yourself or have your parents or guardians sign it as needed.
Include the complete reason for the name change/update.
Appear in court on the specified date, if so deemed necessary by the court.
Request a certified copy of the judge's court order.
Once you have an order from the court you may progress with your request to change your name on your birth certificate. The following are the next steps in the process of doing just that:
Contact the vital records office in the state of your birth and request a new birth certificate.
Provide an original authorized certified copy of your birth certificate and a certified copy of the court order to the vital records office
Write a letter explaining why you are changing your name.
Pay fees and/or dues associated with the name change.
The process can be long, tedious, and time-consuming on the best day. For most people, the process is overwhelming and frustrating at best.
This is where DoNotPay can be an indispensable tool in your toolbox for you to use to help put your name on your birth certificate. DoNotPay can help you to identify the necessary paperwork, fill out the correct forms, and ensure the correct forms get to the correct office to help you receive an updated birth certificate.
How Can DoNotPay Help?
require a long and tedious process to fix, which includes legally changing your name, to have your name placed on your birth certificate. While the process may seem overwhelming, DoNotPay can help.
DoNotPay will help you to put together everything you need in order to have your name placed on your birth certificate. All you have to do, in order to have DoNotPay help you, is follow the simple steps below:
1. Go to the Birth Certificates product on DoNotPay.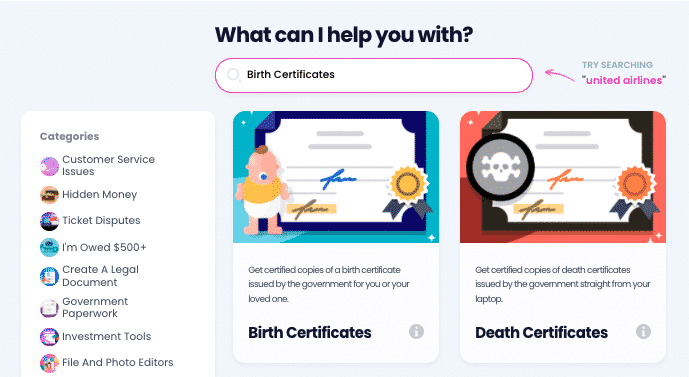 2. Select who the certificate is for (you or a loved one). If you are requesting a copy of someone else's certificate, enter their personal details, and upload evidence that proves your relationship.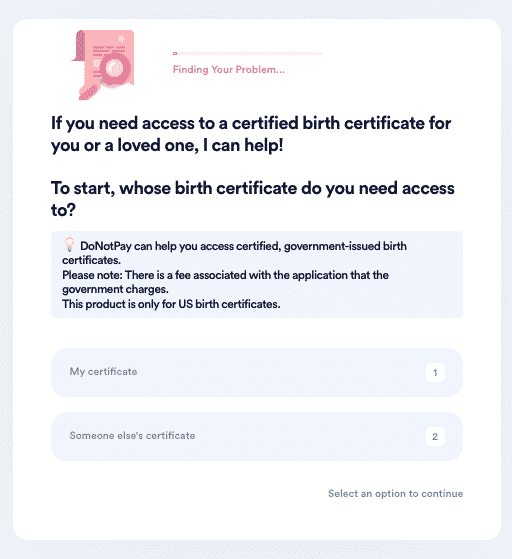 3. Enter the location you or your loved one was born in, so we can complete the form specific to your state.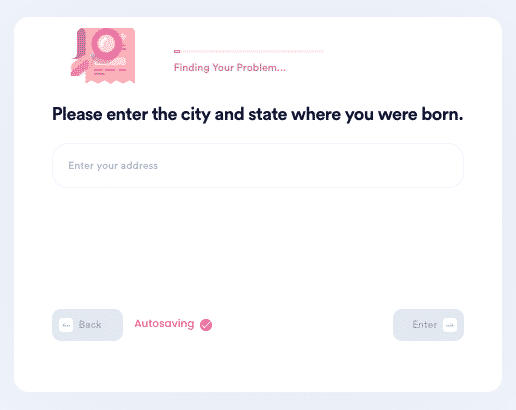 4. Enter the name(s) of the parent(s) as displayed on the certificate.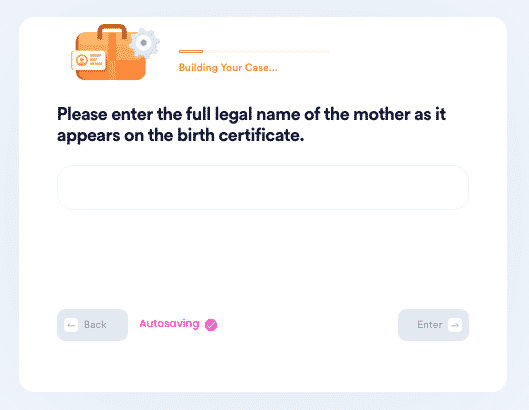 5. Indicate what you will be using this certificate for, and choose whether you need an authorized or certified copy.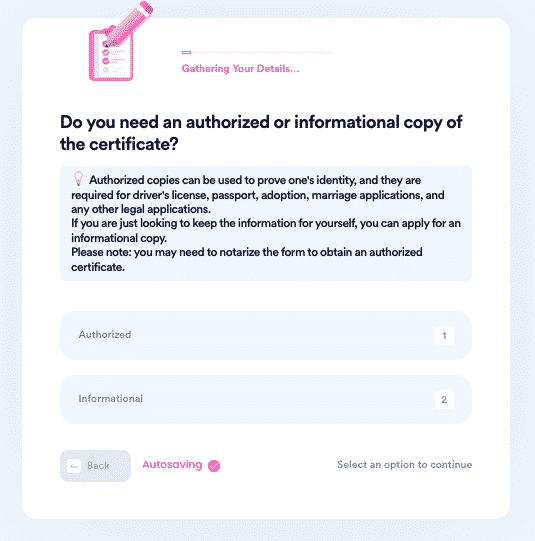 6. Enter your contact information and shipping address. Upload copies of your government-issued identification, such as a driver's license.
7. Choose whether you would like to electronically sign this form or not. Once we generate the form, verify that all of the information is correct.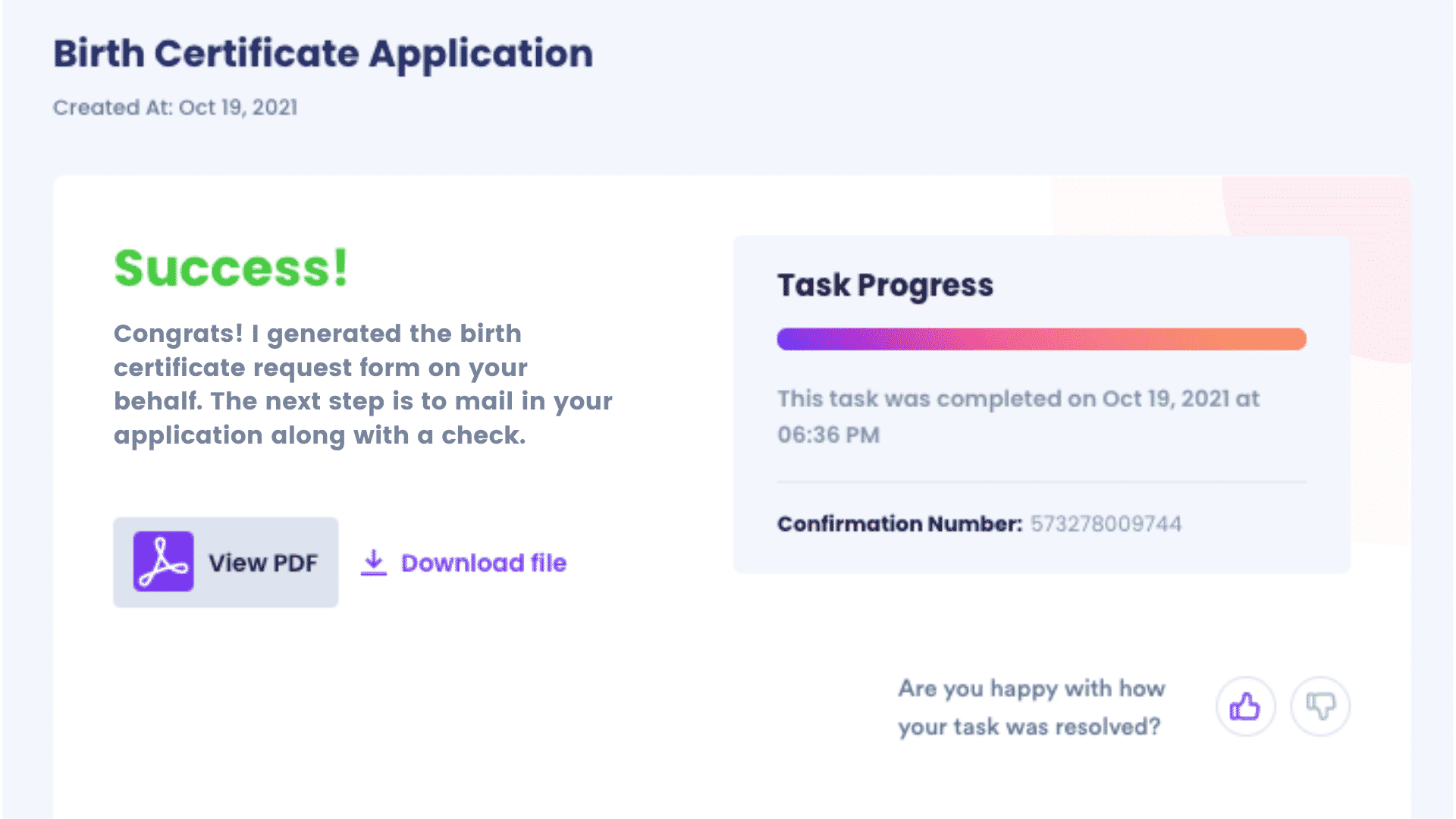 8. If you need the document to be notarized, schedule a notarization appointment using our Notary product. Otherwise, proceed to our Mail Checks product and let DoNotPay mail-in your request form with a check on your behalf.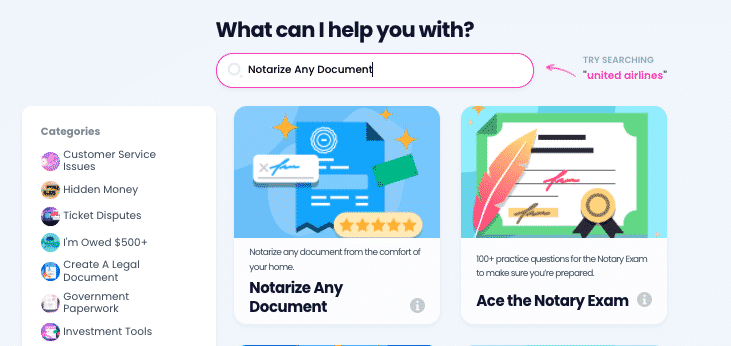 DoNotPay can help you to have your name placed on your birth certificate by helping you to navigate the process as clearly, concisely, and quickly as possible. Try it today!