How to Get Nest Aware Free Trial With a Virtual Credit Card

Home security is more important now than ever before, and for those discerning homeowners or renters who want to keep a close eye on their property and belongings, Nest Aware is a great option. Nest Aware is a paid subscription service that saves event-based video recordings to the cloud from your Nest devices.
If you are hesitant to commit to the program, there is a  that has become quite popular. While free trial offers are tempting, they can also suck you in by charging your card at a later date, after the free trial has expired - and after you have forgotten about signing up in the first place. This is where DoNotPay can help. DoNotPay's virtual credit card saves you time and money, protecting your credit card information while trying out a service that you are curious about.
What is Nest Aware?
 is a program offered by Google. It detects and captures video of actions and movement in a specified area, saving those video recordings to the cloud for you to view at a later date. There are two types of subscription plans with Nest Aware:
| | | |
| --- | --- | --- |
| Plan | Cost | Benefits |
| Nest Aware | $6 per month/$60 year. | Allows you to view videos for up to 30 days |
| Nest Aware Plus | $12 per month/$120 year | Allows you to view videos for up to 60 days. |
Both subscription models offer features such as smoke alarm, carbon monoxide alarm, glass breaking alerts, and a familiar faces feature that recognizes pre-programmed individuals. Various devices can support Nest Aware, including Nest cameras, doorbells, displays, and speakers.
Does Nest Aware Have a Free Trial?
Nest Aware does have a free trial if you are curious about trying it out but don't want to make a big commitment. The Nest Aware free trial runs for 30 days and is available to those users who register a new household or if you upgrade from a 1st gen Nest Aware subscription. There are a few things to know about the  and how it differs from a paid subscription:
Certain features, such as the Emergency Calling feature, are not available through the free trial and are only available with a paid Nest Aware subscription.
There is a limit of one free trial per home.
Once the trial period has been started, you can't cancel it. You can only turn off your camera recording and sound detection.
To sign up for the Nest Aware free trial, you have to use a registered Google account.
How to Get a Nest Aware Free Trial
To get a Nest Aware free trial, follow the steps outlined below:
1. Sign in to your Google account.
You will need to have a Google account in order to get a Nest Aware free trial. Go ahead and make sure that you are signed into your account, as you might need to verify your personal information in order to proceed with the free trial setup.
2. Register your home with the Home or Nest app
Make sure that your home is registered through the Home or Nest app on your smartphone or other device. Once your home is registered with Nest, you'll be asked if you would like to start a free trial. Click Settings and then Nest Aware under the Features section to complete the setup process for your free trial. 
3. Start your free trial
Your Nest Aware free trial should start immediately. At any point during the 30-day free trial, you can purchase a subscription, although you can't cancel the free trial during that initial trial period. Your credit card or other payment information is likely already stored from when you set up the Home or Nest app, so when the free trial ends, that card will be charged. Sometimes, notifications are sent prior to the free trial period ending, but those notifications often slip by undetected - especially during busy days.
Avoid a Nest Aware Automatic Renewal by Using the DoNotPay Virtual Credit Card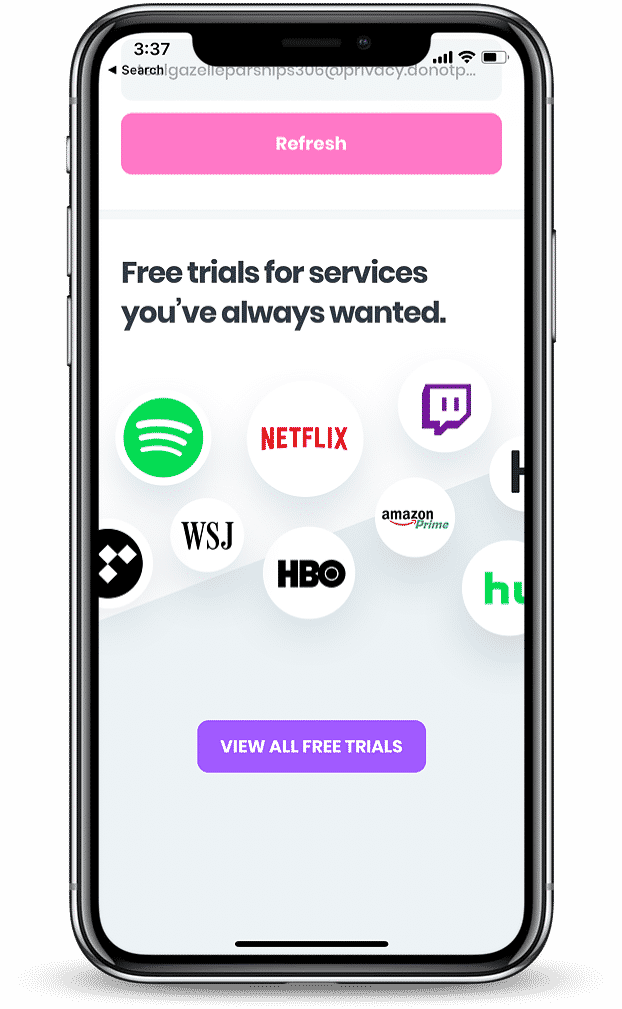 Free trials are great, but they can ultimately cost you money when they renew automatically, and you get hit with a charge you weren't expecting. Save yourself the hassle of extra charges and fees with DoNotPay's virtual credit card service. DoNotPay's virtual credit cards are cards that you can use to sign up for free trials. They bypass authentication, saving you the worry of having to put your real credit card into a system, and protecting you from unwanted charges.
How to use the DoNotPay virtual credit card
Here's how to use DoNotPay's virtual credit card to save time and money:
Search free trial card on DoNotPay and enter the company you want a free trial for.
We'll automatically generate a virtual credit card that you can use for that merchant. Copy the card details shown on your screen.
Use the card to sign up for your free trial and sit back to relax and enjoy!
*The card will be deactivated and not usable once it has been used once. You cannot make actual purchases with the cards. 
DoNotPay saves you time and money

DoNotPay can help you with a host of other problems and concerns! Here are a few things that DoNotPay can help with: