How to Get Justice for Marks Tickets Scam
Marks Tickets is a legitimate privately owned intermediary that connects ticket buyers and thus acts as a facilitator of the transaction. The seller determines the price of tickets and may go above or below the face value printed on the ticket. Therefore, event-goers are likely to fall prey to as fraudsters take advantage of this price difference to print fake tickets to dupe unsuspecting customers.
Knowing how to tell a genuine ticket from a fake one can prove helpful in avoiding fake ticket traps. However, you can still find justice by signing up with DoNotPay if you have already found yourself at the wrong end of a Marks ticket scam. We can also help you find justice if you have been subjected to ticket scams on other platforms, like craigslist, Ticketmaster, SeatGeek, and Eventbrite.
How to Spot and Avoid Fake Tickets
Try out these tips to stay ahead of scammers.
Do your homework to find out what a genuine ticket looks like. For instance, tickets for sporting events tend to have holograms and other impressions that are hard to duplicate. If in doubt, you could consult the venue for clarification.
Buy your tickets on reputable websites. If buying from secondary ticketing websites, make sure they are members of the National Association of Ticket Brokers by running a name search on NATB.org.
Verify the seller's legitimacy by asking for a copy of their invoice to prove that they indeed bought the tickets.
Do not buy tickets for events that have not announced a public sale or pre-sale of the same. Sellers purporting to sell tickets to such shows are most likely scammers.
Is Marks Tickets a Scam?
is a legitimate site that provides a platform for willing ticket buyers and sellers to connect and complete the sale of tickets. Marks tickets, therefore, facilitate the meeting but are not involved in the actual ticket sale transaction. Therefore, while the site is not a scam, some sellers on the platform might be.
How to Contact Marks Tickets if You've Been Scammed
You can use the following avenues to seek redress if aggrieved by the site.
What to Do Next if You've Been Scammed.
If you've fallen prey to a scam on Mark Tickets, you could:
Contact them using the details mentioned above.
Send a demand letter to their address
Report the scam to the Federal Trade Commission
File a police report
How to Get Justice for a Marks Ticket Scam on Your Own
Here are a few ways you can file a report for being scammed:
Use the Provided Details to Contact Them

You could opt to give them a call through their toll-free number and state your problem. Alternatively, you could write an email detailing your ordeal and send it to their help desk. Contacting Marks Tickets through their Facebook or Twitter accounts is also an avenue you could take

Send a Demand Letter to Their Address

If you are a fan of the good old-fashioned snail-mail, you could write one expressing your frustrations with their site and send it to their corporate office address at

Mark's Tickets Inc.

103 Massapequa Avenue

Massapequa, New York 11758

United States

Report the Scam to the Federal Trade Commission

The FTC is the federal body responsible for taking up fraud and bad business practices. You can deliver your case at Report Fraud FTC

Be ready to provide your name and contact information such as your phone number, address, email, details on the type of product (tickets in this case), and information regarding the company (Marks Tickets). Details on the amount you paid, the means of payment, and the transaction date will also be needed to follow up on the complaint

File a Police Report

The fraud division of your local police department can also help you out in the case of a scam. Be sure to provide them with information regarding the incident, such as bank statements or credit charges and phone call history between you and the scammer. A description of the ticket seller's physical appearance or the sound of their voice can also aid in tracing them.
Next Steps to Find Justice if You Can't Do It Yourself
There is a likelihood that contacting Mark Tickets directly will not get your issue resolved as they deal with many clients, and your complaint may get forgotten in the chain. Making constant follow-ups can prove frustrating, and no one would fault you for giving up.
Mail is also not any better either. First, it will take a while before your complaint gets across their desk, and there is a high chance of it gathering dust before the issue is finally taken up. The letter may even get ignored altogether.
The Federal Trade Commission also receives numerous complaints every day and cannot promptly deal with all issues addressed from every part of the country. Sadly, your issue may not be a priority if more prominent unresolved scams are on their desks.
Finally, there is a high probability that your local police department does not have the resources to deal with your case. Their most obvious course of action, in this case, will be to direct you to a relevant body such as a state consumer protection office.
All these processes entail long wait times with no guarantee that you will get your money back. However, there is an alternative solution.
Get Justice for Marks Ticket Scams With the Help of DoNotPay
DoNotPay will save you a trip to the police station or constant follow-ups that will not necessarily yield positive results. All you have to do is follow these 3 easy steps.
1. Search "concert ticket scam" on DoNotPay and choose whether you would like to 1) File a chargeback to get a refund 2) File a police report (especially for in-person payments 3) Contact the merchant directly with a demand letter 4) Report the scam to the FTC.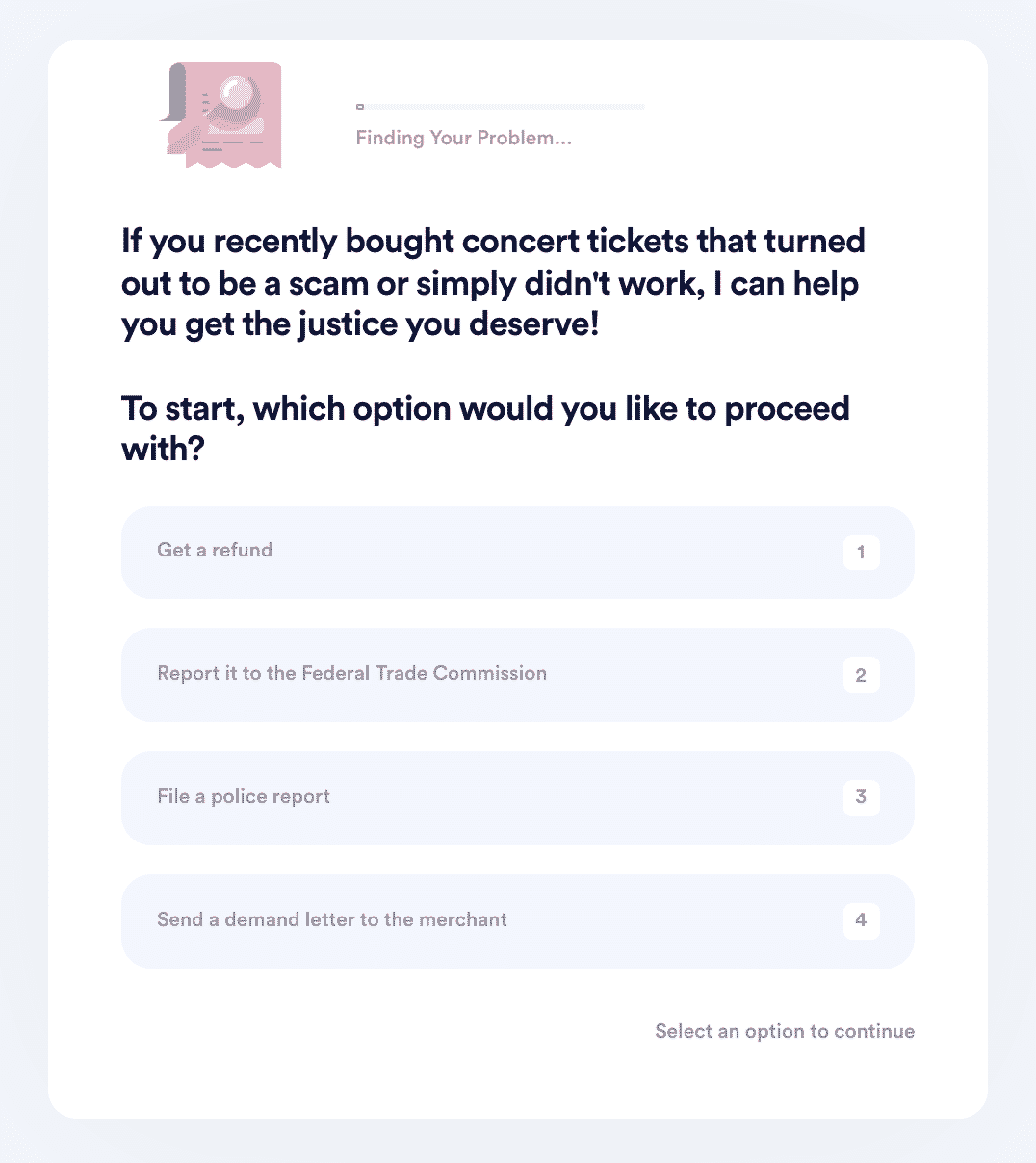 2. Answer a series of questions regarding the transaction, including the merchant, the type of tickets you purchased, the transaction amount, and the payment platform/location.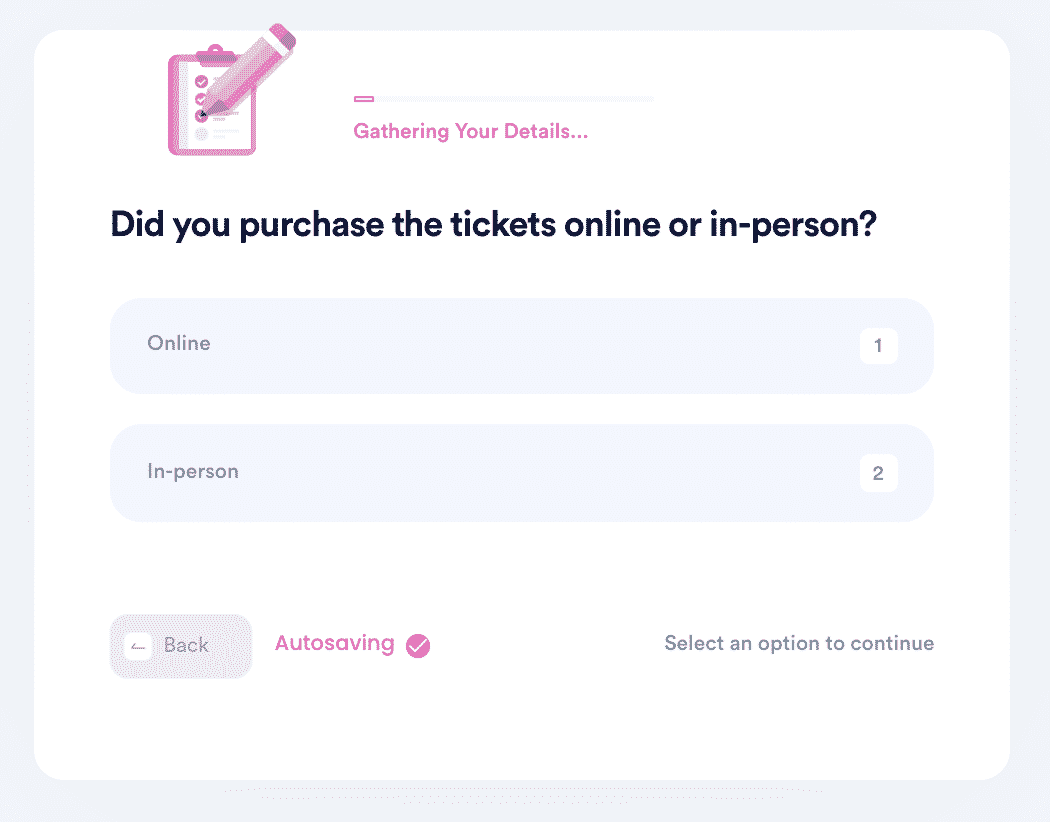 3. Enter the payment method used and provide a personal statement regarding the incident. Upload any evidence you have and provide your e-signature.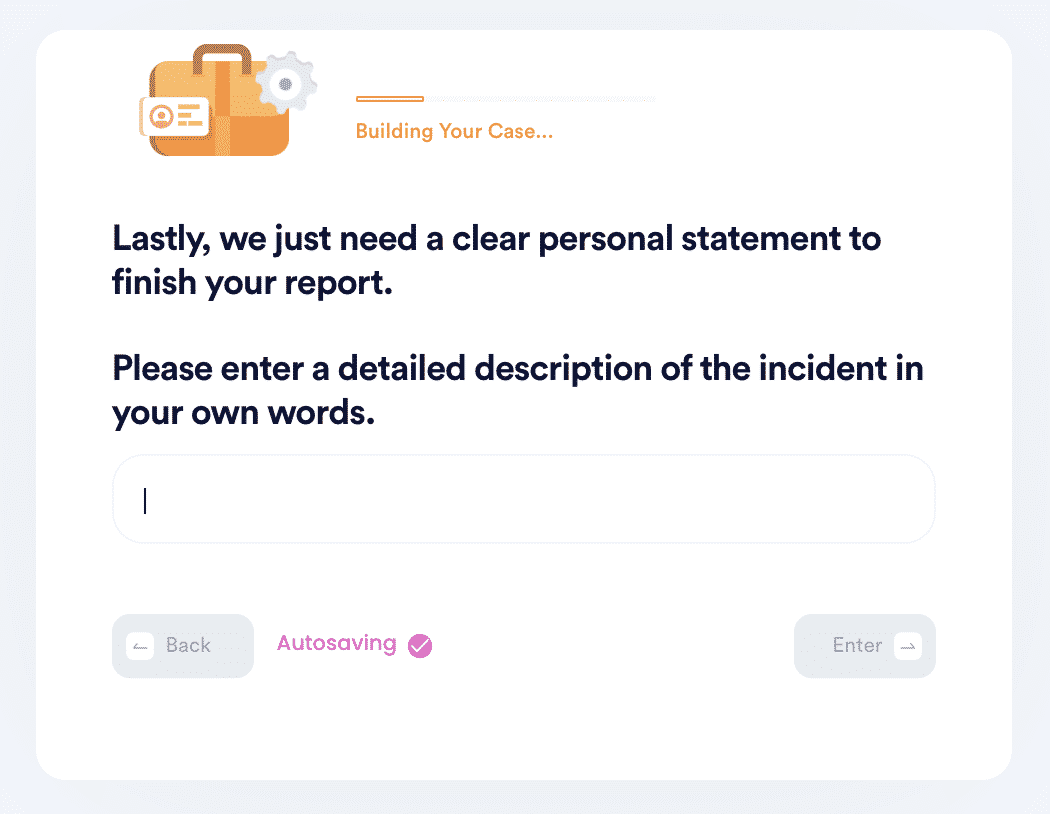 DoNotPay will file your report, letter, or chargeback on your behalf so that you can leave satisfied with a full refund.
Why Use DoNotPay in Getting Justice for Marks Ticket Scams
The reason why DoNotPay has been successful with its continued service is due to to the fact that its:
Fast—You don't have to spend hours trying to solve the issue
Easy—You don't have to struggle to fill out tedious forms or keep track of all the steps involved in solving your problem
Successful—You can rest assured knowing we'll make the best case for you
What else can DoNotPay do?
Getting your funds back from scammers is just one of the many things we do. Some of our other product offerings include:
Ready to join the DoNotPay bandwagon? Many have tried, and they can attest that we have something for everyone.