How to Get a Luminary Free Trial Without the Risk

Luminary is a diversely stocked podcast platform. With shows found nowhere else, Luminary keeps a unique inventory of podcasts and audio shows. Talk shows, interviews, and scripted dramas are all part of the great lineup. They have breakout new creators and exclusive podcasts from known celebrities.
Subscribing to Luminary gives you access to the complete library at no additional cost. If you'd rather use Apple Podcasts, you can also subscribe to the Luminary channel.
What if you don't need a whole year of podcasts, or perhaps you want to find out if Luminary is the right podcast platform for you? This is exactly the time for a . Fortunately, Luminary offers free trials that are easy to get.
Does Luminary Offer a Free Trial?
Yes, you can get a  from Luminary. The podcasting platform provides a free trial that anyone can use to try out the Luminary platform for the first week before paying for a Luminary subscription. This gives you full access to the podcast library and new releases. You will enjoy all the privileges of a Luminary membership for the duration, but without paying subscription prices yet.
How Can I Get a Luminary Free Trial?
Getting your  is simple and fast. All you have to do is sign up. Both of Luminary's membership tiers automatically come with a free trial of 7 days in case you decide Luminary isn't for you. Here are the simple steps to sign up for Luminary:
Navigate to the homepage
Select "Sign Up" in the top right-hand corner
Choose a Subscription Model
Begin your 7-day free trial
Cancel on time to avoid charges
Does the Luminary Free Trial Automatically Renew Into a Paid Subscription?
Yes, it does. Luminary free trials are built directly into the subscription plan. You cannot have one without the other. If you want a free trial, you sign up for a  subscription. If you want a subscription, you get the free trial. A 7-day free trial is also not that long.
From the moment your Luminary free trial is over, you can expect a charge to your card for the full subscription amount.
Avoid Automatic Renewal With DoNotPay Virtual Credit Card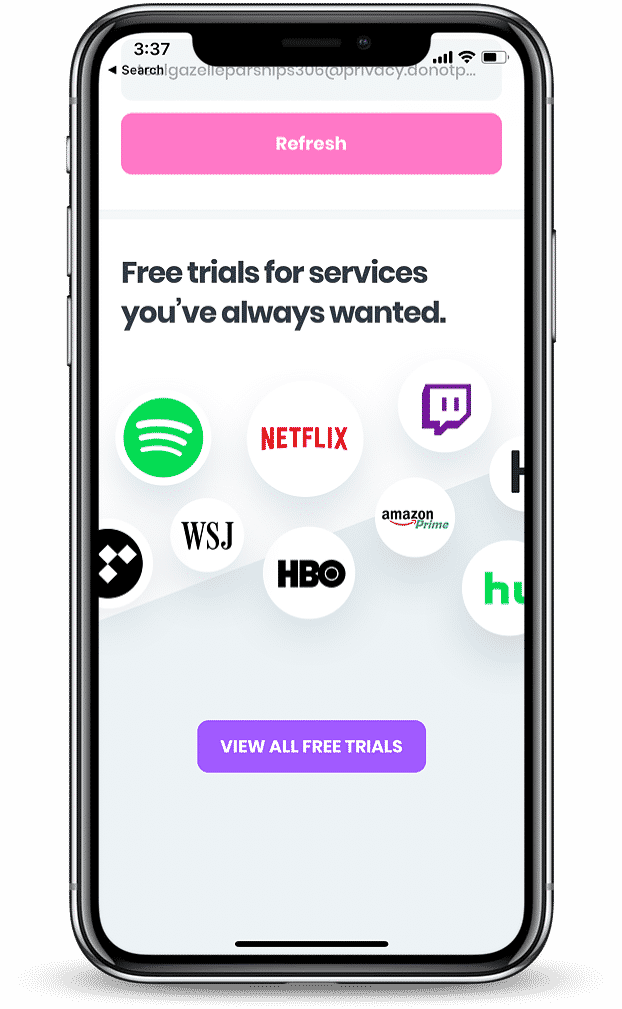 Don't want to pay for a subscription after your Luminary free trial? That's the whole point of a free trial. Or, at least, it should be. If you don't want a longer-term Luminary membership, all you have to do is stop the payment before it clears at the end of your free trial.
This can be done in one of two ways:
Scheduled Account Cancellation
Virtual Credit Cards
Scheduled Cancellation
The first option is to cancel your account at the optimum moment for free trial enjoyment and closure. Don't let the usual forgetfulness or a processing delay cause you to be charged for a subscription you don't want. Set a schedule that tells you exactly when to file your account cancellation to make a difference. You can also work through third parties like DoNotPay who will take the issue straight to corporate to delete your account and avoid incidental damage or payment.
Virtual Credit Card
A virtual credit card is the ultimate answer to not-so-free trials. If you have a free trial that's really a ticking time bomb to the moment you will be charged, simply enter a virtual credit card number instead of your payment information.
Here's how it works:
Search Free Trial Card on DoNotPay and enter the company you want a free trial for.
We'll automatically generate a virtual credit card that you can use for that merchant. Copy the card details shown on your screen.
Use the card to sign up for your free trial and sit back to relax and enjoy.
The card is a randomly generated set of numbers that is accepted by the payment system initially. It is attached to no bank account or fund, so it can't be used for payment. When the subscription charge hits at the end of your free trial, no payment will be made and your free trial can end without incurring any charges.
You can get as many free virtual codes as you need from DoNotPay to explore free trials across the internet–free trials that are truly free. Virtual credit cards work like regular credit cards, except that they have an extra layer of protection against fraud when shopping online.
DoNotPay has a card generator that creates random virtual credit cards. Yours will have a valid number to use when signing up for free trials, but it doesn't have money. Furthermore, it uses none of your details, so don't worry about deductions to your bank account.
You don't have to link your credit card information to this card; you can add any name and set your expiration date.
How Much Does Luminary Cost After the Trial?
The 7-day Luminary free trial is connected to all three of its three subscription models. Depending on what you choose, you will be billed for either the annual or monthly subscriptions.
Annual Subscription
$34.99 yearly cost

$2.99 /month

Monthly Subscription
$5 /month

Cancel any time

Luminary Channel
$4.99 /month
What Else Can DoNotPay Do?
Explore our multitude of helpful services, tools, and resources designed to save you time and money this year.