How to Get Your Lorain County Birth Certificate Effortlessly
A birth certificate is something most people never think about until they need it. Upon realizing you lost your , you may feel a sense of dread. You know the process to replace it will be too long or too complicated.
Here at DoNotPay, we're here to help you make sense of the process as well as to offer you an overall better way of doing things.
Who Can Get a Birth Certificate Copy in Lorain County and What Types Are Available?
only issues certified birth certificates or "certified abstracts." The information you provide when requesting your certificate will determine which one is issued.
Certified birth certificates are official documents issued by a government authority, and contain a raised seal. Since a certified birth certificate is an official document, you can use it for any purpose such as enrolling in school or obtaining a passport. On the official application, you must check the box indicating that you are requesting the document for:
Dual citizenship
Out-of-country marriage
International Legal Purposes
Genealogy
Requests that do not fall into one of the above categories will qualify only for a certified abstract. A certified abstract contains all the information related to an individual's birth, but cannot be used to obtain a passport, apply for a job, or get a government-issued ID.
In case you are wondering, here is a breakdown of the two different types.
Certified Copy-Certified Abstract
Official document-Unofficial document
Raised seal-No raised seal
Needed for identification-May be used for informational purposes only.
Only an individual or parent may request-Public a record birth certificate for newborns and anyone can request it.
How Much Does It Cost to Get a Birth Certificate Copy in Lorain County?
Both certified copies, as well as certified abstracts, cost $25.00 each. The various payment methods accepted by the Lorain County Public Health Department include:
Cash
Check
Money order
MasterCard, Discover, or Visa credit card
For mail-in orders, you must submit a check or money order along with a self-addressed stamped envelope. Online requests require a valid credit card.
How Long Does It Take to Get a Copy of a Birth Certificate in Lorain County, OH?
There's a good chance your request will be processed the same day if you visit in person. This is assuming there are no discrepancies in your record and that you can prove your identity. You'll wait a bit longer when requesting your certificate online or by mail. It can take anywhere from two to four weeks for processing, or longer if the waiting period includes a major holiday.
What Documents Do I Need to Get a Copy of a Birth Certificate in Lorain County?
If you are missing certain documents, there's a possibility your request may be denied. Accordingly, you should ensure you have the following:
Printed application filled out in its entirety
Photo identification (or a certified copy of your ID if requested by mail)
Check or money order (for mail-in requests)
Self-addressed stamped envelope (for mail-in requests and in-person applications that cannot be processed on the same day)
How to Get Your Own Lorain County Birth Certificate
If you need to apply for a you have several options available. Which one is best for you? We've included some information about each one to help you choose.
Online
Vital Check website
Phone Number
1-888-290-0228
Mailing Address
Lorain County Public Health

9880 South Murray Ridge Road

Elyria, OH 44035

In-Person
Lorain County Public Health Department

9880 South Murray Ridge Road

Elyria, OH 44035
Applying in Person
The office is open between the hours of 8 am and 4 pm, Monday through Friday, and is closed on statewide holidays. Members of the public are seen on a first-come, first-serve basis. Accordingly, you could face an extended wait time if the office is especially busy.
Mailing in a Request
Download and print off the online application and mail it along with a check or money order to their mailing address. Allow up to four weeks for processing. Include a business-sized, self-addressed stamped envelope and ensure it has adequate postage. Otherwise, your request may get lost in the mail, in which case you may need to start all over.
Submitting an Online Application
Use the Vital Check website to complete your online request. Be advised that Vital Check will only accept a credit or debit card, and may charge an additional fee for processing.
Placing a Phone Request
Call Vital Check directly. Again, you will need a credit or debit card and can expect Vital Check to tack on an additional fee. When making your phone call, allow plenty of time. Callers are often placed on hold for extended periods while waiting to speak with an agent.
I'm Having Trouble. What Should I Do?
It's not at all uncommon for people to struggle with getting a birth certificate. But for most people, giving up on the idea is not an option. Your is too important for you to just forget about. Fortunately, there is an easy solution available through DoNotPay.
Order Lorain County Birth Certificates with DoNotPay
If you want to order/get a birth certificate copy in Lorain County but don't know where to start, DoNotPay has you covered in 8 easy steps:
If you want to order/get a birth certificate copy in [State/City] but don't know where to start, DoNotPay has you covered in 8 easy steps:
1. Go to the Birth Certificates product on DoNotPay.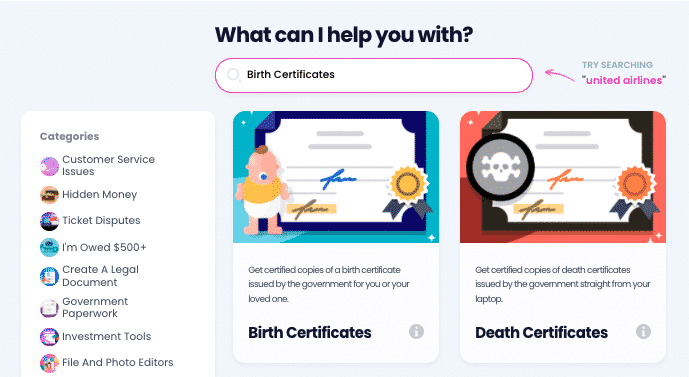 2. Select who the certificate is for (you or a loved one). If you are requesting a copy of someone else's certificate, enter their personal details, and upload evidence that proves your relationship.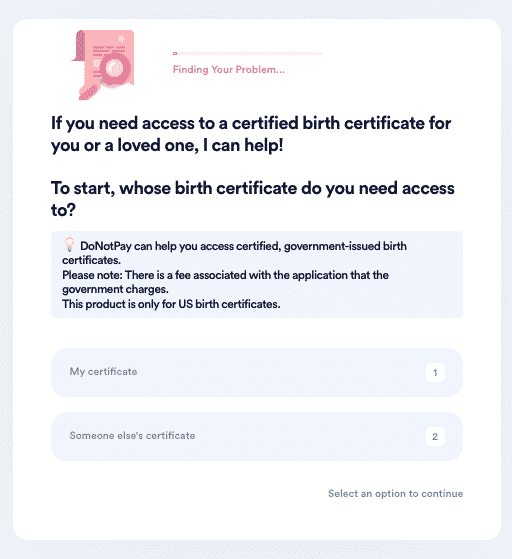 3. Enter the location you or your loved one was born in, so we can complete the form specific to your state.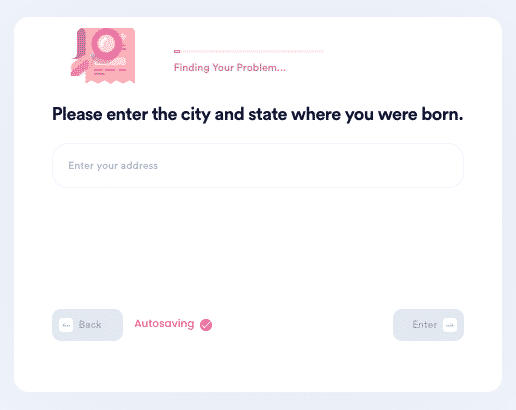 4. Enter the name(s) of the parent(s) as displayed on the certificate.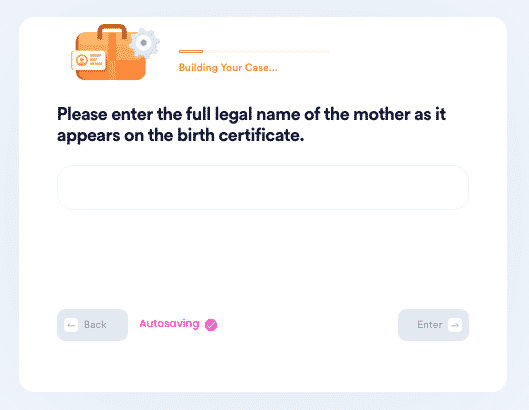 5*. Indicate what you will be using this certificate for, and choose whether you need an authorized or certified copy.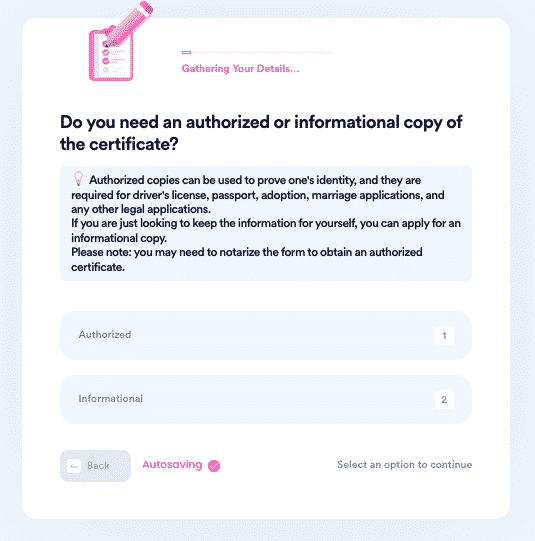 6. Enter your contact information and shipping address. Upload copies of your government-issued identification, such as a driver's license.
7. Choose whether you would like to electronically sign this form or not. Once we generate the form, verify that all of the information is correct.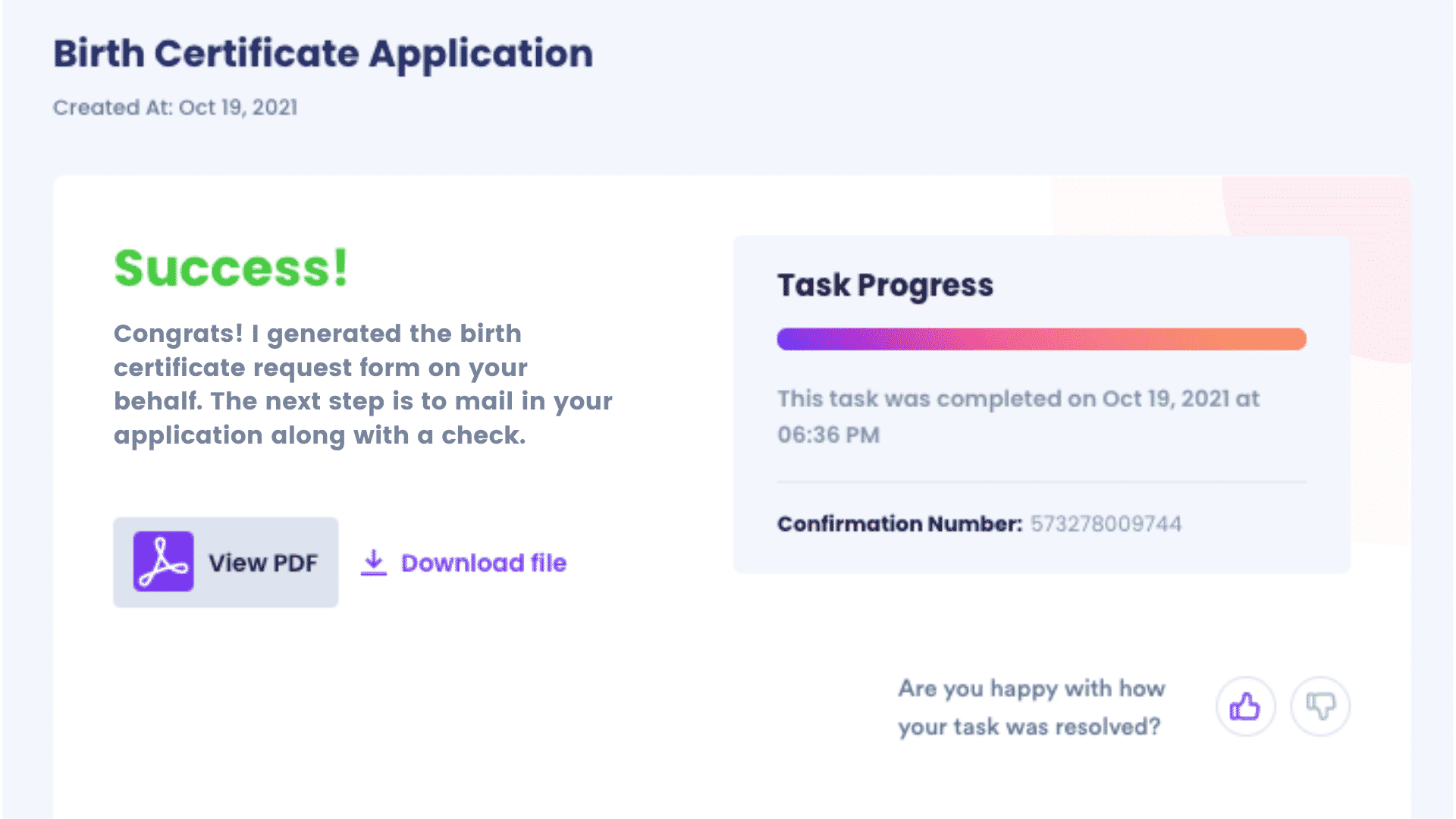 8. If you need the document to be notarized, schedule a notarization appointment using our Notary product. Otherwise, proceed to our Mail Checks product and let DoNotPay mail-in your request form with a check on your behalf.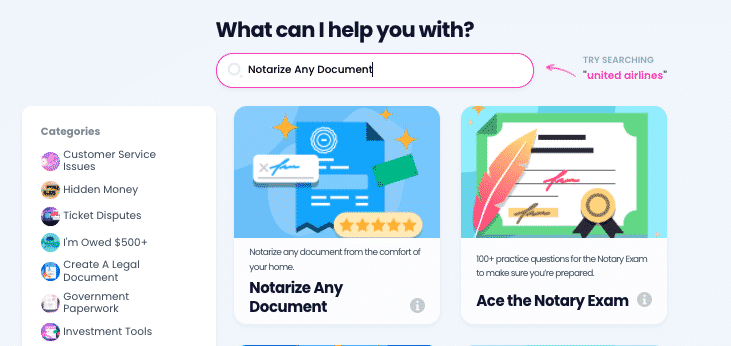 Get Your Lorain County Birth Certificate and Then Get On With Your Life
Applying for a birth certificate from the Lorain County health department shouldn't be so complicated that it derails your life plans. There's a fast way to get it, with DoNotPay, it won't have to be hard. If you want to eliminate the hassle, learn how to find your birth certificate, or how to replace one fast, then so that we can assist you.