Everything You Need to Know About the Logan Correctional Center
The opened in 1978 and houses up to 1,667 female inmates. It holds all security levels of prisoners. It is about a 30-minute drive from Springfield, Illinois.
The prison prides itself on rehabilitation and offers a variety of education and vocational training. Inmates may receive GED exam education and even go on to earn a college Associates Degree. Vocational training includes cosmetology, hair braiding, nail technologies, horticulture, culinary arts, and a range of construction disciplines. Inmates may join the helping paws program, allowing them to work with animals.
Logan Correctional Center Contact Information
The basic contact information for is:
How to Contact Inmates at the Logan Correctional Center
By Phone
All inmates are allowed to make outbound calls to anyone on their approved contact list. Inmates cannot receive inbound calls.
Calls can be made collected or by using Securus. Cellphones can only receive calls via Securus.
Securus charges a connection fee and charges by the minute.
By Mail
Illinois is quite strict about mailing letters. Attaching any refurbishments like stickers, perfume, or jewelry, is strictly prohibited.
All mail will be inspected and read. Any mail that contains maps or instructions on how to make contraband will be destroyed.
You may send photos by mail. Photos must be 4" x 6" or smaller. Polaroid or instant photos are not allowed. Photos may not contain nudity.
You may send books, magazines, and other publications through authorized vendors like Amazon or Walmart online. Hardcover books are prohibited. Publications cannot be sexual in nature or contain nudity. Publications cannot promote hate or teach how to make contraband.
Address all mail to:
Inmate Name, ID Number
Logan Correctional Center
P.O. Box 1000
Lincoln, IL 62656
Sending Money
You can send inmates money with MoneyGram, online, over the phone, and through the mail.
For MoneyGram deposits, simply go to any MoneyGram kiosk in Walmart or CVS. You will need the inmate's ID. Be sure to use receive code 7364.
For online deposits, you can use JPAY or Western Union. Global Tel Link can be used for some Illinois prisons but not the Logan Correctional Center.
Over-the-phone deposits can also be done with JPAY. Simply call 1-800-574-5729 to make an over-the-phone deposit.
Depositing through the mail is usually the cheapest option but also the slowest. You will need to get a United States Postal Money Order made payable to JPAY. Include the inmate's name and ID number in the memo line. All deposits must include a deposit form. Mail the money order and deposit slip to:
JPAY P.O. Box 260250 Hollywood, FL 33026
Visiting
Illinois DOC encourages visitation, as it has been proven to help with recovery and recidivism. But certain rules must be followed.
Anyone over 17 years of age must be on the inmate's approved visitation list.
Visitors will need to bring a completed Prospective Visitors Form. It is recommended to have this completed before arrival.
All adult visitors must have a government-issued photo ID.
Tobacco and lighters are not allowed anywhere in the facility, including your car.
Illinois DOC has a strict dress code for visitors. It is recommended that you dress conservatively and not wear a work uniform. We advise bringing a second set of clothes should you accidentally violate the dress code.
General population inmates can receive visitors every day from 9 am - 8 pm. Inmates are limited to five visits per month and only one-weekend visit per month.
Segregation inmates can be visited Monday through Friday from 9 am - 2 pm. Weekend and holiday visits may be arranged with the administrative officer.
If you plan on traveling a long distance, we recommend calling before visiting. Lockdowns and COVID protocols can change visitation rules suddenly. Call 1-877-840-3220 for lockdown information or the prison directly at (217)-735-5581.
Steps to Take Before Contacting a Prisoner at Logan Correctional Center
Difficulties You May Have Contacting Loved Ones in the Logan Correctional Center
Trying to work with the Illinois Department of Corrections can be incredibly frustrating.
The needs of the families of the incarcerated are often neglected.
DoNotPay is here to help.
How DoNotPay Can Help
Write a Prisoner Our write a prisoner digital tool simplifies mail communication. All you need to do is write the letter, and we'll handle all the printing, shipping, and envelope stuffing.
Prison Pen Pals We make it easier than ever to become Pen Pals with a prisoner.
Inmate Visitation We have an expert understanding of the Illinois DOC visitation rules. If you have any problems with visiting your loved one, DoNotPay can help.
How to Use DoNotPay to Connect With a Prisoner
You can connect with an inmate at the Logan Correctional Center by following these five easy steps:
1. Locate the Connect With an Inmate service on DoNotPay.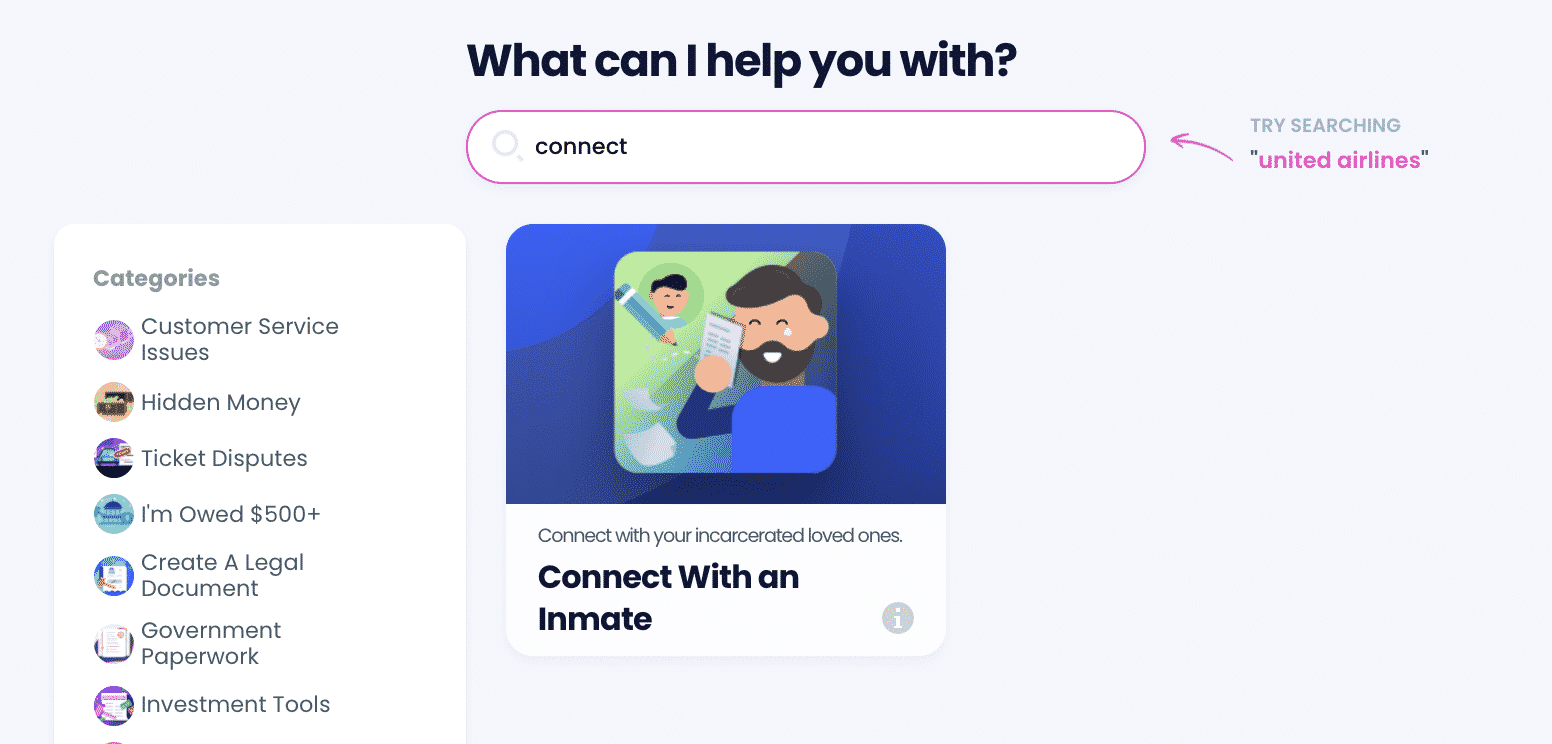 2. Choose whether you want to locate a loved one, create a virtual mailbox, or send a personalized letter.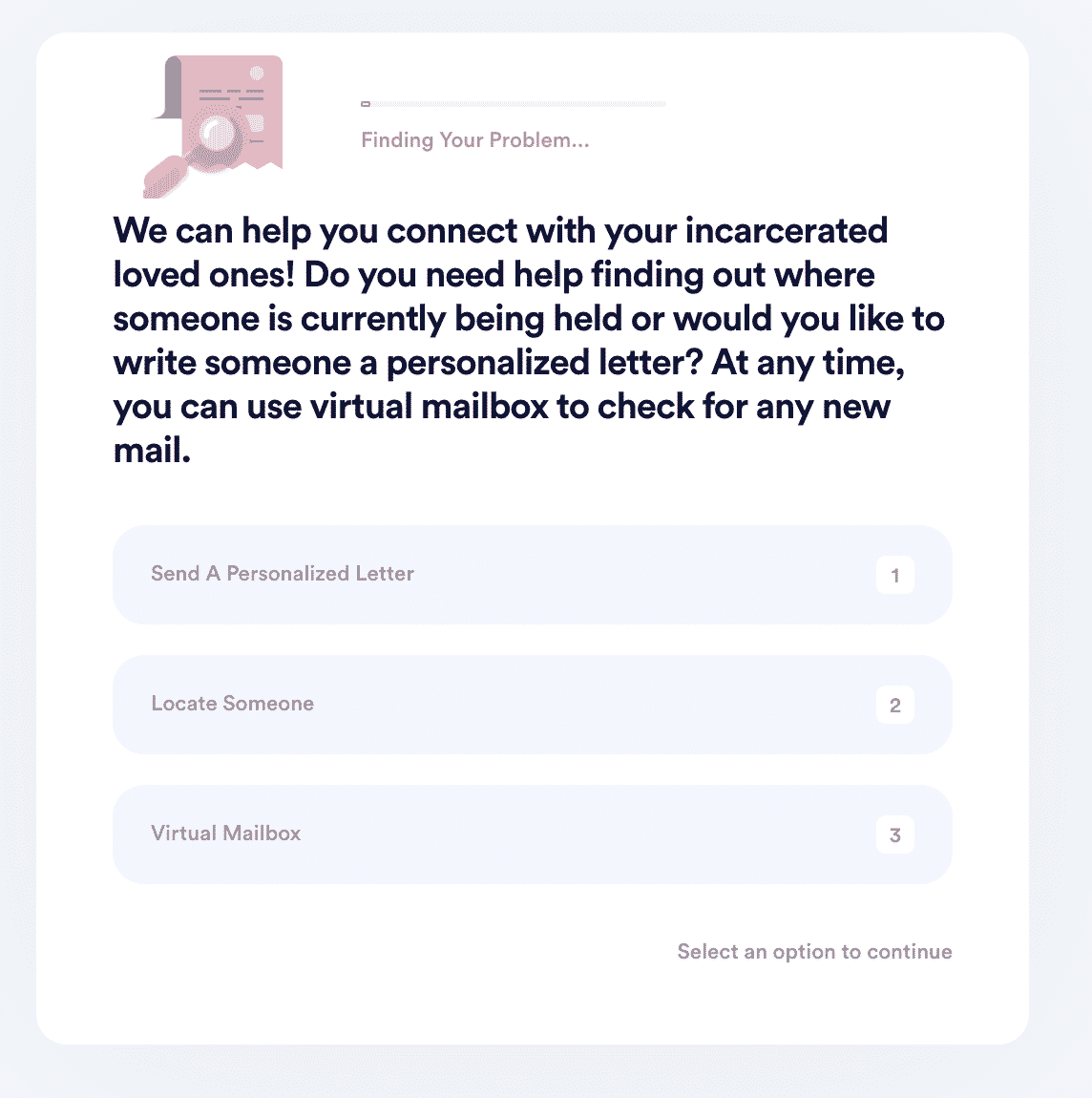 3. If you want us to find your loved one, provide his or her personal details and the state they are located in. We'll then conduct a search on the appropriate state database.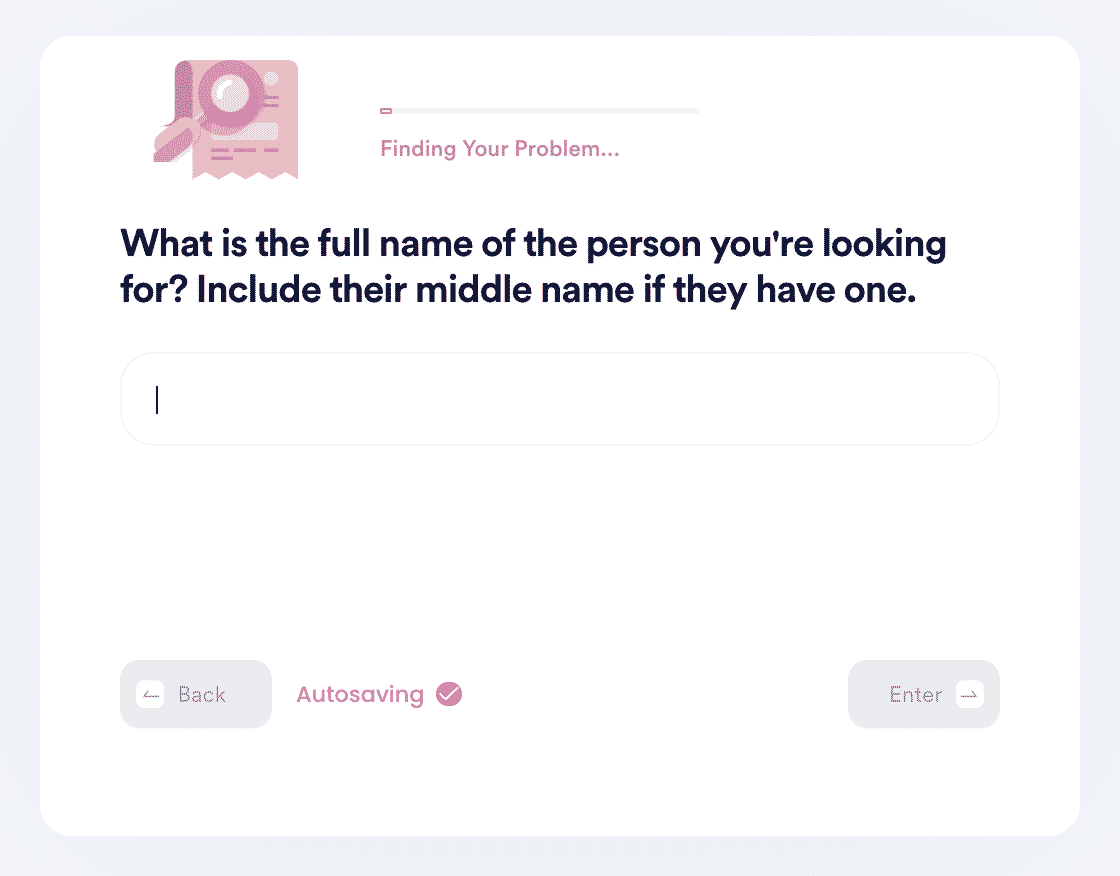 4. If you want to create a virtual mailbox, just provide your full name! We'll set one up for you so you can easily receive incoming mail from your loved one.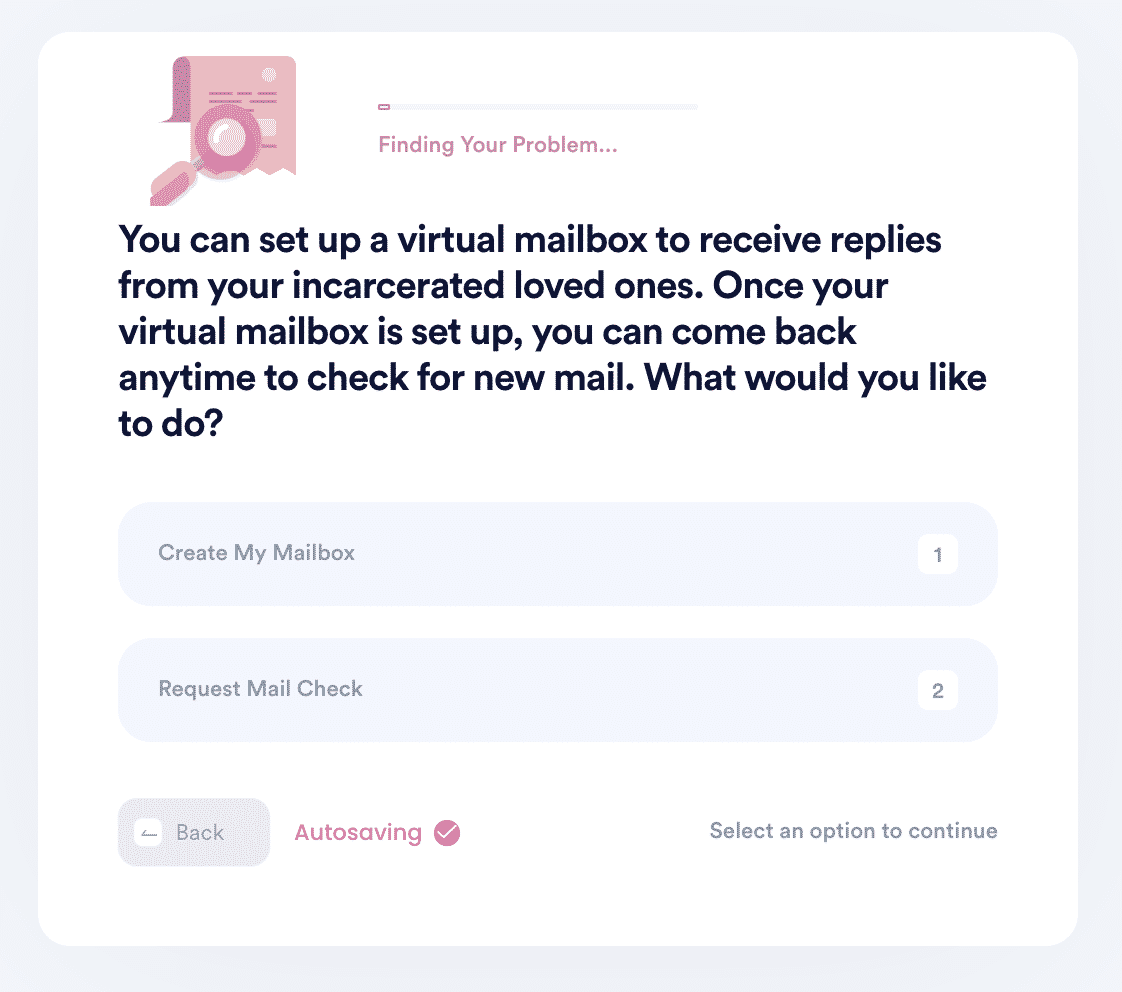 5. If sending a personalized letter, tell us which facility your loved one is located in and what you would like to say to them. You can even include a photo! Your letter will be delivered automatically - just wait 10 days for it to arrive to your loved one!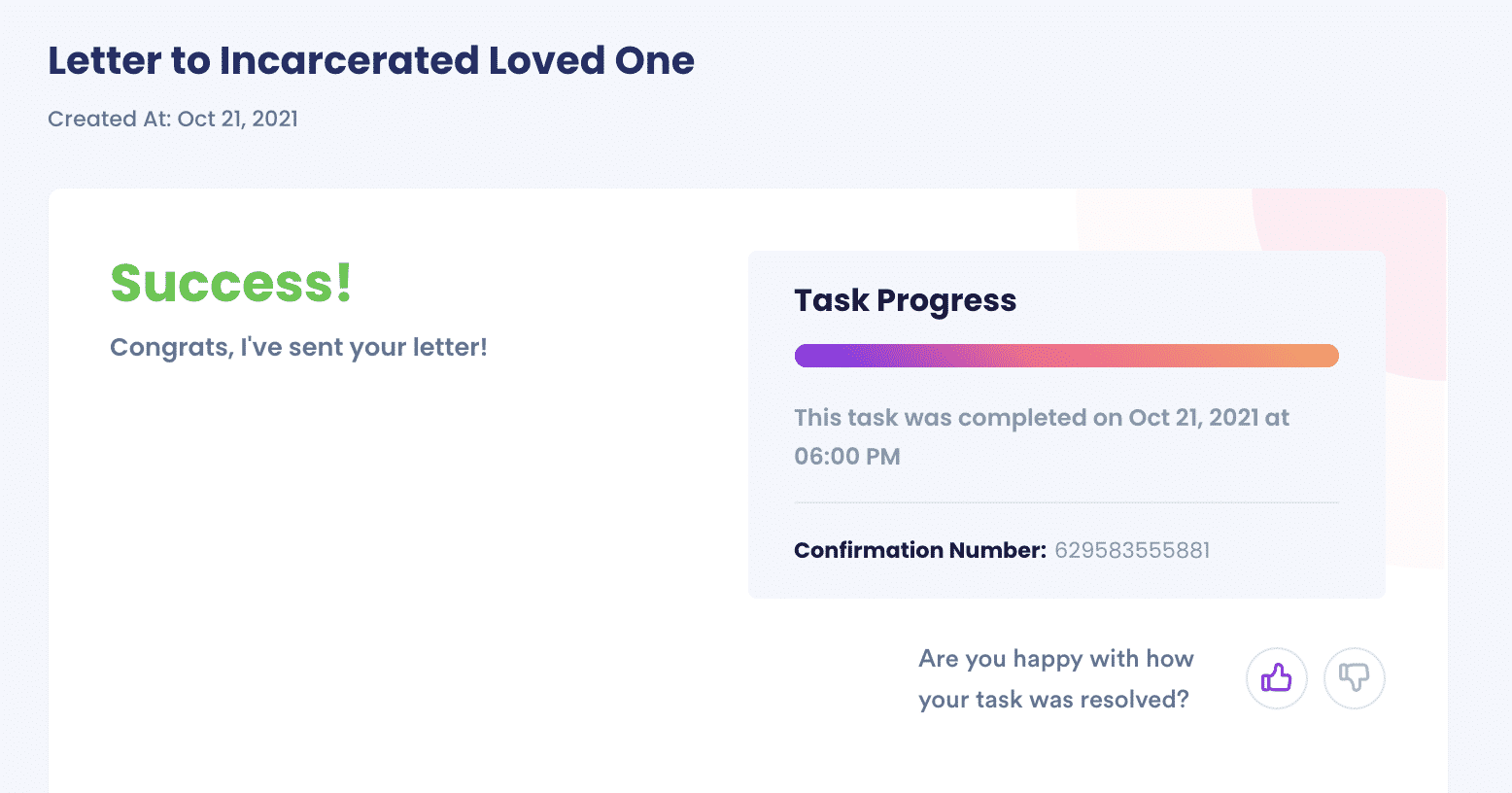 What Else Can DoNotPay Do?
Legal matters
Additional services