How to Get a Lifetime Fitness Free Trial With a Virtual Credit Card

Lifetime Fitness refers to itself as a luxury athletic resort: the perfect place to get in a great workout. LifeTime Digital offers amazing free classes each week, with more than 1,000 new classes added over time. Checking it out for yourself sounds like a great way to get started with a new workout routine or on a better overall fitness journey, but you may not want to pay—and you don't want to risk getting charged at the end of your free trial.
DoNotPay can help you learn more about your Lifetime Fitness free trial options.
Does Lifetime Fitness Offer a Free Trial?
Lifetime Fitness offers three options that can make it easier for you to inexpensively check out their fitness clubs or digital access:
Go on a guest pass. Each member gets a guest pass every month, so if you know someone who is a member, you can simply access them via a guest pass.
Get a guest pass from the club directly. These are offered at specific times, so you may have to wait for one to be available.
Sign up for a one-day trial, which will allow a single-day access for $30.
With the one-day trial or guest pass, you can access most of the same features that are available to full members, but you may have only a limited amount of time to check them all out.
Does a Lifetime Fitness One-Day Pass Automatically Roll Into a Full Membership?
No. If you access Lifetime Fitness through a one-day pass, it will not automatically roll into a full membership. However, you may subscribe to a full membership at a discounted rate after using the one-day pass.
Avoid Automatic Renewal at Lifetime Fitness With a DoNotPay Virtual Credit Card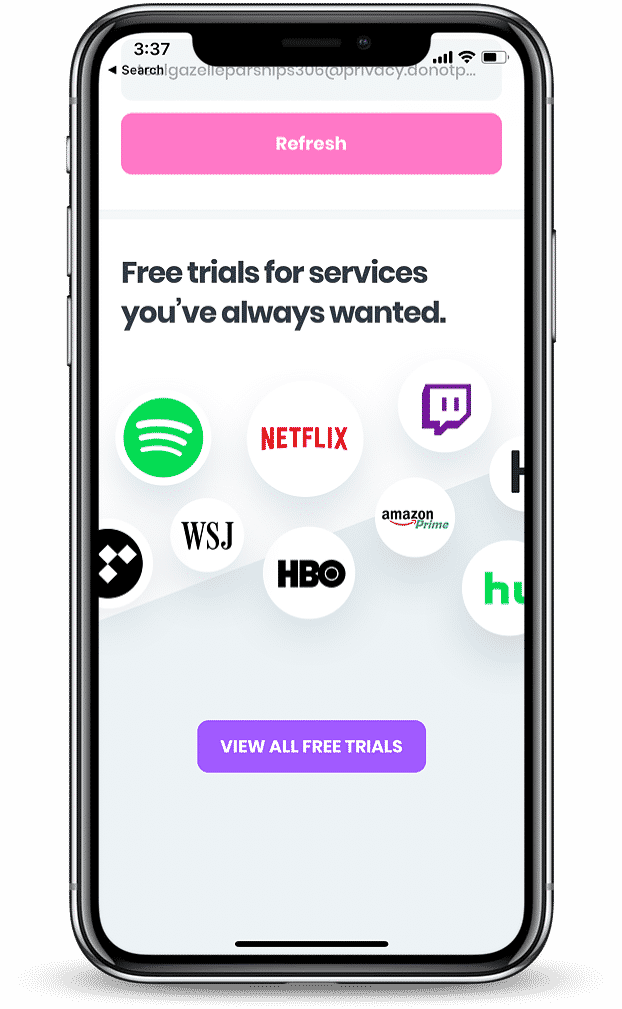 Sometimes, you may want to sign up for a short-term membership with Lifetime Fitness, but you might not want to pay for the membership over time. A DoNotPay free Virtual Credit Card can help you avoid paying over time for a service that you only wanted for a short period of time, or that you did not want at all.
A virtual credit card through DoNotPay can help. The service will generate a one-time random number and credit card information that you can use to subscribe. If Lifetime Fitness charges you again, there will be no money on the card, which means you can be unsubscribed automatically. Of course, if you want to continue using the service, you can always update with a real credit card.
How Much Does Lifetime Fitness Cost After Your Trial Period?
When you sign up for Lifetime Fitness, how much you pay may depend on the specific club you want to sign up for and where it's located, as well as the type of membership you want.
Membership
Fees
Digital Membership
$15 per month
Single Membership
$99 per month
Family Membership
$60 per month for the first additional adult

$40 for the second

$219 total for more adults in a single family

Kids' Membership
$20 per child in addition to the regular adult membership
Other Options Similar to Lifetime Fitness
If you think Lifetime Fitness sounds like a good option, but you're not sure if it's the ideal solution for your needs, you can try several other options, as well:
Check out local gyms.
Find a free fitness program on YouTube.
Try Future Fitness Training or CoPilot for reasonably-priced virtual training
Why Use DoNotPay to Get a Lifetime Fitness Trial?
There are several reasons why using a free virtual credit card through DoNotPay can offer the best opportunity to manage your Lifetime Fitness trial.
It's secure. You won't have to worry about sharing your private data for a one-day trial.
It's convenient, fast, and simple to get that free virtual credit card information.
It allows you to control your membership. If you only go a couple of times, then never go back—or never access your digital membership—you won't end up getting charged month after month for a service that you don't use.
DoNotPay is the easy solution for managing short-term trials and other challenges that you may face.
What Else Can DoNotPay Solve for You?

DoNotPay can help with many of the services you need to handle. Need to cancel your Lifetime Fitness membership after discovering that it's not for you? DoNotPay can help. 
DoNotPay is also the perfect solution for a variety of other tasks, including:
With DoNotPay, you can take care of many of the tasks that usually frustrate you the easy way, all with the confidence that you have taken care of the problem once and for all.
Check Out Our Virtual Credit Card Tool Today
Do you want to sign up for a trial with Lifetime Fitness, but want the assurance that your credit card won't get charged every month without your consent? Check out DoNotPay today.