How to Get KiwiCo Free Trials Without Giving Your Credit Card Information

Nurturing creativity and enhancing the problem-solving skills in children in their formative age not only bolsters their confidence but makes it easier for them to navigate through life. KiwiCo is a platform that spurs creativity in children through science, technology, engineering, arts, and mathematics projects delivered in a fun and compelling manner.
While no shortage of similar platforms promise to bring out the genius in your child, KiwiCo allows you to gauge its suitability by offering a free trial period in which your child gets to enjoy the product at zero cost. However, the subscription auto-renews into a paid subscription once the free trial period lapses. Fortunately, DoNotPay can assist you in signing up for Kiwi Crate  without giving out your credit card information.
Does KiwiCo Offer a Free Trial?
Yes, Kiwi Crate plus provides online gamers with a  subscription. KiwiCo's free trial takes 30 days with a $3.95 service delivery fee. Kiwico is a subscription service for kids that offers a variety of educational packages. Each crate contains supplies for one or two projects, depending on the child's age. It is a helpful approach to keep your child occupied and engaged. Kiwi Crate paid subscription has the following features:
Toymakers, engineers, and child educators make the toys and crates.
You can filter products according to your child's age
Free shipping within the United States
Less expensive compared to competitors' products
The  has similar features to the subscription services but differs based on the shipping costs. For a free trial, you will have to incur the shipping cost.
How Can I Get Kiwi Crate Free Trial?
To get a Kiwi Crate free trial:
Login to the KiwiCo website
Create an account by filling in your details
Choose a plan that you need, in this case, the 30-day free trial plan.
Sign up and enter your credit card details.
Allow for the required permissions and begin your free trial.
Does Kiwi Crate Free Trial Automatically Renew Into a Paid Subscription?
Yes, the Kiwi Crate free trial automatically renews into a paid subscription after the 30-day trial period. Your membership will be automatically renewed unless you cancel it, and KiwiCo will charge your credit card for each renewal at the end of each subscription time. Therefore, the company does not offer refunds if you forget to cancel your subscription after the free trial.
Avoid Automatic Renewal With DoNotPay Virtual Credit Card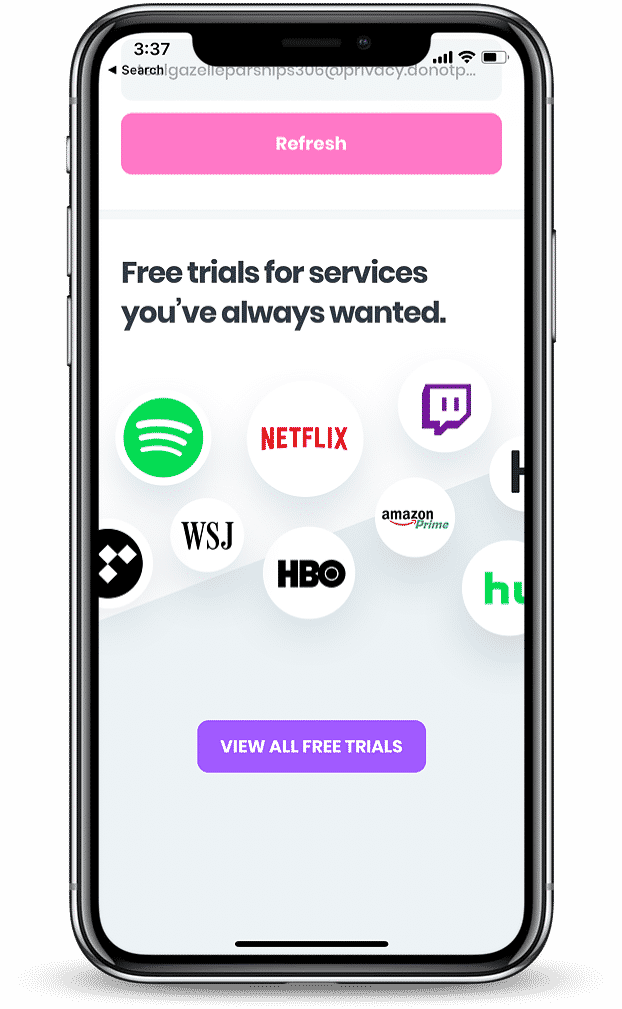 You have probably come across various companies offering free trial services, whether streaming services like Netflix. Free trials ensure these companies get customers to sign up.
But there is always a catch–you have to enter your credit card details. While these firms guarantee that they will not charge your card during the free trial period, they begin to charge your credit card once the trial period ends.
These companies take advantage of the fact that most individuals fail to cancel their trials on time, allowing them to charge your card many times before you discover you're a paying customer. However,  provides you with a virtual credit card that you can use for free trials subscriptions.
What is DoNotPay's Virtual Credit Card?
Virtual credit cards are makeshift credit card numbers produced randomly by different companies. They enable users to sign-up for free trial services or use their phones to perform secure internet transactions. They're linked to your actual credit card, but they're loaded with false information. Therefore, any merchant who can access the card cannot charge any fees on your credit card because they don't have your information.
DoNotPay will offer you a free virtual credit card if you log in and apply for the card by following these steps.
On DoNotPay's website, look for a free trial card and input the name of the firm you'd want to try for free.
DoNotPay will automatically produce a virtual credit card for you to use with that merchant. Copy the card information that appears on your screen.
Sign up for your membership premium with the card, then sit back and relax.
How Do I Cancel Kiwi Crate Subscriptions Using DoNotPay?
If your child doesn't fancy Kiwi Crate items, or you don't see the value in paying for this membership month after month, DoNotPay can help you to cancel the subscription. DoNotPay's tool is simple and easy to use through the following steps.
Create a profile in the DoNotPay web browser.
Select find hidden money from the homepage.
Type in KiwiCo as the subscription you want to prevent.
We don't expect you to put in any additional effort. You'll get a notification in the app once DoNotPay's AI lawyer bots have finished unsubscribing you from the service.
How Much Does Kiwi Crate Cost After the Free Trial?
| | | |
| --- | --- | --- |
| Duration | Auto-Renewal Subscriptions | Termed Subscriptions |
| 1 Month | $19.95 / Month | $24.95 |
| 3 Months | $19.95 / Month | $60.00 |
| 6 Months | $18.95 / Month | $110.00 |
| 12 Months | $16.95 / Month | $205.00 |
What Will KiwiCo Charges Look Like in My Statement?
PLANET FITNESS, BROOKLYN, NY 088

PLANET FIT CLUB FEES, DIRECT CHARGE

PLANET FIT CLUB FEES Preauthorized CREDIT
KIWICO. Subscription

KWICRATE.COM*IGFTKSL

AFF.COM*$18.95
TWX*NETFLIXNOW NY

NETFLIXNOW*IGRKCNHT (877) 473-6769

NETFLIX.COM*$19.99
PurchaseFrom Epoch.com

EPOCH.COM*ICFTTREK 845-467-887

EPOCH.COM* $20.76
What are the Popular Alternatives to AFF?
KiwiCo's popular alternatives include:
Kids Subscriptions
Charges
Features
Raddish

1 Month/$24
6 Months/$22
12 Months/$20

It has three illustrated recipe guides
Three culinary skill cards that share a new kitchen skill
Artistic kitchen project
Kid-friendly tools and collectibles

Amazon Prime Book

Free membership trial
$19.99 paid monthly subscription after the trial ends.

It has filter features for preferences.
Free delivery service within the U.S.
You can customize your box.

We Craft Box

$29.99 monthly subscription.

Quality art materials
Creative curriculum and learning activities
Easy to follow photo directions.
It has all crafting materials except scissors.
Comes with two boxes for two crafters.
What Else Can DoNotPay Do?

DoNotPay can assist you to do the following:
DoNotPay offers a wide range of solutions to these and other pressing concerns.  with us today. DoNotPay definitely has something for you.