On the Road to Extinction—Cancel Kiwi Crate With DoNotPay
Kiwi Crate is a line of products developed by the company KiwiCo. Their crates are designed as science and art projects for kids of different ages, with Kiwi Crates targeting those between five and eight years old.
Each Kiwi Crate contains a project, kid-friendly instructions, and additional enriching content. Some examples of the Kiwi line include:
Arcade Claw crate

Fun With Flight

The Science of Trees
KiwiCo Subscription and Plans
KiwiCo offers renewing and termed (non-renewing) subscriptions. The table below shows the difference in pricing between these two types on the Kiwi Crate example:
| | | | | |
| --- | --- | --- | --- | --- |
| | One month | Three months | Six months | 12 months |
| Auto-renewing subscriptions | $19.95/month | $19.95/month | $18.50/month | $16.95/month |
| Termed subscriptions | $24.95 | $60.00 | $110.00 | $205.00 |
Both options include free shipping. You can upgrade your subscription plan to Deluxe for an additional $9.95 per crate and receive an educational book with each shipment.
You should also note that auto-renewing subscriptions are charged in advance for the chosen period, and your card will be charged the same amount after each cycle.
Besides Kiwi Crates, KiwiCo has five more lines for kids and teenagers, and two lines for ages 14–104.
How to Cancel Kiwi Crate Subscriptions With DoNotPay?

If your kid is not that interested in Kiwi Crate products, or you don't see the point in paying for this subscription month after month, you can get rid of it with DoNotPay, the world's first robot lawyer. Our tool for canceling unwanted subscriptions and memberships is fast and easy-to-use. You only need to follow these three steps:
Create a profile in a

Select

Find Hidden Money

from the homepage

Type in KiwiCo as the subscription you want to stop
We don't require any more effort on your side. Once our service finish unsubscribing you from the service, you will receive a notification in the app.
The simplicity of our method is uncanny, especially compared to long phone calls with customer support agents or complicated online cancelations.
DoNotPay Can Save You Some Money if You Let Us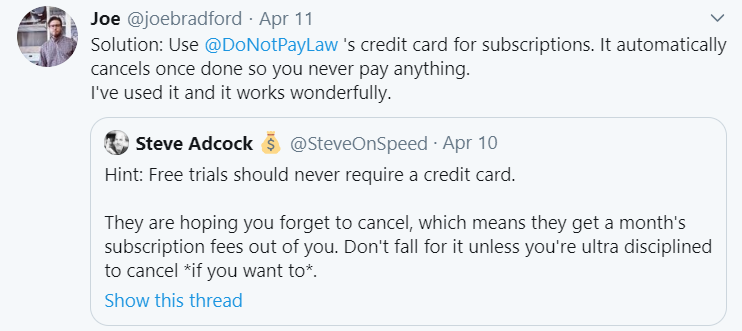 Did you know that Americans waste hundreds of dollars every year on subscriptions they almost never use? You don't have to be a part of this statistic with DoNotPay's help.
If you connect your email address or bank account to our app, you will be able to keep track of all monthly charges and easily identify the ones you could do without. Canceling them for good is as simple as A-B-C if you follow the steps explained above.
Alternative Methods for Canceling Kiwi Crate Subscriptions
Cancelations of Kiwi Crates using other methods will require more time and energy. Besides DoNotPay, other methods for stopping your KiwiCo subscription are:
| | |
| --- | --- |
| Can you cancel with | Yes / No |
| DoNotPay | Yes |
| Email | Yes |
| Phone | No |
| Letter | No |
| In-person | No |
| Company website | Yes |
How to Cancel a Kiwi Crate Subscription Online
Auto-renewing subscriptions from KiwiCo can be stopped from your account by following these steps:
Log in to

My Account page

Locate the

Subscriptions

option under your name in the upper right corner

Click

Edit

next to the subscription you want to cancel

Hit

Cancel Subscription

at the bottom of the page

Confirm your choice by clicking on

Cancel Subscription

once again in a pop-up window
How to Cancel Kiwi Crates in an Email
If the online cancelation procedure seems too complicated, you can cancel your subscription via email. Make sure to include your contact and account information, and specify which subscription you want to eliminate. Send your email to cancel@kiwico.com.
Potential Problems When Canceling Kiwi Crates
When you decide to cancel your auto-renewing subscription with KiwiCo, make sure to honor the time constraints, so you're not billed for the next period. You will need to finish your online cancelation before 11:59 p.m. Pacific Time on the day before the renewal kicks in. For email cancelations, make sure to contact the support team at least two business days before your current billing cycle expires, as per KiwiCo's Terms and Conditions.
Does KiwiCo Offer Prorated Refunds?
If you change your mind in the middle of a six-month subscription, no matter if it's auto-renewing or not, you won't be able to get your money back for the rest of the crates. Auto-renewing subscriptions can be canceled anytime, but the cancelation will be effective at the beginning of a new billing cycle. That means you will receive the remaining crates and no refund.
Can You Pause Your Kiwi Crates Subscriptions?
KiwiCo allows you to skip one month at a time. If you don't want to receive a crate for the next month, you can put it on hold from your account, next to the cancelation option. While the subscription is on hold, you won't be charged, but it will resume automatically after one month.
If you need a longer break, you're advised to contact their customer support by calling 800-714-4828 or sending them a message through the Help form available on the website.
DoNotPay can make contacting customer support centers much easier. Learn how to jump the queue and stop waiting forever for the first available operator.
What KiwiCo Charges Look Like on Your Bank Statement?
The following codes are used for KiwiCo charges on your bank statements:
| | | |
| --- | --- | --- |
| KIWI CRATE INC | KIWI CRATE INC 888-574-6387 | KIWI C |
| KIWI CRATE INC 800-714-4828 CA | KIWI CRATE | KIWI CRATE INC 888-574-6387 CA |
DoNotPay Protects Your Privacy and Finances
Sharing your credit card details online comes with certain risks, and it's getting more difficult to tell good and bad websites apart. With DoNotPay's virtual credit card generator, you will be able to protect your identity and bank account from cyber scammers.
Whenever you run into a suspicious email or website, generate a virtual credit card and proceed without worries. Our virtual cards also work like a charm if you want to avoid automatic payments after free trials.
What Else Can You Do With DoNotPay?

Using DoNotPay gives you an upper hand when fighting a plethora of bureaucratic issues. Canceling unnecessary subscriptions, like Netflix, Spotify, or Retro Fitness, is just one of our app's useful features.
With the help of our service, you can stop dangerous spam email, lower your bills, and put an end to cyberstalking.
Our app is invaluable if you want to:
Fight speeding tickets

Dispute traffic tickets
Access DoNotPay in a for more solutions.