How to Get Hubble Contacts Free Trial Without a Credit Card

We need to be able to see to do a variety of things like driving, reading, and crafting. However, the cost of contacts and glasses can be through the roof, on top of seeing a physician for the prescription necessary. There is also an extra cost to obtain a contact prescription since it varies from glasses prescriptions. How can we afford to try out different contact companies with the skyrocketing cost of a month's supply?
Simply rely on DoNotPay to have you covered with a virtual credit card number for those free trials that you want to try. Subscribe without fear of charges next month or in two weeks. Read on to learn more about  and how DoNotPay can assist.
Does Hubble Contacts have a free trial?
Hubble Contacts does not provide . Their trial of one box of prescription contacts, on the other hand, costs just $1.
There is a risk in paying such a low sum for a membership. That is, you neglect to cancel it before your next shipment is set to arrive and are charged the entire amount using the credit card on file. You'll need a valid prescription to participate in any of the trials, whether they're free or not. Once that is done, it is simple to sign up for the trial.
How to start your Hubble Contacts Trial
Signing up for your contact trial is easy. You'll need your prescriptions, doctor's information, and to fill out the form on their website. You'll be asked:
Your prescription, per eye
Your doctor's state and business
Your personal information including shipping address
Your credit card or PayPal information
Remember that this is not a free trial, so a valid credit card is necessary for the trial to be complete. The trial will only send a single 30-day supply, however, the $1 subscription is over within 16 days.
Does Hubble Contacts Automatically Charge You For Another Shipment?
Yes. When you sign up for your $1 box the fine print reads that the box is an agreement for the subscription. After the first 16 days after the order of your $1 box, the subscription begins and will charge you $42 every 28 days until you cancel your order. There is a catch though, not all brands are covered under their $1 trial, only Hubble's brand. So if you need special contact for astigmatism you'll be charged a full box price from the onset.
Make sure you look for:
Choices that meet the qualifications for the free trial offer
Brands that are ideal for your eyes
DoNotPay Can Help you Sign Up For Free Trials and Never Get Charged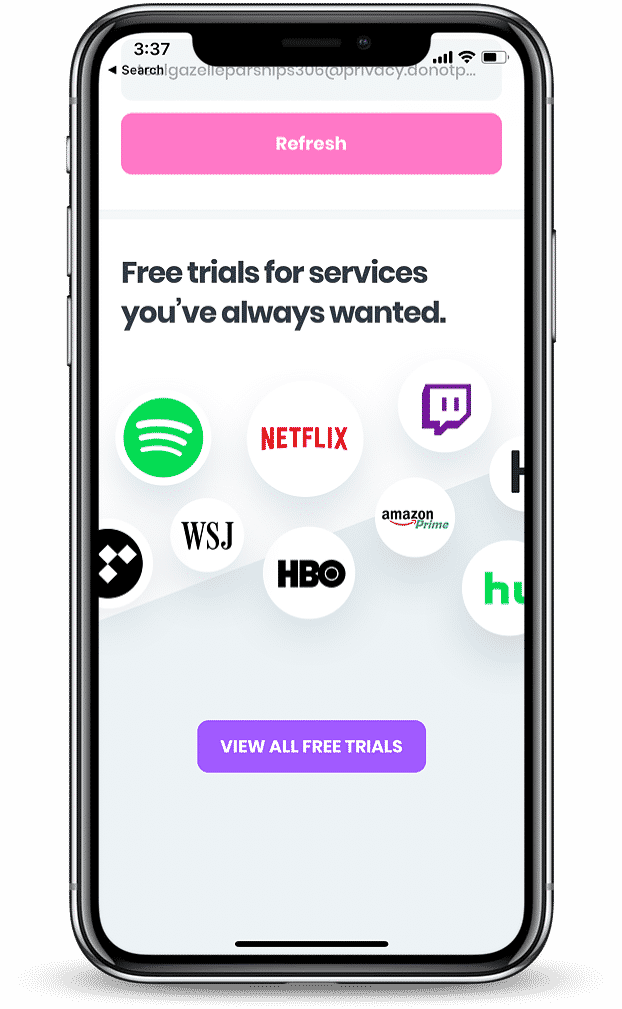 Even though Hubble Contacts does not offer a truly free trial, you can skirt around other free trial charges with the help of DoNotPay. Simply visit the website and search for a free virtual credit card to use when signing up for the service. You won't be charged because the card doesn't contain money.
What Will Hubble Charges Look Like on My Statement?
While some free trials attempt to hide their identity behind their charges, Hubble Contacts will state that it is their company charging you. Charges will appear to come from Hubble.
Other companies will try to place only a phone number on the charge, leaving you to investigate where the charge came from. They hope you'll give up or not find them easily, so they can continue to charge your account.
Using DoNotPay's virtual credit cards will help alleviate the situation. You can also take the painful time to document each and every trial and login you sign up for, which credit card you used, and the date you have to cancel. DoNotPay's way is much simpler.
What Are the Most Popular Alternatives to Hubble Contacts?
As alternatives to Hubble Contacts you can try out the subscriptions for:
| | |
| --- | --- |
| Provider: | Discounts: |
| 1. Contact Lens King | no free trial but offers 10% off |
| 2. Glasses USA | offers 25% off or 10 days $1 trial on Vista contact brand |
| 3. Lens Crafters | offers up to $150 off-year supply |
| 4. Coastal | 10% off first order |
Contacts and glasses are not cheap, so many companies will not offer a free trial. Choose a website that is reputable and can contact your physician. Or another alternative is to work with your physician to obtain the contacts directly from them or a company they trust.
How else can DoNotPay assist you?

You found a contact place to work with, but you have already signed up with Hubble Contacts. No worries! Here is how you can cancel your Hubble Contacts subscription with DoNotPay. And that's not all you can do with the app.
There is a lot more DoNotPay can assist you with. Check out the topics below.
Try it today!