How to Get an Original Birth Certificate Online
Obtaining isn't as easy as you'd think it should be. From various state laws that determine whether the record is considered public or private information, variations in application forms, and more - it can feel overwhelming.
So what can you do when you need to get a copy of an original birth certificate? And what do you need to know when it comes to understanding how to get an original birth certificate?
DoNotPay has done the research, put in the time, and we've got all the answers to make the process as seamless as possible for you. Let's jump right in and break down the need-to-know info. Then we'll explain how easy it is to get birth certificates using DoNotPay.
What Types of Birth Certificates Exist?
It may shock you to find out that there's not a singular type of birth certificate. come in a variety of forms, in the sense that some can be used for certain things while others can't. When it comes to birth certificates, you'll first need to differentiate between the following:
| | |
| --- | --- |
| Original birth record | Usually created at a hospital. These can be nearly impossible to replace if lost. But you can still order and use other types of birth certificates. |
| Certified copies of a birth certificate | These can usually be ordered by the individual named on a birth certificate, close family, or legal representatives. These copies have a stamp or seal and can be used to get a passport. |
| Informational copies of a birth certificate | Informational copies are great for family histories and genealogical research. They don't include a stamp or seal, and they aren't considered a valid type of ID. |
The main, and somewhat obvious difference between the first two, is that an original birth certificate is created at the time of birth, typically in a hospital setting, and a certified birth certificate is typically a certified copy.
Birth certificates are legal records required by law and help prove citizenship as well as identity for an individual. An informational copy is only good for record-keeping purposes.
Can I Order an Original Birth Certificate?
In reality, obtaining your can usually only be done through a court order, by permission, or by death.
If you're requesting your original birth certificate, you can potentially get it by having one or both parents on the original certificate sign, or by providing their death certificates. However, that can be a lengthy process and still might not work in your favor, depending on state regulations.
In addition to original and certified birth certificates, if you decide to request a copy of your original birth certificate, you'll want to choose between two more types of birth records:
Authorized birth certificate
Informational birth certificate
The two technically contain the same information, but authorized certificates can be used as a form of government-recognized ID in legal situations while informational records cannot.
Can I Obtain an Original Birth Certificate Online?
In most states, you can submit a request for an authorized birth certificate online, via mail, or in person at the appropriate chamber of records office.
cannot be obtained online and usually require in-person or mail-in requests for an individual. If at all possible, requesting a copy of your birth certificate is much easier and can save you time and money.
If you need to request a copy of a birth certificate and you have the affidavit or state required forms filled out, you can submit them to the appropriate clerk of court's office along with a certified check (or accepted payment of choice).
That sounds like a lot to keep up with, right? Luckily for you, DoNotPay can help you , and submit the application for you with ease. You won't have to worry about figuring out which forms to fill out or have to worry about any of the confusing details. We'll handle it for you.
How to Get a Copy of a Birth Certificate Using DoNotPay:
If you want to order/get a birth certificate copy but don't know where to start, DoNotPay has you covered in 8 easy steps:
1. Go to the Birth Certificates product on DoNotPay.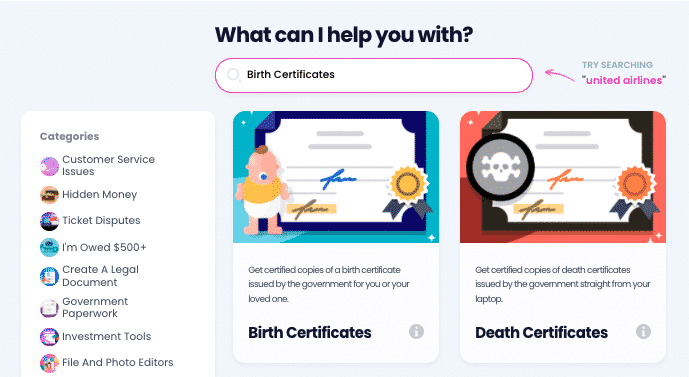 2. Select who the certificate is for (you or a loved one). If you are requesting a copy of someone else's certificate, enter their personal details, and upload evidence that proves your relationship.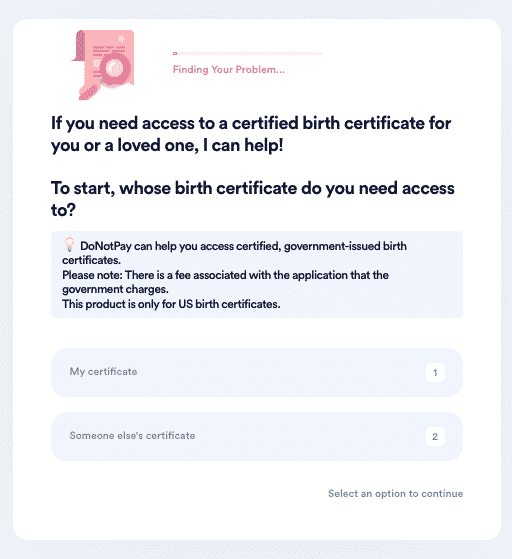 3. Enter the location you or your loved one was born in, so we can complete the form specific to your state.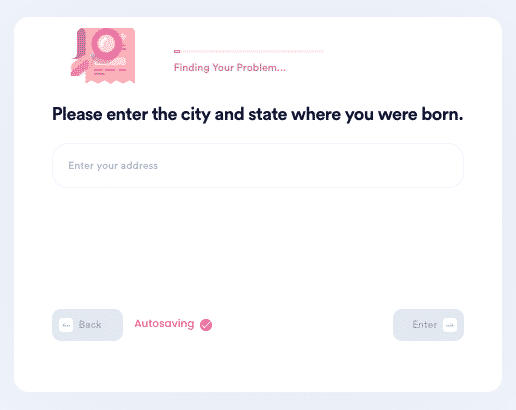 4. Enter the name(s) of the parent(s) as displayed on the certificate.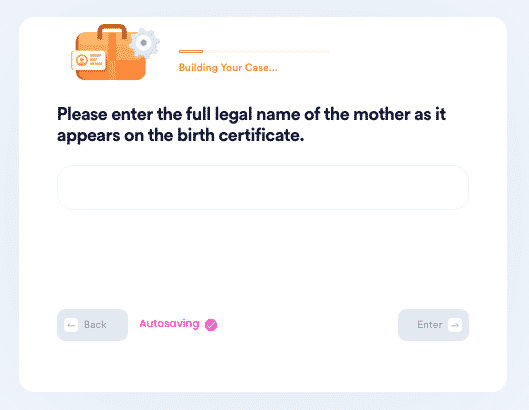 5. Indicate what you will be using this certificate for, and choose whether you need an authorized or certified copy.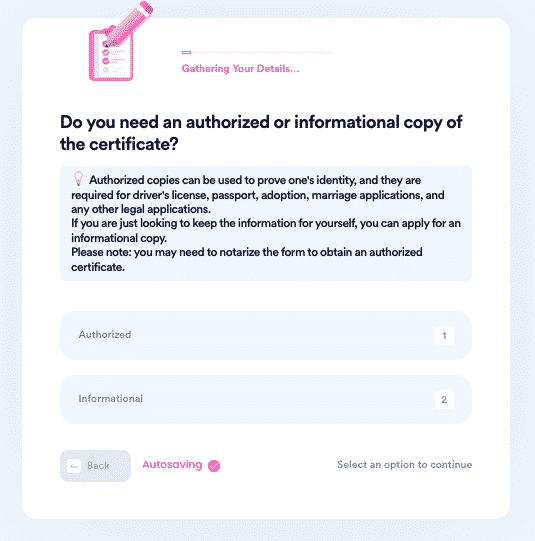 6. Enter your contact information and shipping address. Upload copies of your government-issued identification, such as a driver's license.
7. Choose whether you would like to electronically sign this form or not. Once we generate the form, verify that all of the information is correct.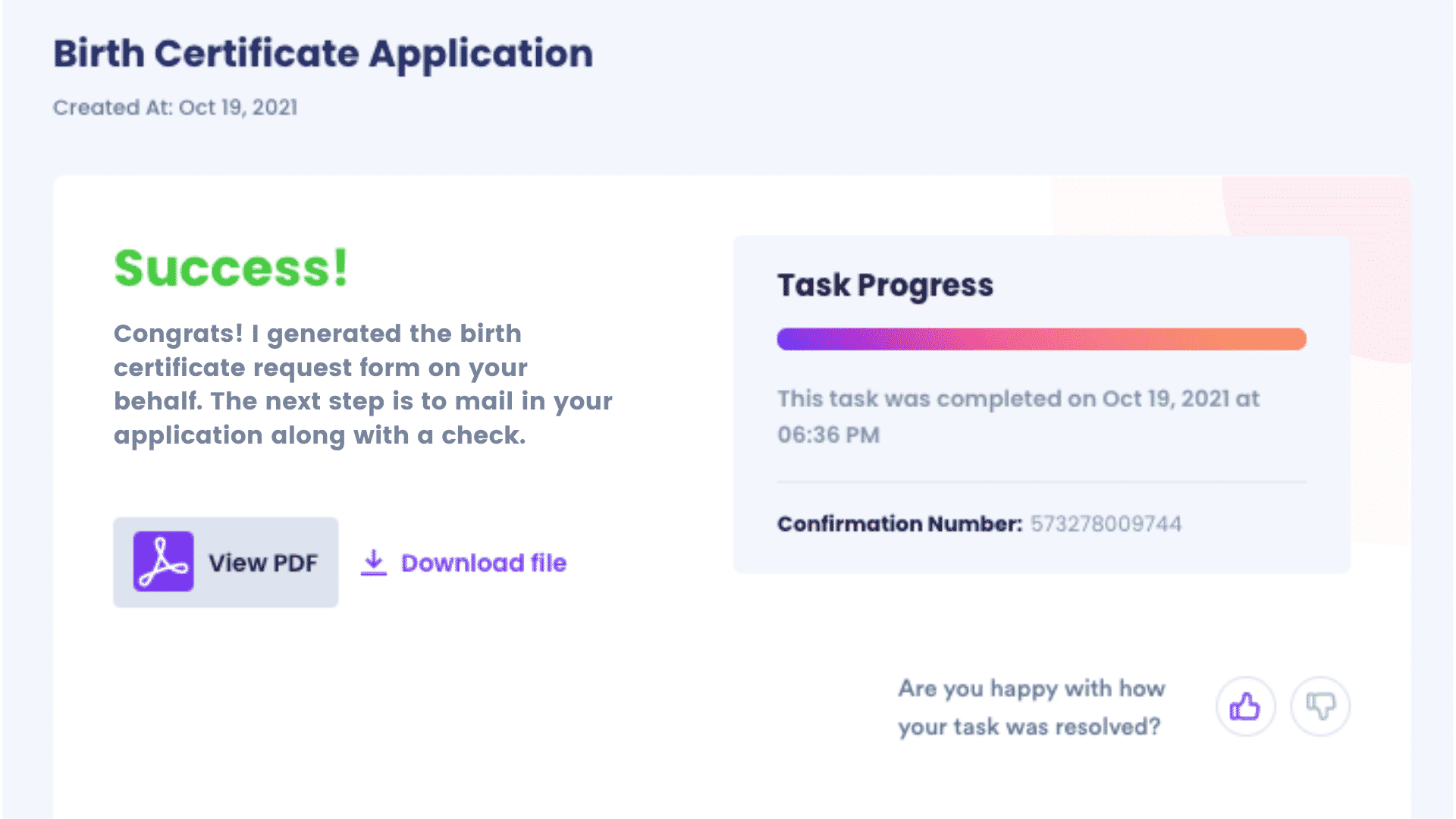 8. If you need the document to be notarized, schedule a notarization appointment using our Notary product. Otherwise, proceed to our Mail Checks product and let DoNotPay mail-in your request form with a check on your behalf.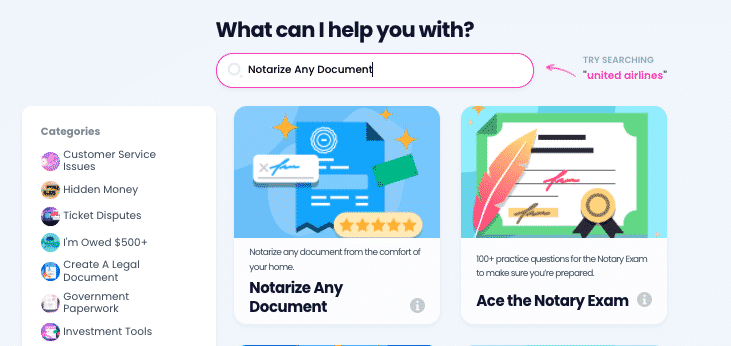 See how easy that was? DoNotPay can help you get a birth certificate without any fuss. And there are so many other ways to use the app.
How Else Can DoNotPay Help?
Have more questions about birth certificates in general? Read more below about how we can help you with all of your vital record needs.
Birth certificates and passports
Sign up for DoNotPay today, and get that birth record sent quickly!