How Old Do I Have To Be To Get My Birth Certificate?
A birth certificate is the most important document you'll ever have in your life. If you never received yours, you may wonder how old you have to be to get a .
This post aims to answer this and many other questions you may have about getting a copy of your birth certificate.
How Old Do You Have To Be To Get Your Own Birth Certificate?
As a general rule, you need to be at least 18 years of age , or an emancipated minor. Some states allow for exceptions in the cases of homelessness, and others allow youth as young as 16 to request copies of their birth certificates. The best way to know for sure is to contact the vital records department of the state where you were born.
Why Do I Need A Birth Certificate?
Your birth certificate is the first form of identification issued by the government. It's necessary to obtain your social security card and other important documents.
You'll need a birth certificate for important milestones in life. See some examples in the table below.
Reasons You May Need a Birth Certificate

To enroll in school
To get a social security card
To join the military
Get a driver's license
To be employed
To get a

passport
Unfortunately, there are many times when young people need copies of their birth certificates but are unable to get them due to their age. Instances such as homelessness or being unable to find their parents, can lead to teenagers not being able to get their birth certificates.
In some cases, a legal representative such as a caseworker or legal guardian can request birth certificates on behalf of a person who is not old enough.
The Difference Between a Certified and Informational Birth Certificate Copy
When you apply for a copy of your birth certificate, you will have the option of choosing either a certified (also known as an "authorized") birth certificate, or an informational birth certificate.
While both of these documents provide the same information, a certified birth certificate is accepted as a form of identification, where an informational copy will not be. Most certified birth certificates are printed on specialty paper with a raised seal, usually from the vital records department of where you were born.
Who Can Get a Birth Certificate Copy In The U.S.?
An individual is always permitted to request a copy of their own birth certificate, however there are others who can do it, too, on the individuals' behalf. While it may vary from state to state, generally speaking the following individuals can request a copy of your birth certificate:
A parent or legal guardian
A child, grandparent, grandchild, sibling, spouse, or domestic partner of the individual
A party entitled to receive the record as a result of a court order, or an attorney or a licensed adoption agency seeking the birth record
A member of a law enforcement agency or a representative of another governmental agency, as provided by law, who is conducting official business
An attorney representing the registrant or the individual's estate, or any person or agency empowered by statute or appointed by a court to act on their behalf
How Long Does it Usually Take to Get a Copy of a Birth Certificate
It can take a few weeks. The amount it takes to receive a copy of your birth certificate depends on:
How you ordered it
Where you ordered it from
The type you ordered
You can usually choose to order a copy of your birth certificate via one of four most popular ways:
Online
By mail
In-person
By fax, if the county of your birth accepts this method
If you order online, for example, the process is usually faster - within days. If you order via mail, fax, or in person, it can take up to six weeks or longer (although, in some cases, ordering in person can be immediate).
However, if you don't have a debit or credit card, you won't be able to pay online. You'll have to order in person or by mail, to pay with cash or a cashier's check.
What Documents do I Need to Get a Copy of a Birth Certificate
Each state has their own laws regarding vital records. But as a general rule, to , you'll need, at minimum, a state-issued identification such as a driver's license or state ID.
In most states, if you're not able to provide an official form of identification, there is a list of documents you can provide to prove your identification and location. Examples include:
Utility bills
School IDs
Medical bills
Insurance bills/cards
If you're using documents like these to obtain your birth certificate, you may need to provide multiple copies. You also need to be sure whichever documents you provide are recent and not expired. They need to clearly show your name and address.
How to Get Your Birth Certificate On Your Own
It can be really exasperating to get a copy of your birth certificate. Errors or missing documents can lead to delays and cause frustration, so it's important to be prepared the best you can.
Some states have application forms you can download, print, and fill out. Search for the vital records office of the state or county where you were born, to determine if they have this option.
Conversely, you can write a request and include the following information:
Full name
Gender
Parents' names, including the maiden name of mother.
Month, day, and year of birth or death.
Place of birth (city or town, county, and State; and name of hospital, if known).
Reason a copy is needed.
Relationship (self)
Daytime telephone number with area code.
Mailing address
Submit your request via the method you prefer based on what's available in the state/county you were born in.
DoNotPay Makes it Easy to Order Birth Certificates
If all of this seems overwhelming, don't worry. There's an easier way to get your birth certificate that will save you time and headaches.
If you want to order/get a birth certificate, but don't know where to start, DoNotPay has you covered in 8 easy steps:
1. Go to the Birth Certificates product on DoNotPay.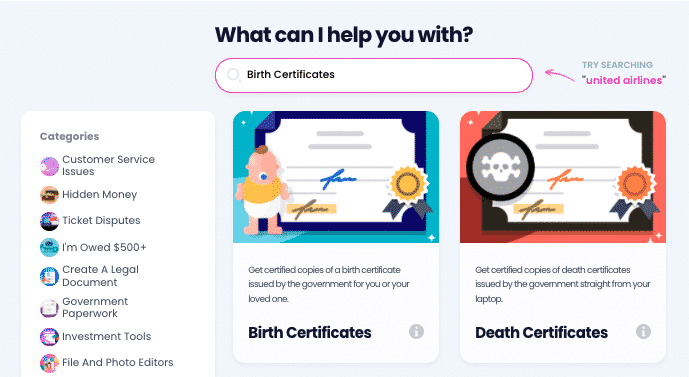 2. Select who the certificate is for (you or a loved one). If you are requesting a copy of someone else's certificate, enter their personal details, and upload evidence that proves your relationship.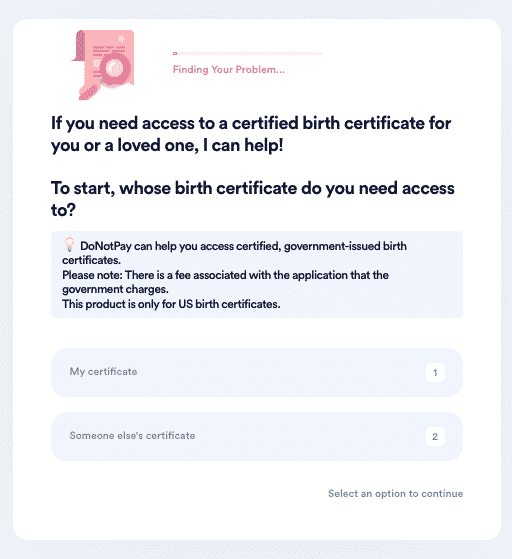 3. Enter the location you or your loved one was born in, so we can complete the form specific to your state.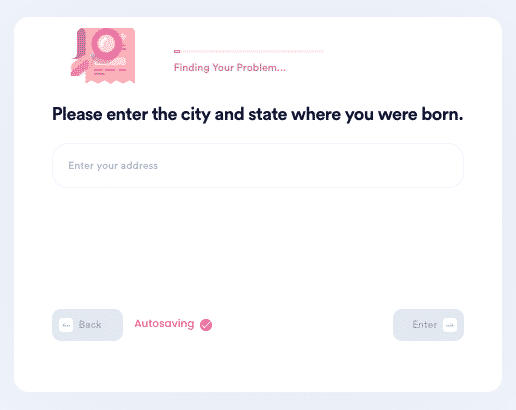 4. Enter the name(s) of the parent(s) as displayed on the certificate.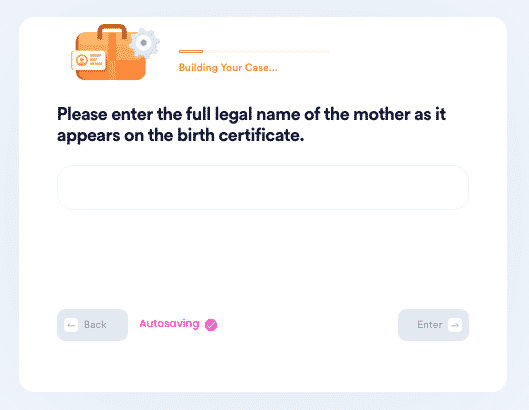 5*. Indicate what you will be using this certificate for, and choose whether you need an authorized or certified copy.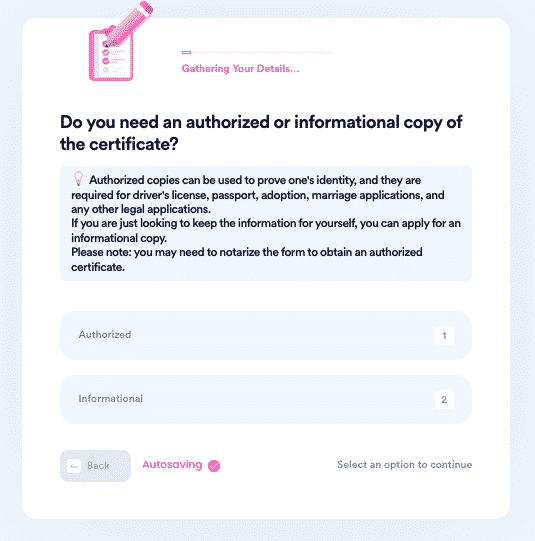 6. Enter your contact information and shipping address. Upload copies of your government-issued identification, such as a driver's license.
7. Choose whether you would like to electronically sign this form or not. Once we generate the form, verify that all of the information is correct.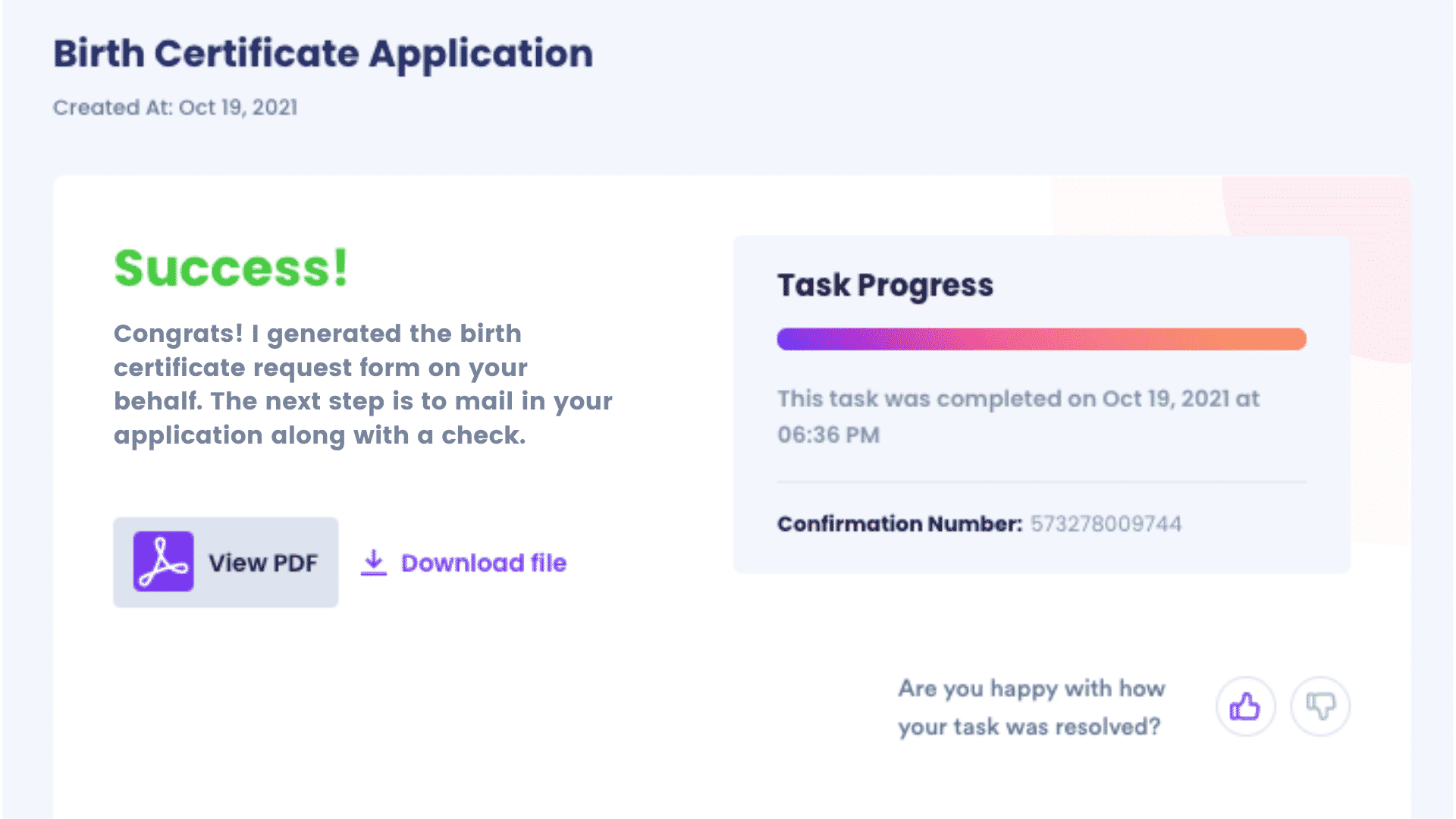 8. If you need the document to be notarized, schedule a notarization appointment using our Notary product. Otherwise, proceed to our Mail Checks product and let DoNotPay mail-in your request form with a check on your behalf.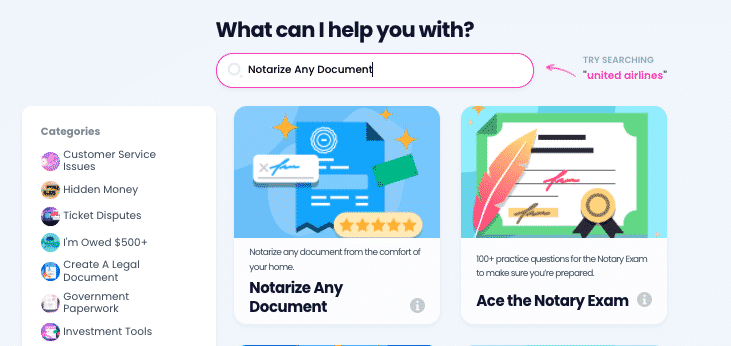 It's that easy! Remember, DoNotPay is always the easiest way to order your birth certificate online. Try it today.