How to Get Hotstar Free Trial Without a Credit Card

Hotstar is a popular video streaming application that allows users to watch movies and premium sports content on the go using support devices. Some of the content on Hotstar is free, but the best content is limited to premium account holders.
You can sign up to see the premium content on Hotstar. There is a 30-day , but that requires that you add your card details, and there is a refundable fee deducted by the app. With DoNotPay, you can enjoy the Hotstar free trial without paying for it. This guide covers how you can do it.
Does Hotstar Offer a Free Trial?
Yes, Hotstar offers a for first-time members who sign up for the premium package. You are only allowed one trial per account. Also, if you choose the same payment method for multiple accounts, only the first account is eligible for a one-month free Hotstar premium trial.
Throughout the trial, Hotstar will send you emails, mostly upselling you to get started on your premium account. You can cancel your Hotstar subscription at any time during the free trial. You will still enjoy the free trial. If you had paid in advance, you will receive a full refund upon cancellation.
How Can I Get a Hotstar Free Trial?
When registering for a Hotstar premium free trial, you should have your credit details, email, and phone number. Follow the steps below to sign up:
1. Visit the Hotstar sign-up page and select 'Go Premium,' and an option to sign up to start your free month will come up.
2. You can either enter the details manually or sign up for Hotstar using your Facebook account. The details include
Your first and last name
Debit/credit card number
Name of the cardholder
The expiry and CVV of the card.
3. Select your plan of choice and that's it!
Hotstar will charge a small transaction amount on your card to authorize the transaction and verify your payment method.
Does the Hotstar Free Trial Automatically Renew Into a Paid Subscription?
After the Hotstar 30-day free trial, you will automatically transition into the premium package you selected when signing up. To avoid charges, you should cancel the subscription at least 24 hours before the expiry of the trial period.
If you had paid in advance using a debit card, Hotstar will give you a full refund after cancellation. Other payment methods might take up to 7 days to complete the refund.
Refunds are, however, not available for subscriptions canceled after the trial period has elapsed or for changes in the subscription plan.
Avoid Automatic Renewal With DoNotPay Virtual Credit Card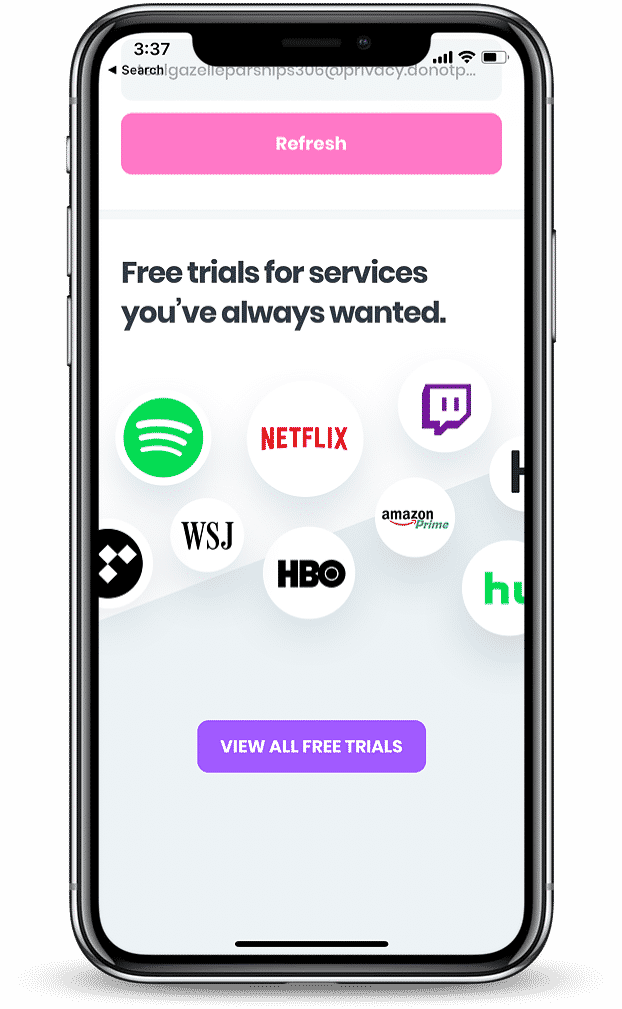 More often than not, people sign up for a free trial and forget to cancel the Hotstar free subscription, forcing them to pay for services they don't need. If you're managing a tight budget, the extra cost can make already challenging times more difficult.
The DoNotPay virtual credit card can help you save money and unwanted charges that arise from forgetting to cancel free trials on time. DoNotPay generates a random number and credit card information that you can use to subscribe to the service. Once the trial period expires, even if you don't cancel, the service cannot charge you because there is no money on the card. You get unsubscribed automatically. The virtual credits are free.
Here's how it works:
DoNotPay will generate a random number and credit card information that you can use to subscribe to any service.
Once the free trial expires, the service can't charge the card because there isn't any actual money on that card and the subscription will be canceled automatically.
It's good to use a virtual credit card when signing up for a free trial for the following reasons:
While the credit card number is real, it cannot be used to purchase anything and it can only be used once.
The card will be deactivated after it is used for your free trial subscription. This eliminates the need to provide your credit card information.
A virtual card also eliminates the need to remember to cancel free trials.
How Much Does Hotstar Cost After the Trial?
How much you pay for Hotstar after the trial depends on the plan you select. Currently, Hotstar has three plans. But in the U.S., you only pay a flat rate of $99.99 for the premium package.
What Are the Most Popular Alternatives to Hotstar?
Entertainment is a big industry. Besides Hotstar, there are numerous other alternatives that you can use, offering different benefits and premium rates.
Streaming Service
Cost
Benefits
Amazon Prime
Starting from $4.99 p/m

Extensive library in all genres
Compatible with Android, iOS, and Windows
4K UHD and HDR streaming
Available worldwide.

Netflix
Starting from $8.99 p/m

Diverse library selection
Members can connect multiple devices
Ad-free content
Works offline

Sony Crackle
Free

Original content
Fast loading
Available in multiple countries and in multiple languages

Hulu
Starting $6.99/month

Original content
Premium channels including Disney+ and ESPN+
Premium add-ons available

GoogleTV
$64.99

One time purchase
Access to YoutubeTV
Available for TV and android devices
What Else Can DoNotPay Do?

DoNotPay can do more than help you get a refund and avoid charges when subscribing to Hotstar free trials. DNP can do almost anything, including