How to Sign Up for Hims Free Trial The Risk-Free Way

Hims is an American telehealth company/platform connecting patients to licensed healthcare experts across the country. The company is popular for selling generic treatments in the form of pills and potions that deal with hair loss and erectile dysfunction,  health issues.
Does Hims Offer a Free Trial?
No, it does not. According to Hims' support page, while discounted prices are unavailable for all its subscription products, users and customers may find promos from time to time on Hims' website or social media.
All Hims' kits and prescriptions tend to be recurring monthly subscriptions, and promotional prices typically cover the first month exclusively. Subsequent months will be at full prices.
How Can I Get a Hims Free Trial?
Unfortunately, Hims doesn't offer a free trial, even for first-time users. However, Hims provides free online consultations for individuals seeking solutions to their challenges. In addition, Hims provides its customers with regular promos to help with their purchases.
However, Hims accepts payment from all major credit cards when submitting your payment info.
Does the Hims Free Trial Automatically Renew Into a Paid Subscription?
No, the free trial does not automatically renew into a premium since Hims does not have a free trial. However, once Hims starts charging you its monthly fees, the payment is recurrent and auto-renews at the end of your monthly subscription.
While you can't access a free trial to cancel, you can also cancel your ongoing subscription if you don't want to get charged again. If so, ensure you cancel your subscription at least a day before the end of the 30 days.
If you forget to cancel your Hims subscription and still get charged, you may request a refund. The chances of going through with the refund will be smaller. However, DoNotPay can help you secure a Hims refund in the shortest time possible.
Avoid Automatic Renewal with DoNotPay Virtual Credit Cards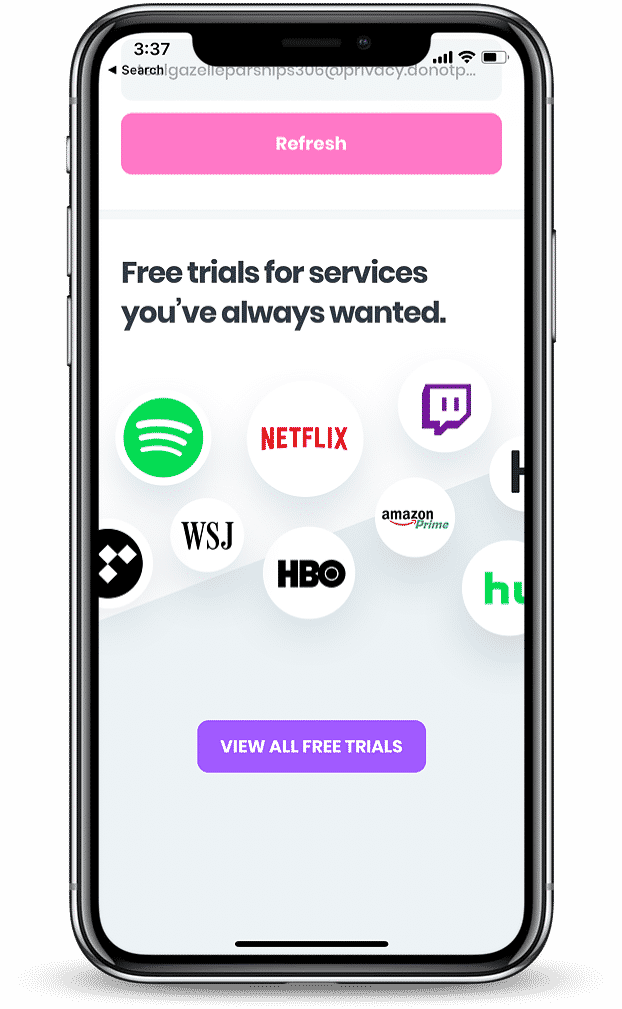 Most people tend to forget their subscriptions when no longer in use—whether free trials or paid subscriptions. Unfortunately, this means getting charged for a service or product you no longer need.
Are you looking for an effective and time-conscious way to cancel your Hims subscription before an automatic charge? DoNotPay can help you cancel your Hims subscription to avoid recurrent charges.
DoNotPay can help you sign up for virtually any free trial using its virtual credit cards that reduce the risks of getting charged. DNP generates a random number and credit card details that you will use to sign up for your free trials.
Once the free trial expires, the free trials service provider can no longer charge you since the virtual credit card you signed up with doesn't have any money. This leads to you being automatically unsubscribed and limiting the free trial.
 more on how DoNotPay can help you get a Hims free trial risk-free.
How Much Does Hims Cost After the Free Trial?
Hims prices start at:
| | | |
| --- | --- | --- |
| Hair loss treatment | $15 | |
| erectile dysfunction treatment | $59 | |
| PE treatment | $21 | |
| Other products and medications | Varies | Monthly, By subscription ($20 subscription fee) |
What Are the Most Popular Alternative to Hims?
Hims supplies products of a wide variety, thus solving varying needs. Each of these needs has an alternative solutions provider in the market. Therefore, if looking for the best Hims alternative, you need to know which specific need you need to fulfill that Hims cannot fulfill.
Below are some of the common alternatives to Hims.
| | |
| --- | --- |
| Roman | This is for men over 18 years old suffering from erectile dysfunction and who prefer to get treatment at the convenience of their homes. Roman allows you to get prescriptions online and delivered to your doorstep. In addition, Morning Wood is an app from Roman that helps men track their morning erections since waking up with an erection is often an indication of good health. |
| Upguys | Upguys is more suited to dealing with hair loss. The company has curated a selection of items to help solve, prevent, or reverse hair loss problems. |
| GoodRx | This functions more like an online pharmacy for prescription drugs. However, it is more equipped with a wide range of products solving health issues and aesthetics such as hair loss and erectile dysfunction. |
| Keeps | Keeps develops medicine that controls men's hair loss issues. It offers its own independent label of FDA-approved treatments. |
| Probulin | It is a company producing probiotic supplements to solve a wide range of issues. |
| Sanhelios | It produces food supplements and natural medicine. |
These companies provide their products via different payment plans, whether as a one-time payment or via regular subscriptions.
What Else Can DoNotPay Do?
DoNotPay is an international robot lawyer offering services regardless of complaints. Besides helping you sign up for free trials, DoNotPay can also help you to:
Sign up with DoNotpay today to  you need with accessing a Hims free trial!