How to Sign Up for Gwynnie Bee Free Trials The Risk-Free Way

You have probably seen online advertisements for free trials offers. These could be for anything, including beauty products, dietary supplements, gyms, and many other different services. While most free trials convince you that you can try a service or product for free, this is not always the case. Many platforms will auto-renew if you forget to cancel, but you may not know this because such information is usually included in the fine print.
Gwynnie Bee is one of the leading online clothing rentals for women. Just like other online stores, this platform offers a free trial period for new customers.  can help you sign up for your Gwynnie Bee free trial period without getting charged. Read along for more information on this.
What Is Gwynnie Bee and How Does It Work?
 is a rental clothing service for women of sizes 0-32. The company was launched in 2011 by Christine Hunsicker and had three main offices in Mountain View, New York, New Delhi, and Bangalore.
When you sign up for the first time, you will be prompted to answer various questions about your favorite brands and your current size. You will then be required to create your account. While at it, you will be prompted to enter your credit card number. Once you are done with the registration process, you will be taken through a styling quiz to help the platform match you to a stylist that understands and reflects your personal style.
After browsing the Gwynnie Bee catalog, you will add six items, or more, so that your first box can be shipped. You can keep on adding and removing items from your closet to customize the items you will receive in the future. Upon returning your box, a new one will be sent your way with all the items you selected from your virtual closet, provided you have an active membership. Loyal customers are often treated to a membership program, where they can earn points and use these points to get new items.
Does Gwynnie Bee Offer a Free Trial?
Yes, Gwynnie Bee offers a 30-day free trial for new customers. Gwynnie Bee's free trial provides a perfect opportunity for new clients to establish whether a service is right for them or not. Using the two items at a time plan, you can wear and return clothes as much as you can in your free month. The trial period is inclusive of cleaning and shipping both ways.
How to Get a Gwynnie Bee Free Trial
To start your Gwynnie Bee trial, follow these simple steps:
Head over to the Gwynnie Bee website and sign up
After filling out your size profile, create your account
Select at least six items you hope to receive
Once you have completed the three steps above, you will get a shipment in your mail. You can categorize the items you wish to receive first. The free trial allows you to receive two items at a time. When you are done with an item, you can send it back, and an additional item will be sent your way. You should keep in mind that your credit card will be required to qualify for the free trial.
It is also important to note that while you may at times receive free clothing items, Gwynnie Bee's trial period sometimes only offers a 50% discount on your first month. Therefore, do your research ahead of time to avoid unexpected charges.
How Much Does Gwynnie Bee Cost After the Trial?
It is first important to understand that if you forget to cancel your  Gwynnie Bee free or discounted month, you will be automatically billed for the next month. If you are interested in using the service after your trial period, you will have to pay the following:
| | |
| --- | --- |
| Item of Clothing | Monthly Cost |
| 1 item of clothing | $49 |
| 2 items of clothing | $69 |
| 3 items of clothing | $95 |
| 5 items of clothing | $139 |
| 7 items of clothing | $179 |
| 10 items of clothing | $199 |
Avoid Automatic Renewal With DoNotPay Virtual Credit Card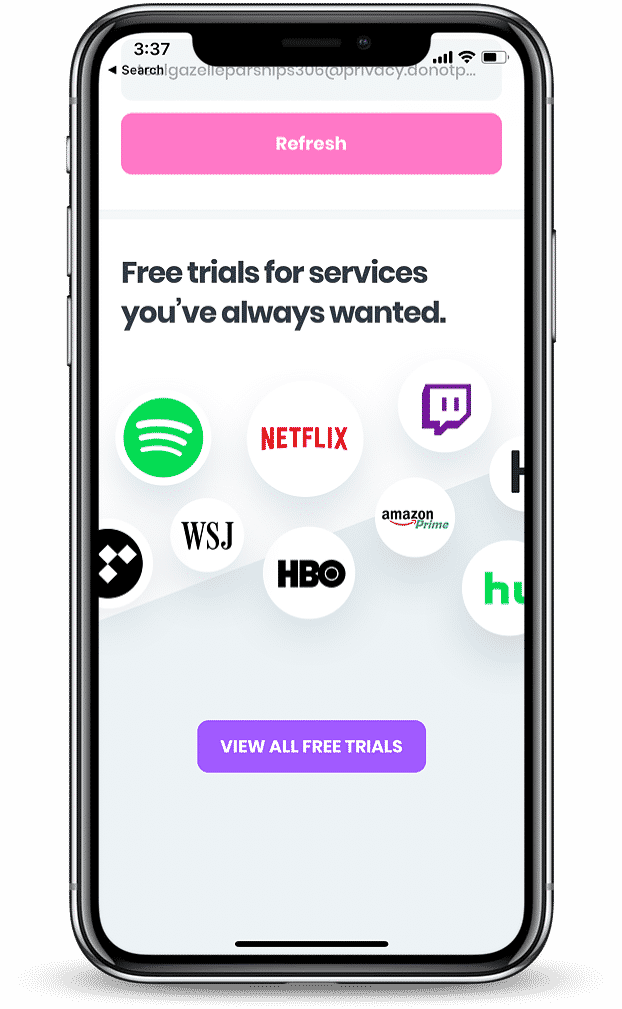 Most companies count on you to forget to cancel your free trial so that they can automatically charge you for at least the first month until you remember to cancel. Almost every application or platform that requires you to attach your credit card has conditions in the fine print that require you to be automatically charged after the expiration of your trial period. What is more, most consumers overestimate their ability to remember to cancel free trials on time. When you think of it, applications and websites can highly profit off consumers that weren't satisfied with their free trial but forgot to cancel.
That said, it is very important to know how to use free trials without committing your money. A sure way to achieve this is to use DoNotPay's Virtual Credit Card.  can help you avoid being charged for free trials in three easy steps:
Search free trial card on DoNotPay and enter the company you want a free trial for.
We'll automatically generate a virtual credit card that you can use for that merchant. Copy the card details shown on your screen.
Use the card to sign up for your free trial and sit back to relax and enjoy!
*The card will be deactivated and not usable once it's been used once
Advantages of using DoNotPay's Virtual Credit Card
Many great perks come with using DoNotPay's Virtual Credit Card, such as:
You will have a new card number generated every time you sign up for a free trial
A virtual card will offer you an added layer of protection from cybercriminals
You will only commit your money to services that benefit you
What Other Services Can DoNotPay Offer You?

Helping you sign up for free trials risk-free is just one thing that DoNotPay can do for you. DoNotPay can help you solve many other problems, such as:
And a whole lot more! Sign up with DoNotPay today to get help with your legal and technical issues.