How to Play Guild Wars 2 Without Giving Your Credit Card Information

Today's massive multiplayer games offer an incredibly immersive and captivating playing experience. Guild Wars 2 is no exception, as it features fast-paced action combat and incredibly detailed landscapes to explore. The developer, ArenaNet, keeps players engaged with their periodic expansions that add more adventures and excitement to the game.
As is the case of many massively multiplayer games, ArenaNet offers free, but restricted access, to Guild Wars 2, so you can learn the intricacies of the gameplay before deciding to invest in a full license.
Though with automatic subscription renewal, there are many games that will charge players if they don't cancel before the trial's expiration. This results in credit card charges for a game they didn't want to continue.
To address this issue, DoNotPay offers an innovative solution called the Virtual Credit Card, which will be covered in this guide.
Does Guild Wars 2 Offer a Free Trial
The short answer is no. However, the game is available in limited form for no charge. As a result, a  credit card is not necessary when registering for the game. However, if you wish to purchase additional amounts of the in-game currency (gems), you will need a credit card to complete the purchase.
How Do I Get the Free Game Download
To download Guild Wars 2, follow the directions below:
Thecan be downloaded without signing up for an account.
Navigate to the Guild Wars 2 website and click on the download now link at the top right.
On the screen displayed, click on Download the Installer.  It will quickly download to your computer.
Click on the file on your computer to start the game downloading process and installation.
While it is not necessary to do so, registering for a free ArenaNet account gives you access to additional game content and information.
Click on Account on the top menu bar.
Complete the fields for email, screen name, password.
You will receive a verification email to activate your sign in. Click on the verification link.
Sign in to your account.
How Much is the Full Guild Wars 2 Game
In the paid version, Guild Wars 2 gives you two game journeys to choose from. In the End of Dragons chapter, the Deluxe and Ultimate versions include bonuses such as max level boosts, additional game skins, additional character slots, and identity repair kits.
The End of Dragons Collection packages also include the Path of Fire Chapter, along with many other upgrades and cosmetic items.
| | |
| --- | --- |
| DOWNLOADABLE CONTENT | PRICE |
| Path of Fire and Heart of Thorns (Standard) | $29.99 |
| End of Dragons (Standard) | $29.99 |
| End of Dragons (Deluxe) | $54.99 |
| End of Dragons (Ultimate) | $79.99 |
| End of Dragons (Standard Collection) | $49.99 |
| End of Dragons (Deluxe Collection) | $74.99 |
| End of Dragons (Ultimate Collection) | $99.99 |
How to Get a Refund for the Paid Version of Guild Wars 2
If you purchased the full game within the past 30 days and are not satisfied, you can request a refund from the company. Note that the request will involve disabling any serial numbers associated with the purchase. Also, not all serial codes are eligible for a refund. For example, if you used the included gems within the End of Dragons Ultimate Edition, you may not be able to obtain a refund for that version.
What Are the Most Popular Alternatives to Guild Wars 2
There are several other massive multiplayer games that are similar in gameplay to Guild Wars 2. As with Guild Wars 2, these games are also free to play with premium content available for purchase.
ArcheAge
Planet Calypso
Elder Scrolls Online
Star Trek Online
Neverwinter
Rift
Skyforge
TERA
Runes of Magic
What Will the Game's Charges Look Like on My Statement
Your billing statement will reflect game-related charges as ArenaNet in Bellevue, WA.
How to Avoid Automatic Subscription Renewals with DoNotPay's Virtual Credit Card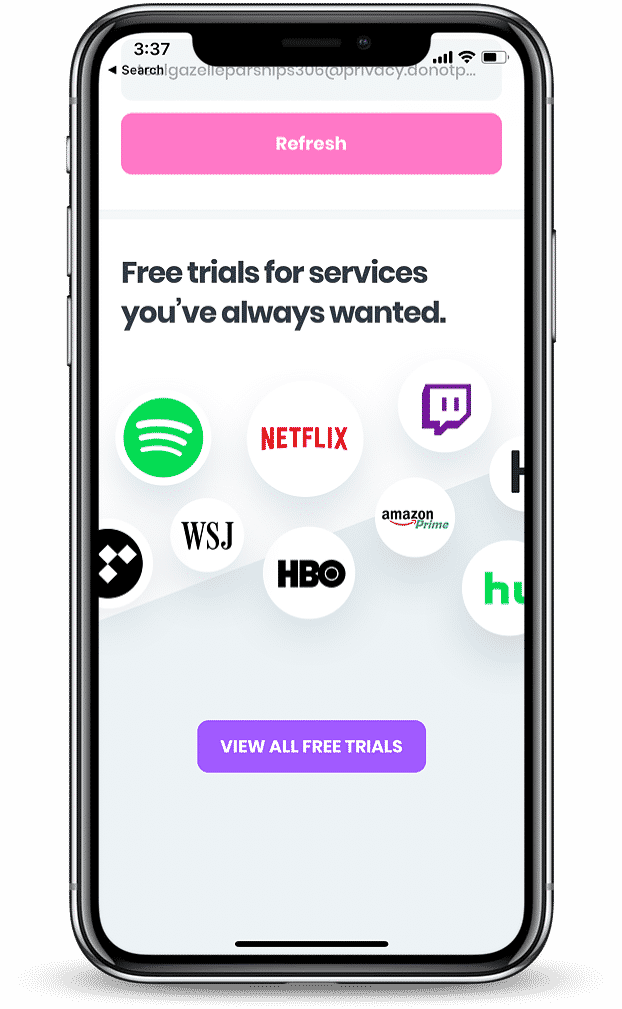 Though Guild Wars 2 will not automatically charge you, many other gaming companies do subscribe to this system. To address this problem, DoNotPay offers the innovative solution of a Free Virtual Credit Card (VCC). This works to prevent additional charges from automatic subscription renewals in the following manner:
When registering for a game, or any other company that offers a free trial with automatic subscription renewal, use DoNotPay's randomly generated card number, expiration date, and CVV for the payment information. When you use the app, you can also receive a temporary email address to use as well.

You can also sign up with any name or address with the VCC.

When the trial ends and the company attempts to charge you automatically, the charge will be rejected since the VCC is not connected to a bank for funding. As a result, you are saved the aggravation of paying for an unwanted subscription.
What Else Can DoNotPay Do

In addition to saving you the expense of automatic subscription renewals, DoNotPay can help with many other situations such as:
DoNotPay has an extensive library of easy-to-follow guides and solutions to help solve many problems. Rather than trudging through endless web searches, tedious applications, and long phone holds, DoNotPay streamlines the process to bring you the solutions you need in a more efficient manner.