Everything You Need to Know About Green Haven Correctional Facility
is located in Stormville, New York. It is about a 90-minute drive from New York City. The facility is rated as "maximum security" and has a capacity of 2,200 inmates.
Inmates have access to a variety of work and educational opportunities. Select prisoners will be able to work in the upholstery shop or manufacture furniture. Inmates can also receive education ranging from earning a GED to a bachelor's degree. Vocational training is available in barbering, IT, building maintenance, electrical, printing, painting, and small engine repair.
Green Haven Correctional Facility Contact Information
The basic contact information for is:
How to Contact Inmates at Green Haven Correctional Facility
Visiting
Consider these rules for visiting inmates:
New York Department of Corrections encourages visitations, as it has been proven to enhance recovery and reduce recidivism.
NYDOC is one of the few prison systems that do not require a visitor's application.
Visitors are required to have a government-issued photo ID. Minors may bring a birth certificate as a form of ID.
Visitors are required to sign a statement declaring they will follow the rules.
Visitors will be subject to being searched, which may include an Ion scanner.
New York DOC enforces a strict dress code for visitation. It is advised that visitors dress conservatively and don't wear any work uniforms.
Consider bringing a second set of clothes should you accidentally violate the dress code.
You can view the up-to-date visitation schedule on the prison's website.
Sending money
Consider these particulars of sending money:
Inmates can only receive funds by mail or before a visitation.
Funds should be sent in the form of a United States Postal Money Order.
Make the money order payable to the inmate's committed name and ID number.
Your complete name and return address must be visible on the money order.
Mail the money order to:
Inmate Name, ID Number
Green Haven Correctional Facility
594 Rt. 216
Stormville, New York 12582-0010
Sending mail
Anyone sending mail must follow these rules:
Inmates are allowed to receive five pages of material per letter.
Photos 4" x 6" are allowed. Nudity is prohibited. Polaroid and instant photos are not allowed.
You can send packages to inmates twice per month. Packages are allowed to contain food. Packages cannot exceed 35 pounds in weight. Be sure to review NYDOC's list of approved items before sending anything.
Address all letters and packages to:
Inmate Name, ID Number Green Haven Correctional Facility 594 Rt. 216 Stormville, New York 12582-0010
Phone calls
Consider these rules for making phone calls:
Inmates may make calls to anyone on their approved list of contacts.
Only 15 contacts are allowed on each list.
Calls are limited to 30 minutes but can be cut shorter if there is a line
The general phone bank hours are daily from 7 am to 11 pm.
Inmates can only make collect calls.
Steps to Take Before Contacting a Prisoner at Green Haven Correctional Facility
Most forms of contact require knowing the prisoner's ID.
You can use the NYDOC Inmate Lookup to search for their ID.
This site is known for being slow and crashing suddenly. If you need help, you can use DoNotPay's Find an Inmate product.
Difficulties You May Have Contacting Loved Ones in Green Haven Correctional Facility
Trying to work with the New York Department of Corrections can be a hassle.
It seems no one is looking out for the families of inmates.
DoNotPay is here to help
How DoNotPay Can Help
Write a Prisoner Our write a prisoner digital tool allows you to easily communicate with prisoners in Green Haven. Simply compose a letter, and we'll handle the printing, shipping, and envelope stuffing.
Prison Pen Pals We can help you get in touch with a random prisoner at the Green Haven Correctional Facility to become Pen Pals.
Inmate Visitation We know all the ins and outs of NYDOC's visitation rules. If you have any issues visiting your loved one, DoNotPay can help.
How to Use DoNotPay to Connect With a Prisoner
You can connect with an inmate at Green Haven Correctional Facility by following these five easy steps:
1. Locate the Connect With an Inmate service on DoNotPay.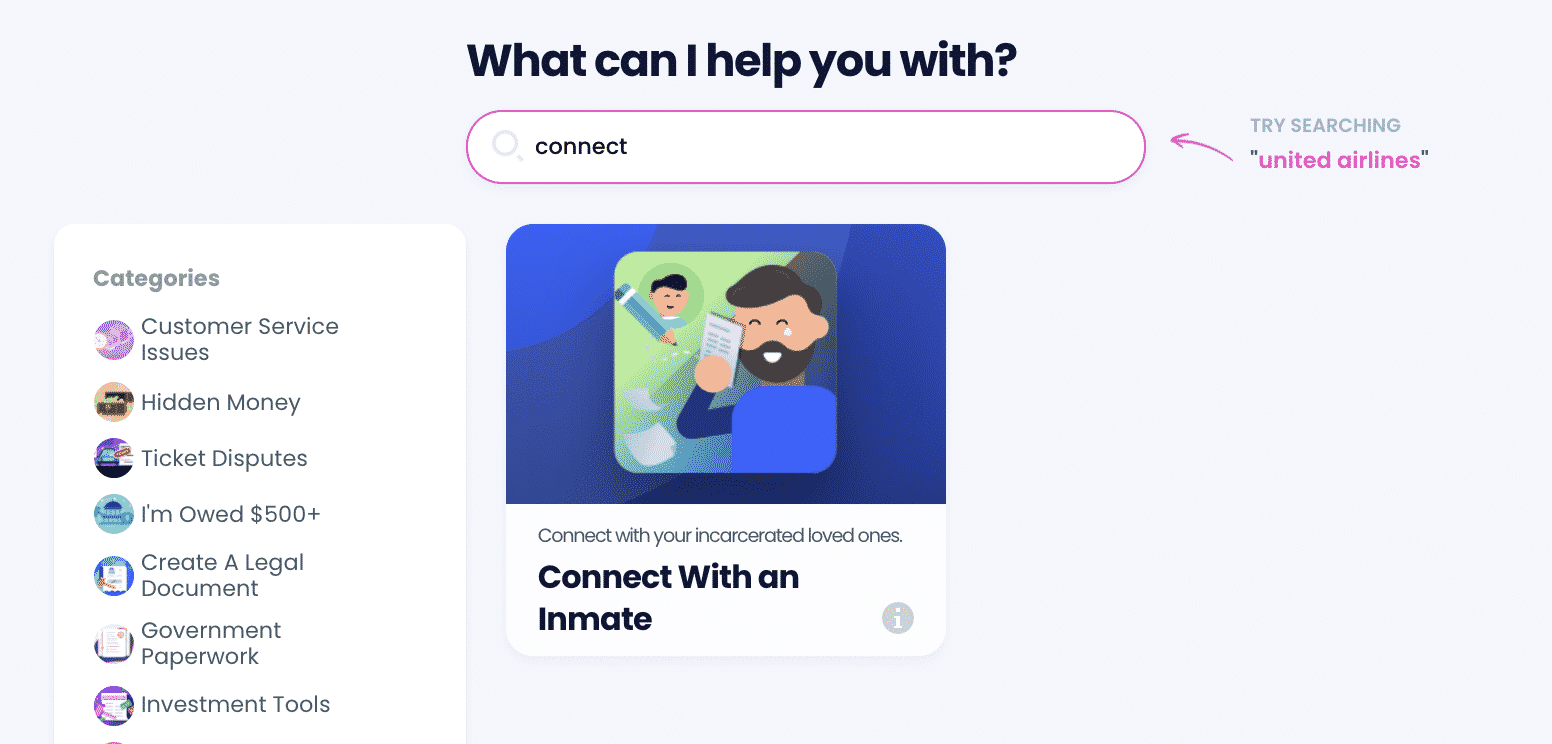 2. Choose whether you want to locate a loved one, create a virtual mailbox, or send a personalized letter.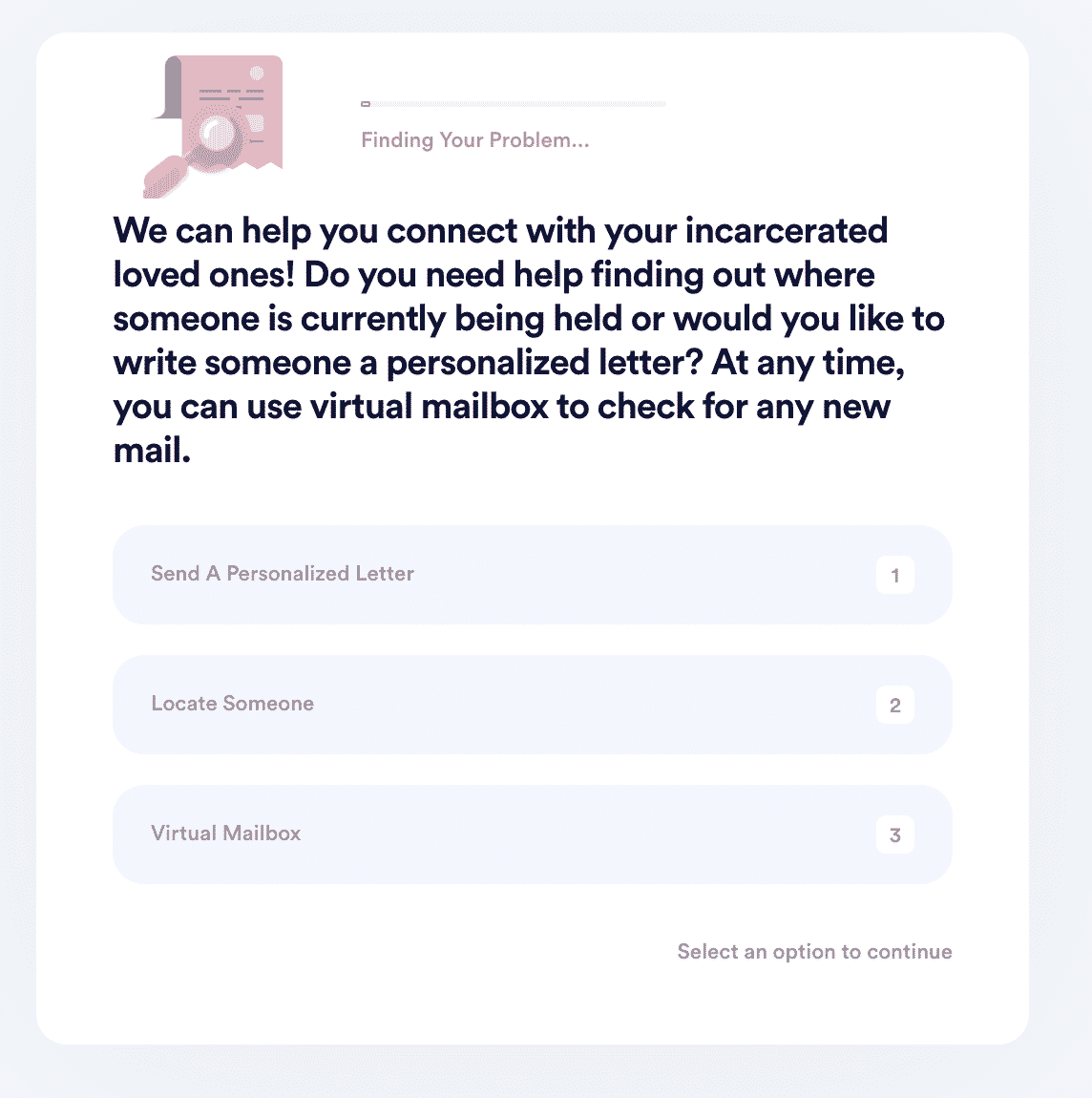 3. If you want us to find your loved one, provide his or her personal details and the state they are located in. We'll then conduct a search on the appropriate state database.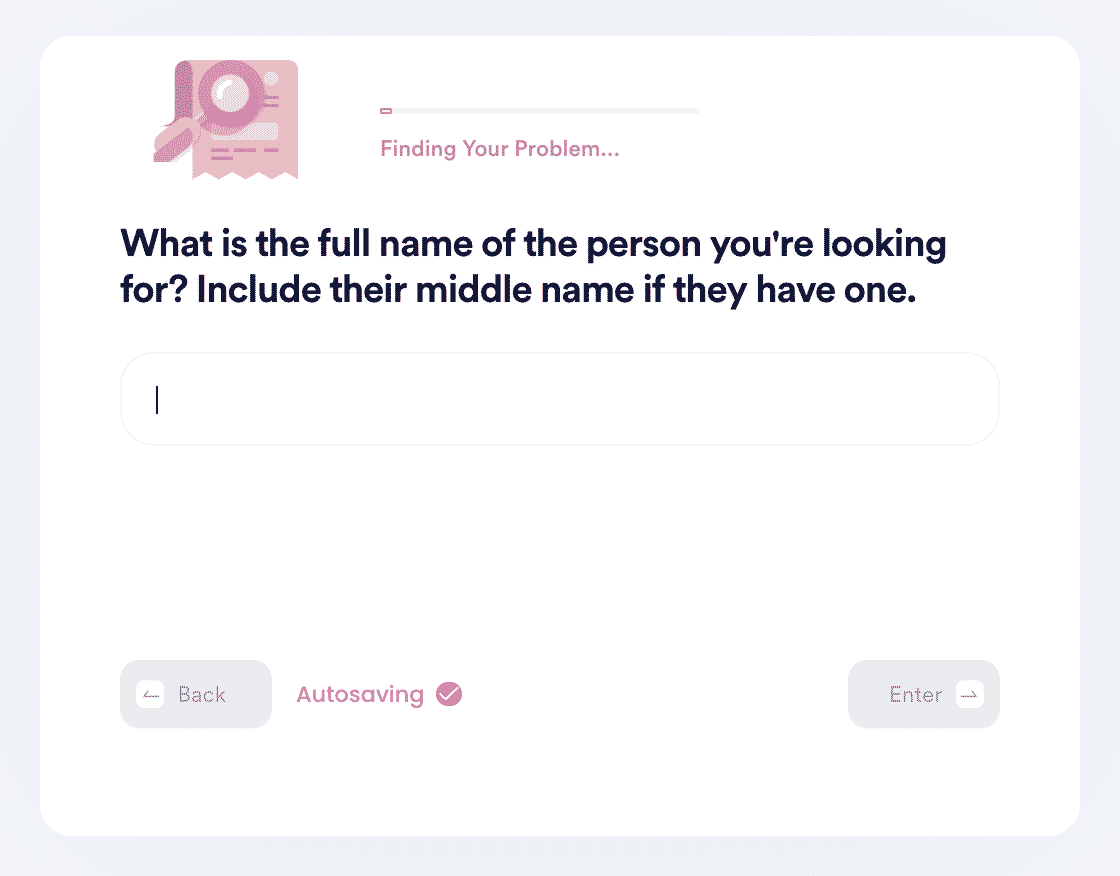 4. If you want to create a virtual mailbox, just provide your full name! We'll set one up for you so you can easily receive incoming mail from your loved one.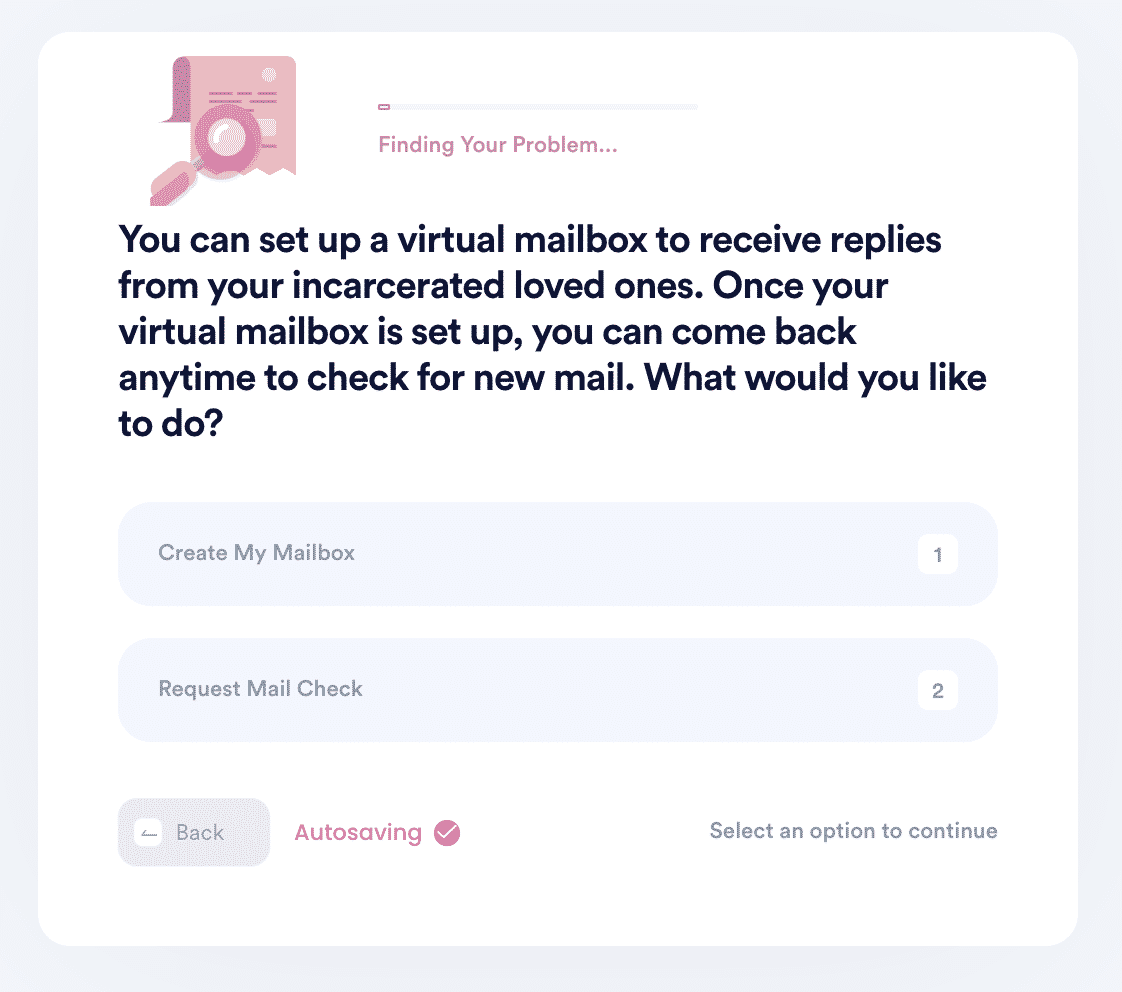 5. If sending a personalized letter, tell us which facility your loved one is located in and what you would like to say to them. You can even include a photo! Your letter will be delivered automatically - just wait 10 days for it to arrive to your loved one!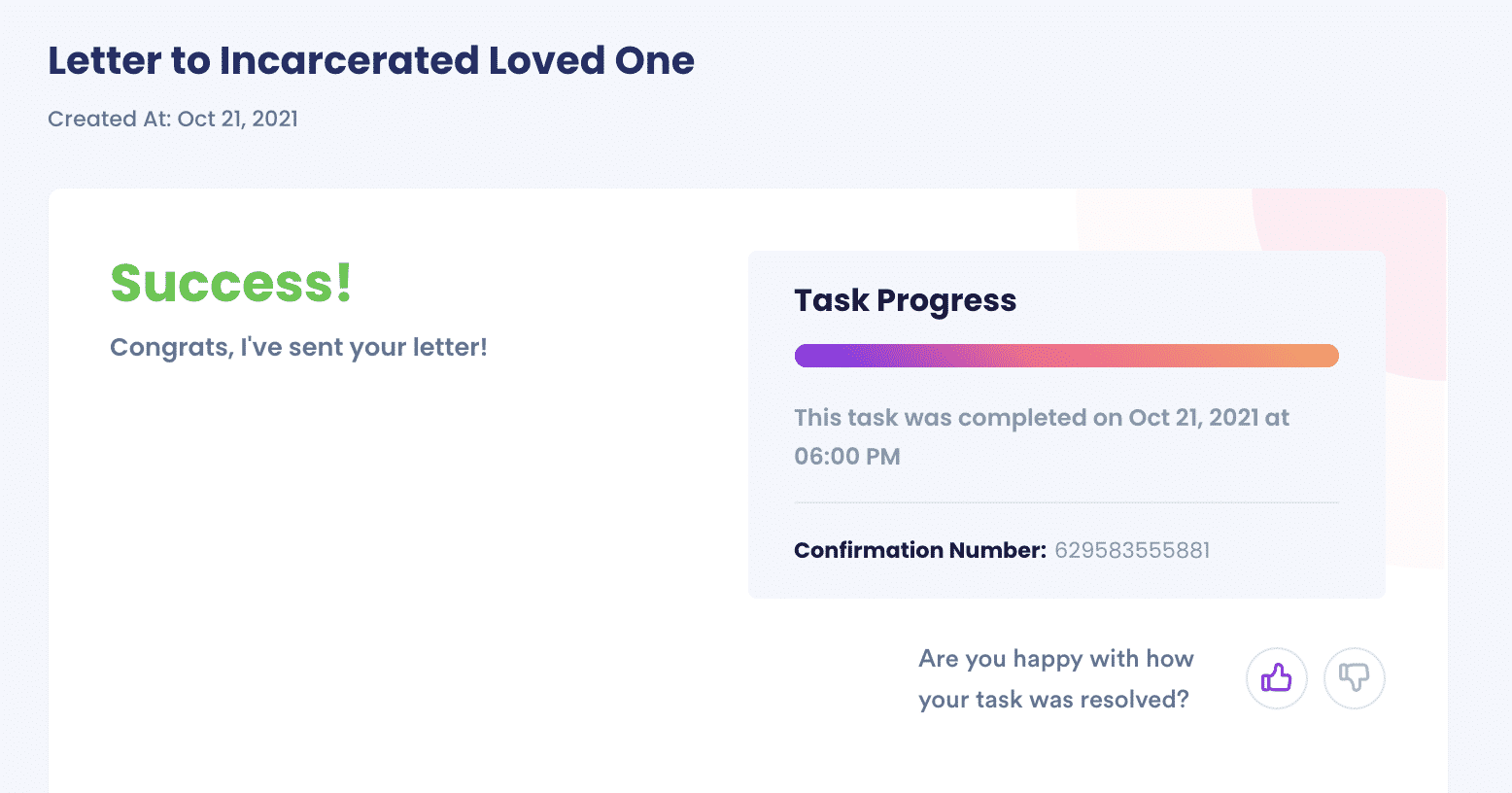 What Else Can DoNotPay Do?
DoNotPay can handle legal matters, such as:
Additional services from DoNotPay include: